When people hear that I like to travel, they often ask me: what's your favorite place you've visited? My answer: Aitutaki. Visiting Aitutaki is a once-in-a-lifetime experience. It may be one of the most beautiful places on earth that you've never heard of – and your Aitutaki tropical vacations will beat just about any place you've visited before. This Cook Islands gem has quickly become one of the most spectacular and unspoilt places I have ever visited – and it absolutely has to be a part of your Cook Islands itinerary.
This island – one big lagoon – is hands down one of the most spectacular spots I have ever visited. Even flying into the island, just north of the Cook Islands capital Rarotonga, is an experience unlike any other.
It is, quite frankly, pure magic.
The best part? Tourists rarely visit Aitutaki at all, so it's a quiet island with very few people around.
Aitutaki literally translates to "Little Paradise," and it's easy to see where the island got its name. Time just moves a little slower on Aitutaki. This slice of heaven is the perfect place to kick back and relax – a true escape from the world.
I first visited Aitutaki a few years ago with my mother after we found spontaneous $500 round-trip tickets to the Cook Islands. We visited Aitutaki to celebrate her birthday and neither of us have ever forgotten this wonderful island. In my complete guide, I'm breaking down everything you need to know about Aitutaki, from the best things to do to the best spots to stay.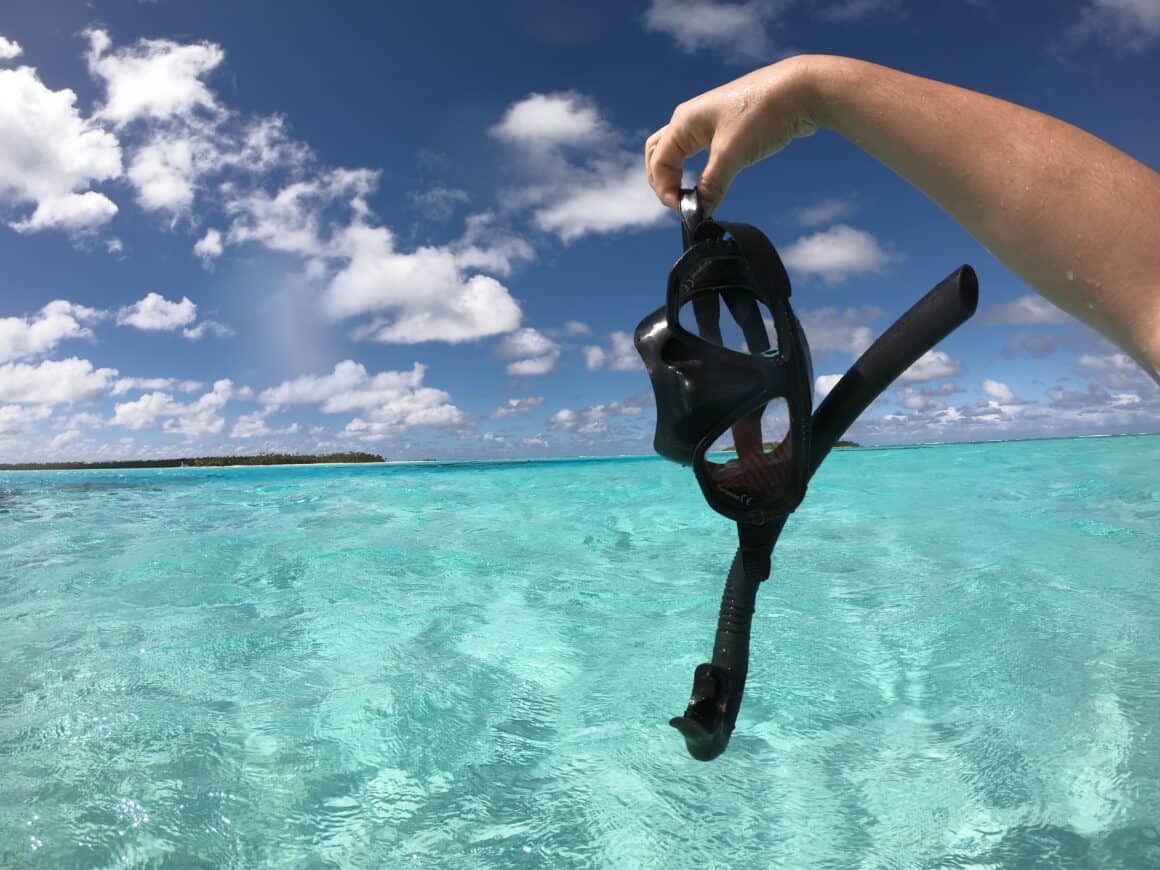 Things to Do in Aitutaki
If you've seen a photo of the Cook Islands, you've probably seen a photo of Aitutaki. The beautiful Aitutaki Lagoon is the highlight of visiting the island. But there are other attractions if you plan to do more than swim and lounge around!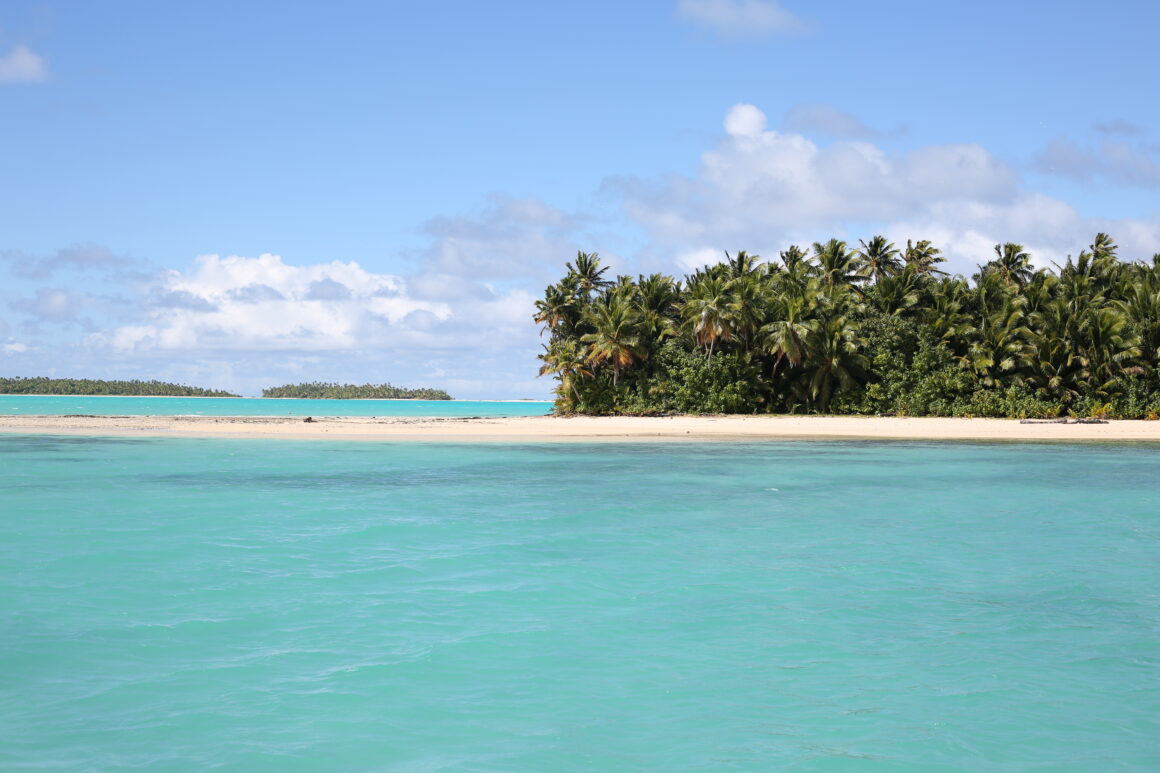 Lagoon Tour
No matter how much time you have in Aitutaki, one thing is for certain: you NEED to take a lagoon tour when visiting Aitutaki. The #1 thing to do in Aitutaki is by far exploring the lagoon. The island has plenty of isolated sandbars and a thousand different shades of crystal clear blue water. We used Vaka Lagoon Cruises, and they were phenomenal.
On your tour, you'll stop at a number of different locations on the island to snorkel, take photos, and swim. Make sure to get a tour that stops at One Foot Island, a true highlight of the lagoon.
Many of the tours will also provide a BBQ lunch on board (we had amazing fresh grilled tuna!!) as you enjoy the views. It's truly paradise!!
Getting Your Passport Stamped at One Foot Island
Don't forget your passport during your tour! Tourists can get their passport stamped at One Foot Island in the Aitutaki Lagoon. If you go on a tour with Vaka Lagoon Cruises, they will stamp it on the boat for free.
Just be careful: some countries will invalidate the passport with just-for-fun tourist stamps like these!
Kayak on the Aitutaki Lagoon
Planning on visiting Aitutaki? You can't visit without kayaking on Aitutaki lagoon. The water in the Aitutaki Lagoon is tranquil and calm, making it the perfect destination for kayaking. It's a wonderful way to explore the miles and miles of lagoon water. Just be careful to avoid the coral. When kayaking over coral, you should stop paddling and just glide over (or around) it.
If you're staying on the island, many hotels will offer kayaks and paddleboards for free.
Go Hiking on Aitutaki
Need a break from the beach? Consider taking a short hike up to Piraki Lookout and Maungapu Lookout. You can drive up to Piraki Lookout and enjoy the sweeping views. If you want a little physical exercise, you can hike up to Maungapu Lookout – it's about 10 minutes up a steep gravel path. Even though it is not a long hike, it'll likely be hot outside, so make sure you cover your head and bring enough water.
Piraki Lookout is a gorgeous spot to catch the sunrise, if you happen to be an early bird!
Go Diving
I'll be the first to admit I am terrified of diving. However, Aitutaki offers beautiful diving for those who love to dive (or want to learn!). There's no better place to learn than Aitutaki, with its beautiful waters and amazing sea life.
Hire a Private Boat
Looking to get that perfect Instagram shot and avoid the crowds? If you're planning on visiting Aitutaki, consider hiring your own boat. Hiring a private boat is the best way to explore as many of the islands and sandbars as possible – all while avoiding the crowds.
You can opt to hire a boat to give you a private tour, or simply drop you off on a local island for a couple of hours. There are a couple companies offering tours, like Teking Tours. If you do hire a private boat, consider contacting them earlier to ensure you get a boat.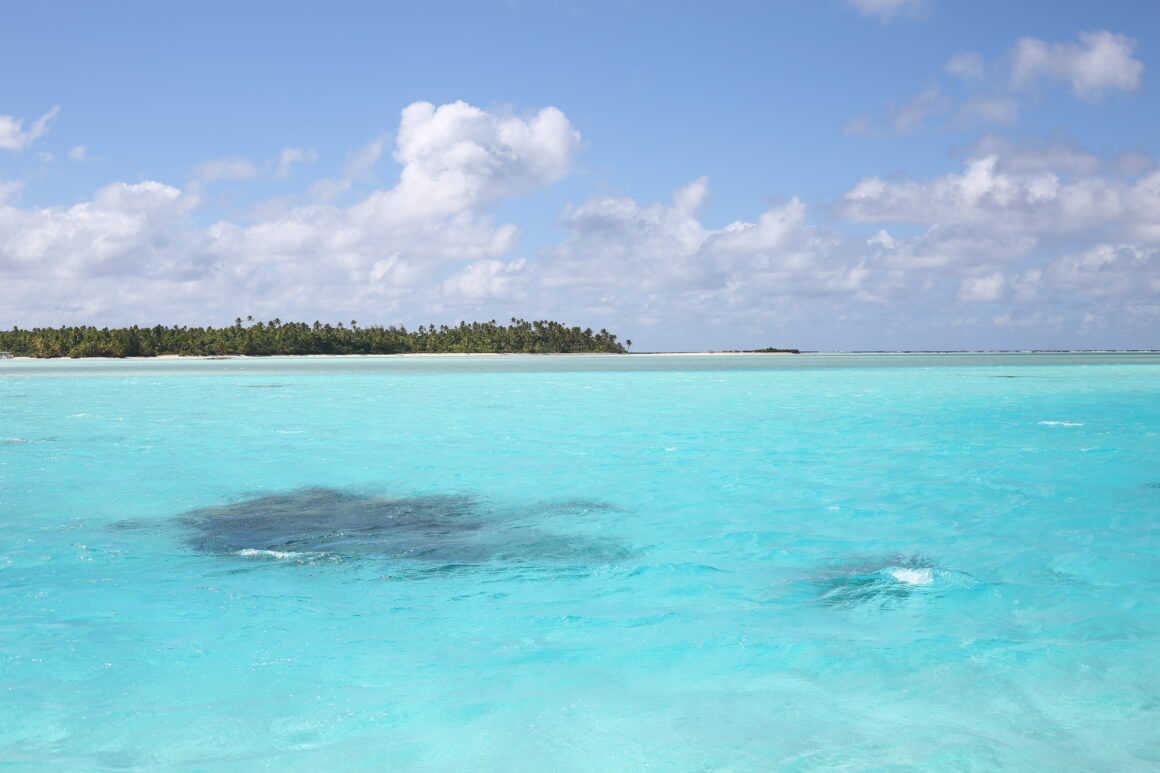 Explore the Island
The actual island of Aitutaki may not be large, but it's totally worth exploring! Rent a car – or a bike – and spend a couple hours driving around the island. Aitutaki is so small that you can literally cover the island in a few hours.
Enjoy an "Island Night"
If you're new to the Cook Islands, make sure to stop at one of the island's many Island Nights. What is an Island Night, you may ask? These nights include massive buffets and cultural shows. There isn't much nightlife on the island otherwise, so Island Nights are an awesome way to spend the evening.
Several hotels in Aitutaki have island nights on different nights of the week. Some of these nights sell out, too, so if you do want to go to an Island Night, make sure to call ahead and reserve your spot.
Here's the schedule:
How to Get Around Aitutaki
The easiest way to get around Aitutaki is by bicycle or by rental car. Most hotels will rent bicycles to their visitors for an affordable price – or for free. You can rent a car, too, of course, but the island is so small that it's generally easier to get around by bicycle.
Where to Stay When Visiting Aitutaki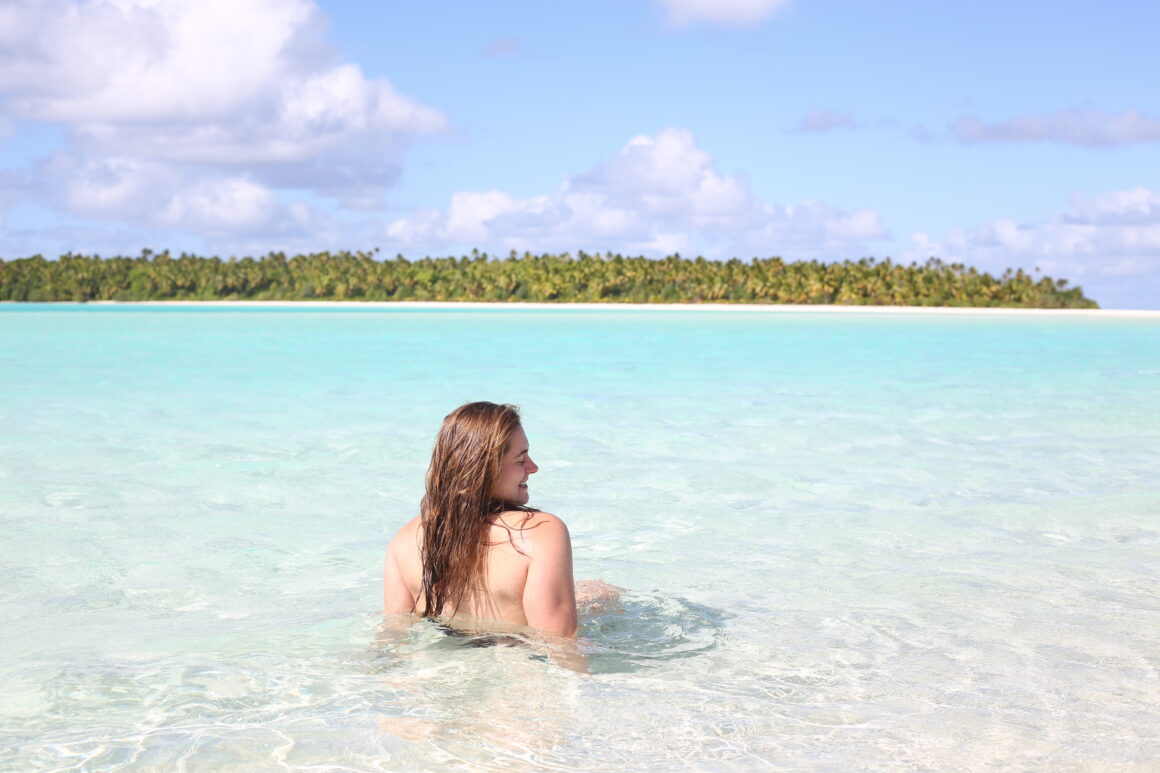 Most of Aitutaki is actually a lagoon, so there aren't many places to stay in Aitutaki. If you're planning to spend a few nights on Aitutaki – and you should! – there are a few standout spots to stay on the island, especially if you're looking at Aitutaki lagoon resorts.
The Aitutaki Lagoon Resort
The Aitutaki Lagoon Resort is hands down the most romantic spot on the island. It's also the only place in the Cook Islands with overwater bungalows. However, there are only 7 rooms at this resort, and they've often booked out months and months in advance. If you do plan to stay here, make sure to book online far in advance!
I didn't stay at this resort, but we road past it on our boat tour and it looked asolutely beautiful. The overwater bungalows have a breathtaking view of the lagoon. The next time we visit, I'm splurging and staying in one of these bungalows!
Tamanu Beach
Tamanu Beach Resort is a beautiful little property right on the beach with some gorgeous villas! The villas have an amazing outdoor space with a kitchenette, living room, and dining room – and don't get me started on the views! This resort has a stunning view of the sunset on the lagoon.
Where to Eat When Visiting Aitutaki
Aitutaki is a small island, and there aren't too many restaurants and cafes on the island. If you want to explore the island outside of your hotel, consider stopping by these staples:
The Best Time to Visit Aitutaki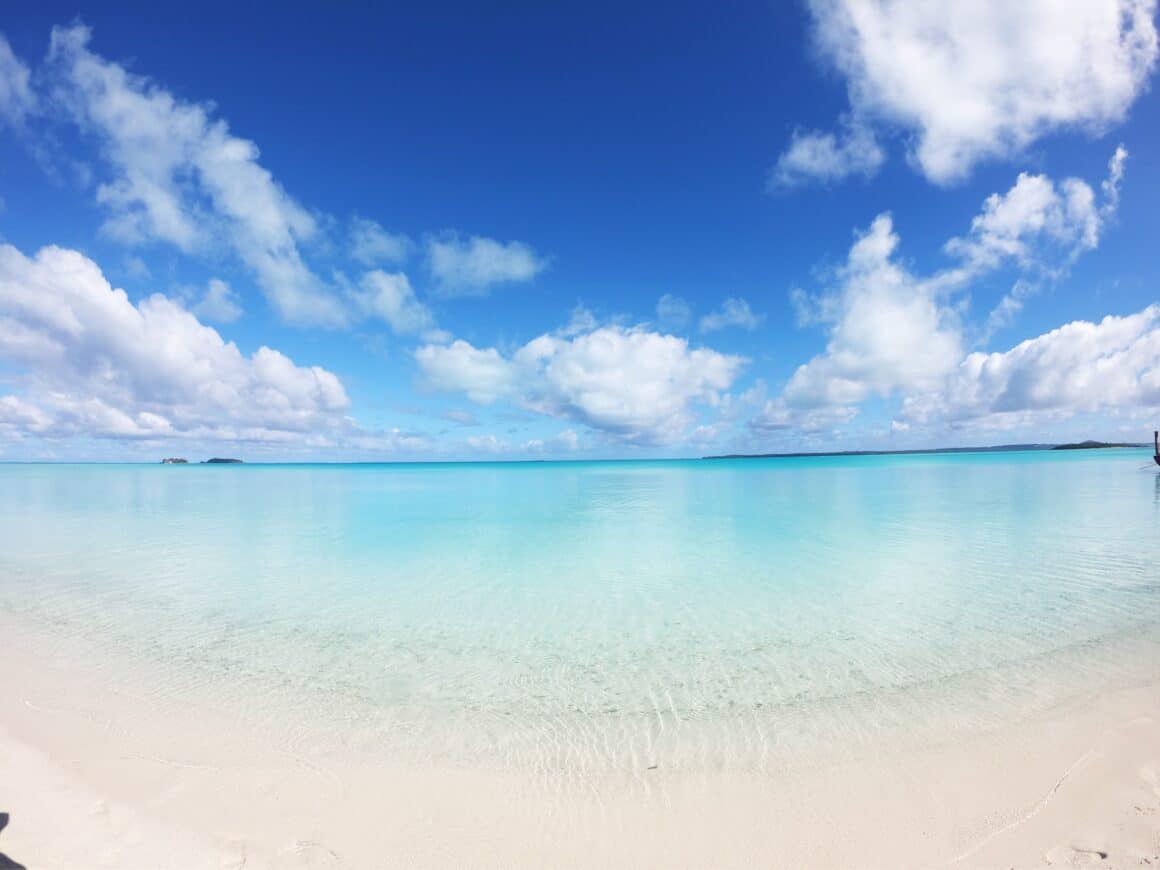 The best time to visit Aitutaki and the Cook Islands is from April to November. These "dry months" are the best time because temperatures are warm and there's minimal rain. The climate is still tropical, though, so expect humidity and temperatures between 24 to 30°C. This is also the best time to visit the Cook Islands, in case you plan to visit multiple islands in the country.
How to Get to Aitutaki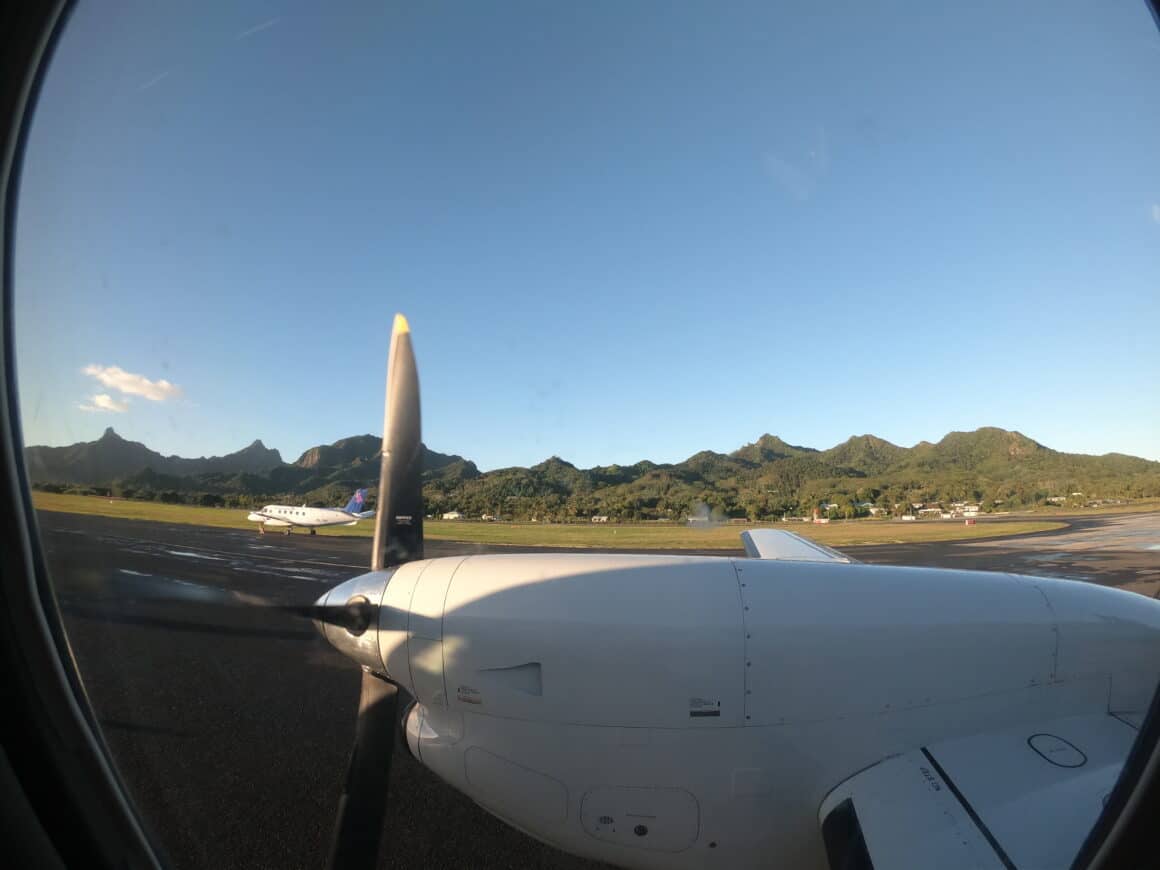 Are you sold on visiting Aitutaki? I literally couldn't imagine skipping this amazing island!! To travel to Aitutaki, you will first need to fly to Cook Islands, where you'll land in Rarotonga. This capital is amazing, and I'd recommend staying in Rarotonga for a few days. But you can't skip Aitutaki.
There's only one way to visit Aitutaki: airplane. Air Rarotonga has several flights a day from Rarotonga. This quick 45-minute flight is probably one of the most beautiful flights I've ever taken.
If you do plan to take the flight, you need to book at least one day in advance. The plane is small and doesn't seat many people. It's often sold out in advance.
Flying to Aitutaki isn't cheap, but it is SO worth it. Flights will average around $250 – 300 NZ Dollars one way. You can cut the price if you opt to fly with just a carry on bag that weighs less than 15 pounds.
If you do need some place to keep your luggage, you can store your bags at Rarotonga airport for only a few dollars a day. If you're traveling on a budget, pack the essentials and hop on the plane. You won't need more than a couple swimsuits and shorts anyway!
Can I Visit Aitutaki For Just One Day?
Yes! There are two ways to plan an Aitutaki day tour, if you're tight on time.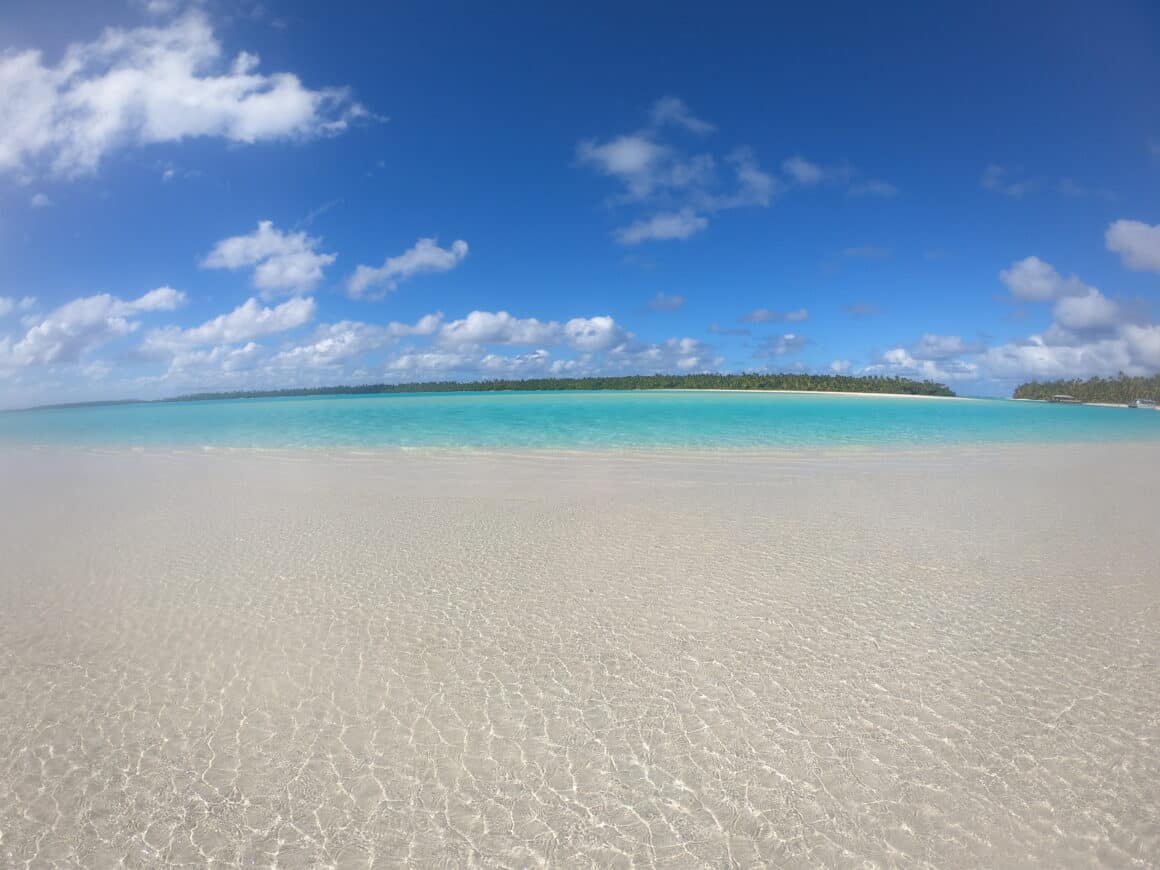 The Aitutaki Day Tour
Air Rarotonga operates a popular Aitutaki day tour, with all meals, transfers and tours included. The tour, which starts at $493 NZD, starts at the Rarotonga Airport. You will all board an early morning flight to Aitutaki. From the Aitutaki Airport, you will take a transfer bus to the boat for an all-day tour of the Aitutaki Lagoon. The tour includes lunch cooked on the boat. At the end of the day, you fly home! This is probably the most convenient option to explore Aitutaki for a day.
Plan Your Own Day Trip to Aitutaki
Don't want to spend all that cash? You can plan your own day trip to Aitutaki. You'll need to remember:
Flights
Transfers to and from the airport – or a rental car
A boat tour of the lagoon
Don't forget to book your flights first, as those book up the quickest. There are a number of popular lagoon tours available to book as well.
Planning on Visiting Aitutaki?
There's truly no place on earth like Aitutaki! I've been dreaming about the island ever since I left. If you have time to visit, I'd highly recommend spending a few nights on the island and just exploring, old school, with no map and no plan. You'll love it, I promise!
Liked this post? Share it on social media!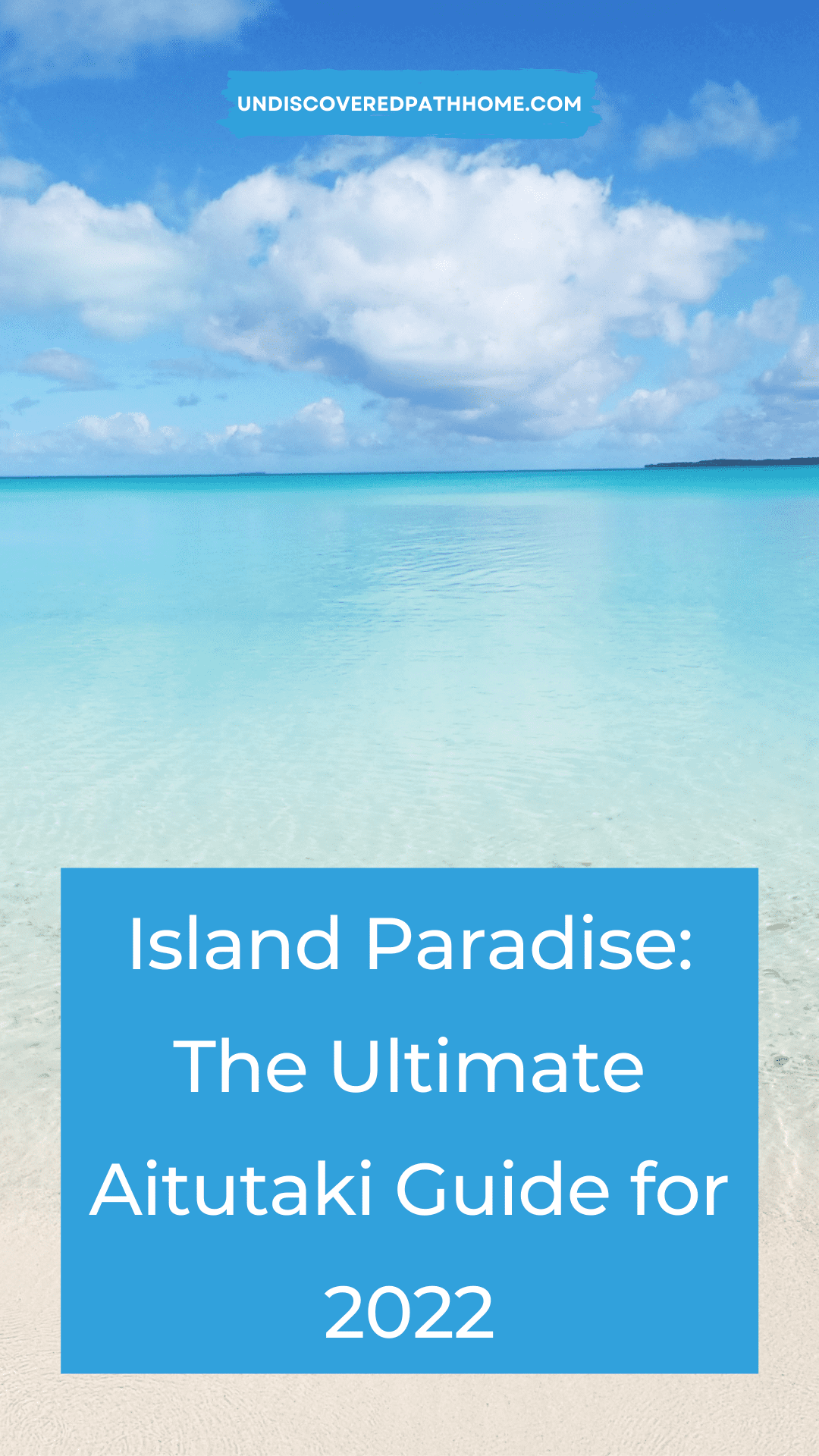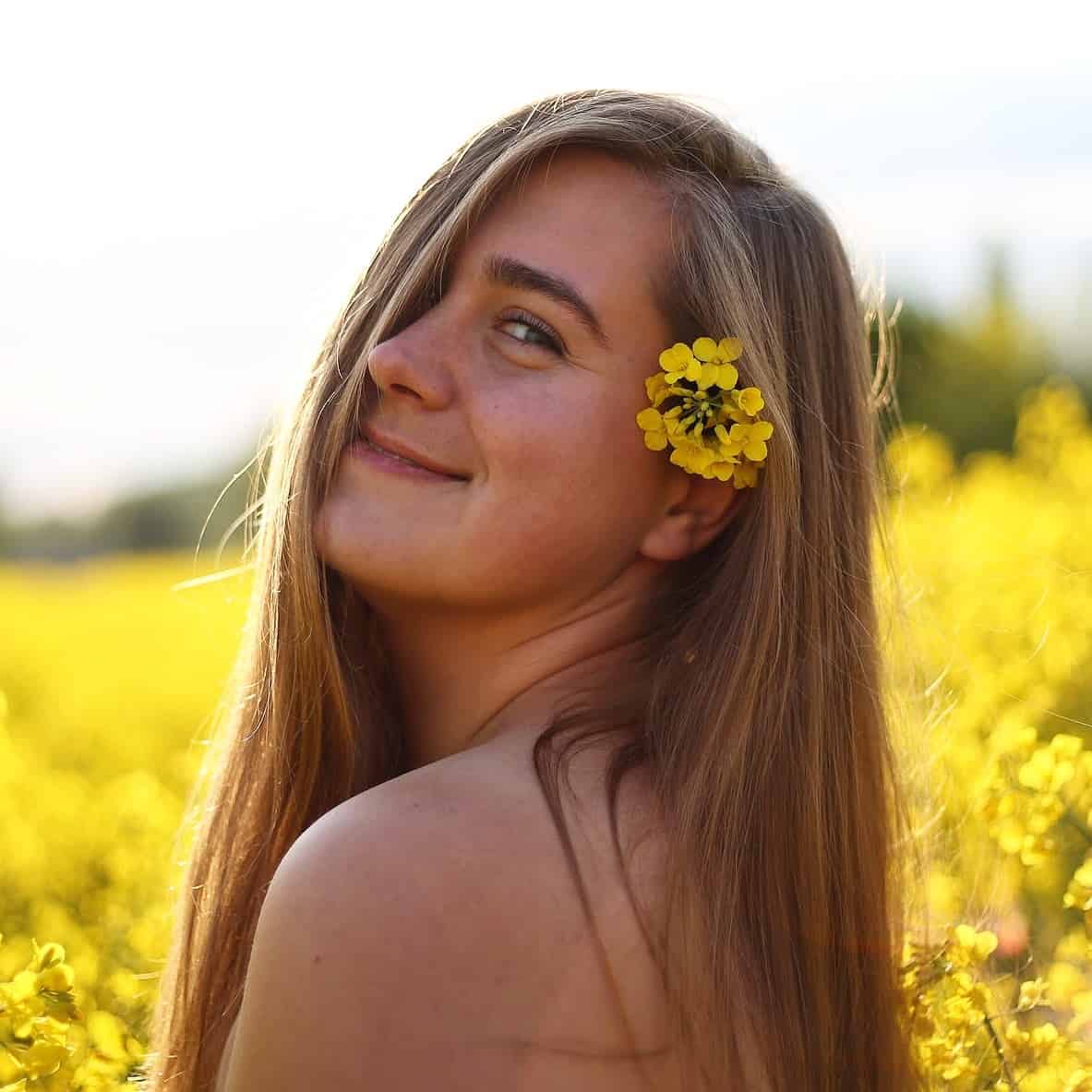 Samantha Tatro is a Czech-American third culture kid who grew up living and traveling abroad. Many years later, after living in California and working as a journalist, she decided to take the leap and move abroad again…this time to Prague, Czech Republic. Samantha started Undiscovered Path Home to help couples and solo female travelers find the courage to visit countries – and locations – off the beaten path. Her work has appeared in Bon Appetit, NBC News, The Adecco Group, and more.