If you love musical theater (or just theater in general), there's one place in the world you absolutely have to visit at least once in your lifetime: New York City. But planning a trip to NYC and making it a Broadway trip – especially if it's your first time – can be super intimidating. What shows should you see? How do you get around? Where can you eat, pre-show, so you're close enough to not miss your show? Going to Broadway show alone can be scary… But it doesn't have to be! Great news: planning a solo trip to New York for Broadway shows is basically my niche. It's my bread-and-butter.
Okay, fine, I have a confession: I LOVE musical theater. Ever since I first discovered the cast recording of "Cats" (I know, I know) in high school, I have been straight-up obsessed with musical theater. But living in Amsterdam at the time meant there was very little access to theater: I could go to London (which I did, a few times), but seeing shows on Broadway was completely out of the question.
I always dreamt of going to New York to see Broadway shows, but for so many years, it seemed out of the question. Going to Broadway alone? Pfff. I had never even visited NYC solo. Most of my trips consisted of visits with friends, who knew the city better than me. Planning a trip to NYC just to see shows seemed daunting. I didn't know where to start. It scared me, SO much. For years, I let that fear keep me in San Diego, even when I would see some of my favorite dream shows run on Broadway.
Things changed in 2015, when the Hamilton Broadway Cast Recording first came out. I listened for hours into the night when they released it on NPR for a first listen. After that, I made myself a promise: I was going to see Hamilton on Broadway.
That first solo trip to NYC? I almost missed Hamilton because I got on the subway too late. Everyone judged me for flying to New York just to see a Broadway show.
But I didn't let any of it scare me away. There is nothing as magical and wonderful as sitting in a Broadway theater: I was hooked. I ended up flying to New York for Broadway shows at least twice a year for the next several years. Like I said, this is my bread-and-butter. I've picked up a few tips along the way! If you want to plan a solo trip to NYC for Broadway shows, but have no idea where to start, don't worry. It's not as intimidating as it sounds. You can totally make it happen! Here's all my best advice.
Don't have time to read this post now? Pin it and save it for later!
How to plan your solo Broadway trip to New York City
To plan the perfect solo Broadway trip, and really maximize your time inside Broadway theaters, I'd recommend planning absolutely everything around the specific shows you want to see. What does this mean?
Pick shows you want to see. I lived in a city with a big touring Broadway schedule, so I would often try to avoid shows that would already be stopping by on tour and stick to shows that were brand-new.
Look up the performance schedule of each show
Understand when your flights to and from NYC will land and take off
Planning your NYC solo trip itinerary around your shows will make sure you can maximize your time in New York. But it's not just about the shows: make sure to use Google Flights and price out different weekends. If it costs $100 less to fly one weekend versus the other, that flexibility will make a big difference with your budget. I often found cheap flights by checking every weekend. That's how I bought a $200 round-trip flight from San Diego to NYC one December.
There is nothing as magical and wonderful as sitting in a Broadway theater: I was hooked.
Once you have your tickets, you can start looking for hotels and planning out the specifics. Let's dive in!
When should you plan your solo Broadway trip?
Planning the perfect NYC Broadway solo trip involves understanding each Broadway show's schedule. After all, you want to maximize your time in the city and see as many shows as possible (duh!)… including the best Broadway shows in NYC!
Understanding the Broadway schedule
Most shows will go dark on Monday, meaning that there will be no performances on Mondays. There will be some notable exceptions. For example, when I visited in 2021 around Christmas, most shows had shifted their schedules to go dark around Christmas instead of the Monday prior.
You should also keep in mind that most shows will have two performances on Wednesdays and Saturdays. This means that you can easily see multiple shows on these days, so I always try to plan going to Broadway alone during these days to maximize my time. In addition, most shows will only have a matinee (afternoon) performance on Sundays.
When I visited NYC on my solo Broadway trips, I often would fly in on Saturday morning and immediately see two shows. I'd time my flight to leave right after the matinee on Sunday.
No matter how many days you have, it's important to plan out exactly what shows will be open while you're in NYC. And don't forget to check if tickets are available!
How to get cheap tickets to popular Broadway shows
How do you get cheap tickets to Broadway shows? This is the million dollar question!!
When I went to see Hamilton on Broadway in 2016, just weeks before they won a record amount of Tony Awards, every single person asked me: how on EARTH did you get tickets?!
Well, I bought them eight months in advance, when people were only just catching on to the Hamilton-mania. At the time, my sixth row orchestra ticket cost me just $149. By the time I got to the show, tickets were going for $2,000 to $5,000 for Orchestra. THAT was insanity!
There's no secret trick to getting cheap tickets – or any tickets – for popular Broadway and off-Broadway shows. Unfortunately, sometimes it just comes down to luck and following musical theater trends. In the past five years, Broadway shows have become so popular that it can be tricky to predict just what will blow up.
That being said, I do have a few tried-and-true techniques I use to find my favorite tickets.
When to buy tickets to popular Broadway shows
Snagging a ticket to Broadway's most popular shows all comes down to timing. I've seen Dear Evan Hansen, Company, Assassins, Come From Away, Hadestown, Moulin Rouge! and so. much. more. All from just following openings and closings.
If you know you want to see a certain show, plan on buying your ticket up to eight months in advance. Case in point: I bought my Company on Broadway ticket about eight months in advance. When Stephen Sondheim passed, tickets became basically impossible to get.
Here's how I plan ahead and buy my Broadway tickets:
Follow Broadway-specific news sites to track when shows plan to come
Find out when tickets go on sale
Set a reminder
Buy tickets to the show right when they go on sale
If you plan to go to the show alone, you'll have much more flexibility in finding those odd seats in between other parties that have been left behind. You can snag some great deals (and seats!) if you're just looking for one ticket!
Most people will expect to buy tickets to shows like Hadestown or Company just a few days before they want to see the show – and while you might get lucky, most times the show will be sold out.
Where to buy tickets to popular Broadway shows
Going to a Broadway show alone allows you one great privilege: you can buy those amazing single seats in fantastic locations, all because you're going alone.
Most Broadway tickets are sold through Ticketmaster and Telecharge. However, there are several third-party apps that I would recommend, especially if you're looking to snag a deal. This is an especially great option if you're looking to see some of the best Broadway shows for first timers, like Wicked!
These are my favorite apps for cheap tickets: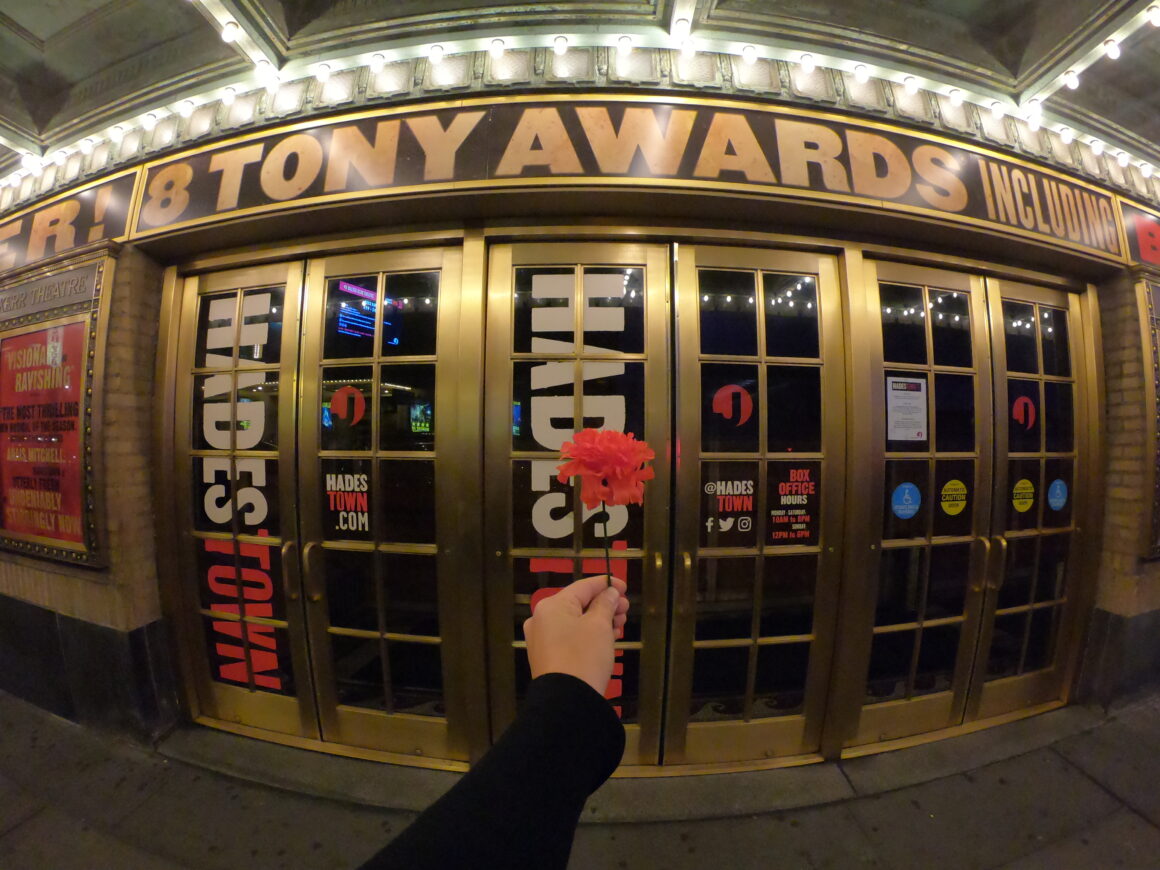 How to get last-minute tickets to popular Broadway shows
If you want to risk it, you can also try getting last minute tickets to Broadway shows.
Why would you do this? If you haven't managed to get a ticket to one of your top picks, many shows will often have some last-minute tickets available that they have set aside. If you're willing to wait in line, you can snag a great discount.
There are three ways to get last-minute tickets:
RUSHing: RUSH tickets are on a first-come, first-serve basis. These tickets often get you a seat in the front row. For some popular shows, that might mean camping out for multiple hours to get a ticket.
Standing room only: Not every show will offer standing room only tickets, but they are the cheapest way to see shows. These tickets are exactly what they sound like: tickets to stand at the back of the theater and watch the show. Most of the time, only the most popular, sold-out Broadway shows will offer this service.
Lotteries: Shows will often have digital lotteries to give away tickets to their performances for a discounted price. Each show has their own policies.
Some shows will also have student ticket prices, so keep an eye out for that too.
Where to stay for your solo Broadway trip to NYC
Heading to NYC on a budget for your solo Broadway trip? I often had a strict budget when I was traveling to New York City. As a journalist working in San Diego, living expenses were high – and flights often accounted for most of my expenses.
If you have friends or relatives in New York City, consider asking them whether they might host you for a few days. This is the most budget-friendly option. When I visited New York City, I often stayed with my best friend, Katie, a fellow theater lover and lifesaver. We always had a tradition: get dinner, pick up cookies, and go see a show.
Don't have a friend in NYC? That's completely fine! There are plenty of options around New York City, though options can get pricey if you book last-minute. Consider staying in these neighborhoods:
Midtown
Upper West Side
Upper East Side
Tribeca and SoHo
East Village and Bowery
Greenwich Village
Meatpacking District and Chelsea
Brooklyn
Looking for a deal? Here's how to find great deals on accommodations in NYC:
Check multiple booking sites
Book as early as possible
If Manhattan is outside your price range, consider looking outside the city at Brooklyn and beyond
The most important factor when booking a place? Easy access to public transit. Seeing a Broadway show each night means coming home late and that can be uncomfortable – especially if you're not familiar with NYC.
I have never really felt unsafe in New York, especially because there are always so many people around, but if you feel unsure, consider planning out your route in advance. You can check how you will get home, whether that means a subway or a bus or an Uber.
What to pack for your solo Broadway trip to NYC
Every time I visited New York City for a Broadway show, I packed less than the time before. If you're traveling on a budget, you may not have more than a backpack. During every single one of my trips, I often only had a tiny North Face backpack. But you CAN make this work!
Here's what you need to pack for a weekend trip:
Two shoes: one pair good for walking, and another that will work for a fancy night at the theater. You will wear the bulkier ones on the plane to save space.
2 – 3 bottoms: my go-to is a pair of pants for the plane/walking around town, and two nicer bottoms that you can dress up for a night out.
2 – 3 tops: Focus on bringing one or two shirts that you can dress up in and a sweater if you need. If I visited during the summer, I'd swap a shirt for a dress.
Undergarments: This is personal to you! Bring as many as you need for the duration of your trip.
Hygiene: I brought shampoo, conditioner and face wash in travel-sized containers. I'd often only bring a comb, a toothbrush, and toothpaste in addition to those essentials, and maybe some make-up if I needed it. Don't overpack!
Accessories: Don't bring anything extra! Keeping things as minimal as possible will make life easier for you. I would often only pack my GoPro or a Camera in addition to my clothes – but that's it!
The best places to eat before your Broadway show
Broadway is located in Midtown, Manhattan, and let's face it: Midtown can be a bit of a food desert. But I've spent way too many afternoons in Midtown, hunting for food. These are some of my favorite spots in Midtown and beyond.
Cheap eats in Midtown, Manhattan
Here are some of my favorite cheap eats in Midtown, NYC:
Check out the full list here (with my picks for what to order!).
Places to eat with easy access to Broadway
The best part about New York? The public transit. If you have the time, pre-show, you can eat an amazing meal just south of Broadway and make it up in time to see your show. Here are some of my favorite spots within a 20-minute ride of the theater district:
If you have more time, consider heading down to Chinatown to try out some of the amazing eats down there. Super budget-friendly, too!
Finalizing your solo Broadway trip
Planning the perfect Broadway trip to NYC comes down to planning and confidence. Thinking a few months ahead will always ensure that you get the tickets you want – and from there, the rest is easy. Good luck!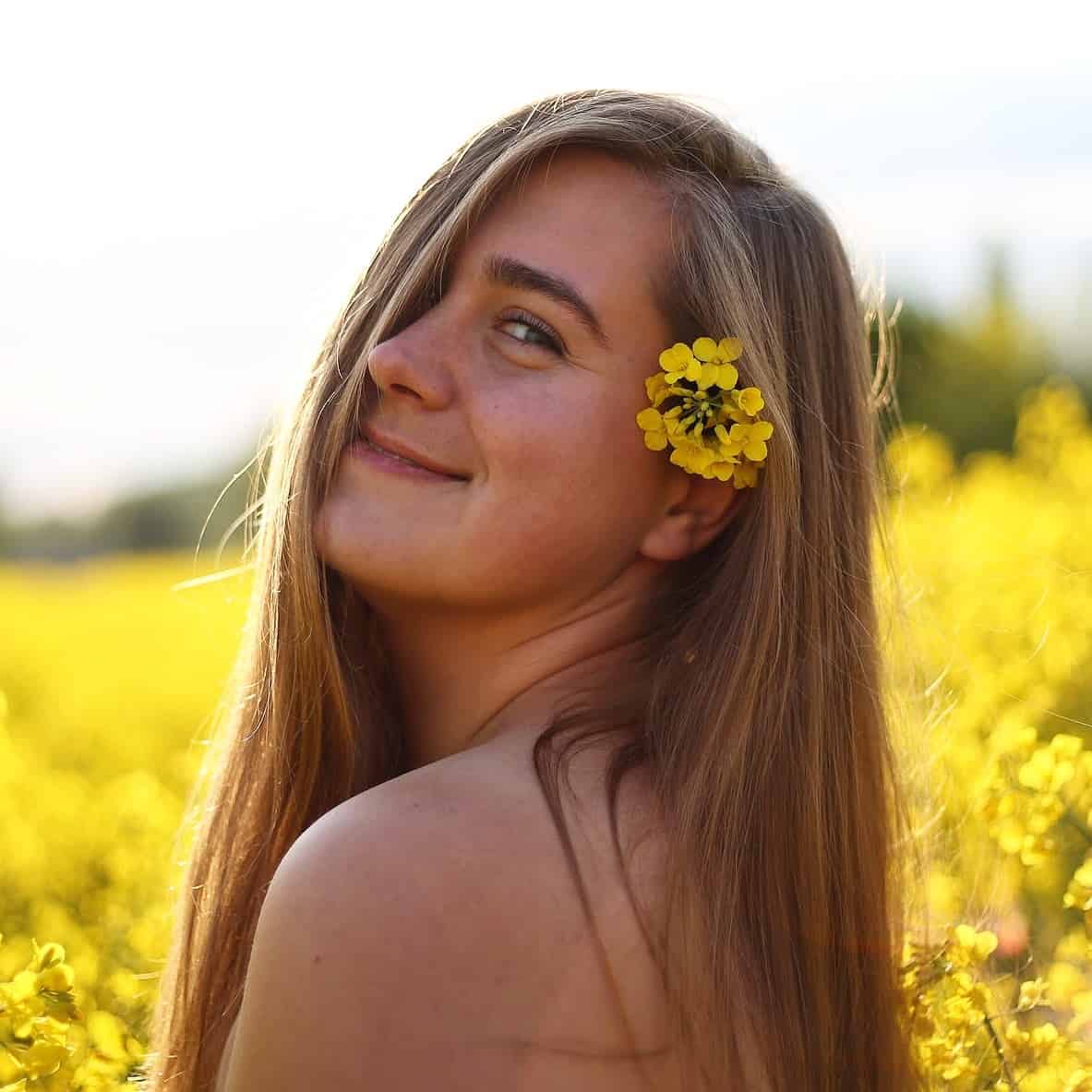 Samantha Tatro is a Czech-American third culture kid who grew up living and traveling abroad. Many years later, after living in California and working as a journalist, she decided to take the leap and move abroad again…this time to Prague, Czech Republic. Samantha started Undiscovered Path Home to help couples and solo female travelers find the courage to visit countries – and locations – off the beaten path. Her work has appeared in Bon Appetit, NBC News, The Adecco Group, and more.