Everyone knows about the breathtaking overwater bungalows in Bora Bora or the luxury resorts in Tahiti, but not as many people know about the Cook Islands. With its pristine blue waters and long stretches of white sand beaches, the Cook Islands have some of the most beautiful luxury resorts and boutique hotels in the world. No matter your preference, you can find your own little oasis in the South Pacific with my picks for the best luxury resorts in the Cook Islands. Let's dive in!
Where to stay in the Cook Islands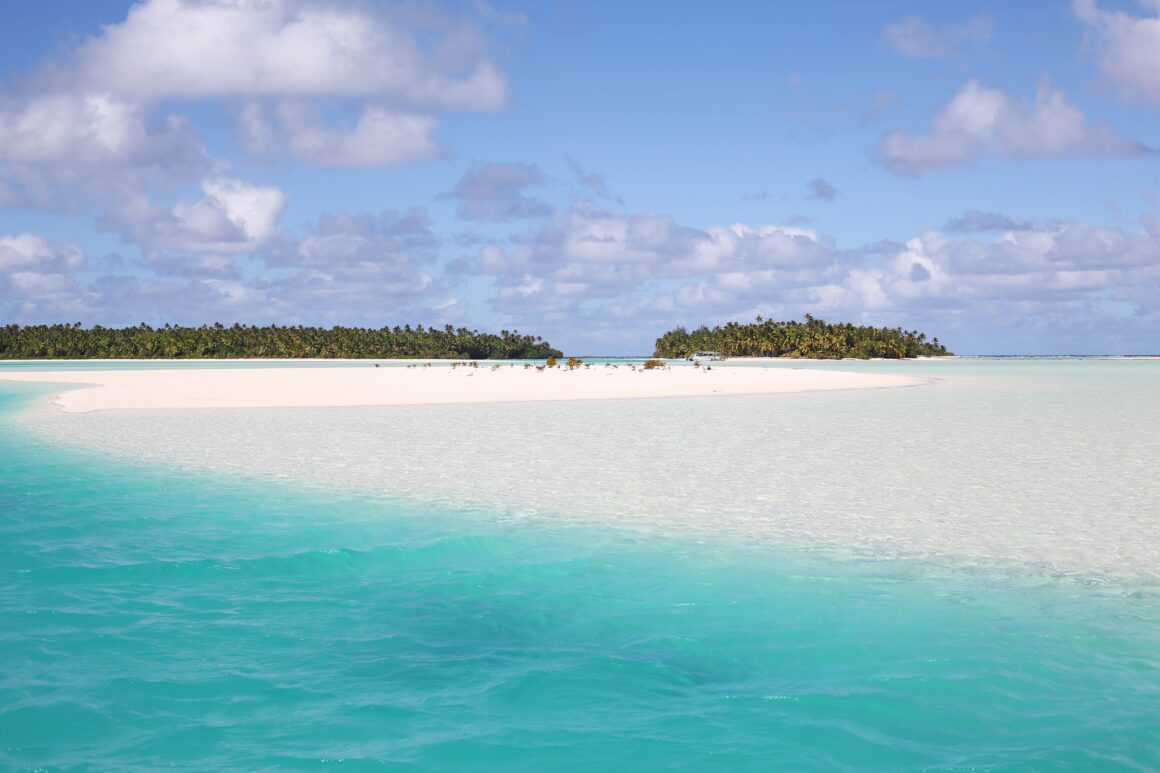 The Cook Islands is made of 15 small islets in the South Pacific ocean, but there are two important islands to remember: Rarotonga, the capital, and Aitutaki, an outer island. All international flights will land in Rarotonga, home to beautiful beaches and plenty of luxury Cook Islands resorts.
A short flight will bring you to Aitutaki, a smaller island known for its pristine lagoon. If you're planning on visiting Aitutaki, you can read more about it here. Most of the best Cook Islands luxury resorts lie on Rarotonga, but a few are located on Aitutaki. Keep reading for my full list!
How to get to the Cook Islands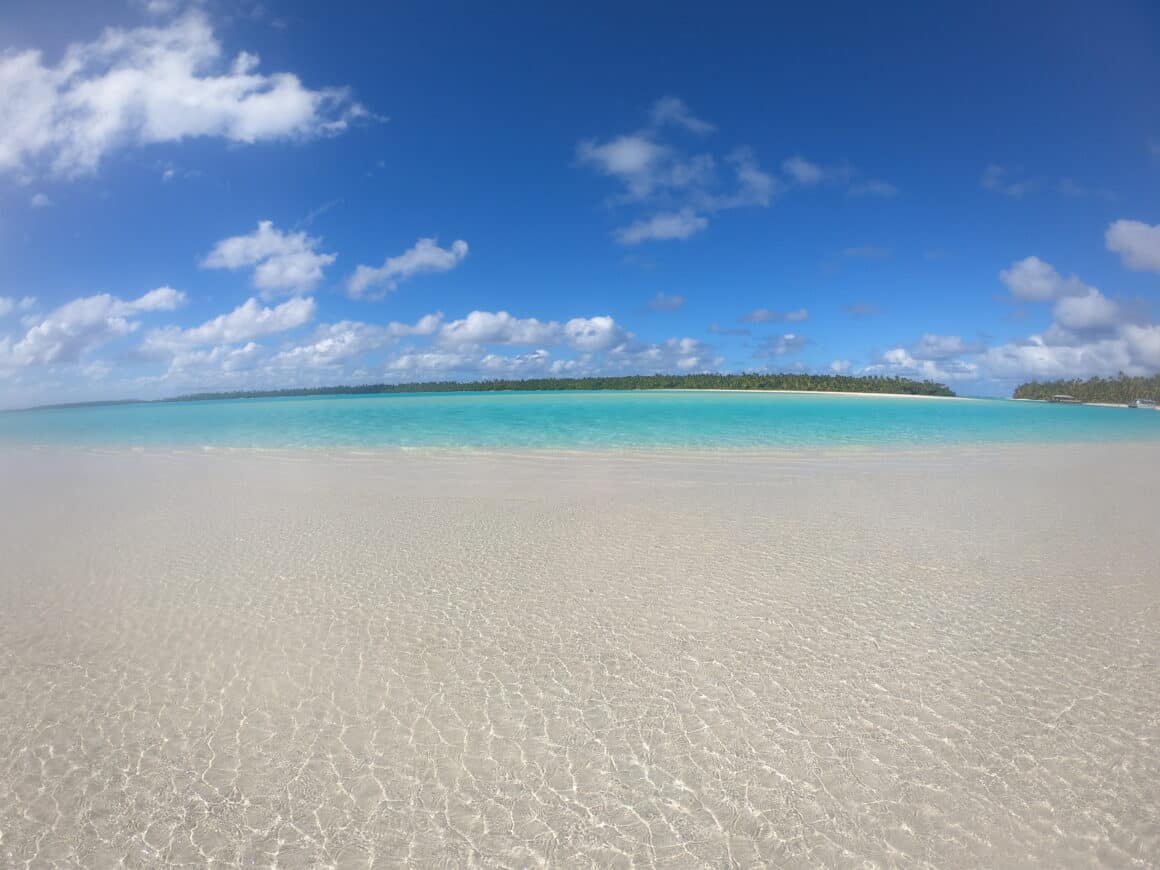 To visit the Cook Islands, you can take a flight to Rarotonga International Airport on the main island of Rarotonga. It's a short flight from New Zealand, but there are also direct flights from nearby areas as well as major hubs in the U.S. like Los Angeles.
When I visited, we took a direct flight from Los Angeles on Air New Zealand.
7 Spectacular Cook Islands Luxury Hotels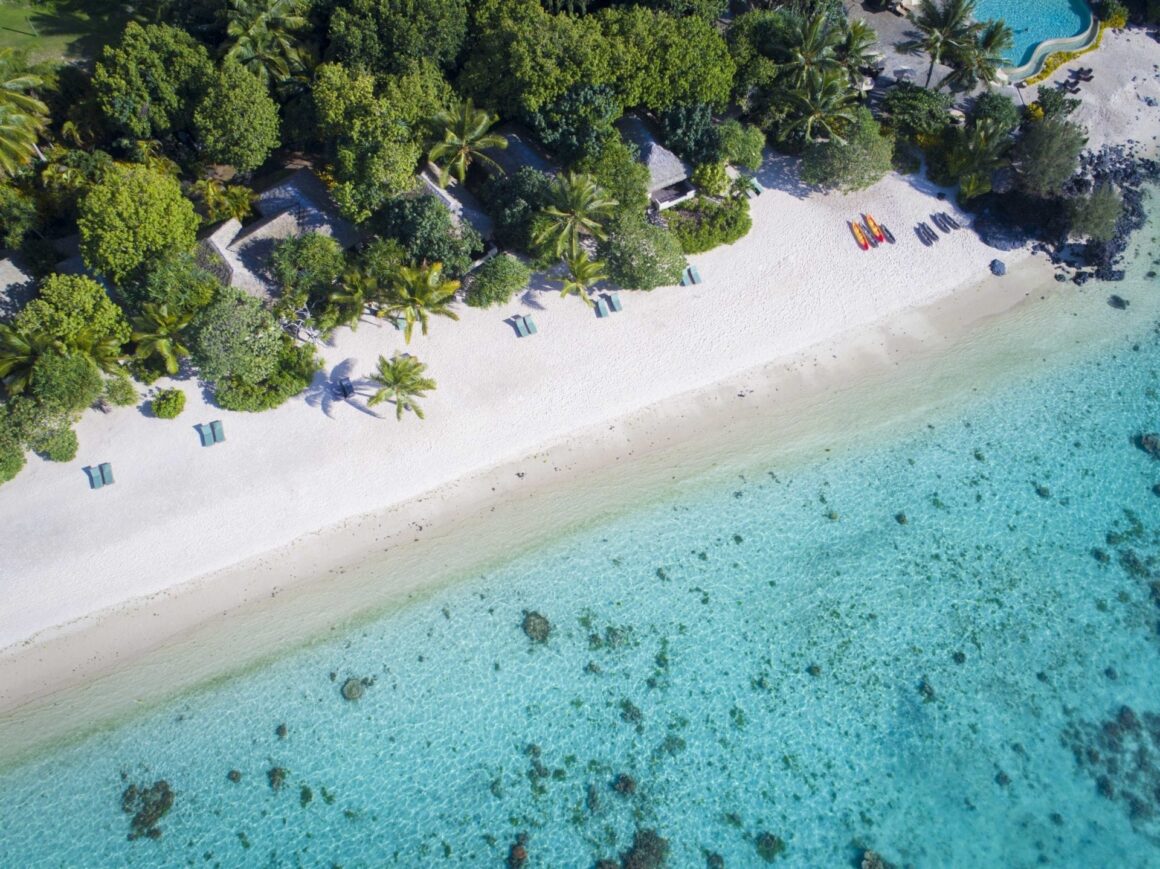 The Cook Islands is one of the most popular destinations for travelers seeking out stunning beaches and untouched beauty. These are my seven picks for the most spectacular Cook Islands luxury resorts.
Nautilus Resort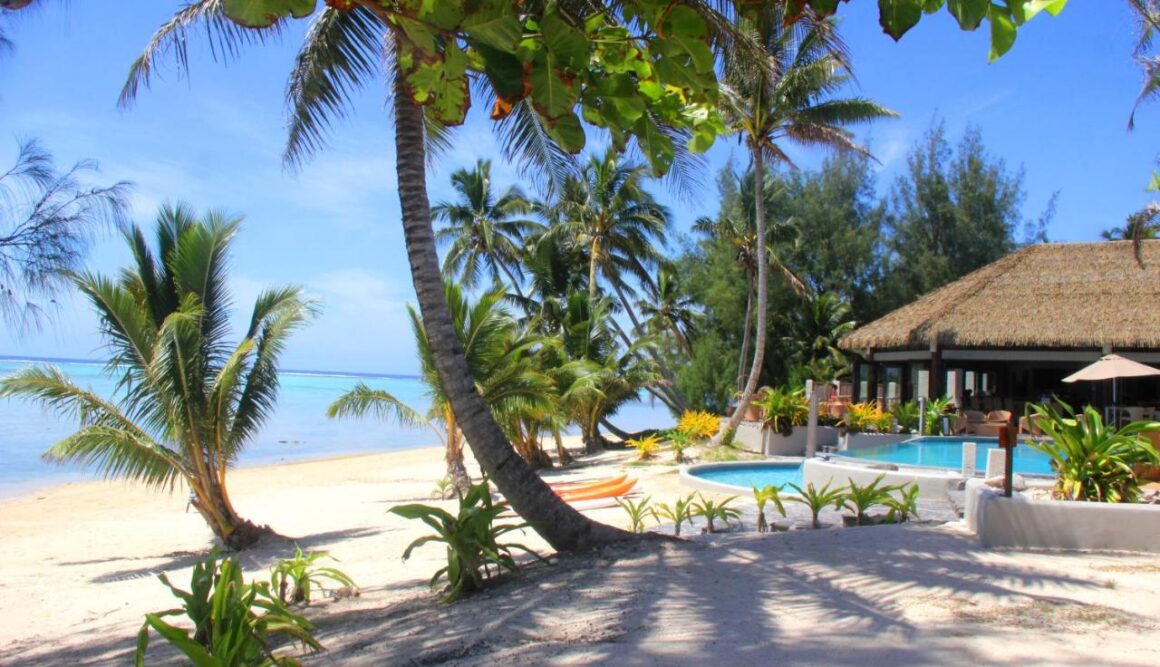 The amazing Nautilus Resort is the perfect spot for both families and couples alike. This small, eco-friendly boutique hotel has just 17 villas total, making the whole place feel more like an intimate escape. The high-end private villas offer plunge pools as well as outdoor shows; beyond the villas, the beach stretches out for miles with gorgeous crystalline water just beyond. This Cook Islands luxury resort sits in Muri Lagoon, one of the most desirable places to stay on Rarotonga. The best part? You can take the bus in Rarotonga for a small fee from the airport.
Little Polynesian Resort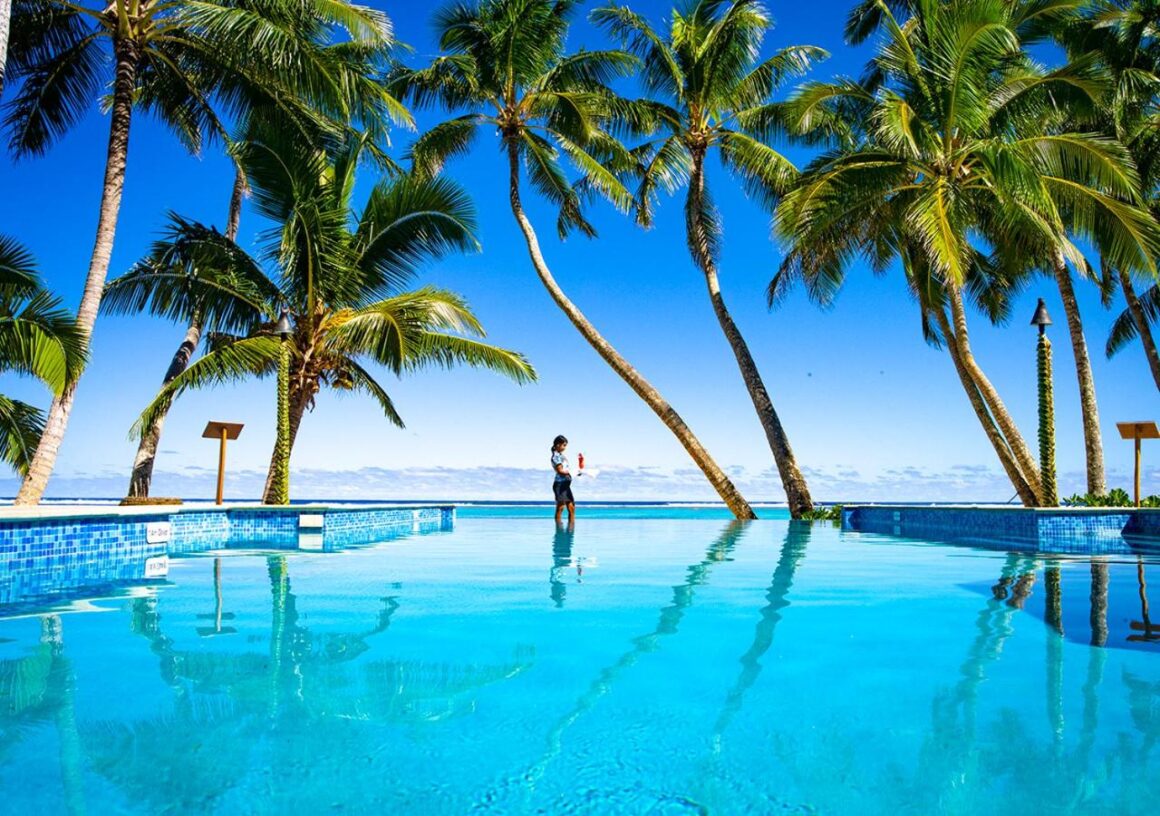 If I could stay anywhere else on Rarotonga, I would have wanted to stay at the Little Polynesian. This adults-only resort offers a stunning infinity pool that looks out on Muri Beach, a gorgeous stretch of beach. The hotel itself combines a beautiful modern design with private accommodations, beachfront bungalows, and manicured garden paths. If you love a good sunset, you'll love the sunset views from the Little Polynesian.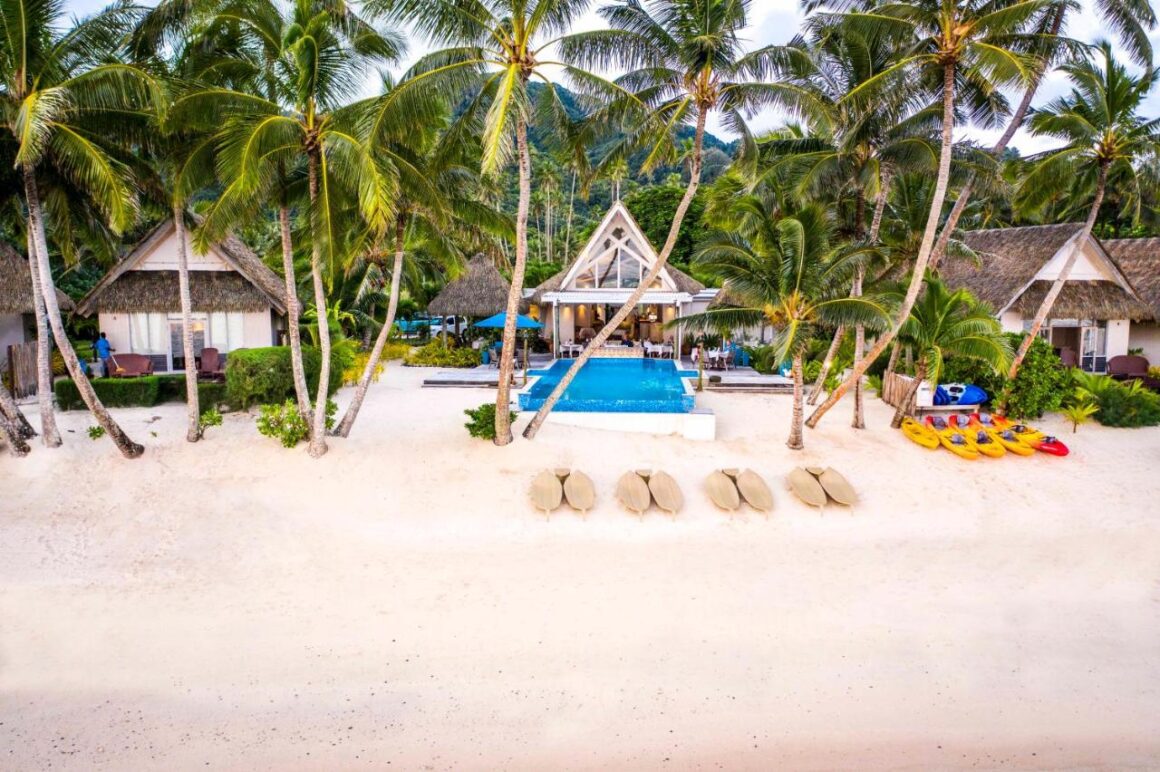 The Little Polynesian Resort is a part of the Small Luxury Hotels of the World. It has just 14 bungalows or studios with top-notch service. This little spot is perfect for a secluded, intimate giveaway with that special personal touch. Truly one of the best picks for the best Cook Islands luxury hotels!
Muri Beach Resort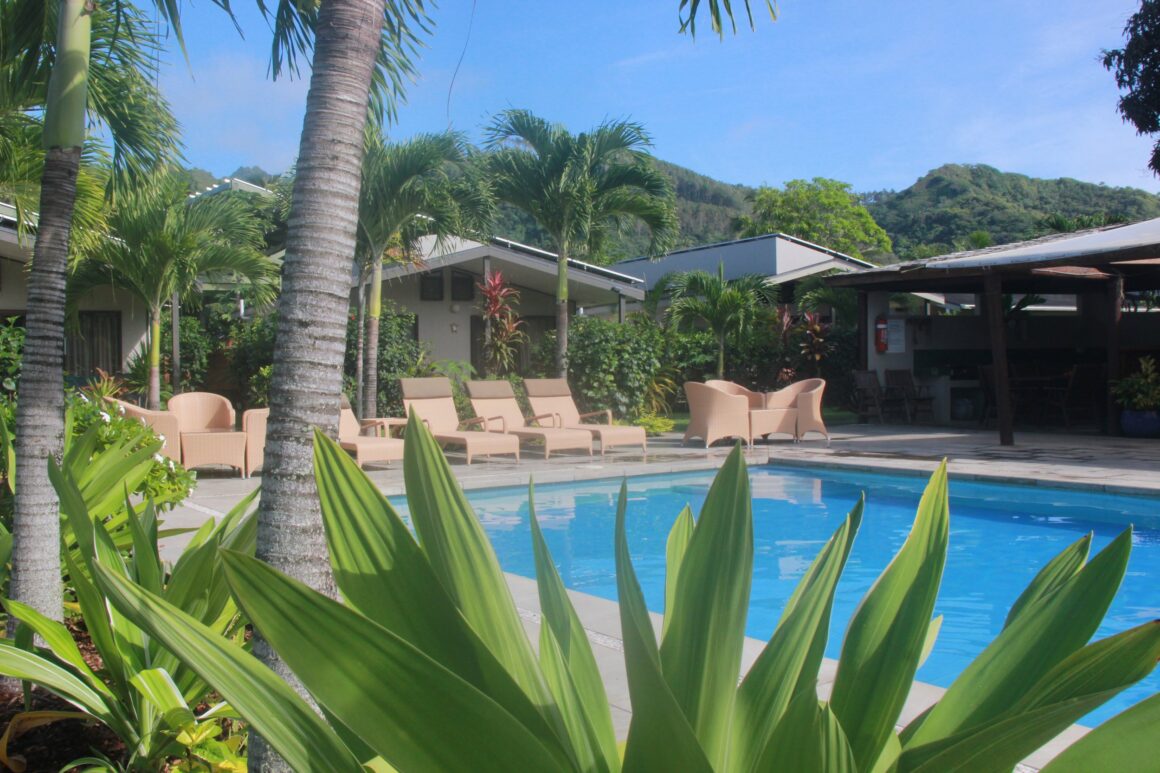 Muri Beach Resort is a lovely, small resort with 20 villas and apartments – right on the iconic Muri Beach, as the name suggests. This resort is special, with lush tropical gardens and a fantastic little pool. In addition, the resort has a stunning beachfront deck with lagoon views. Muri Beach Resort is a sister property of Nautilus Resort, so expect the same high standards across both resorts.
Te Manava Luxury Villas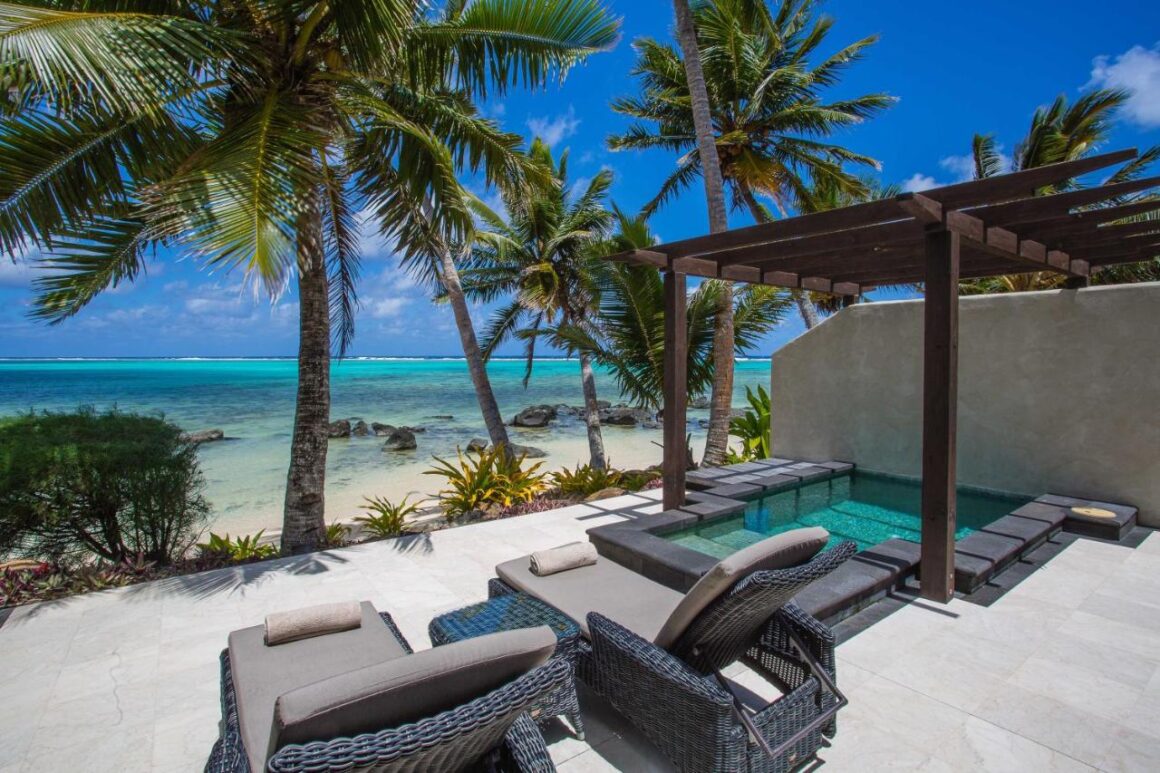 Looking for a family-friendly resort? Te Manava Luxury Villas as a collection of 5-star self-contained villas. Each comes fully outfitted with a gourmet kitchen and private pools. That's why they work so well for families – they offer more freedom than traditional options while still giving you that luxury accommodation experience.
If you don't feel like cooking, you can always walk over to their sister property, Pacific Resort, and charge the food back to your room. Nearby, there are plenty of other restaurants as well. If you can pull yourself away from this stunning Cook Islands luxury resort, there's plenty to see.
Etu Moana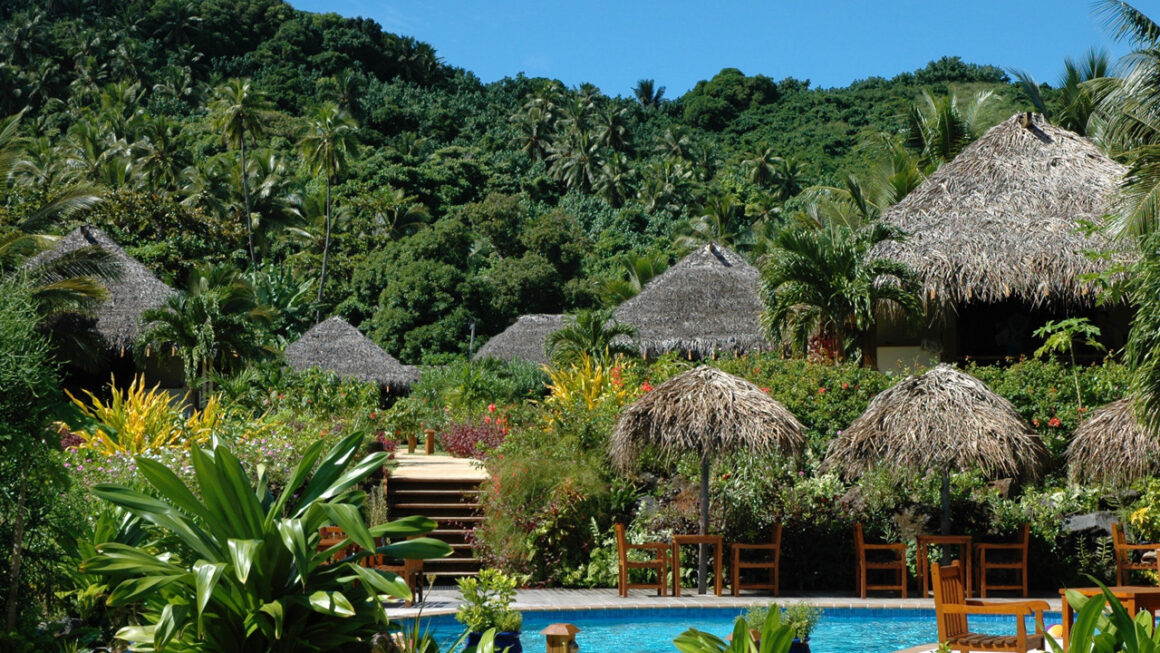 If you're planning to visit Aitutaki, don't worry – there are plenty of wonderful options on one of the smaller, lesser known parts of the Cook Islands. Etu Moana is an award-winning boutique hotel perfect for travelers looking for a secluded getaway. This small Cook Islands luxury resort has ten thatched-roof villas. This hotel offers tropical surroundings and a view of that famous Aitutaki lagoon. It's all about barefoot luxury here!
Pacific Resort Aitutaki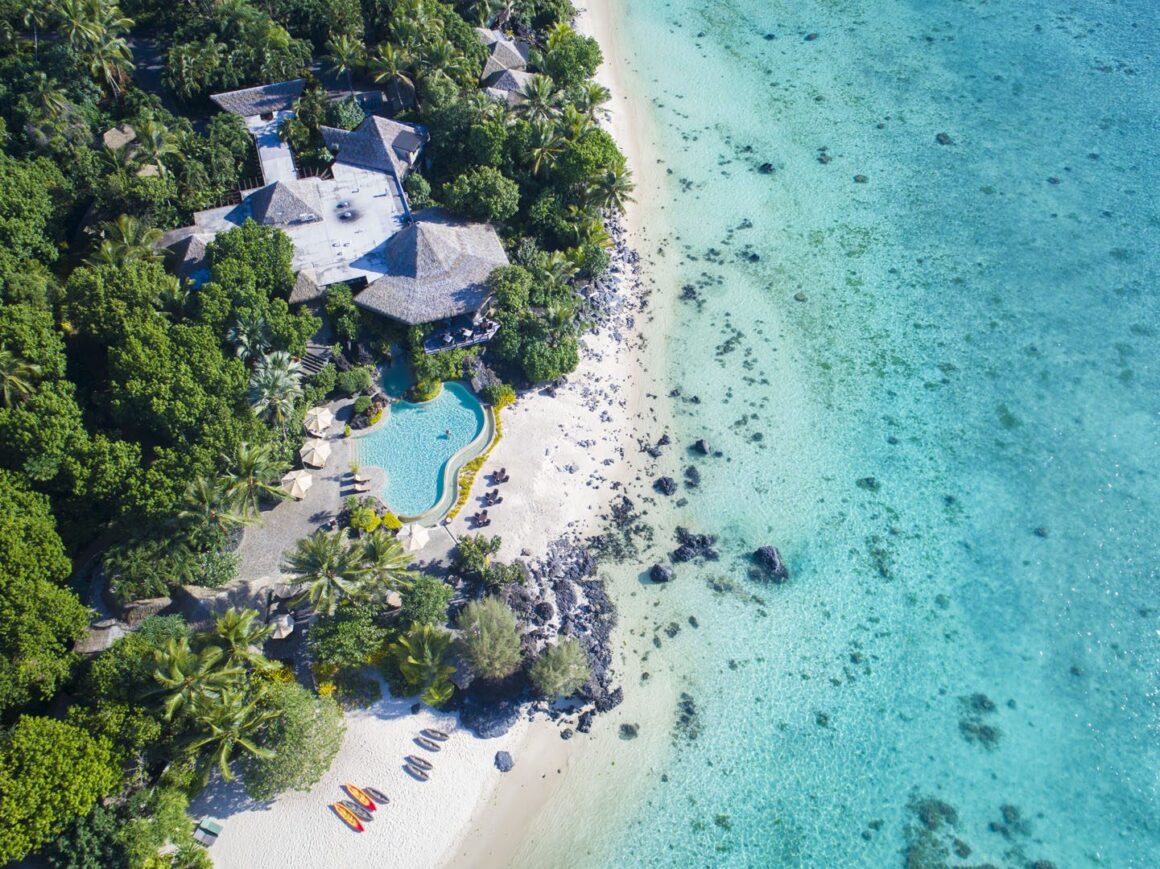 The heavenly Pacific Resort Aitutaki may be one of the best resorts on my list. The 5-star Pacific Resort Aitutaki sits overlooking the breathtaking lagoon and offers to-notch service. If you're looking for a magnificent getaway, it's simply impossible not to fall in love with this intimate Cook Islands luxury resort.
The property stretches out over 19 acres and covers nearly 2 kilometers of pristine beaches. This luxury resort in the Cook Islands has just 27 rooms, making it a small and secluded getaway. What's better? Every single room is a beachfront room, so you'll never miss out on that unreal view.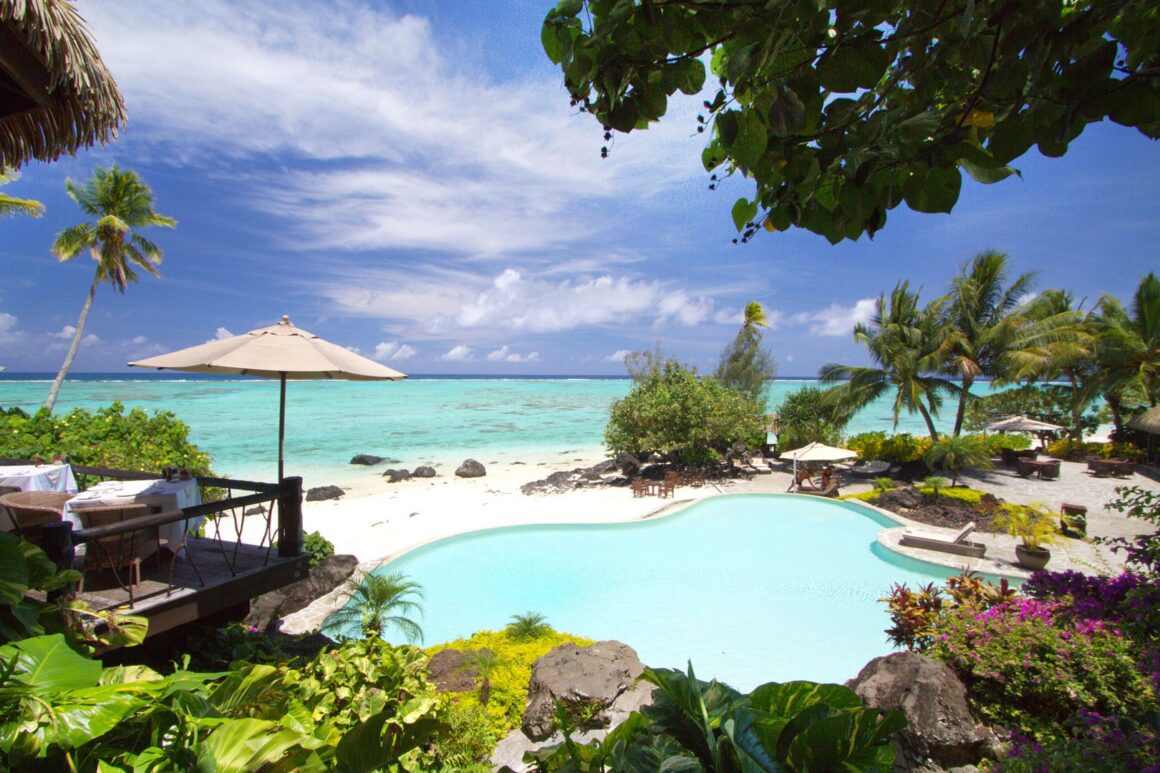 This luxury hotel in the Cook Islands is a member of the Small Luxury Hotels of the World. That means the standards are impeccably high, and it makes for the highest level experience.
Aitutaki Lagoon Private Island Resort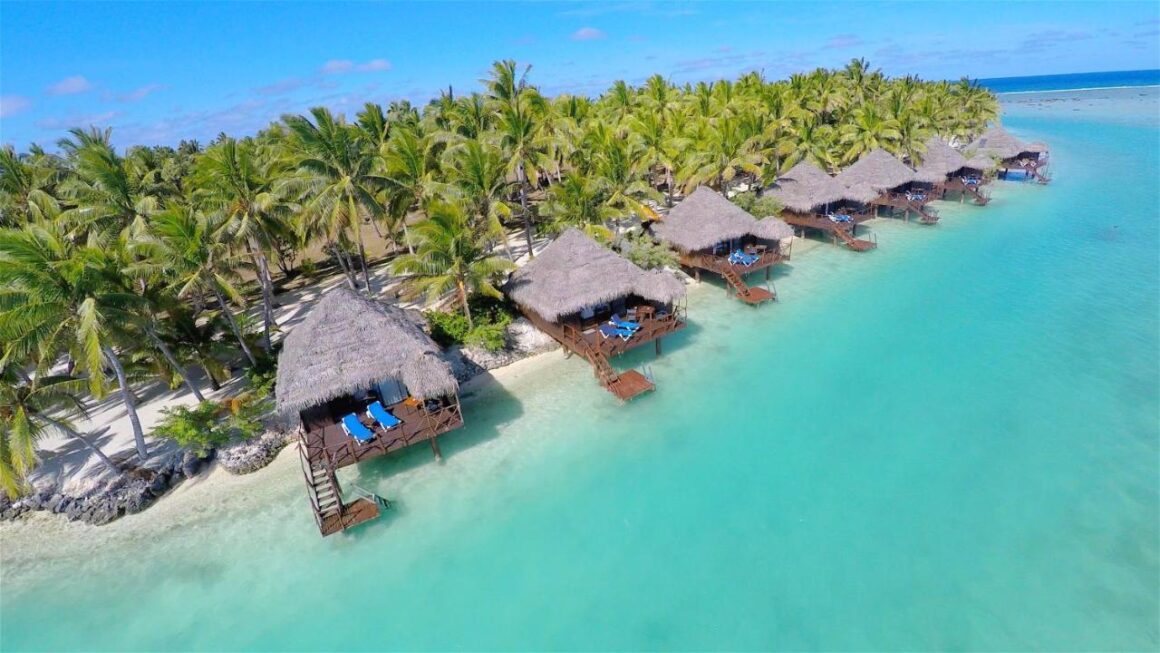 If you're looking to spend some time on the breathtaking Aitutaki island, you'll want to look into Aitutaki Lagoon Private Island Resort. This adults-only resort is among the only for overwater bungalows in the Cook Islands. These exclusive, romantic huts let you wake up to the stunning blue hues of the Aitutaki Lagoon. It's truly one of the most coveted resorts on my Cook Islands luxury resorts list, and often books up months and months in advance.
Want to explore the island, and all its natural beauty? Guests can use complementary stand-up paddle boards or kayaks to further explore the island. In addition, the Polynesian resort is home to a charming spa as well.
Manuia Beach Resort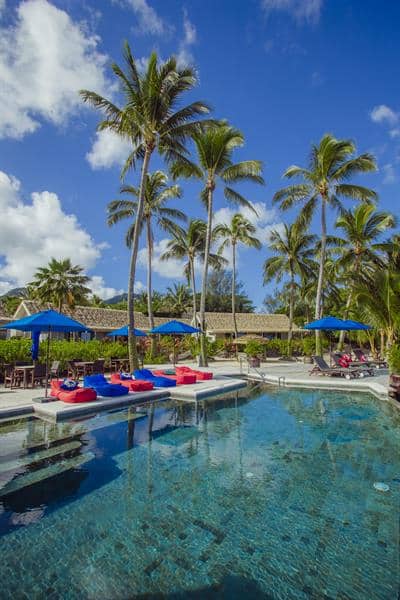 Manuia Beach Resort lies right on a sheltered cove, the perfect backdrop for destination weddings and romantic getaways alike. Coconut thatched-roof suites and apartments make for a charming, laid-back vibe – though the hotel offers all the most modern amenities. The hotel, located on Rarotonga, has a fantastic pool overlooking the crystal clear waters on the Cook Islands.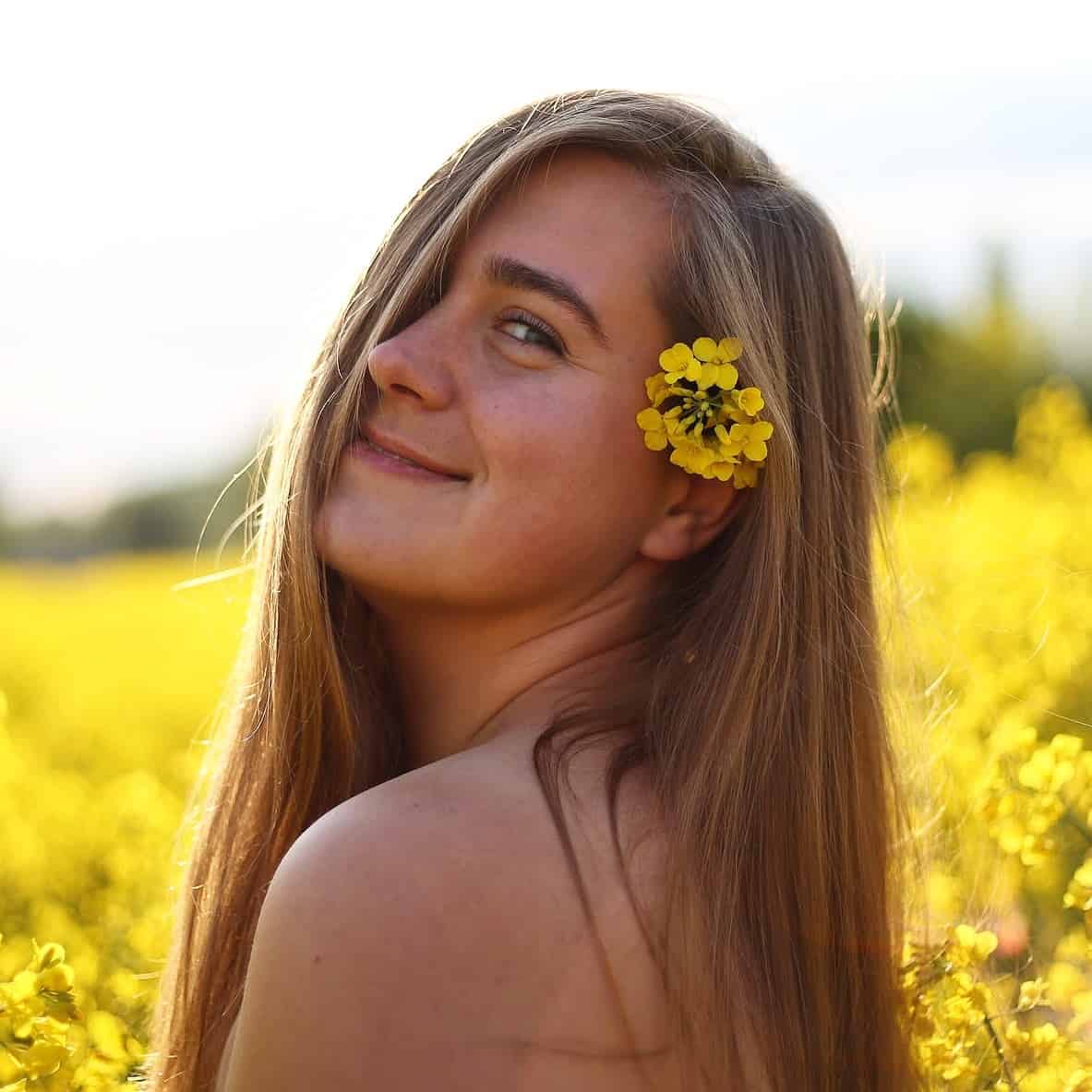 Samantha Tatro is a Czech-American third culture kid who grew up living and traveling abroad. Many years later, after living in California and working as a journalist, she decided to take the leap and move abroad again…this time to Prague, Czech Republic. Samantha started Undiscovered Path Home to help couples and solo female travelers find the courage to visit countries – and locations – off the beaten path. Her work has appeared in Bon Appetit, NBC News, The Adecco Group, and more.