Centuries-old olive trees. Crystal clear waters tucked into coves along the coast. Fresh granite, seafood and focaccia for lunch on summer days. Dusty, winding roads to far-off beaches. Whitewashed villages with sweeping views. When I first visited Puglia, I fell in love with everything this Southern part of Italy has to offer… and some of the region's hidden gems: the best beaches in Puglia. Puglia beaches are truly some of the most beautiful beaches in Italy.
So where is Puglia, and where are the best beaches in Puglia? Puglia, a region located in the "heel" of Italy's boot, has long been known as one of the most rugged and authentic spots in Italy. This unique part of Italia is one of Italy's special secrets…and the best part? The BEACHES. The beaches in Puglia are some of the best in Italy. 
This region has the longest coastline in the country: on one side, the Adriatic Sea, and the other, the Ionian Sea. The pristine, white sand beaches and turquoise waters of Puglia beaches are remarkable and breathtaking – but time and time again, foreign tourists opt for other, more popular spots. Puglia goes completely ignored. Regional studies have shown that Puglia is not as heavily visited as other parts of Italy.
It happened to me, too. When I first started planning my Puglia road trip, so many people asked: where is Puglia Italy on a map? Most people had honestly never heard of this unique part of Italy. Don't get me wrong: I love the food in Positano or the sweeping views of the Amalfi Coast — but
That's exactly why you should visit. Whether you plan to stay in Bari and soak up the electric culture and fresh food in Bari and then take the train to nearby beaches or rent a car and drive down the coast, stopping at every small beach along the way, there's so much to explore in Puglia Italia! My trips to Puglia are some of my favorite beach destinations EVER, and I want to help you explore this gorgeous part of Italy. You won't regret it! So, without further ado, these are my 10 best beaches in Puglia (plus, a bonus swimming hole in Puglia which I couldn't leave off the list!). 
Want to save this post for later? Pin it below!
My favorite Puglia beaches
Planning an epic summertime road trip? Puglia swimming is some of the most beautiful in Italy! Puglia Italy beaches have so much to offer, and usually have amazing restaurants nearby. These are some of my all-time favorite hidden (and not-so-hidden) beaches in the Puglia region. The Puglia best beaches I'm about to mention are simply spectacular, and worth a visit — and some even have the best hotels in Puglia on the beach!
Torre Lapillo Bay, Porto Cesareo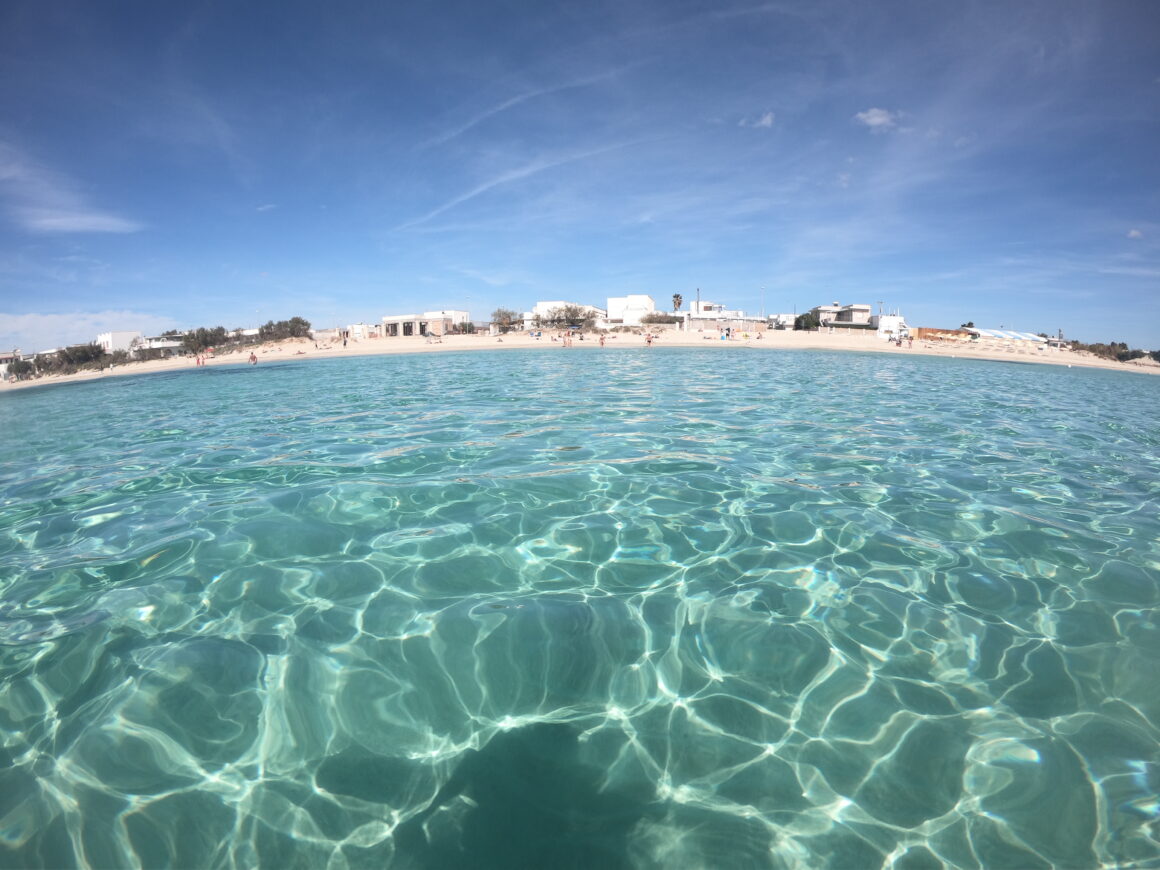 Torre Lapillo Bay was undoubtedly one of the highlights of our Puglia road trip and my favorite in this list of the 10 best beaches in Puglia. When we stayed in Gallipoli, we literally drove out to Porto Cesareo multiple days in a row. Most days during the summer, Torre Lapillo Bay can be quite busy, so plan to arrive early!
This slice of paradise, located in the small beach town of Porto Cesareo, has kilometers of shallow, crystal clear water (made all the better because there's usually no wind). The 4 kilometers of sand dunes make for a magical day out at the beach. This place is at its most beautiful when you catch some of that beautiful Puglia Italy weather!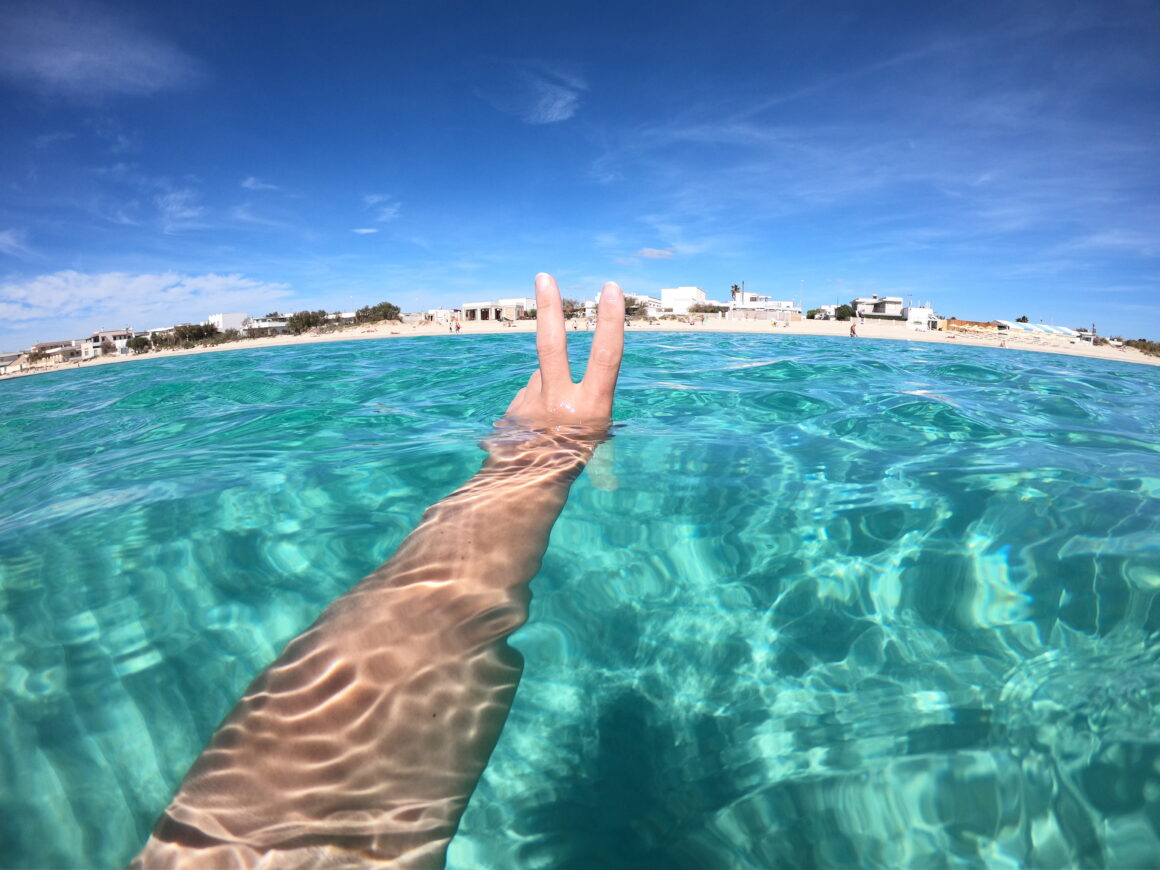 Pro tip: driving in Puglia can always be a bit of a toss-up with road conditions, but when we visited, these roads were a little rough and filled with potholes. Make sure to drive slow to avoid wrecking your tires!
Porto Verde Beach, Monopoli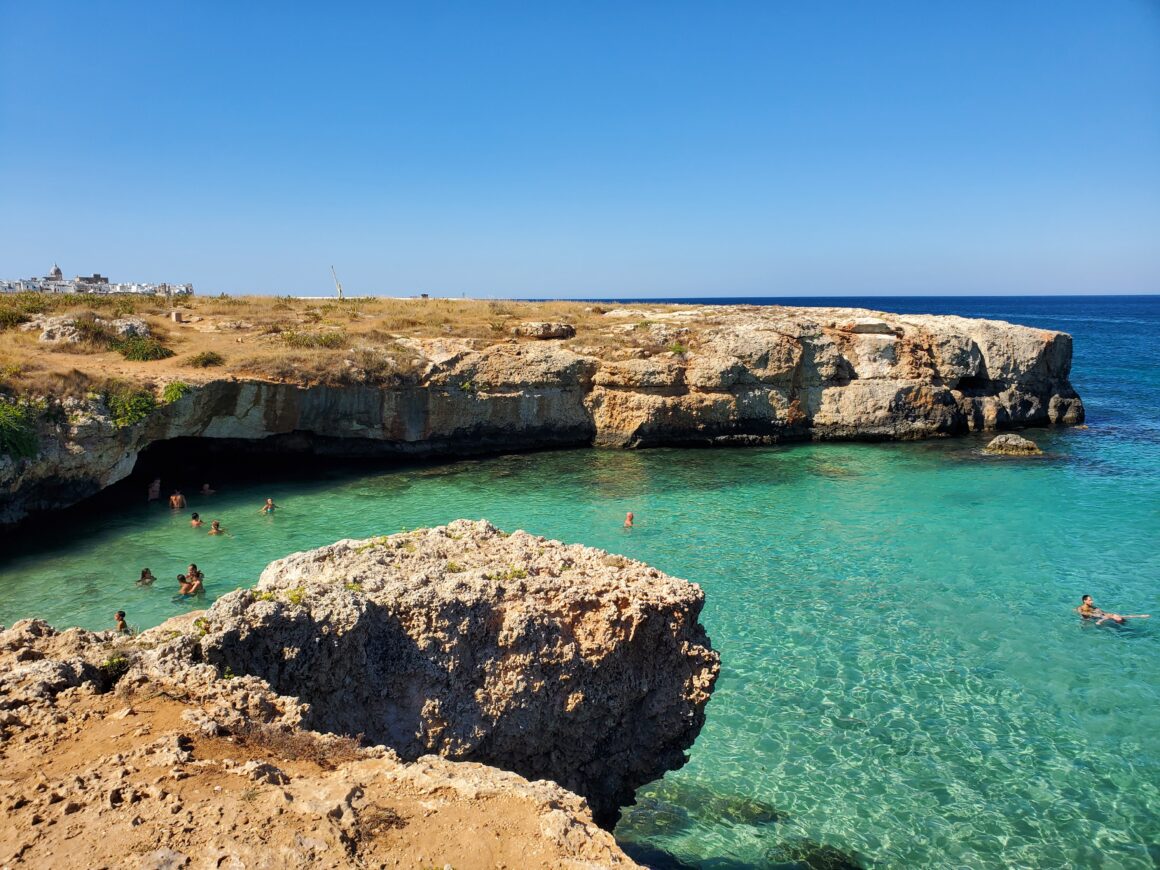 Monopoli is one of Puglia's best-kept secrets! Most people heading to Puglia tend to skip right past this gem, but it's home to some of the most beautiful and serene beaches in the Puglia region.
I first found this beach while biking down the coast of Monopoli with my fiance on a weekend trip. When we pulled over to walk down to the cove, I didn't think much of it. The actual path is a little unassuming. But when we reached the beach, I actually squealed. Porto Verde Beach is literally FLAWLESS, and I would have never found it if we hadn't been roaming around, soaking in the summer weather, looking for those hidden spots. After driving all around Puglia for weeks, I have to say: this is one of the best beaches in Puglia.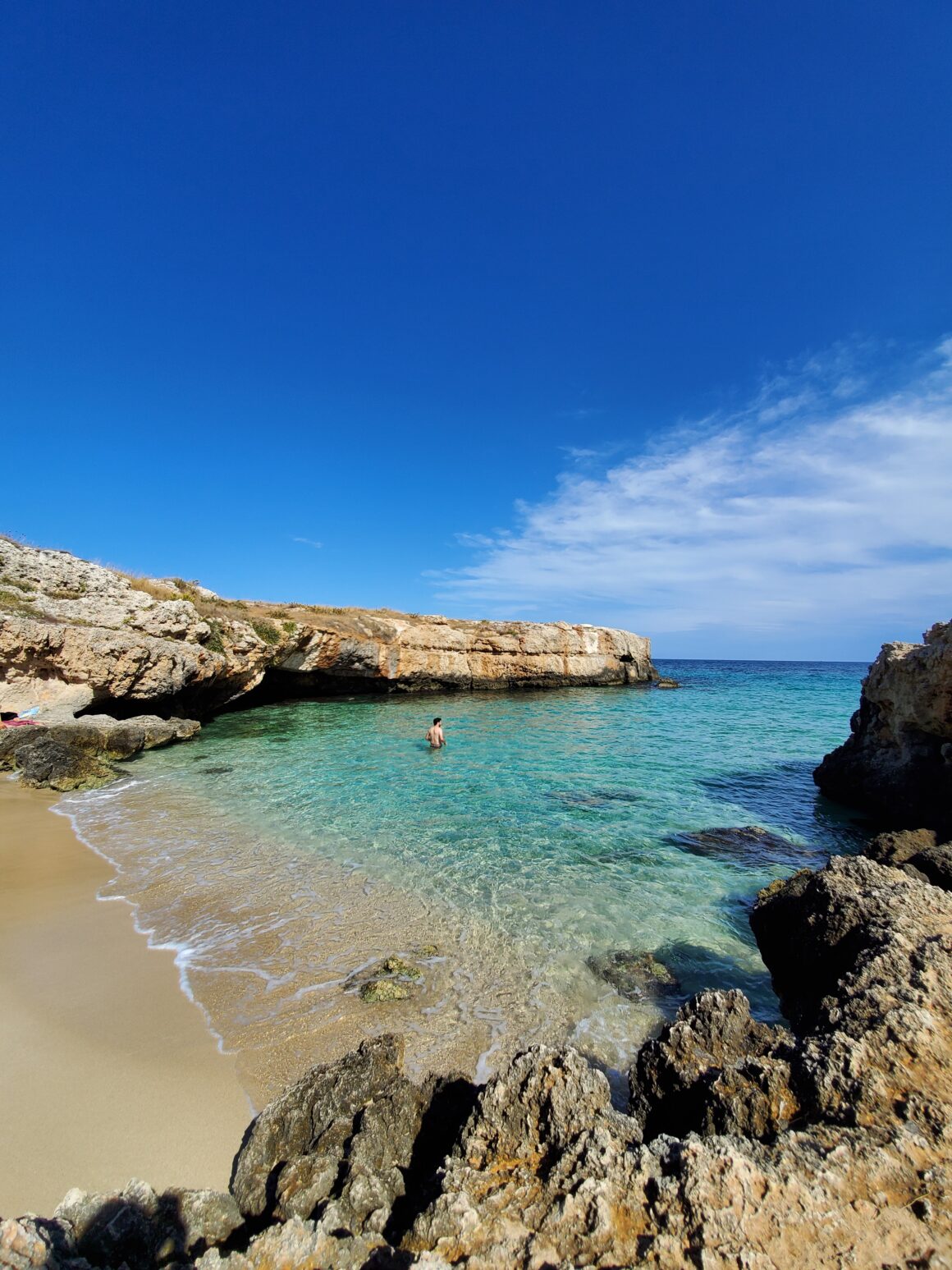 Porto Verde Beach is one of several beautiful coves along the southern stretch of Monopoli. Unlike the other beaches, this one is the most breathtaking. This amazing Puglia beach has a small stretch of sand with a nearby restaurant (just down the road, serving Focaccia, of course), but it's really all about the lazy bay of crystal clear water. You can swim for miles and soak up the sunshine in still water. It's a true local spot. There's nothing else like it!
Pro tip: rent a bike at the train station for a couple of Euros and head to the coast. Monopoli has a beautiful bike path all along the shore. It's the best way to explore the coastline and all of the wonderful Puglia beaches!
Lama Monachile, Polignano a Mare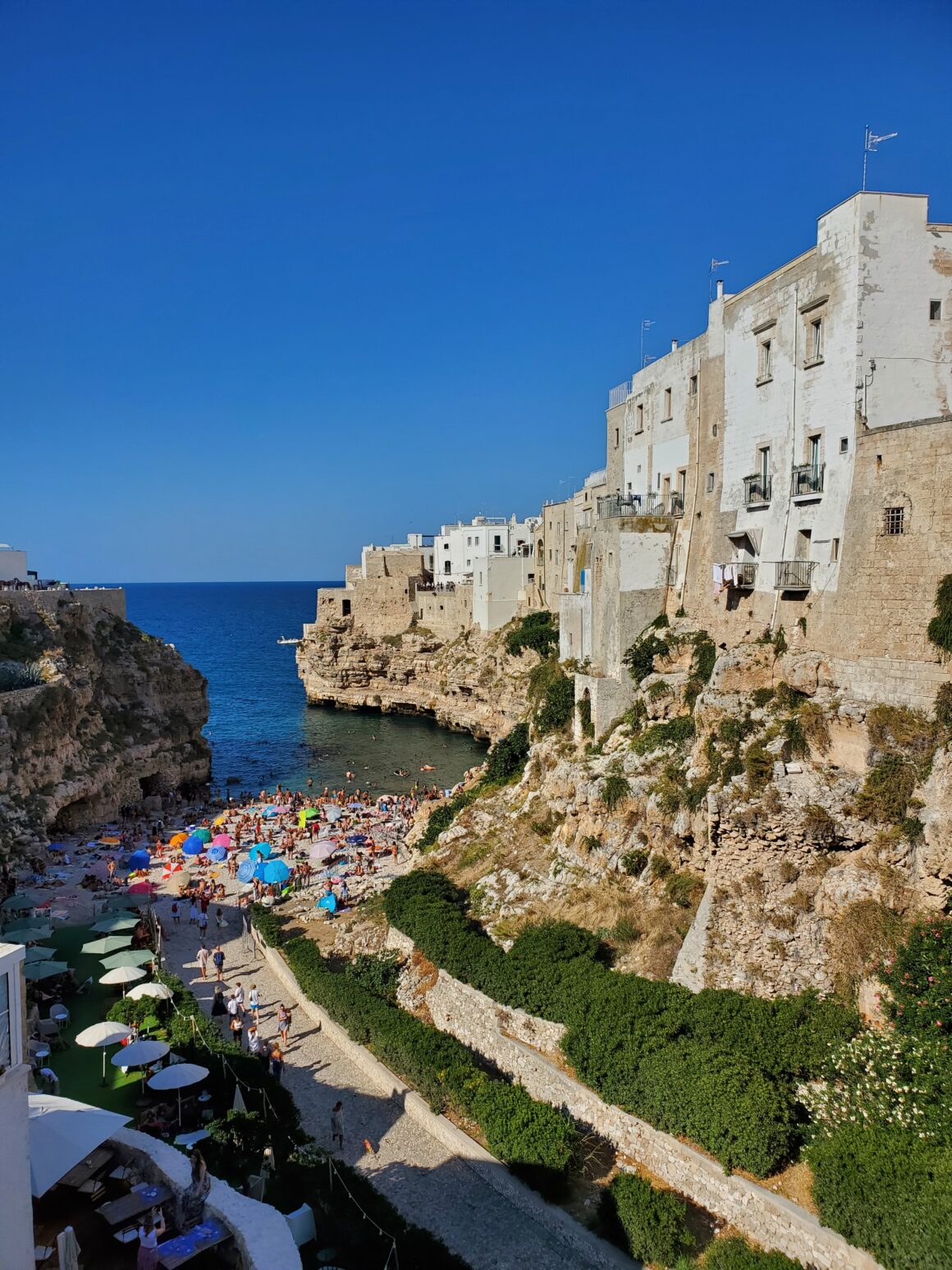 Lama Monachile is one of the most iconic spots in Puglia. This beach, located right in the city center of Polignano a Mare, might not have a lot of space to sit and sunbathe (unless you get there early!), but it does have a lot to offer. Swimming in the crystal clear waters under the cliffs of Polignano a Mare is truly unforgettable!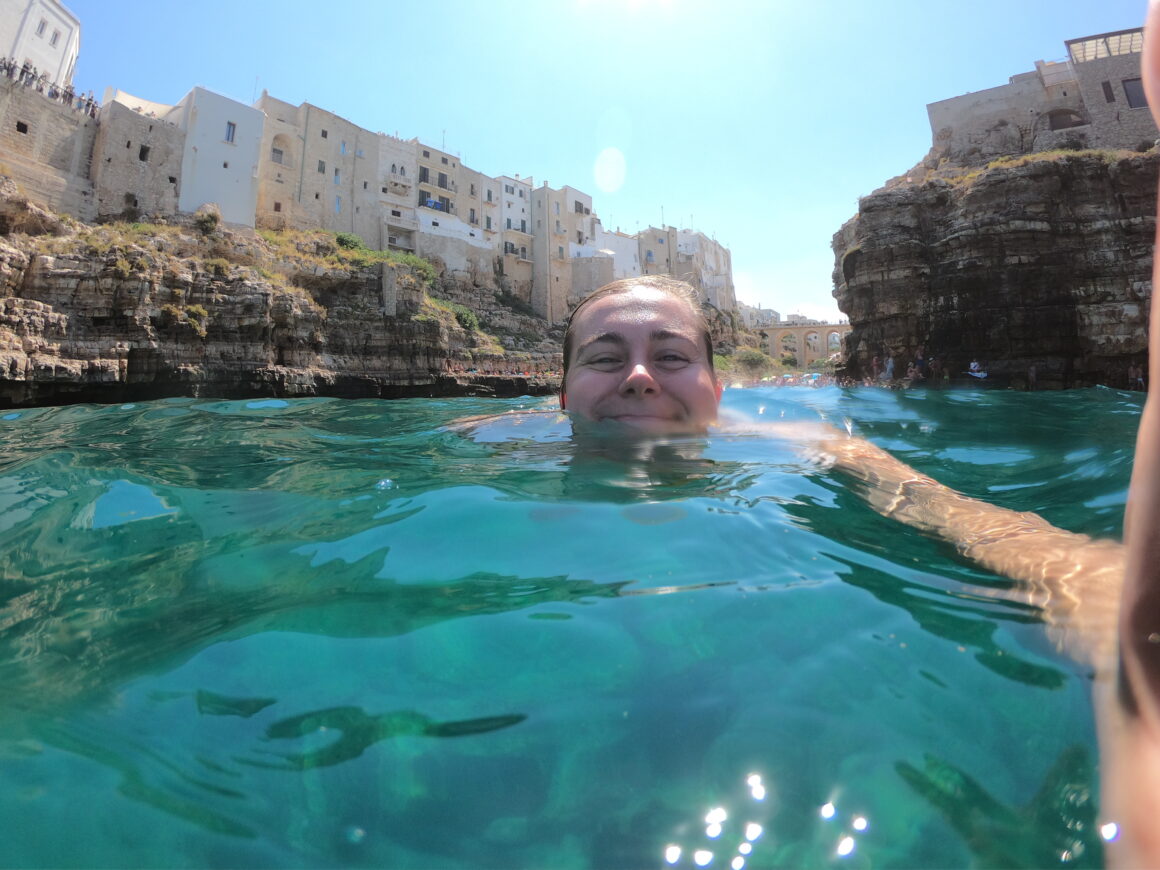 Lama Monachile also has plenty of Puglia restaurants nearby: a great gelato place, a granite spot, and a focaccia spot, in addition to several sit-down spots. Plus, the Instagram famous cave restaurant is in Polignano a Mare! The ease of accessibility makes this one of my 10 best beaches in Puglia for a reason: it's just so easy to visit and enjoy it all!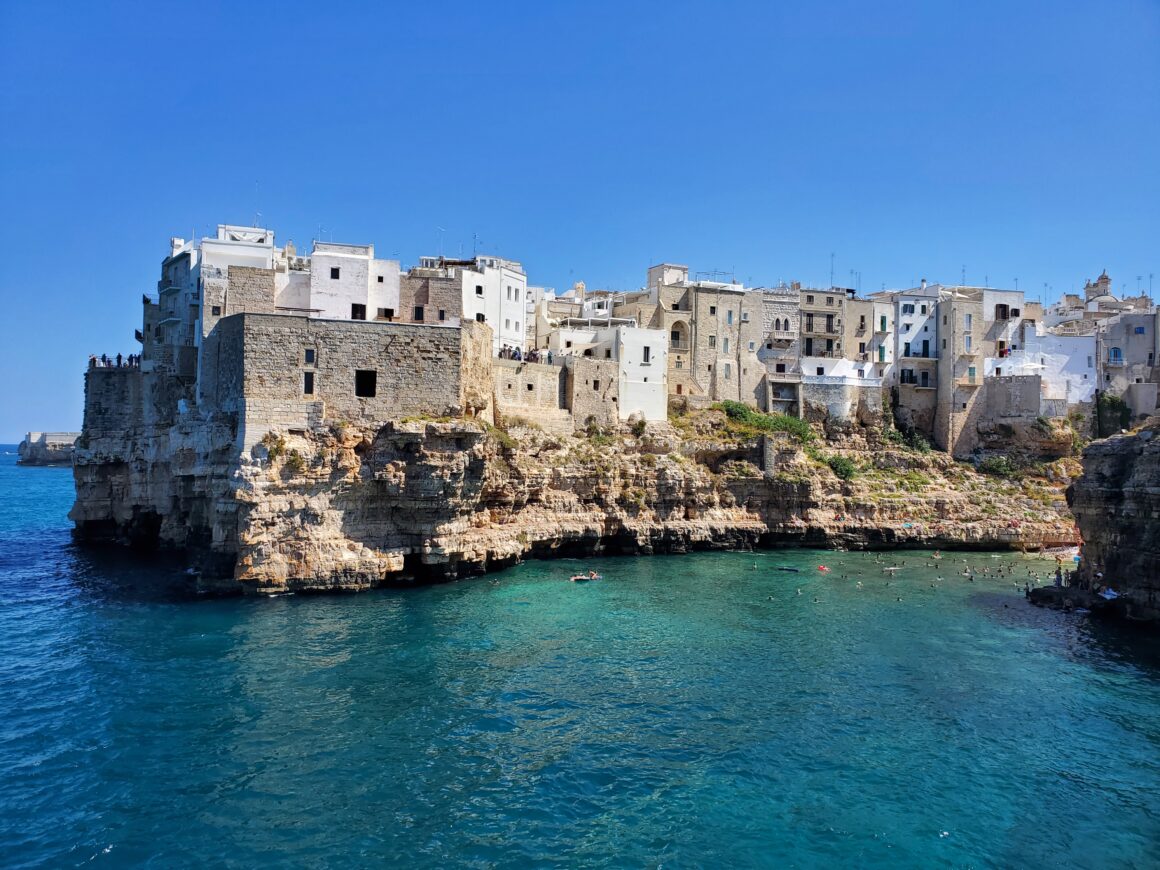 When people ask me where to stay in Puglia, I often recommend Monopoli or Polignano a Mare, especially if they plan to stay for a shorter period of time. Polignano a Mare is great because it has a great selection of Puglia food (hello pizza and fresh fish!) and it's still close to Bari Puglia, the most convenient and best airport for Puglia visitors. Plus: It's home to some of the best hotels in Puglia on the beach!
Pescoluse, Leuca (The Maldives of Salento)
Pescoluse gets its name from the small sandbanks off the coast, which resemble a cluster of islands off the shore. These Ionian waters and white sands draw hundreds each summer looking for that Maldives look-alike. The best part about Pescoluse? The shallow waters that stretch out for kilometers, making it a great destination for families – or just beachgoers looking to float in the water. There's a reason this place is known as the Maldives of Salento! English and American tourists haven't really found this part of Puglia yet (shhh!!), so it's kind of a hidden local spot (for now).
The Tremiti Islands, Gargano
The Tremiti Islands remain an absolute gem in the Puglia region. These three islands are located at the very north of the Puglia region and you can reach them by boat from Termoli, or several other smaller towns in the Gargano area. San Domino and San Nicola are the two largest islands, but you can pick a boat tour to any island and enjoy incredible snorkeling, diving, sunbathing, and all-around scenic beauty. It's pure, wild beauty at its best!
Torre Dell'Orso, Melendugno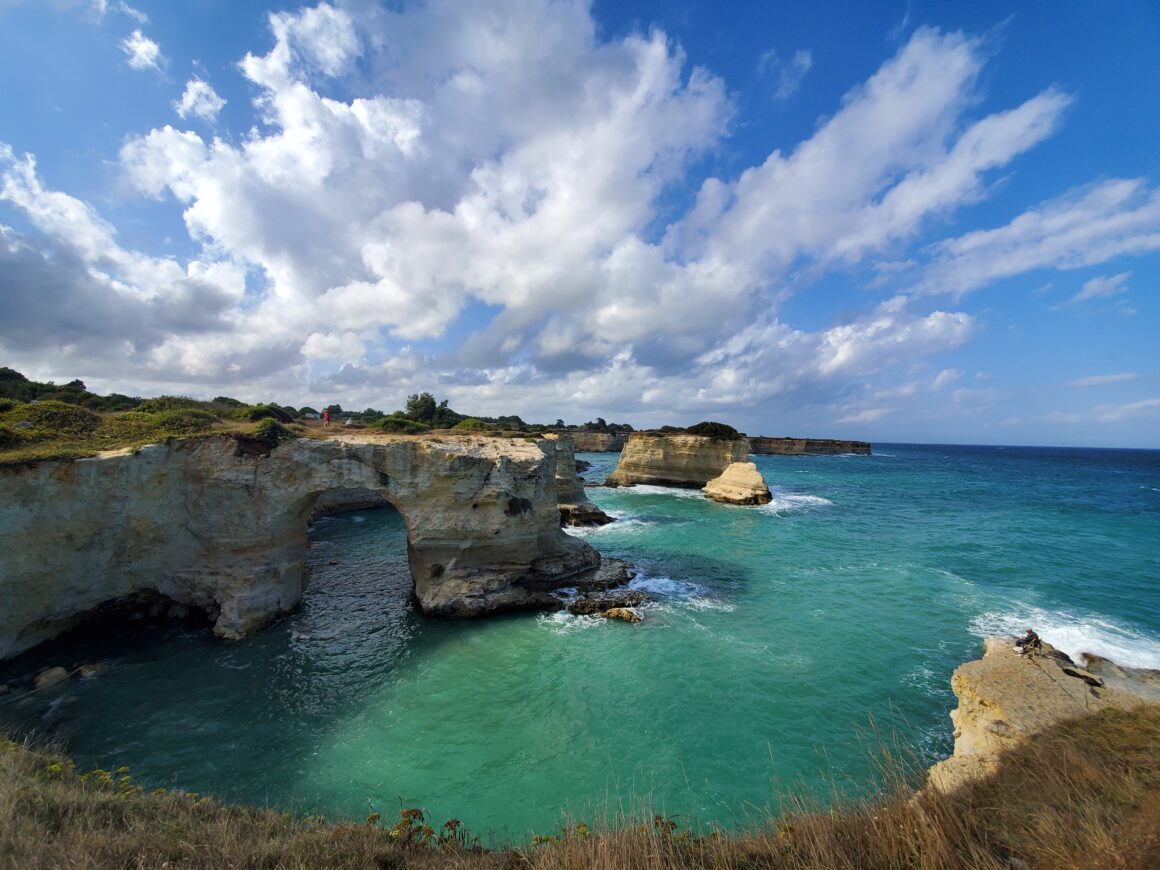 This tiny stretch of beach in the Melendugno region of Puglia has some of the most striking scenery. The most beautiful feature: the "two sisters," twin rocks that stand side-by-side on the beach. It's not just pristine sands and still, clear water, though. Expect rocky cliffs full of caves.
To reach this beach, you'll drive through lush forests and park in a paid lot. It's a little bit of a drive from Otranto (around an hour, if you take the scenic route), so make sure to bring food and drinks; there's only one small restaurant within walking distance of Torre Dell'Orso.
Baia dei Turchi, Otranto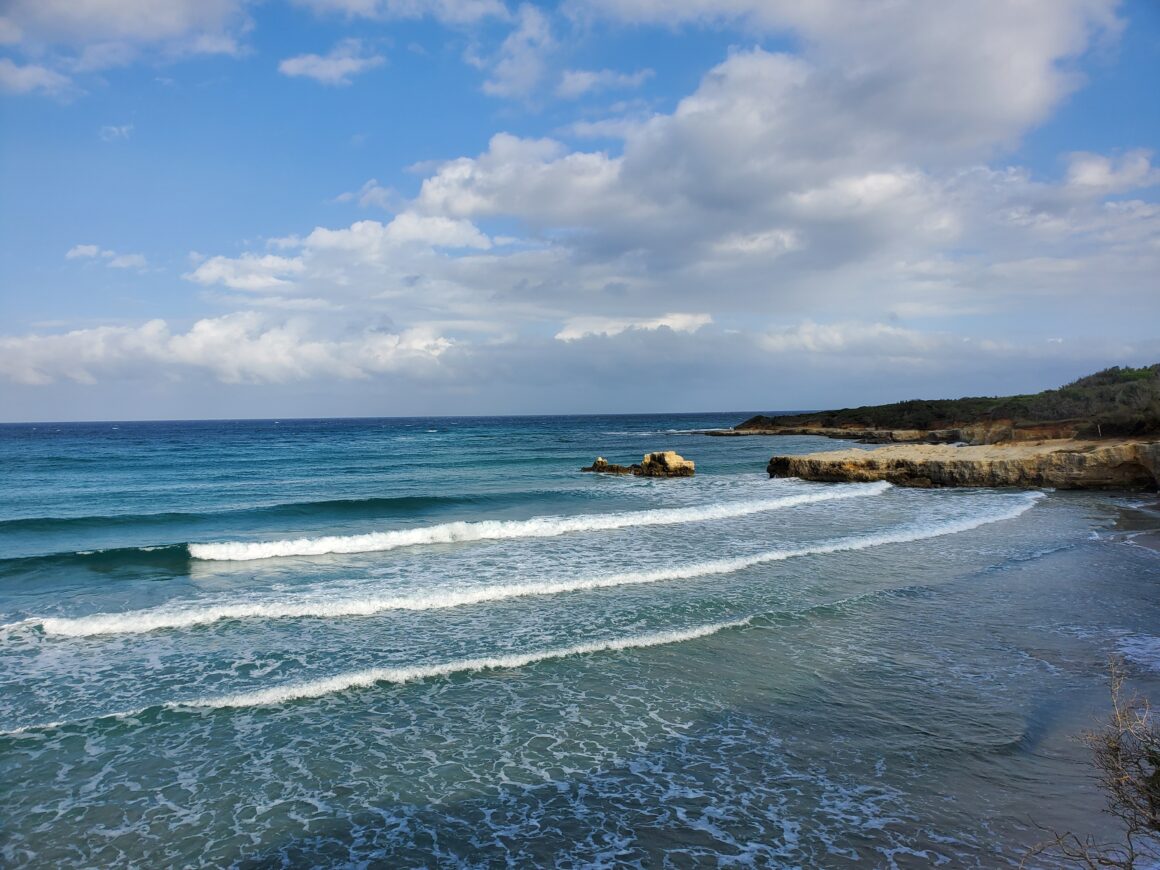 Baia dei Turchi directly translates to the Bay of the Turks, and this beach is known as the spot where Turkish soldiers landed during the Otranto battle back in the 15th century. Don't worry, nowadays this white sand beach offers beautiful still waters in a sheltered cove. You'll have to walk through a pine forest to reach your destination (we didn't know if we were going the right direction, but just keep walking!). The views are rewarding: a peaceful stretch of secluded sand, all your own.
Spiaggia di Porto Ghiacciolo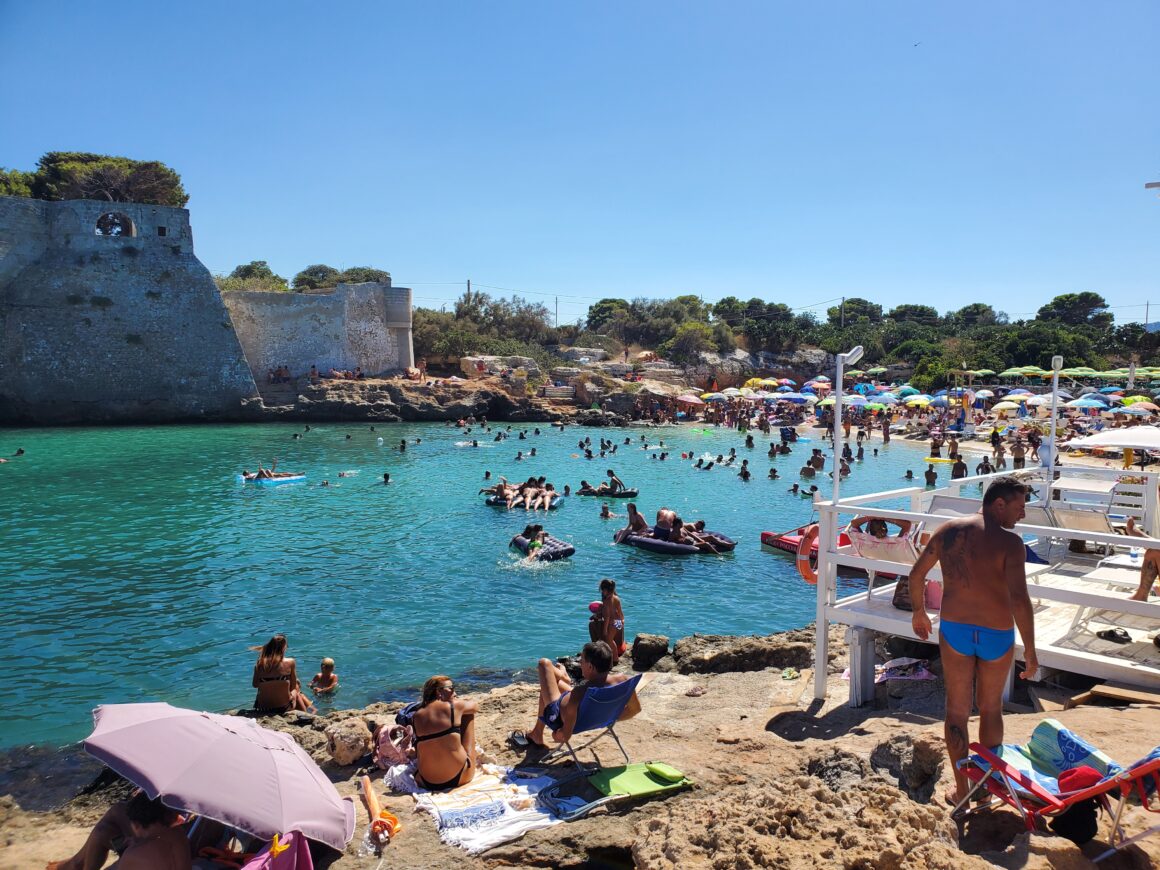 We found Spiaggia di Porto Ghiacciolo when biking around the Monopoli region. We just kept biking and biking…and found this gem. It's seriously the most fun little spot. Located off a short road, this locals-only beach is the perfect cove destination. It's everything you want from your local Italian beach spot: a fresh cafe cooking up light Italian lunch fare, plenty of clear water to swim around in, and even a small little castle right above the water. What's not to love?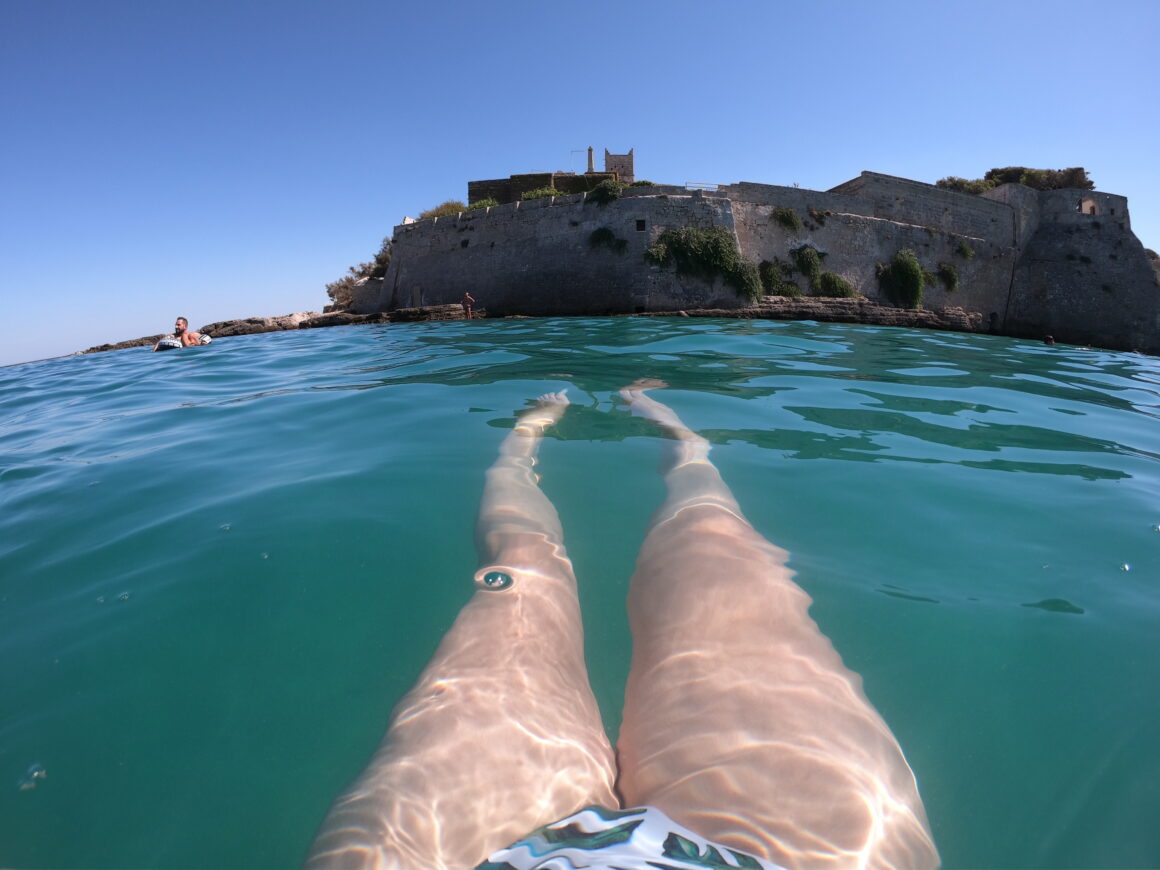 Spiaggia di Porto Miggiano
We discovered some of my favorite beaches in Puglia by pure chance! Spiaggia di Porto Miggiano is a little cove beach tucked away in a bay. Located on the east coast of Salento, this beautiful little spot is the perfect place to sunbathe and float. The beach used to be quite dirty years ago, but since local cleanup efforts, the sand and water have gotten significantly cleaner. If you do decide to make the drive, be warned: there's a very high chance you'll be the only non-Italians! There's no beach bar here, so plan to bring your own food and drinks.
Punta Proscuitto
Punta Proscuitto Beach is a long stretch of white sands and tranquil waters. This off-the-beaten-path destination is simple to reach, but you will need to do a bit of trekking over lush scrub to reach the actual beach. Don't worry, it's nothing too treacherous! Punta Proscuitto is such a lovely, secluded beach destination and it's totally worth the trip.
Grotta della Poesia, Roca
Grotta della Poesia might not be a beach destination, but it is an insanely beautiful swimming spot nonetheless. This Puglia swimming hole, located just north of Otranto, is the perfect spot to soak in the sunshine or go cliff diving. The swimming hole gets its name from its heart shape, which you can see from above. Even if you don't plan to swim, it's one of those amazing Instagrammable destinations that you should see even once in your life – especially if you're passing by!
How to visit the beach beaches in Puglia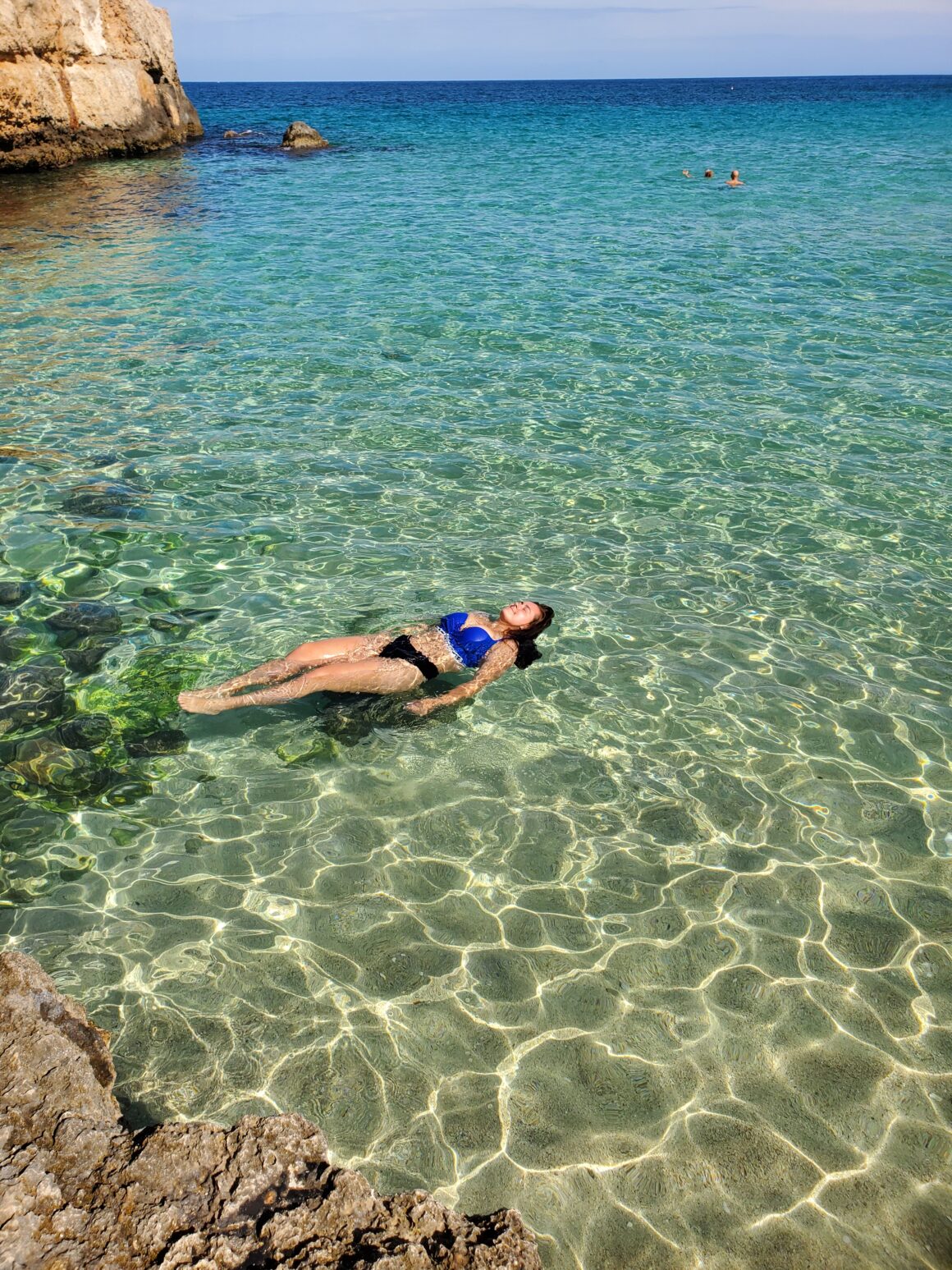 Puglia is one of Italy's most undiscovered gems! Most tourists will visit select parts of Puglia (Bari, Polignano a Mare, or Lecce, for example) and skip the little spots along the way. 
But there's so much more to Puglia than the big cities. To truly explore this unique region, you will need to rent a car and drive down the coasts. Some of the best beaches in Puglia lie hidden among the coast, in plain sight. When we drove down, we spent time in Otranto, Lecce, Santa Maria di Leuca, Monopoli, and Gallipoli, among other spots, and found some of the best beaches in Puglia, Italy.
If you don't have the time to rent a car and do a whole road trip, don't worry. If you base yourself in Bari, you can travel by train to Monopoli or Polignano a Mare each day. Bari has far more restaurants and nightlife to make the most of your trip, too. 
Liked this article? Pin it to save the most beautiful beaches in Puglia!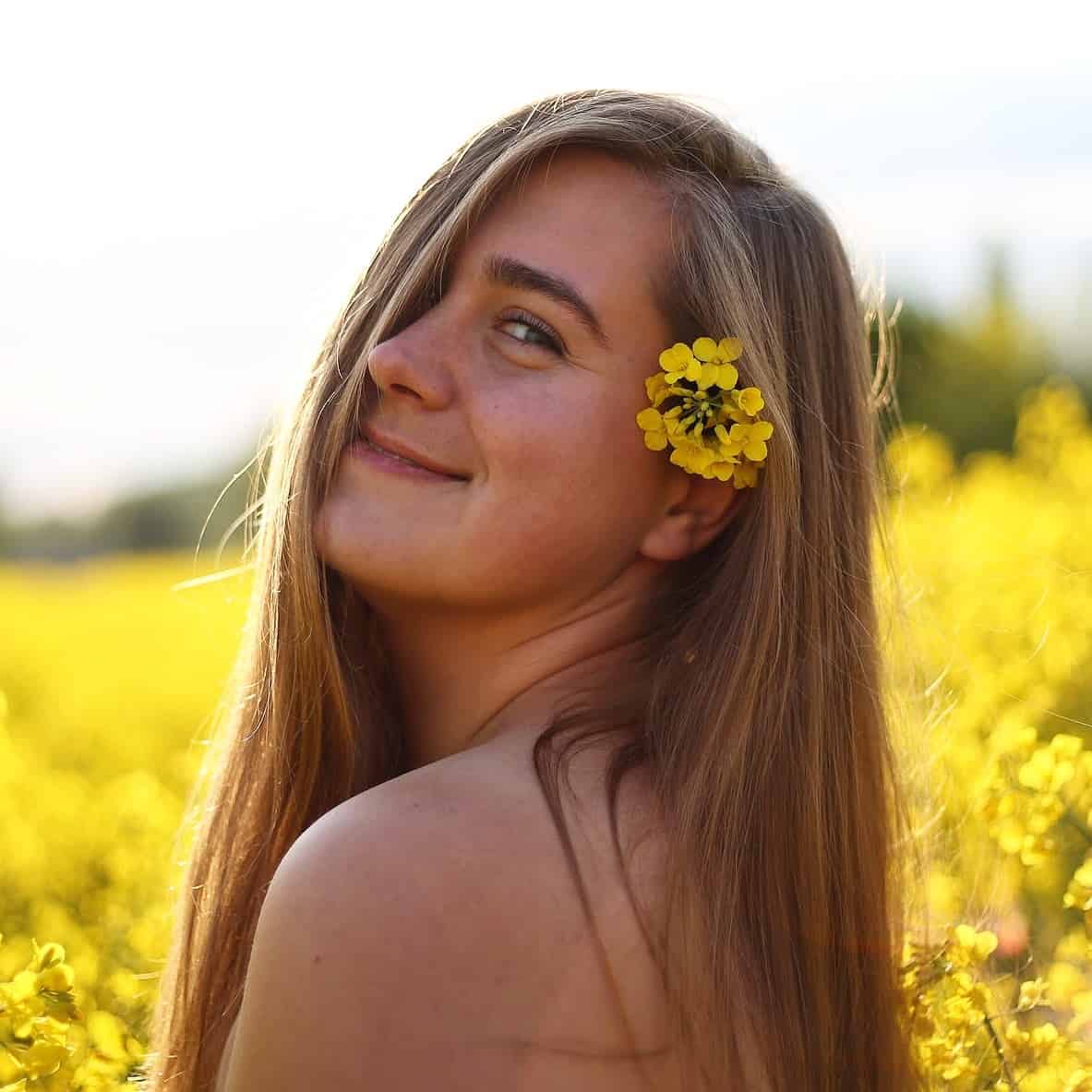 Samantha Tatro is a Czech-American third culture kid who grew up living and traveling abroad. Many years later, after living in California and working as a journalist, she decided to take the leap and move abroad again…this time to Prague, Czech Republic. Samantha started Undiscovered Path Home to help couples and solo female travelers find the courage to visit countries – and locations – off the beaten path. Her work has appeared in Bon Appetit, NBC News, The Adecco Group, and more.