When most people visit Czech Republic, they start in the city's iconic capital, Prague. Nicknamed the City of a Thousand Spires, this cradle of Czech culture is home to countless treasures and historical sights… So much so that I often recommend tourists spend at least two or three full days in the capital to truly experience all the best places to visit in Prague (though if you DO just have a day or two, I have you covered). Thanks to the city's central European positioning, there's plenty of things to do in Prague, no matter your interests.
Prague remains one of the best-preserved cities in Europe, especially when you consider the country's Communist background. From the spectacular Old Town Square to the largest castle complex in Europe, perched overlooking the city, there's so much to see and do in Prague. Let's dive into the most iconic, can't-miss things to do in Prague with my complete local guide.
Local tip: If you're looking for a complete guide to understanding Czech food, tipping and traditional Czech food restaurant recommendations, get my Ultimate Foodie Guide to Prague. It's filled with more than 70+ restaurant recommendations and more!
Disclosure: this article contains affiliate links, which means when you make a purchase, I will earn a small commission. Affiliate links cost you nothing and help keep my content free. It's a win-win! For more information, check out my disclosure policy here.
Don't have time to read this post? Pin it for later!
The Best Things to Do in Prague
These are my absolute favorite, cannot-miss Prague things to do, from sights and experiences. If you're visiting Prague, don't miss the best places to visit in Prague (I should know, I live here – and I'm Czech!).
And if you're looking for my favorite tours in Prague, from day trips to free walking tours, click here to read my full digest. It'll help you better plan your trip to Prague and incorporate all the best things to do in Prague. Likewise, for some of these options, renting a car may be the best option — especially if you plan to leave Prague!
Pro tip: Check out my full packing guide for Prague and Czech Republic here. It's filled with useful tips about weather, different region, a complete checklist for every season, and more!
1. Charles Bridge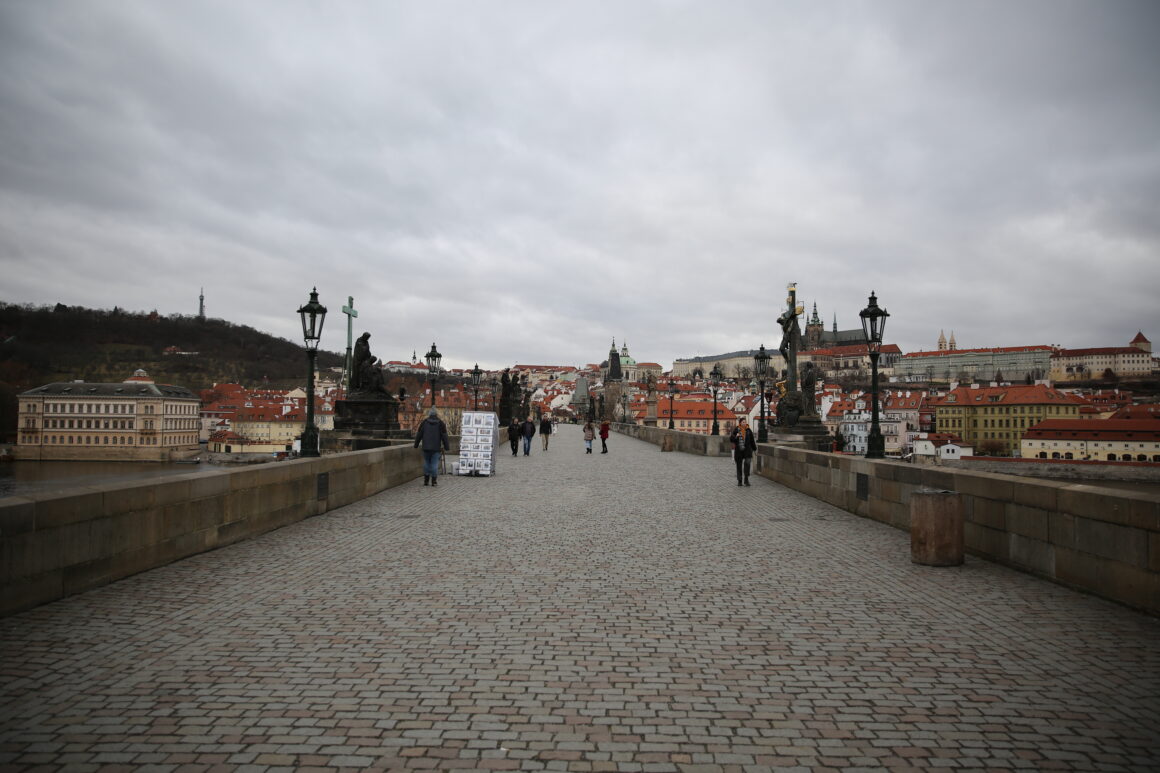 Charles Bridge is arguably one of Prague's most famous sights – and one of its most beautiful, too. This quintessential Prague experience has to be top of your list. This iconic bridge was first built in 1357 and connects Old Town to the "Lesser Quarter," known as Mala Strana in Czech.
To this day, it remains one of the most picturesque parts of the city — and the perfect spot to snap those postcard photos. If you're looking for a bird's eye view, make sure to climb up the tower and take in the view. It's worth the extra 20 minutes on our way through the city. When it comes to things to do in Prague Czech Republic, this should be your first stop!
If you're looking for a tour that covers all the Prague highlights, including Charles Bridge, I recommend this walking tour — which includes a typical Czech lunch and hour-long boat cruise, too! There's no better way to visit the best places to visit in Prague in one tour.
Insider tip: Charles Bridge is going to be super crowded, especially in the summer! The only way to avoid those crowds? A sunrise walk. But if you still want that tourist-free photo, step off the main road and take a left, heading to Restaurant Mlýnec. You'll find a nice lookout spot to get the perfect view of the bridge and Prague Castle.
2. Prague Castle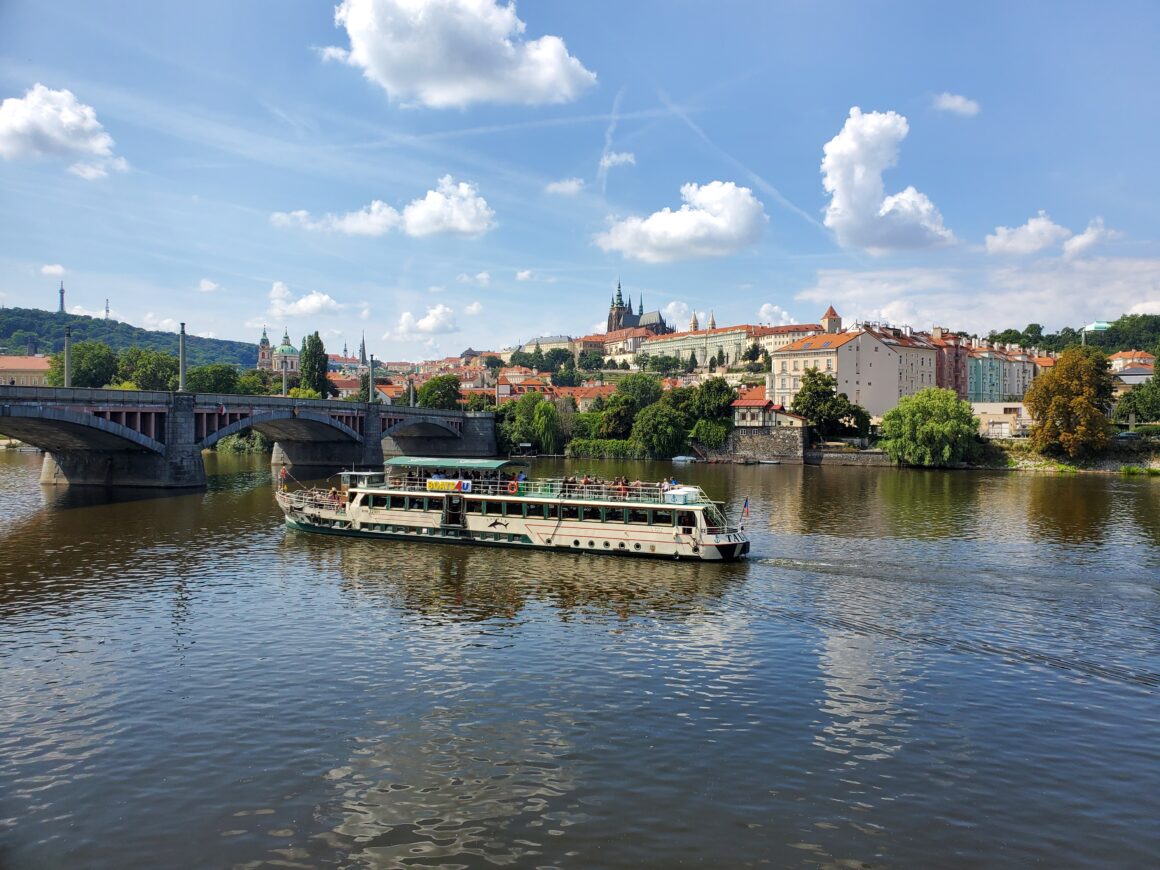 If you're visiting Prague, you CANNOT miss Prague Castle (Pražský hrad). The Prague Castle is enormous…In fact, it's been in the Guinness Book of Records as the largest ancient castle in the world. Don't expect to cover all the ground in one morning or afternoon. I'd plan to spend the better part of a day here, seeing all the castle grounds have to offer. Prague Castle — and especially the stained glass at St. Vitus Cathedral — remains one of my favorite things to do in Prague.
So what do you visit when you go? These are my highlights:
The Old Royal Palace (Starý Královský Palác)
The Czech Republic's largest Christian building, the Roman Catholic St. Vitus Cathedral (Katedrala St. Vita)
Golden Lane (Zlatá ulicka)
If you're looking for a tour that covers it all, this is the one I always recommend — it covers Old Town Square, Prague Castle and the John Lennon Wall, the perfect combo for first-time visitors. Trust me, you'll want a tour guide for Prague Castle to truly experience all the best of Prague.
3. Klementinum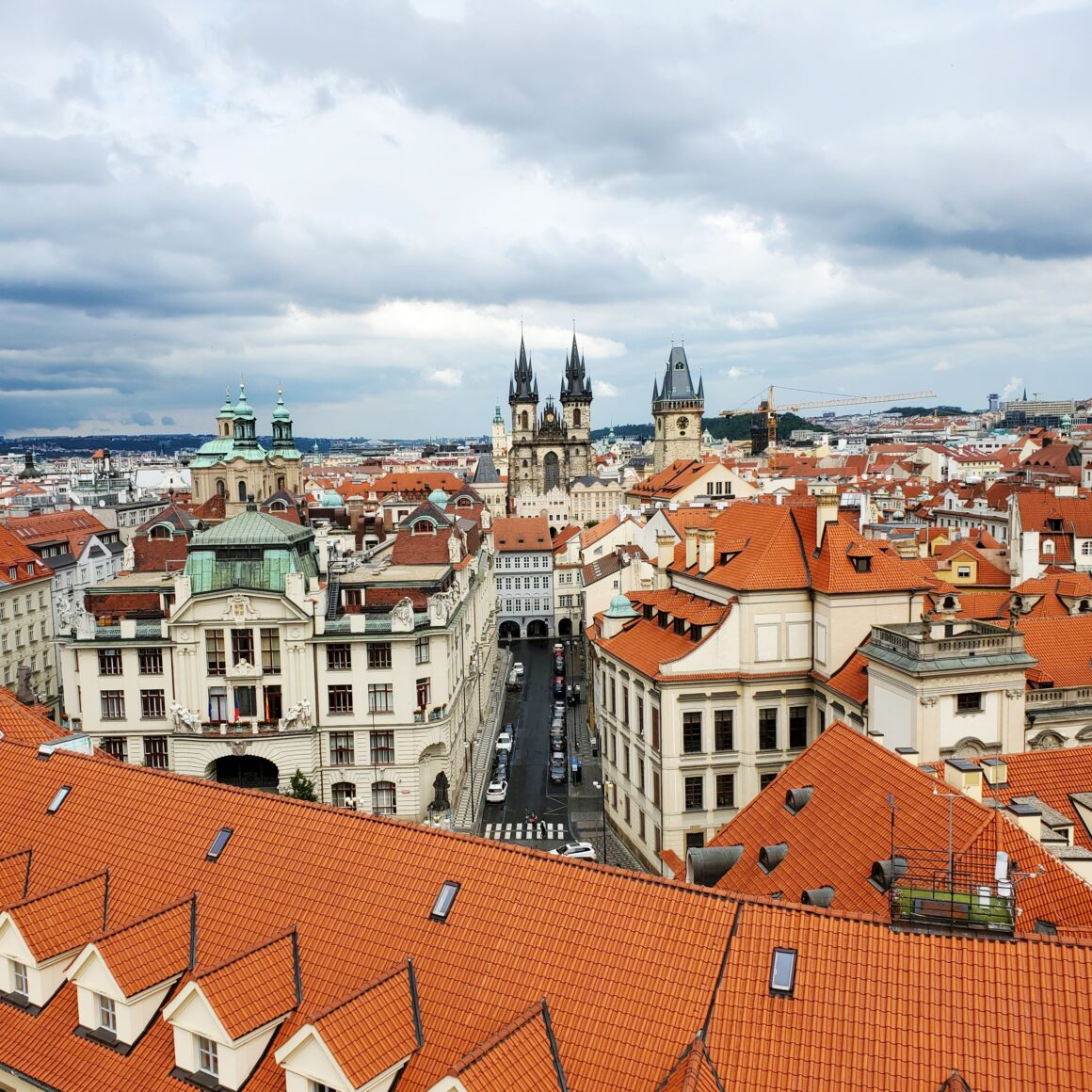 Klementinum has my heart! This often-overlooked spot in Prague, located right by Charles Bridge, remains one of my favorite places to visit in Prague. Be sure to stop inside and buy a guided tour of the Baroque Library and tower (and purchase earlier! It books up!).
A guided tour is the only way to visit the historic library, which was established in 1722. The library is home to 20,000 volumes of mostly foreign theological literature. There are few places as magical as this library. Afterwards, admire the view at the top of the tower. It's a 360 view of both Old Town Square and the Charles Bridge. It's my favorite view in Prague, easily.
4. Old Town Square & the Astronomical Clock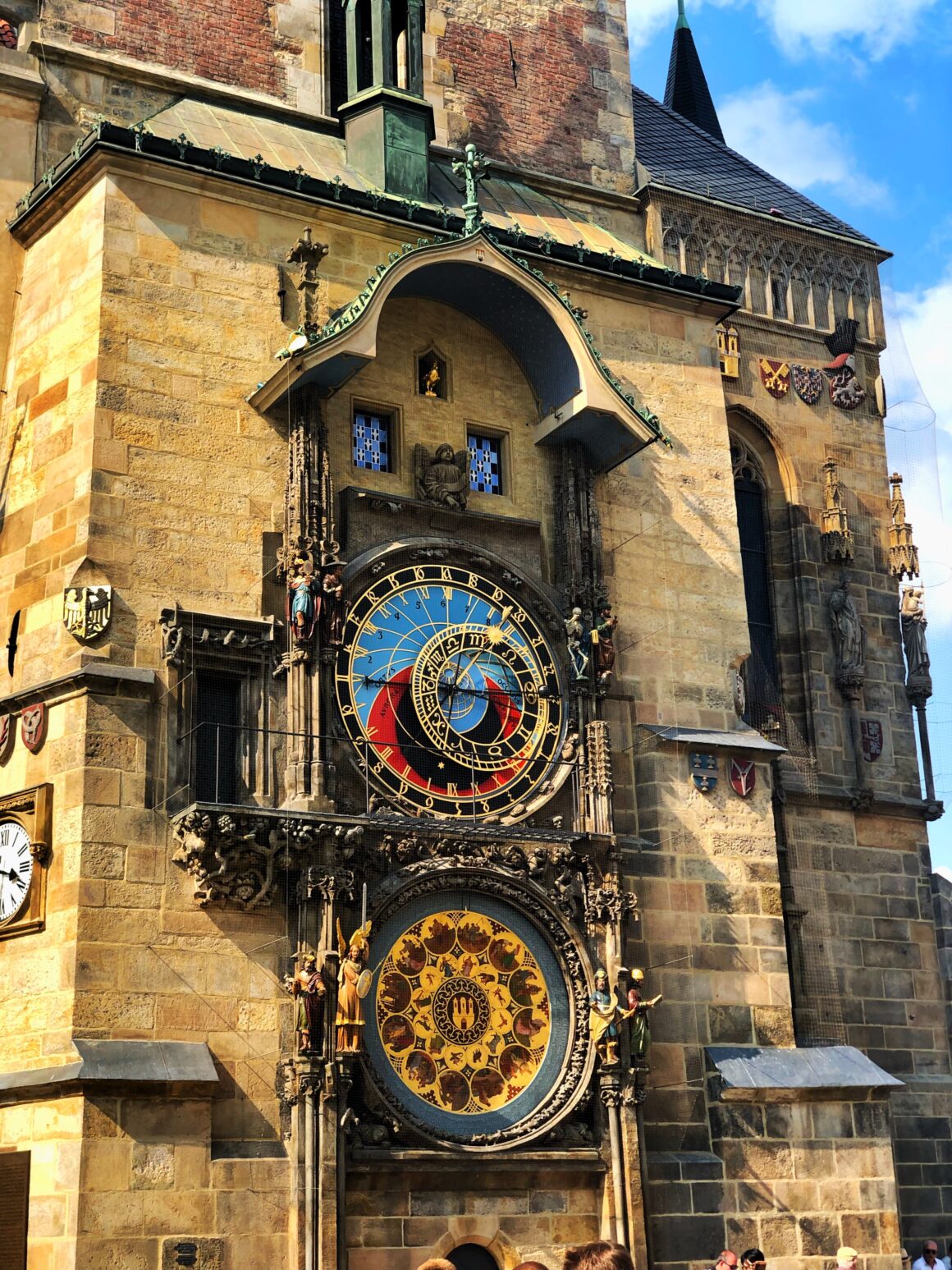 Can you even visit Prague without visiting Old Town Square? Old Town Square may be one of the most touristy spots in town, but it's totally worth the visit for a quick walk through and it's a must on the list of the best places to visit in Prague. This 12th century square is home to Old Town Hall, the Church of Our Lady before Týn, the Baroque Church of St Nicholas, the Rococo Kinský Palace, the Gothic House at the Stone Bell and the monument to Jan Hus. You can go up the stairs to the top of Old Town Hall, which gives you a beautiful view of the square.
5. Visit the National Theater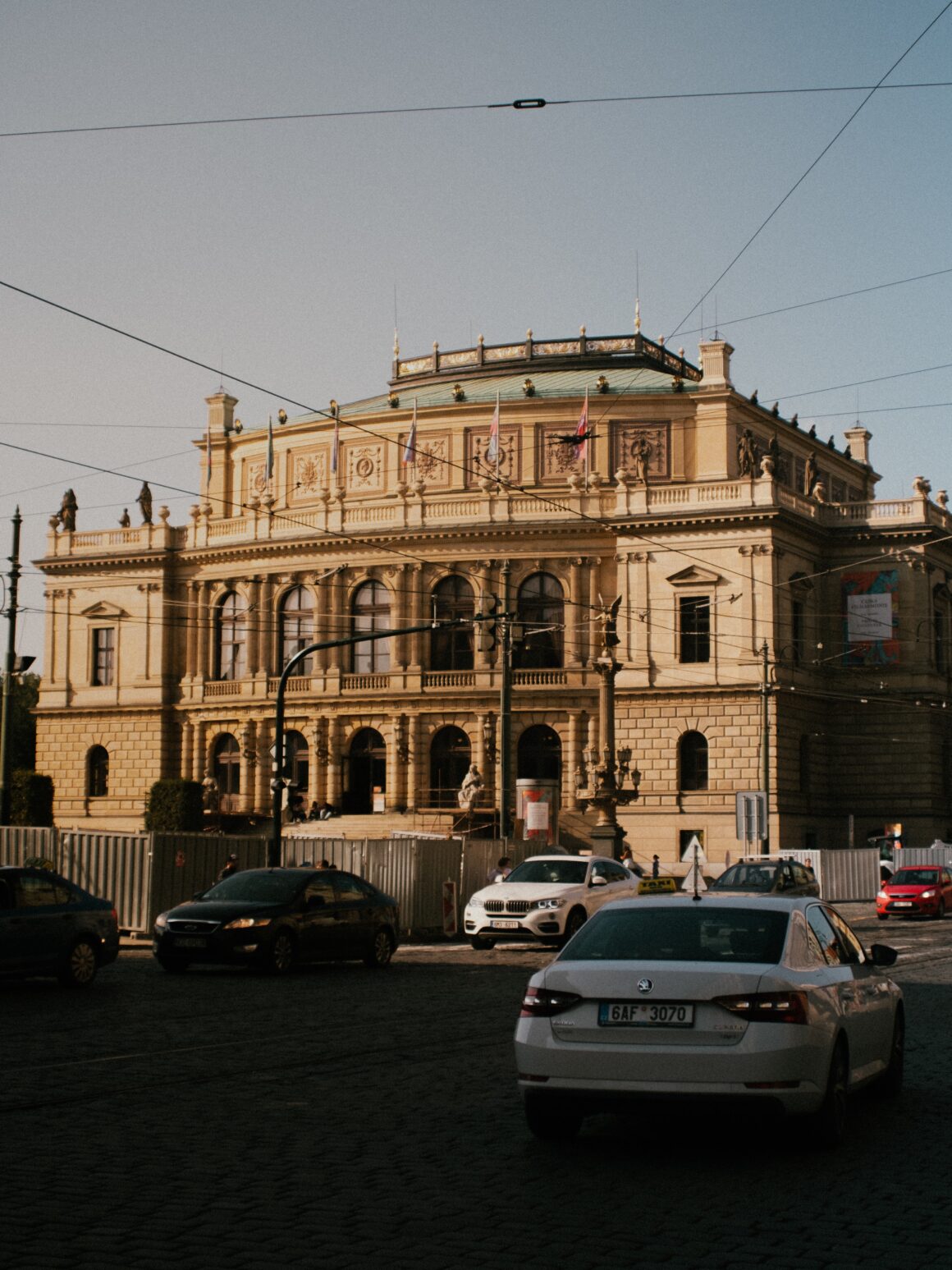 Prague has a thriving arts scene, and I'm constantly impressed with the sheer amount of performing arts playing at any given time. The city has THREE (!) historic theaters, plus the philharmonic, several musical and play venues…and that's just scratching the surface.
If you want to soak up some of Prague's arts scene, you need to visit the National Theater. The National Theatre, The State Opera and the Estates Theatre play ballets, operas, plays and performing arts almost year-round. I've visited each of these gorgeous theaters, but my favorite is the iconic National Theater by the water, which was built with funds from a nationwide collective.
I'd recommend visiting an opera or one of the many ballets in town. You can't go wrong. The National Theater sells tickets up to six months in advance. You can check out the schedule here.
6. Explore Petřín
The beautiful Petřín sits opposite Prague Castle, overlooking the entire city. Take a nearby bus or tram to Petřín, one of Prague's best lookout points. If you want the more traditional experience, you can walk about 20 minutes to the cable car, which makes for a truly unique experience (make sure it's in operation that day).
What is there to do in Petřín? Stroll around the park, take in the view…there's even a mirror maze, and a memorial to victims of communism. At the end, take a second to stop and enjoy the Beer garden Petřín. It's truly one of the most scenic places to enjoy a drink and relax after a long and busy day – and one of my favorite off-the-beaten-path things to do in Prague.
7. Stroll Vyšehrad
Many tourists visiting Prague will often skip Vyšehrad. But this neo-Gothic structure shouldn't be missed. Vyšehrad is made up of the Basilica of Saint Peter and Paul, perched on a hill overlooking the lower city. This historic fort was built in the 10th century and became the seat of the first Czech ruler, King Vratislav II of the Přemyslid dynasty, a century later.
Nowadays, you can visit Vyšehrad and walk through the adjacent cemetery, home to famous Czechs like composers Bedřich Smetana and Antonín Dvořák, as well as the renowned writers Karel Čapek and Jan Neruda.
8. Letna Park
Prague is well-known for its ample amount of green space, and Letna Park just might be one of the best-known parks in the city. Letna Park, or Letenske Sady in Czech, offers a stunning view of the Vltava River and its many bridges.
This park is also home to one of the best beer gardens in Prague, the Letna Beer Garden. Stop by this shady spot to drink some fantastic Czech beers on draft and test out some of Prague's best street food – all while soaking up the spectacular views. This activity is, of course, best on a beautiful, sunny day. Don't be surprised to see locals at Letna Park, either, especially during the summer. If you're looking for fun things to do, flag this one!
9. Admire the John Lennon Wall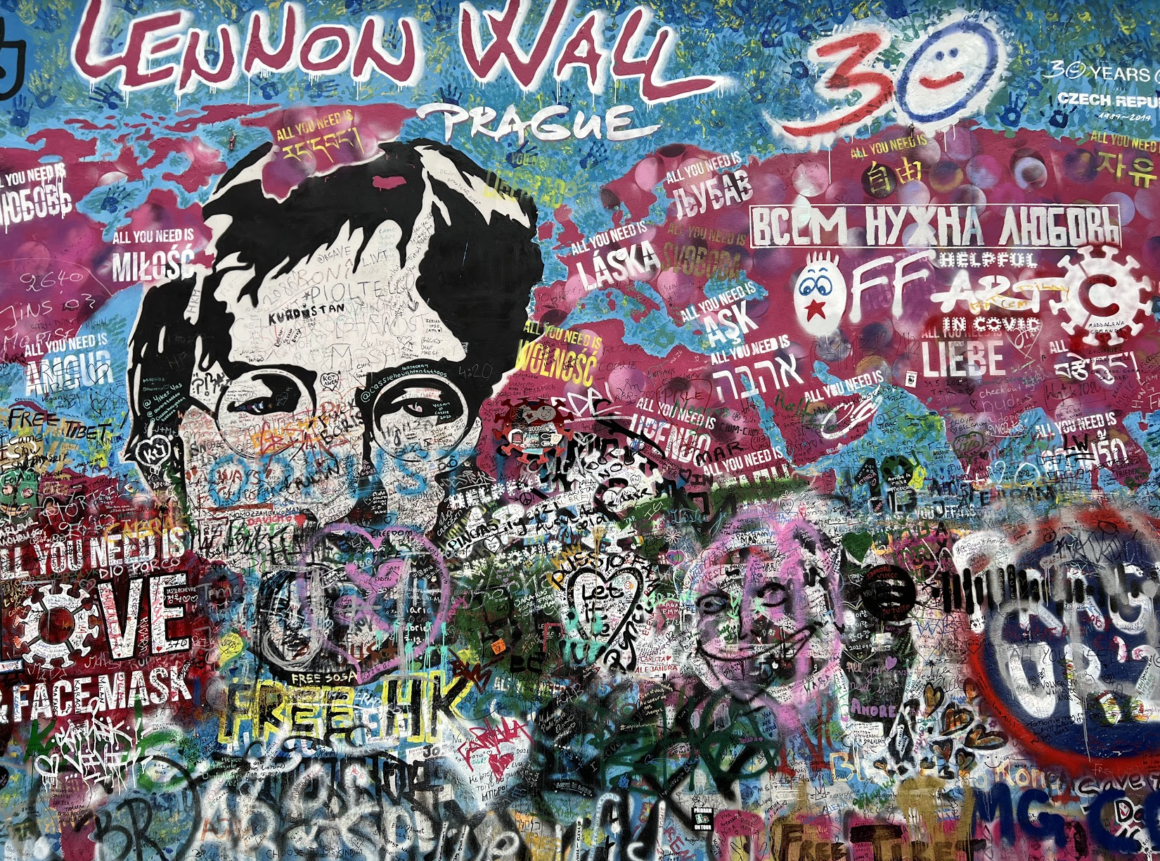 The John Lennon Wall is an easy stop if you're visiting the Charles Bridge or nearby Prague Castle. This colorful wall lies behind a small church courtyard. It first started in 1980, shortly after Lennon was killed. John Lennon never visited this location, but the wall quickly became a symbolic burial site by the youth of Prague. During Communist times, the wall symbolized freedom of speech and the non-violent resistance. The wall now constantly changes with the times – in fact, drawing on the wall is encouraged.
10. Take a boat cruise along the Vltava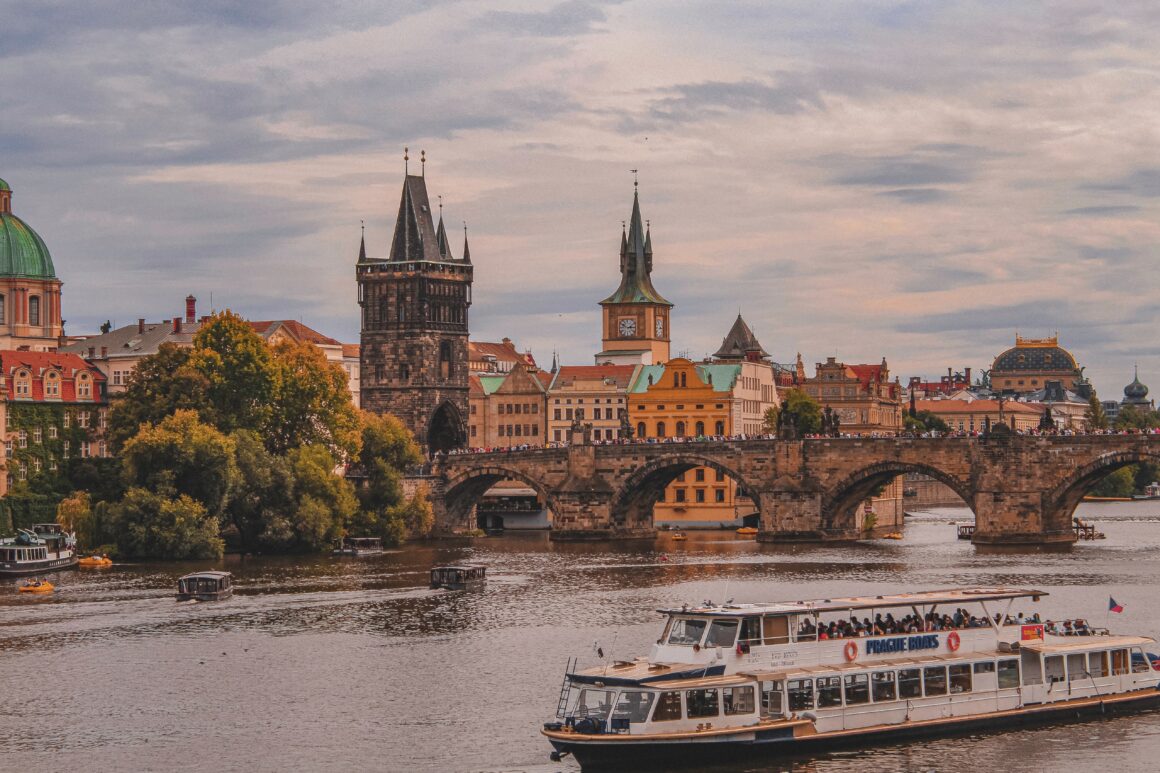 Those boat cruises seem touristy… right? I can't help but admit that the boat tours can be touristy, but it doesn't mean you should skip them. I've done two boat tours down the Vltava now, and each time has been spectacular. This is the boat tour we did for our Valentine's Day, and it was honestly perfect (and the food wasn't bad either!).
If you visit in the summer, opt for a shorter, one-hour ride with some sort of open space. There's truly nothing like seeing Prague from the water, especially at sunset! If you're going at sunset, consider bringing a light cardigan for your trip to avoid freezing at night.
11. Set aside time for a classic Czech meal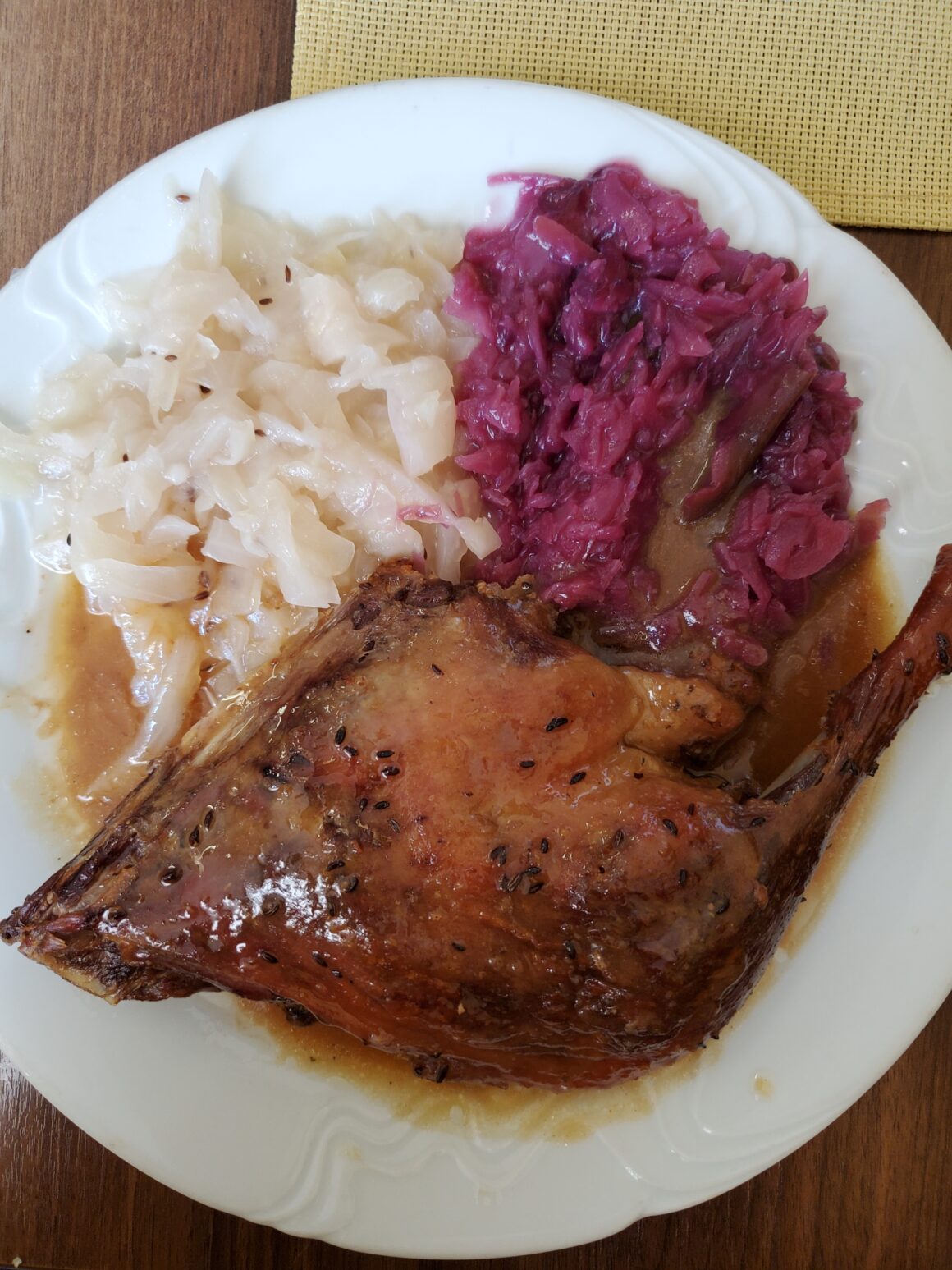 If you're visiting Czech Republic, there's a good chance you might not know much about Czech food. And who can blame you? Czech food hasn't been popularized like Italian food or Spanish food. That's because Czech food often takes hours upon hours to cook and perfect – and many Czech restaurants traditionally make enough for lunch, and then the meal sells out.
Many Czech traditional dishes feature soups, sauces, dumplings, and local ingredients. Think roast duck with cabbage and dumplings, roasted pork with dumplings, hundreds of different soups and fruit-filled dumplings to start. You can't leave Prague without trying at least ONE of these phenomenal dishes.
Of course, eating a good meal isn't exactly a thing to do in Prague…but it is a quintessential part of visiting this country. Where should you stop? Try ossegg in Vinohrady, U Bansethu in Nusle, Vycep in Holesovice, Café Savoy,  Café Louvre, Lokal, or Čestr restaurant for some of the best Czech food in Prague. If you want to explore Prague's best food, I always recommend booking this foodie tour for the full experience, which tackles some of the city's BEST food with the most knowledgeable tour guides.
Looking for a COMPLETE guide to local Czech food? I got you! Get my Ultimate Foodie Guide to Prague right here with 70+ restaurant recommendations, from Czech food spots to local cafes and MORE!
Local tip: If you do happen to find yourself in a Czech restaurant, make sure to read my guide to classic Czech meals.
12. Stop by the Jewish Quarter
Prague's Jewish Quarter sits in the city's Josefov area – and for centuries, the area was widely regarded as a ghetto. In the late 1800s, this area transformed into one of the city's most interesting and important regions. When you make your list of things to do in Prague, make sure to stop by the Jewish Museum in Prague (Židovské muzeum v Praze). This museum includes the Maisel Synagogue, the Spanish Synagogue, the Pinkas Synagogue, the Ceremonial Hall and the Klaus Synagogue.
If you're looking for one of the best free things to do in Prague, look no further than the Old Jewish Cemetery. The cemetery has weathered tombstones, often packed on top of each other in a disorderly fashion. It's an important piece of history, located in one of Prague's most beautiful areas.
13. Stroll through Wallenstein Garden
Wallenstein Garden is one of my favorite things to do in Prague – and one of the often-overlooked sights to visit. Wallenstein Garden, or Valdštejnská zahrada in Czech, is a Baroque masterpiece sitting right below Prague Castle. It's not the most serene park, but it is one of the most impressive parks in the city. It's a great pick if you have two days in Prague or more as it's not as historically significant as some of the other sights.
Visit this park for beautiful views and a nice stroll – and some peacocks! Yup, the park has live peacocks just walking around (which isn't uncommon in Czech Republic).
Local tip: This park is closed from mid-October to early April, so double check the dates before you go.
14. Stop by the National Museum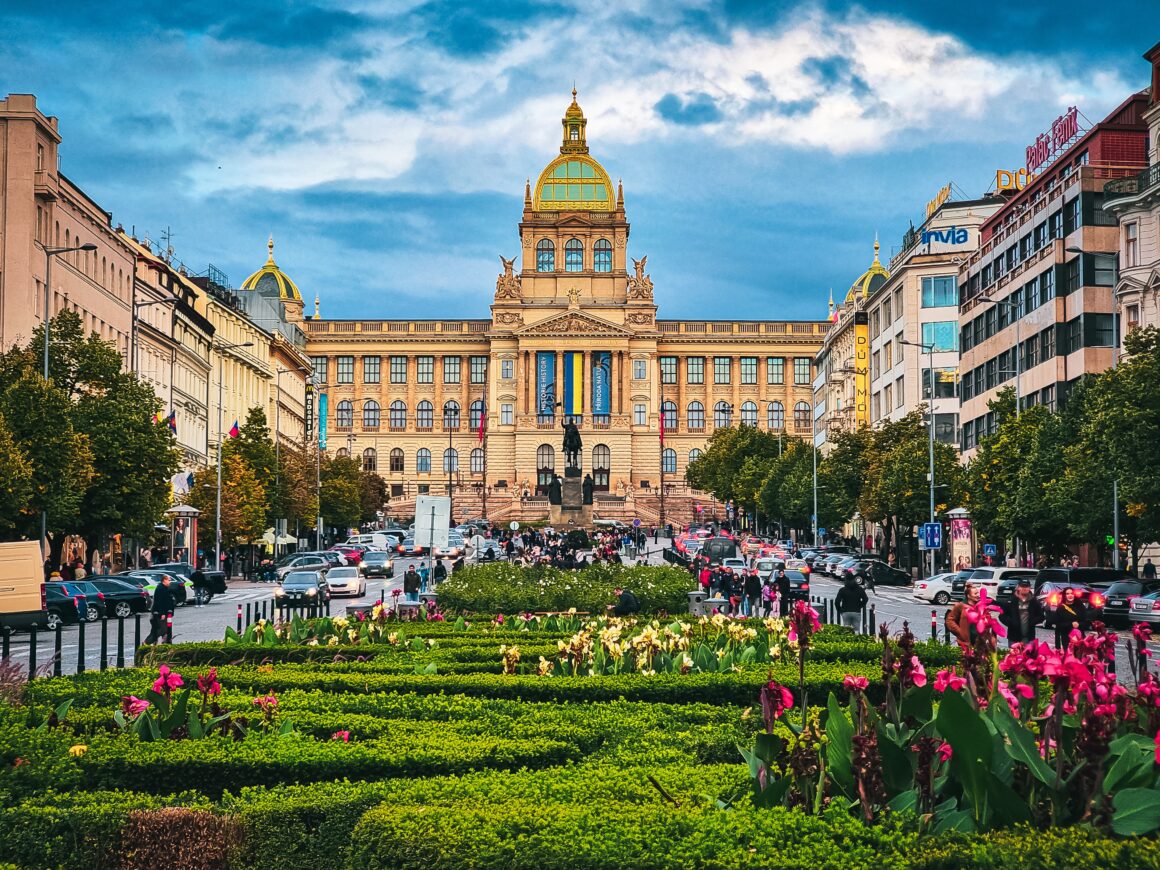 The National Museum (Národní Muzeum) is Prague's most prominent collection of museums, and its biggest museum is located at the top of Wenceslas Square. The museum houses an impressive collection spanning across a multitude of fields, from mineralogy, zoology, anthropology, and archaeology, to the arts and music. In fact, their entomology collection alone has more than five million specimens. This museum is perfect for kids, too!
If you're more interested in technological advances, head further north to the National Technical Museum (Národní technické muzeum). This renowned museum houses exhibits related to the country's impressive technological advances, from machinery to automobiles and aircraft. You'll be surprised to learn more about the many groundbreaking advances made by Czech inventors and innovators.
15. Visit a classic Czech cafe
Is any trip to Prague complete without a stop at a classic Czech cafe? These old coffee houses are their own sight – and a glimpse into the past. Prague's traditional coffeehouses include Cafe Imperial, Cafe Savoy and Kavarna Slavia, the former a popular hangout spot for late Czech president Vlaclav Havel. If you're simply looking for amazing baked goods, I've got you covered with a full list of the best bakeries in Prague here.
16. Take a day trip outside of Prague!
If you're visiting Prague for an extended period of time, why not consider taking a day trip outside of Prague? Tourists spending more than three or four days in Prague should consider getting outside of the city (in fact, that's one of my top recommendations for visitors!). After all, there's only so much you can see in Prague.
There's a couple ways you can explore the rest of Czech Republic. For many people, I recommend either a tour, public transit or a car rental. Some visitors find public transit overwhelming, so don't be afraid to pick the best option for you, your family, your travel plans and your needs. And don't forget to check out my packing list if you are planning day trips, as different regions can vary in temperatures.
Many people opt to visit one of Czech Republic's most beautiful castles because so many of them lie nestled in the countryside around Prague. You can plan one of these trips yourself with a train or rental car, or you can opt to visit with a tour. I personally recommend visiting with a tour as many of the historical guided tours at the castle are not in English — or operate at a reduced schedule in English. Plus, guided tours help coordinate transport and fees to streamline a stress-free experience, especially when public transit may not always be direct to select parts of Czech Republic.
Some of my favorite Prague day trips include:
16. Grab a beer, with a view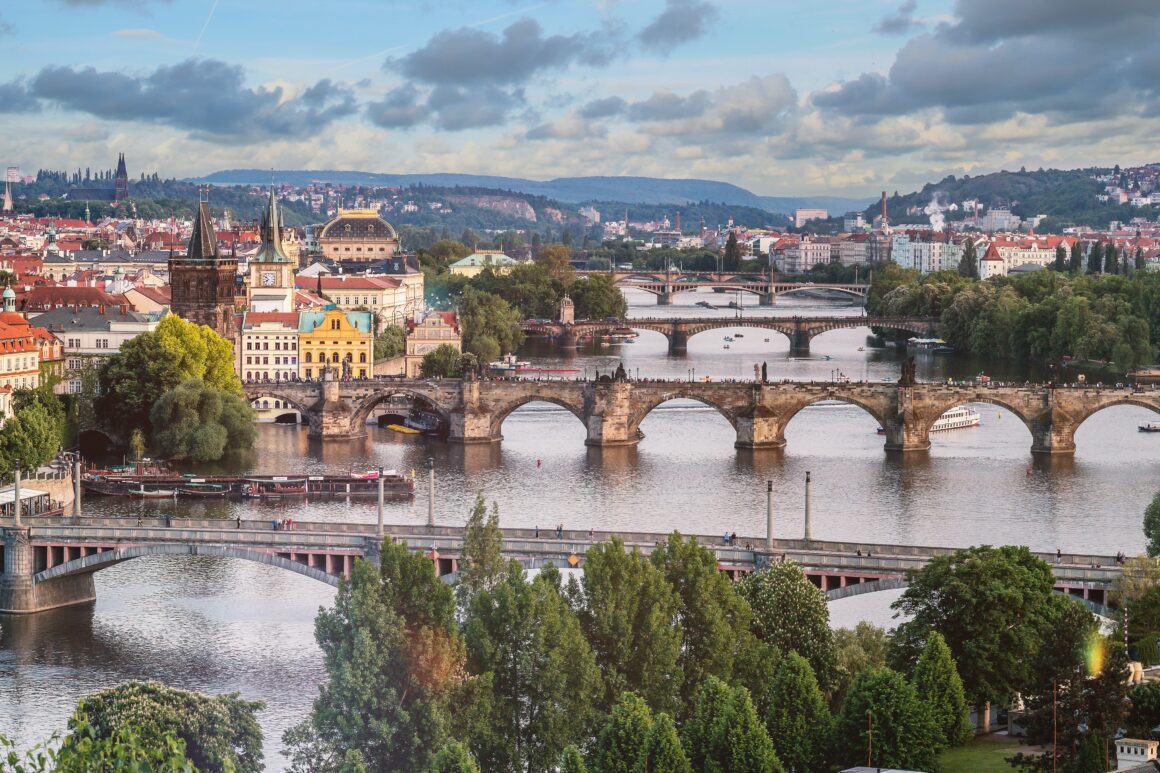 On a sunny summer day, there's no better place to grab a beer than Letna Beer Garden. This beer garden may be home to one of the most beautiful lookout spots in Prague, too (that's the actual view, above!!). During the summer, you'll find locals and tourists alike under shady groves of trees, nursing local beers.
Choose from Pilsner, Master's amber lager, Kozel's dark lager, and the usual Gambrinus, depending on the stand you visit, for your brew. The beer gardens have your usual sausage-and-bread snacks as well as a bigger variety of tasty treats. It's truly a serene place to soak up the view and think, wow, am I truly here right now? I promise it's just as magical in person.
If you liked this post, consider sharing it!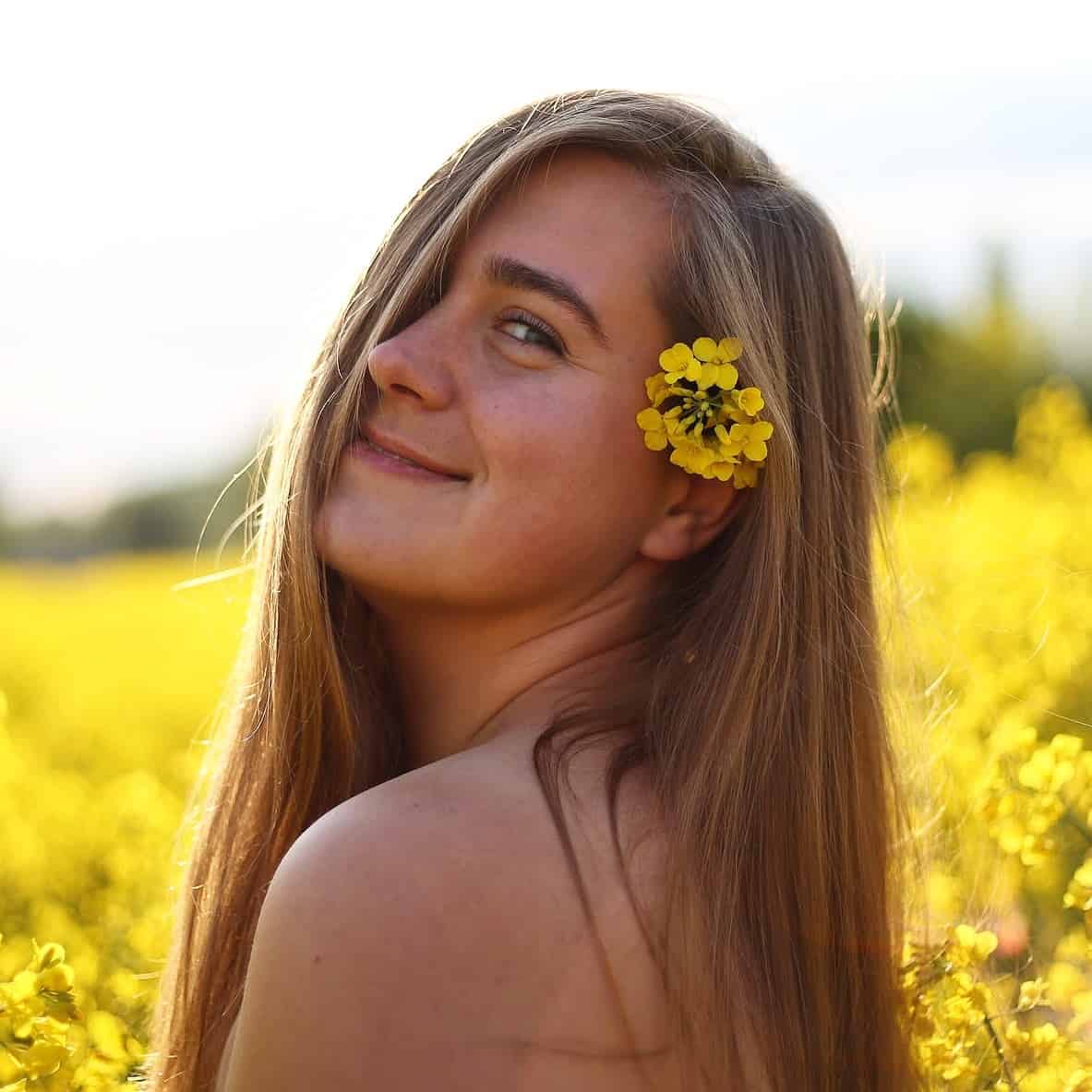 Samantha Tatro is a Czech-American third culture kid who grew up living and traveling abroad. Many years later, after living in California and working as a journalist, she decided to take the leap and move abroad again…this time to Prague, Czech Republic. Samantha started Undiscovered Path Home to help couples and solo female travelers find the courage to visit countries – and locations – off the beaten path. Her work has appeared in Bon Appetit, NBC News, The Adecco Group, and more.