Disclosure: this article contains affiliate links, which means when you make a purchase, I will earn a small commission. Affiliate links cost you nothing and help keep my content free. It's a win-win! For more information, check out my disclosure policy here.
Let's face it: finding good food in Midtown, Manhattan is easier said than done. And finding cheap eats in Midtown, NYC? Well, that's a challenge. So you've seen the list of cheap eats in New York City…but so many of those lists have 0 listed cheap eats in Midtown, Manhattan. New York City has some of the best food in the world, and some of the best cheap eats, too. So why is it so hard to find good, cheap eats in Midtown?
I'll say it time and time again: Midtown, Manhattan is a food desert. I can't even count the number of times me (or my friends) have been in Midtown, NYC prior to a Broadway show…with no idea where to eat. It's not that there's no food. Midtown is actually full of places to eat. But sometimes, you've just splurged on a pricey Broadway ticket and you want to keep things under a budget. Hence: cheap eats in Midtown, Manhattan.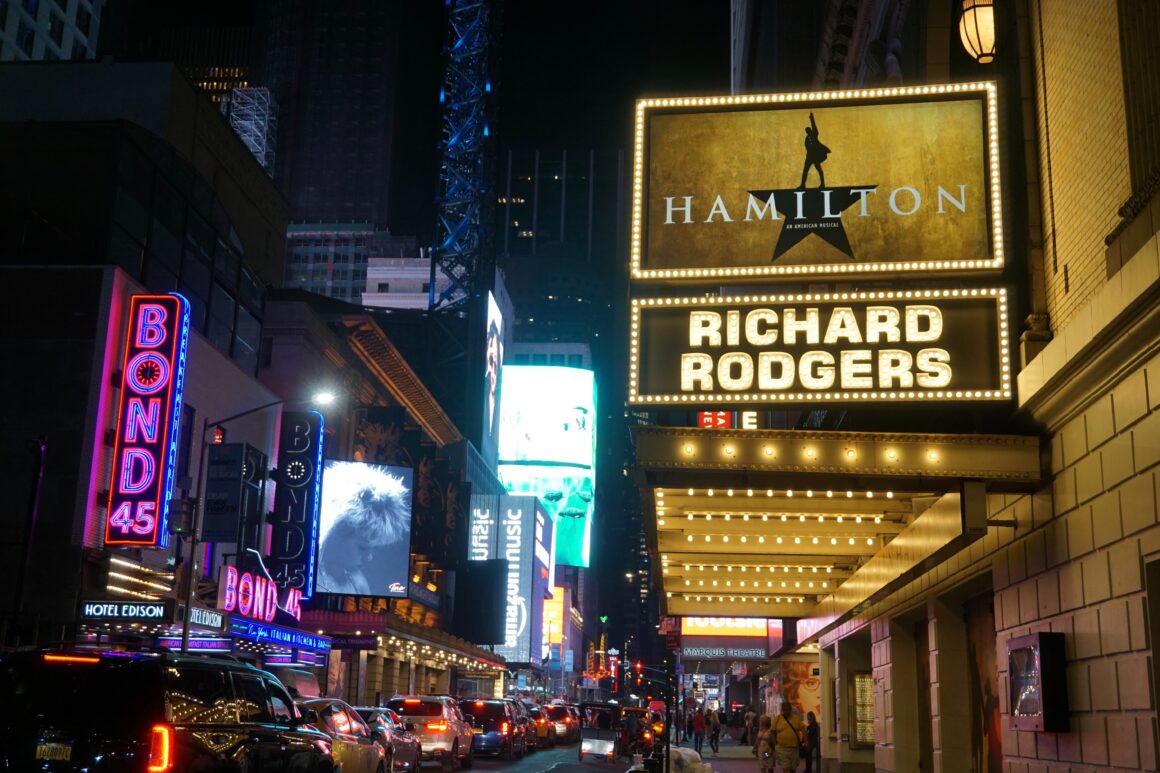 That's why I've made this comprehensive guide with all my favorite places to eat in Midtown, NYC – whether you're in town seeing Times Square and need a snack, or you're hunting down a meal before your Broadway show. Much like my cheap eats in Prague guide, this guide is entirely made up of my favorite little places that I have tried and loved and passed on to friends. Have I probably missed a few? Absolutely. If I've missed yours, let me know in the comments. I'll keep adding to this list every time I find a new place I love (or every time one of these places sadly closes down). So, without further ado, here's my guide to the best cheap eats in Midtown, New York City. 
Want to save this article for later? Pin it here!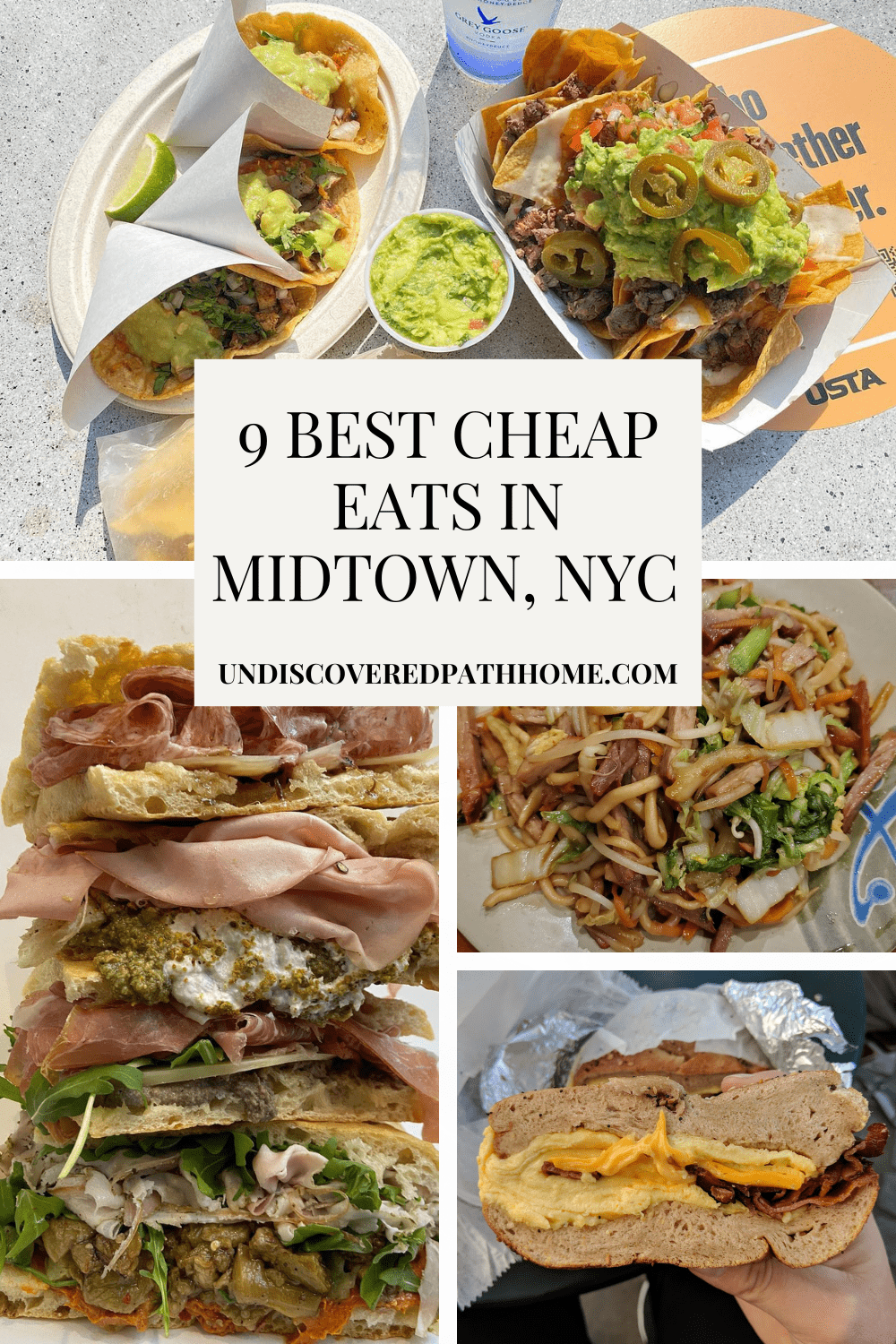 Best Cheap Eats in Midtown, Manhattan
For those of you on a budget, don't worry. New York City – and Midtown is particular – has so many great places to eat on a budget. Here are some of my absolute favorite cheap eats in Midtown, NYC.
Margon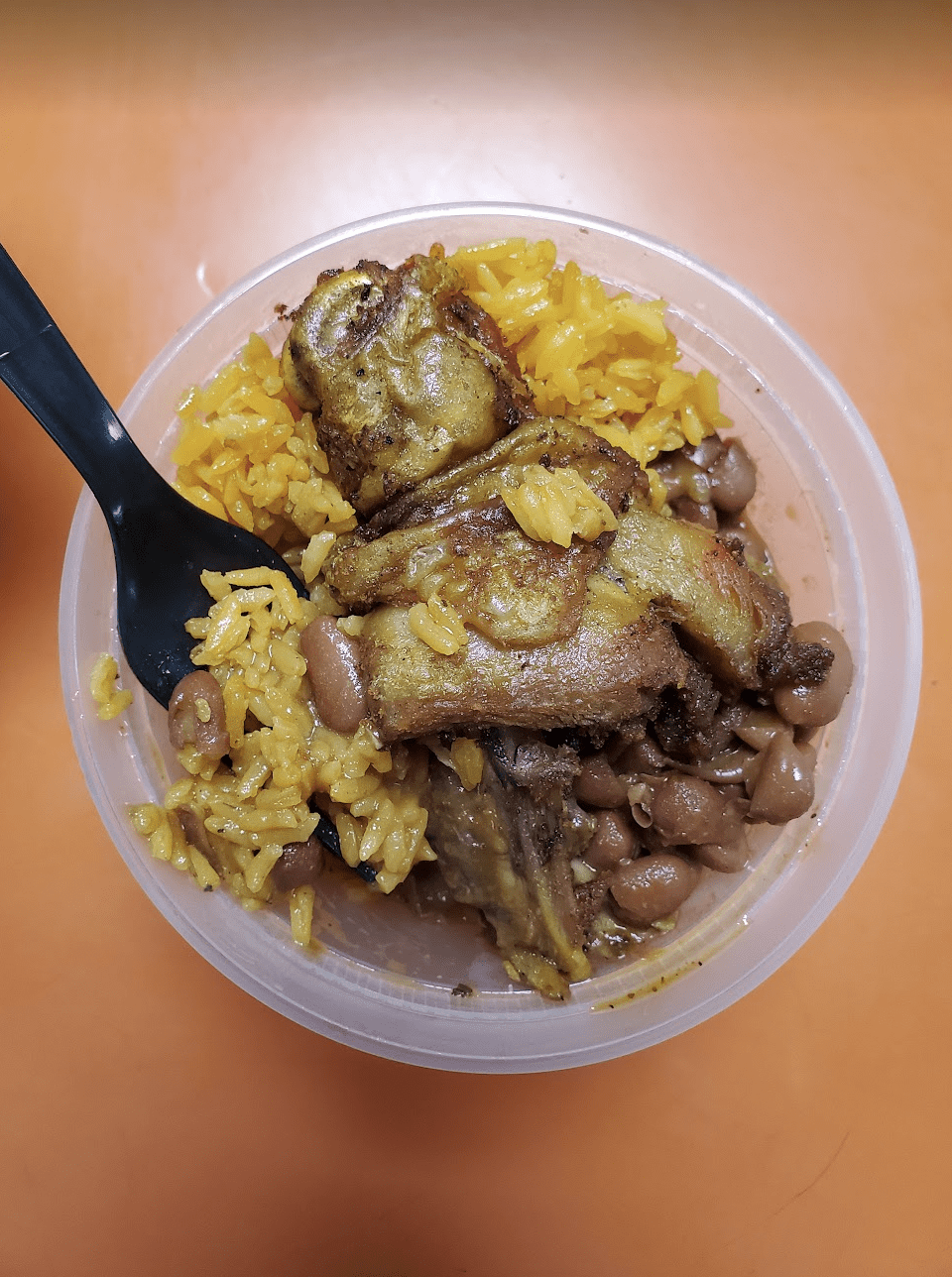 Margon is an unassuming Cuban restaurant on 46th Street, just around the corner from Times Square. Blink, and you'll miss it. The first time I visited, I literally walked right by it.
I can't say enough good things about Margon. This little Cuban spot offers up cubanos, rice and beans, stews, and more. The first time we visited, jet lagged from our flight from Europe, we asked the woman at the register for help picking something to order. We ended up getting a Cubano, a chicken stew, and two orders of rice and beans. It cost us around $20 (if I remember correctly) and it was some of the best food I've had in recent years. Plus, it was enough to feed an army of four.
Their food is tasty and authentic and their service is friendly. I'm going to come back here time and time again – especially before a show. You can easily get a really delicious, homemade meal under $10 (though the stews cost around $14), the very definition of cheap eats in Midtown, NYC. Margon is open from 7:30 a.m. to 4 p.m. every day but Sunday. Check out their menu here.
What to get at Margon:
Cubano
Cuban coffee
Chicken stew
Rice and beans
Los Tacos No 1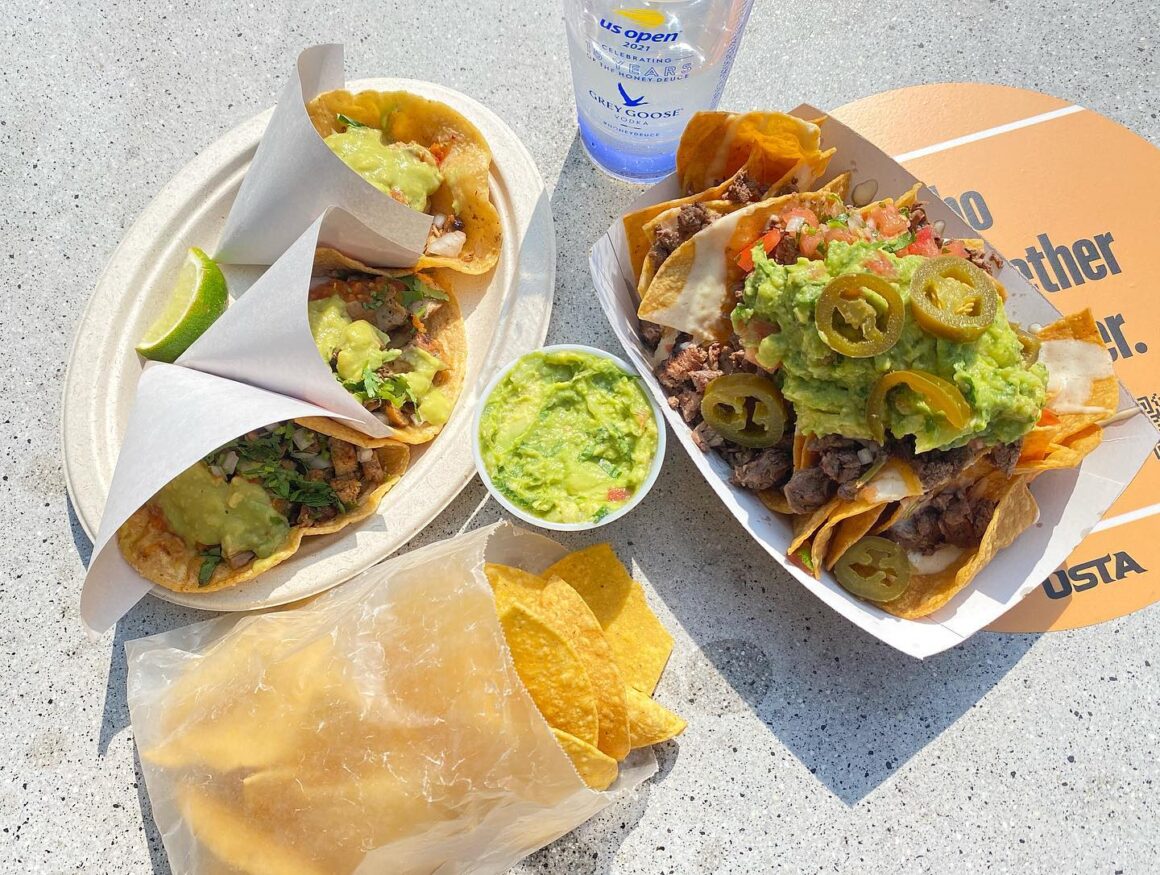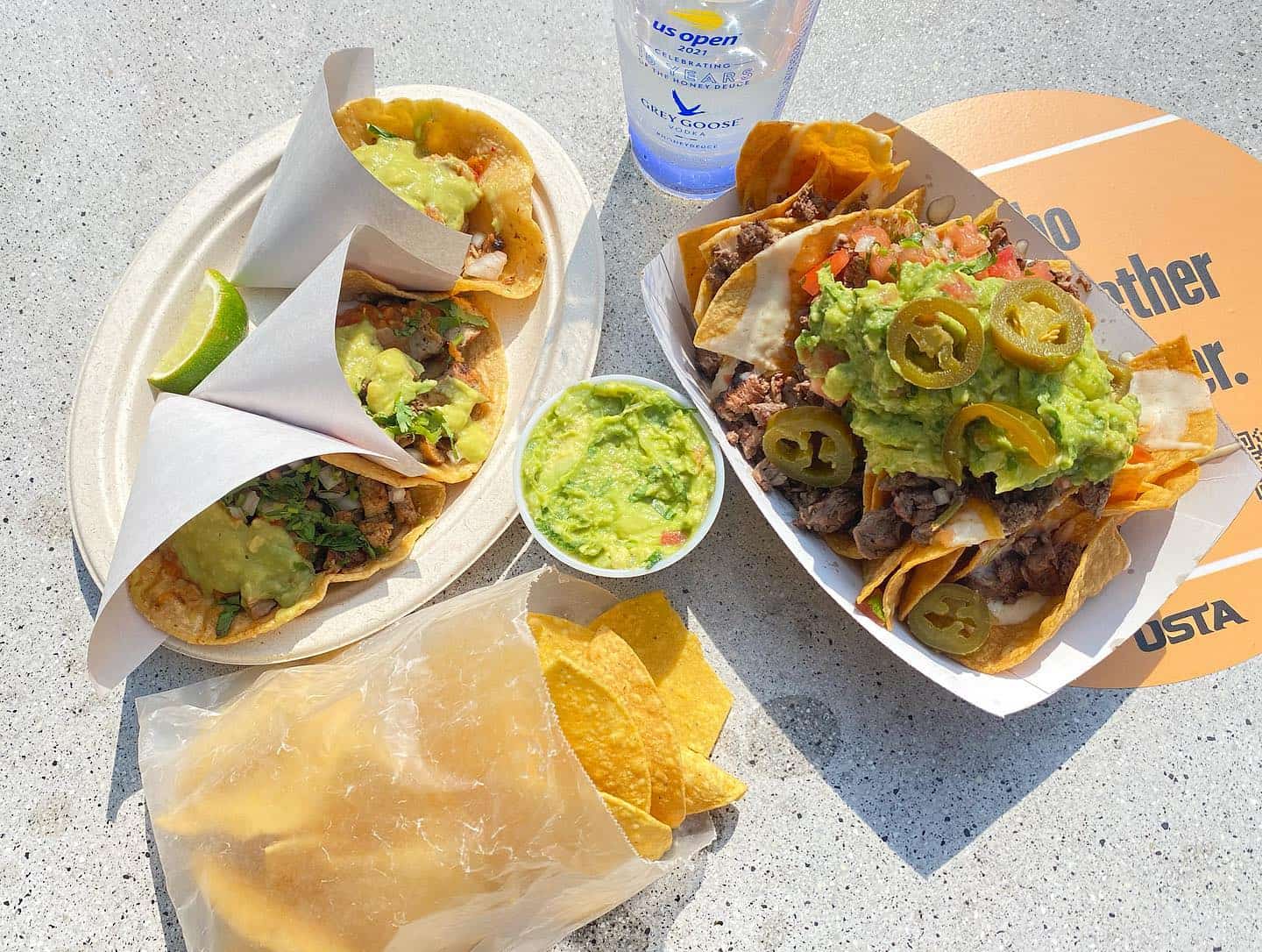 Looking for tacos in Midtown? Look no further than Los Tacos No 1, a popular Mexican chain on the East Coast. The best part about this cheap eats in New York City spot is the pure magic on the plate. You can grab a couple tacos to go and eat it right then and there – and somehow, you're enjoying an explosion of flavors on the middle of a Midtown sidewalk. Their tacos are fresh, authentic, and often considered the best in New York.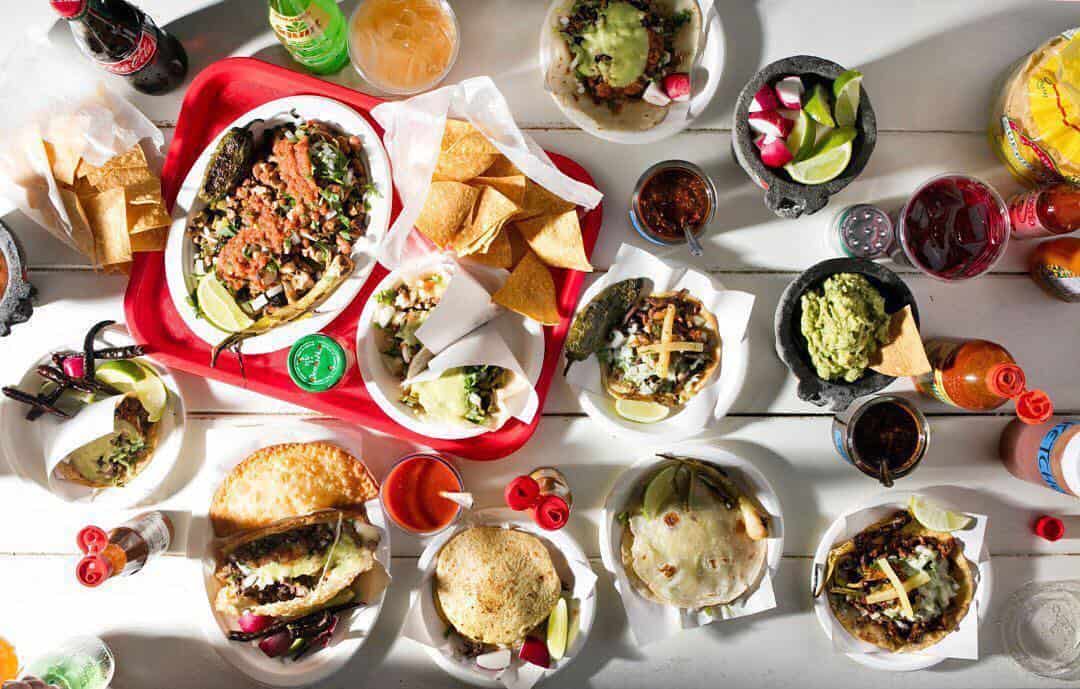 You can get a plate of tacos for $5, and quesadillas for slightly more. In fact, there's nothing on the menu that costs more than $10 (though their Nopal plate costs exactly $10). How's that for cheap eats in Midtown, NYC? Los Tacos is open 11 a.m. to 10 p.m. Check out their menu here.
What to get a Los Tacos No 1:
Adobada tacos
Especial quesadilla
Chips and salsa
Tasty Hand Pulled Noodles II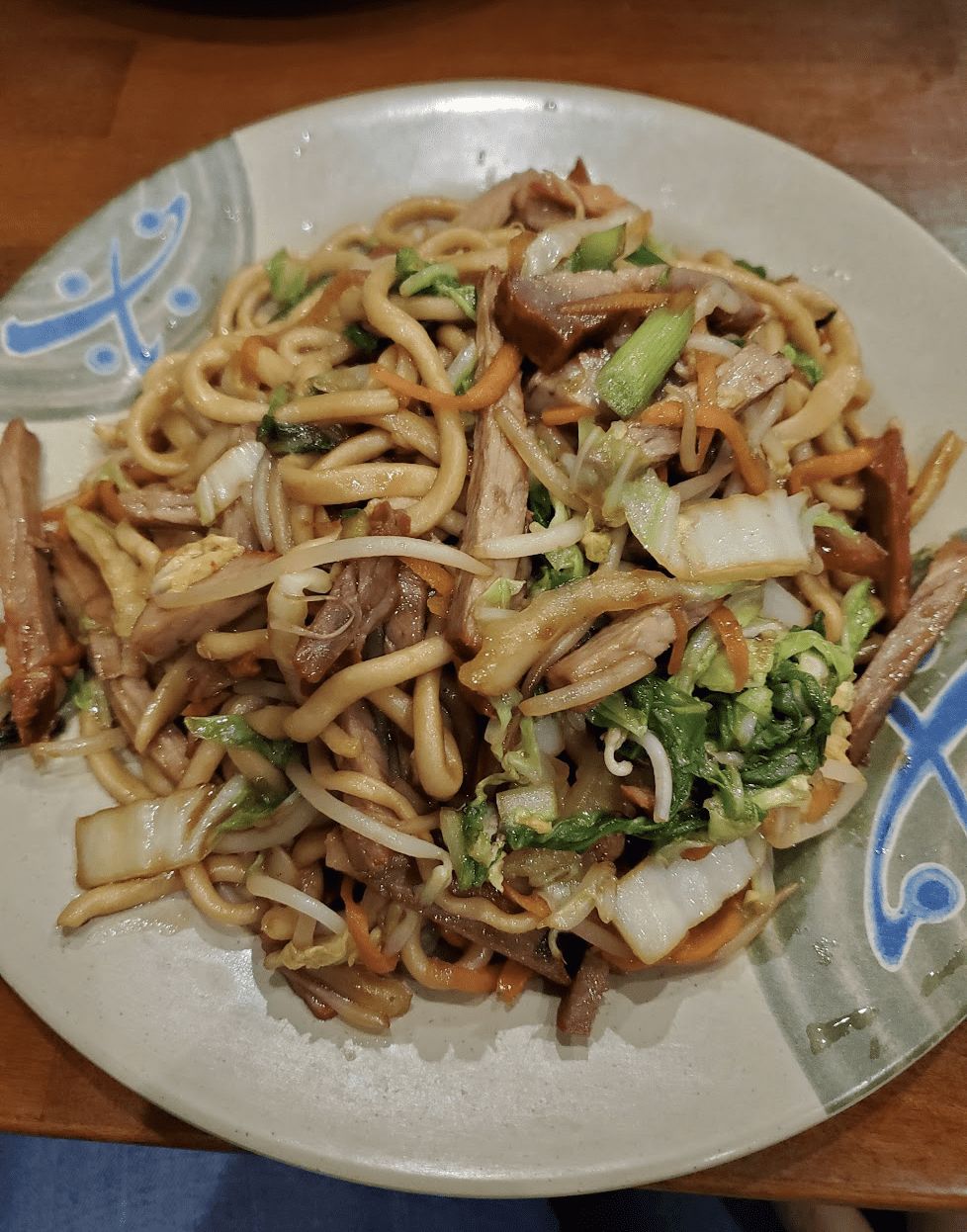 I'm going to be honest: Tasty Hand Pulled Noodles II is probably my favorite restaurant on this list. We stopped here on a total whim after searching for a pre-Broadway-show dinner in Midtown (the very definition of a food desert day!). My now-husband spotted this place after we picked up Schmackary's Cookies and insisted we sit down for dinner.
This place did NOT disappoint. We loved their food – so much so that I plan to return. Tasty Hand Pulled Noodles II is perfect for your pre-show or post-show meal. It's right around the corner from most Broadway theater and my favorite cookie place ever, Schmackary's.
The food is on the border of being considered a "cheap eat," but I'm putting it down because you can more than comfortably share a single meal with your friend or partner. The portion sizes are HUGE. Their pan-fried noodle dishes start at $13, but they are worth every penny. If you're looking for something cheaper, you can grab a big plate of dumplings for $8 or soup for $9. You can, of course, find cheaper food in Chinatown – but this location is so much more convenient for theater-goers and tourists. Check out the menu here. 
If Chinese food is your absolute favorite, you NEED to set aside time to do a walking tour of Chinatown's best food. Chinatown is one of my favorite spots in New York City, but it can be notoriously difficult to find the best food in Chinatown — which is why I love this walking tour!! It's actually the best way to try as much food in Chinatown as possible (because you need to try as much as possible!).
What to get at Tasty Hand Pulled Noodles II:
Pan fried noodles
Dumplings
The Halal Guys
On West 53rd Street, you'll find The Halal Guys. I first went here on one of my solo Broadway trips in NYC for a mid-show meal. For less than $10, you get a huge platter of food to reasonably split between two people.
Look, this isn't the most authentic Mediterranean food I've ever had – but regardless, it's freaking delicious. The Halal Guys are known for their white sauce, which really is unbelievably good (I found myself using like, 3 packets worth of sauce…even though I am not normally a sauce person). 
If you're a diehard food truck kind of tourist like me, I always recommend a tour of New York's best food carts to experience food like a local. This tour is my favorite and includes way too much amazing food, so come HUNGRY. The best part? You can pick Midtown or the Financial District (I'd opt for Midtown!).
This cart is open from 11 a.m. to 4 a.m., making it the perfect stop no matter when you find yourself in the neighborhood. They offer both platters and wraps. Check out the menu here.
What to get at The Halal Guys:
The mix platter with extra white sauce
Amy's Bread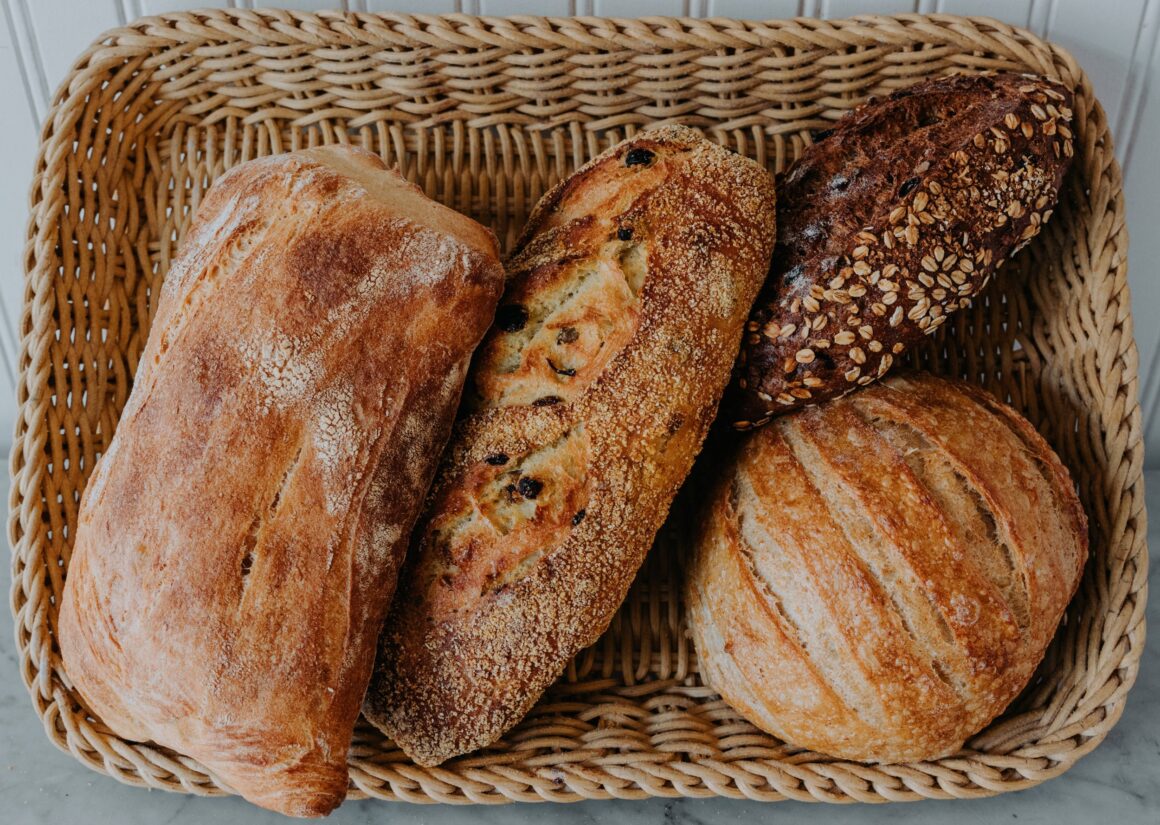 Amy's Bread is perhaps the best bakery in Midtown, Manhattan (that I know about), and it's the perfect pick-me-up. I can't tell you how many times I've stopped at this lovely little cafe post-Broadway show for a little snack. They have so much fresh bread, but their pastries and coffee are the true standouts.
Expect bagels & spreads, scones, muffins, and a huge variety of breakfast pastries through the day, including brioche toast, Cinnamon Challah Knots (one of my favorites), cheese biscuits, and more. If bagels are your jam (like they are mine), you can't miss a tour of New York City's best bagel spots. It'll take your beyond Midtown, of course, but it's truly a must-do experience in New York City.
Amy's Bread's selection will depend on the day, and some options will sell out towards the end of the day. There are tiny tables in the back to sit, as well. Check the menu out right here. 
What to get at Amy's Bread:
Any of their fresh pastries (the Sticky Bun is one of my favorites)
Schmackary's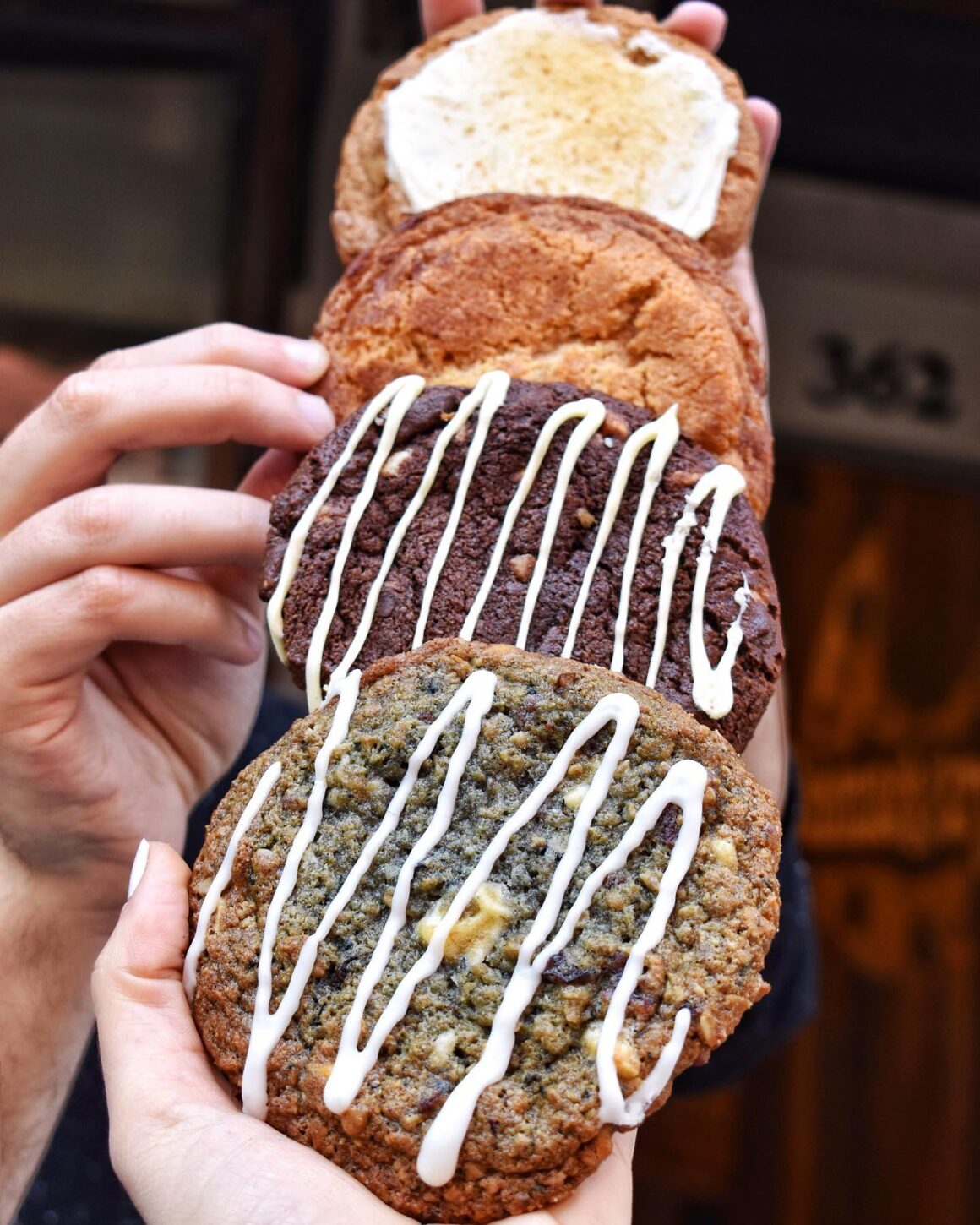 Who says cheap eats in Midtown need to only include savory food? Schmackary's Cookies is a Broadway staple. It's customary (at least for me) to visit either before or after your show – although the cookies do make excellent intermission snacks. Their funfetti cookie is legendary, but I've loved pretty much every cookie behind the counter. Each cookie costs around $2.50 and will basically fill you up in lieu of a meal. In addition to fresh cookies, Schmackary's also has excellent coffee and hot chocolate. Check out their menu here.
What to get at Schmackary's:
Funfetti Cookie
Cookies and Cream cookie
All'antico Vinaio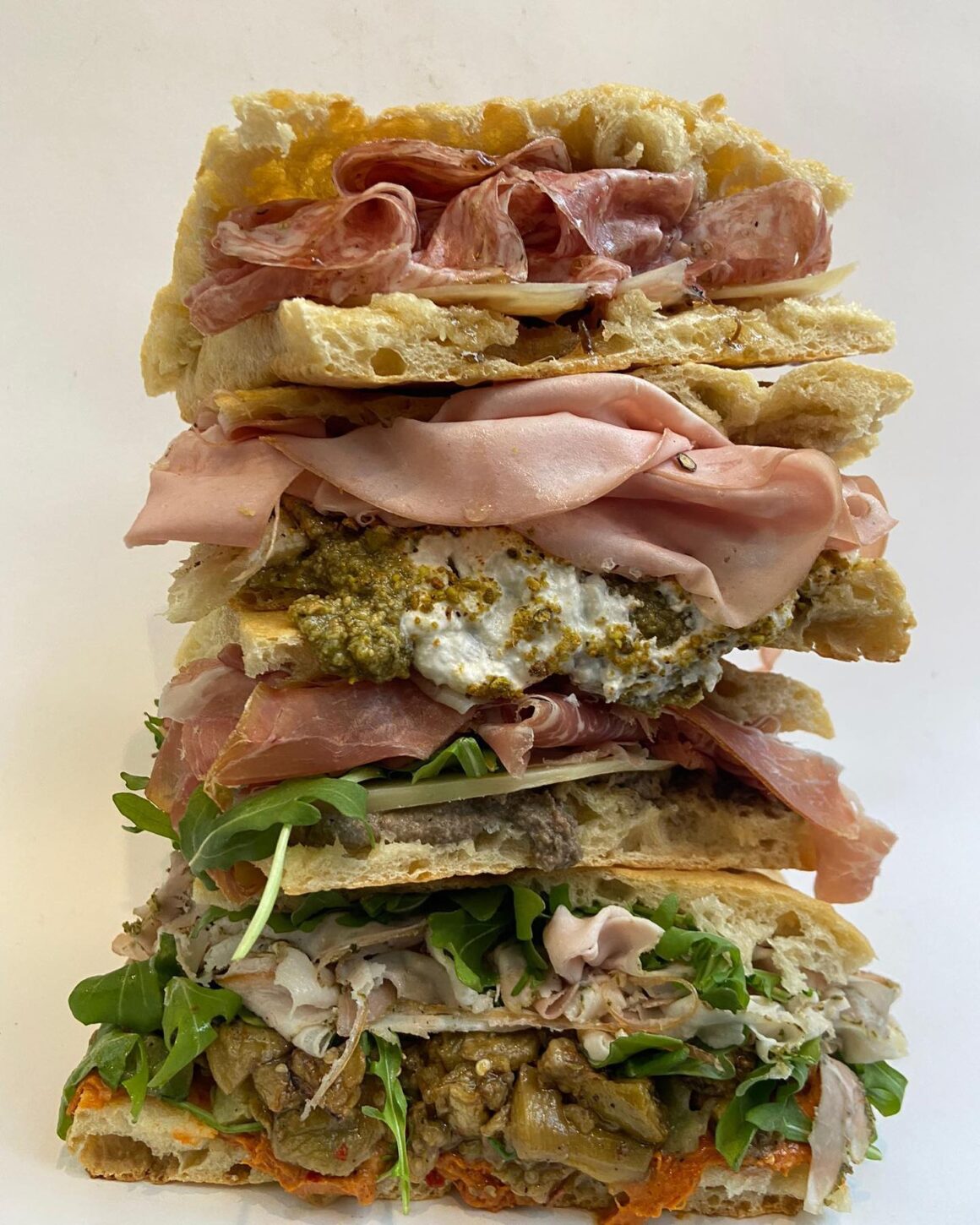 All'Antico Vinaio, a longtime popular Florence favorite, brings their popular sandwich counter to New York City. In Florence, this sandwich shop draws enough visitors to form long, snaking lines out the door. This shop – which translates to "ancient wine merchant" in English – has landed in NYC on Eighth Avenue and 46th Street just west of Times Square.
It's the perfect place for my cheap eats in Midtown list: tasty, to-go, and affordable. There's nothing but a small standing counter (though they're working on a small dining area). When you walk in, you'll notice the cold cuts and bread – the stars of the show. Expect luscious porchettas, aged cheeses, balls of fior di latte, and imported salamis, many of Tuscan origin.
These tasty sandwiches – many of which are big enough to share, or save half for later – start around $10 and go up to $20 for some of the more lavish ones. Long story short: these tasty sandwiches are the perfect pre-show Midtown cheap eats. Check out the menu here.
What to get at All'antico Vinaio
The Caprese
The Summer
The Tuscany
Best Bagel & Coffee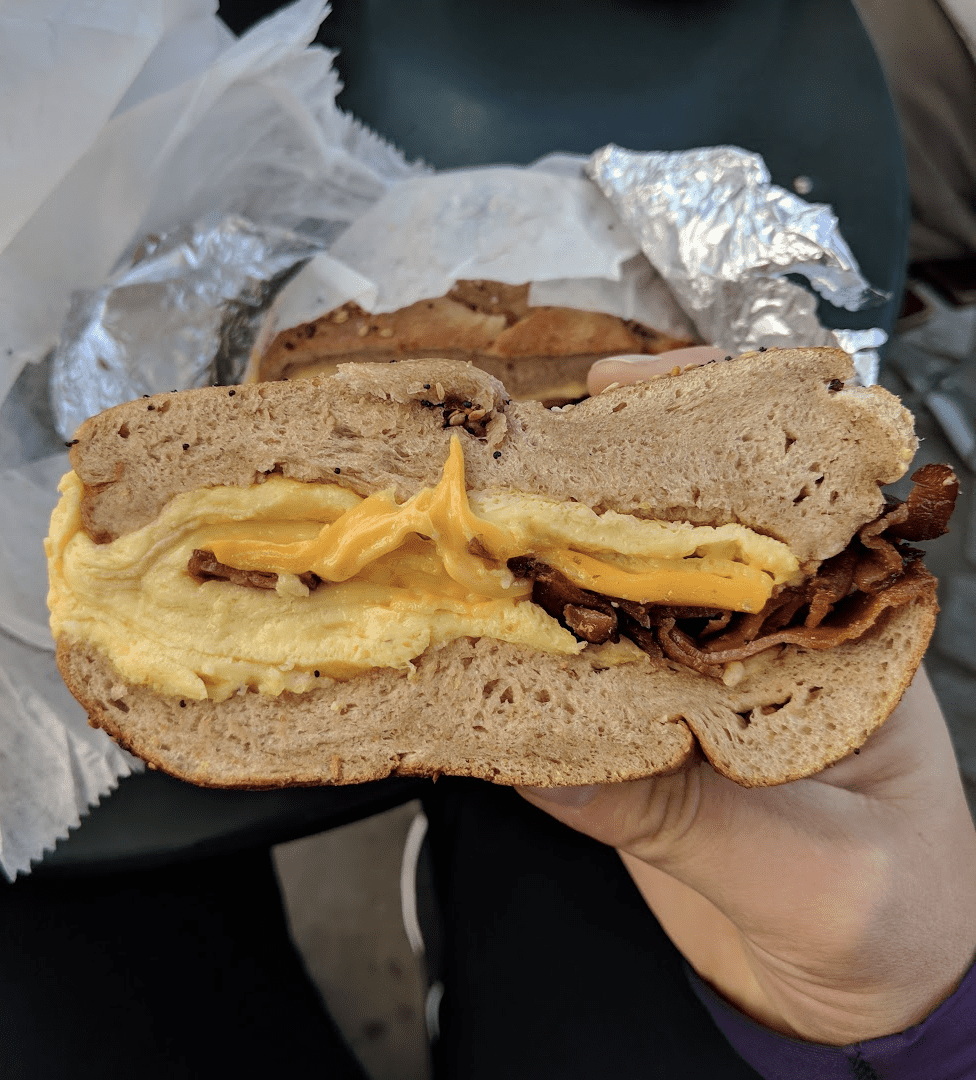 The Best Bagel & Coffee is closer to Midtown South and the Garment District region of New York, but I'd be remiss if I didn't include it on my list of my favorite cheap eats in Midtown, NYC. For many years, this bagel place was my first stop on my journey from my 5AM red-eye flight at JFK to my friend's apartment. I'd stop at Penn Station and trek over to this bagel place, ordering a couple bagels for now and later. Their bagels are some of the best in New York, and be warned: there will be a line. But it's worth the wait, I promise.
Best Bagel & Coffee is only open until 3 PM each day…But it's a perfect match if you're on the way to a matinee, or simply need a mid-afternoon pick-me-up.
Most bagel sandwiches with spread cost around $5 on average, or slightly more if you want eggs, bacon, or ham inside. They also offer classic bagel sandwiches (which you can take to go) with a variety of options for $3 to $10. That's a great deal for a filling meal! Check out the menu here. 
If you love bagels as much as me (which is to say: a lot), you need to set aside a couple of hours for New York City's ultimate bagel tour! Is there any better way to taste the best New York bagels — and learn how to make them yourself?! Book it here.
What to get at Best Bagel and Coffee:
A bagel and schmear
Bacon, egg and cheese bagel (which is delicious any time of day, in my opinion)
The Best Pizza
Okay, okay…So there are probably more than a dozen pizza spots in Midtown. What makes this one so special? Well, nothing, really, except for its proximity to many Broadway theaters and its remarkable $1 cheese pizza slice. Does it get much cheaper than that? A $1 slice is a key tenant of any true cheap eats in NYC list, because when you're on a budget, you're looking to save money…not have gourmet experiences. These pizza slices are quintessential New York cheap eats, and in a pinch, they're delicious. And cheap. Which, you know, is key.
What to get at The Best Pizza:
A slice of cheese pizza, of course!
Liked this article? Pin it here!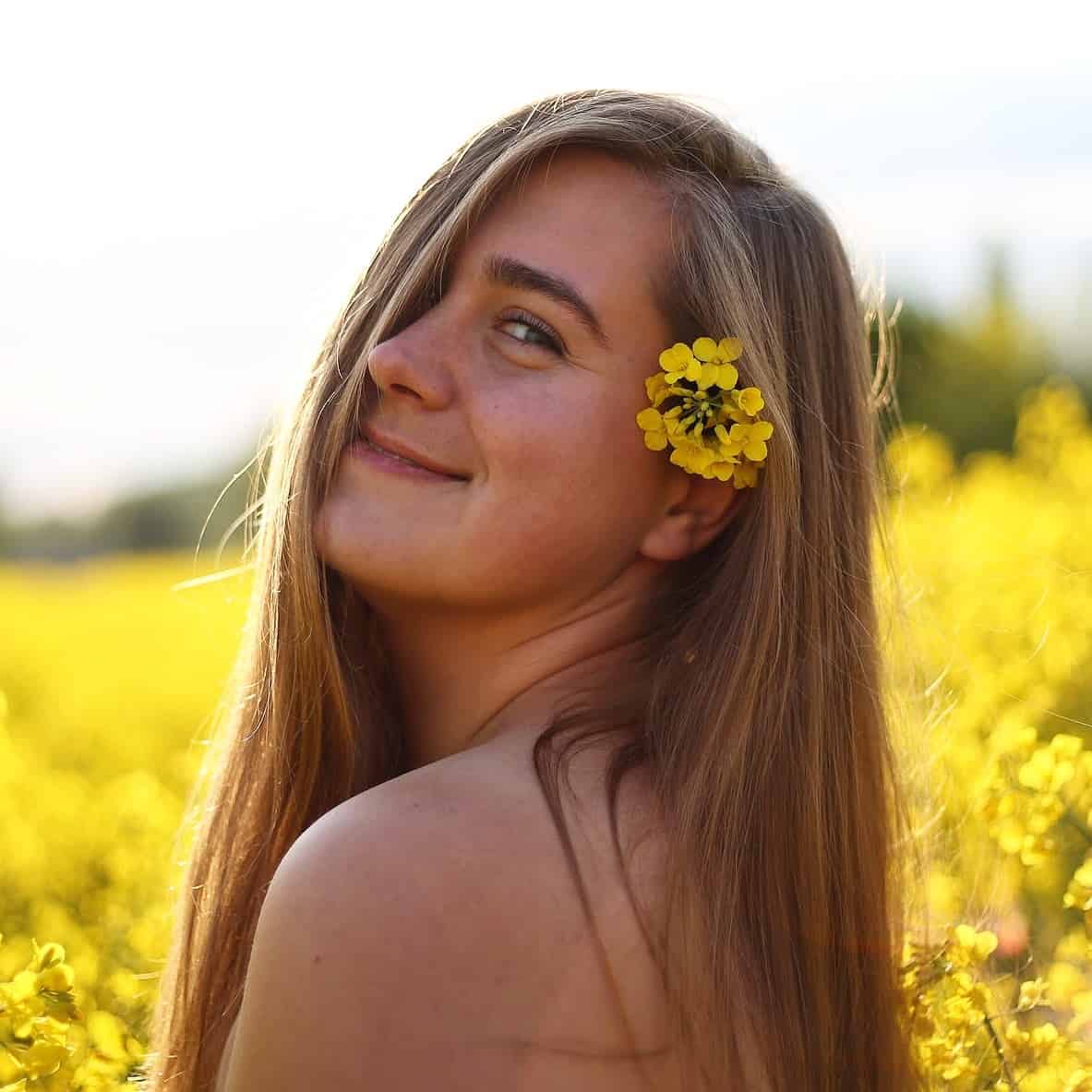 Samantha Tatro is a Czech-American third culture kid who grew up living and traveling abroad. Many years later, after living in California and working as a journalist, she decided to take the leap and move abroad again…this time to Prague, Czech Republic. Samantha started Undiscovered Path Home to help couples and solo female travelers find the courage to visit countries – and locations – off the beaten path. Her work has appeared in Bon Appetit, NBC News, The Adecco Group, and more.