When most people think of New York City, they don't think: budget trip. But your trip to New York City doesn't have to break the bank. There are dozens of free things to do in New York City. That's right – you don't have to spend a penny to soak up all of the best NYC attractions, events and museums. Lucky for us, the list of the best things to do in New York City also includes plenty of free public spaces, exhibits, walking tours and more.
I've been to New York City more than 30 times throughout my life – many times on a budget. It's one of my favorite places in the world, hands down. And I want to share my love of NYC with you – so you'll love it, too! That's why I've built my ultimate list of the best free things to do in New York City. Let's dive in. 
Disclosure: this article contains affiliate links, which means when you make a purchase, I will earn a small commission. Affiliate links cost you nothing and help keep my content free. It's a win-win! For more information, check out my disclosure policy here.
17 BEST Free Things to Do in New York City
New York City will always be one of my favorite places to visit, hands down. Let's explore my favorite FREE things to do in New York City, for when you're on a budget, like me. I'll always update this list when I find more things to do in New York City for free, too! 
1. Central Park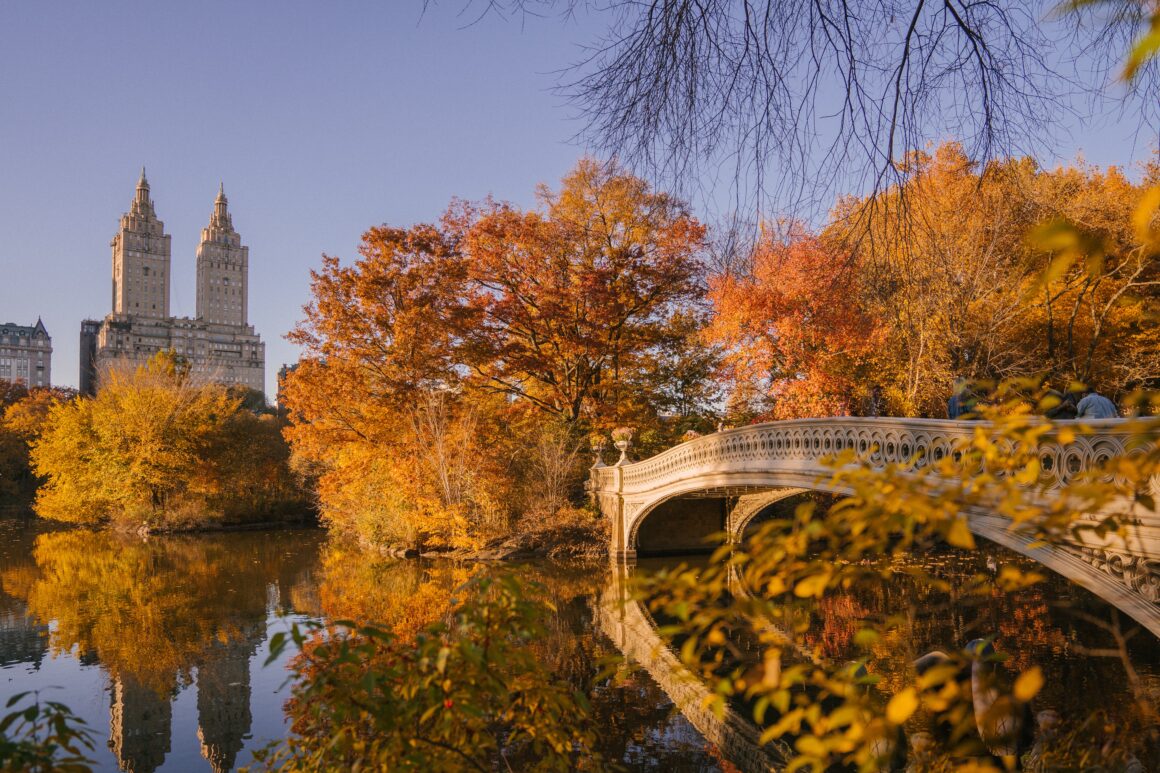 It's cliche, but it's true: there's simply no place like Central Park in New York City. The massive, 693-acre man-made park boasts stunning gardens, meadows, forests, hillsides and lakes. It's the New York City experience everyone dreams about – and it's even better in person.
Fun fact: If you wanted to walk every path in Central Park, you'd tally up 58 miles! I'd recommend visiting the Bethesda Fountain, Bow Bridge, Belvedere Castle, and the Strawberry Fields John Lennon Memorial – but really, there's nothing better than simply wandering wherever you want, and finding your way home later.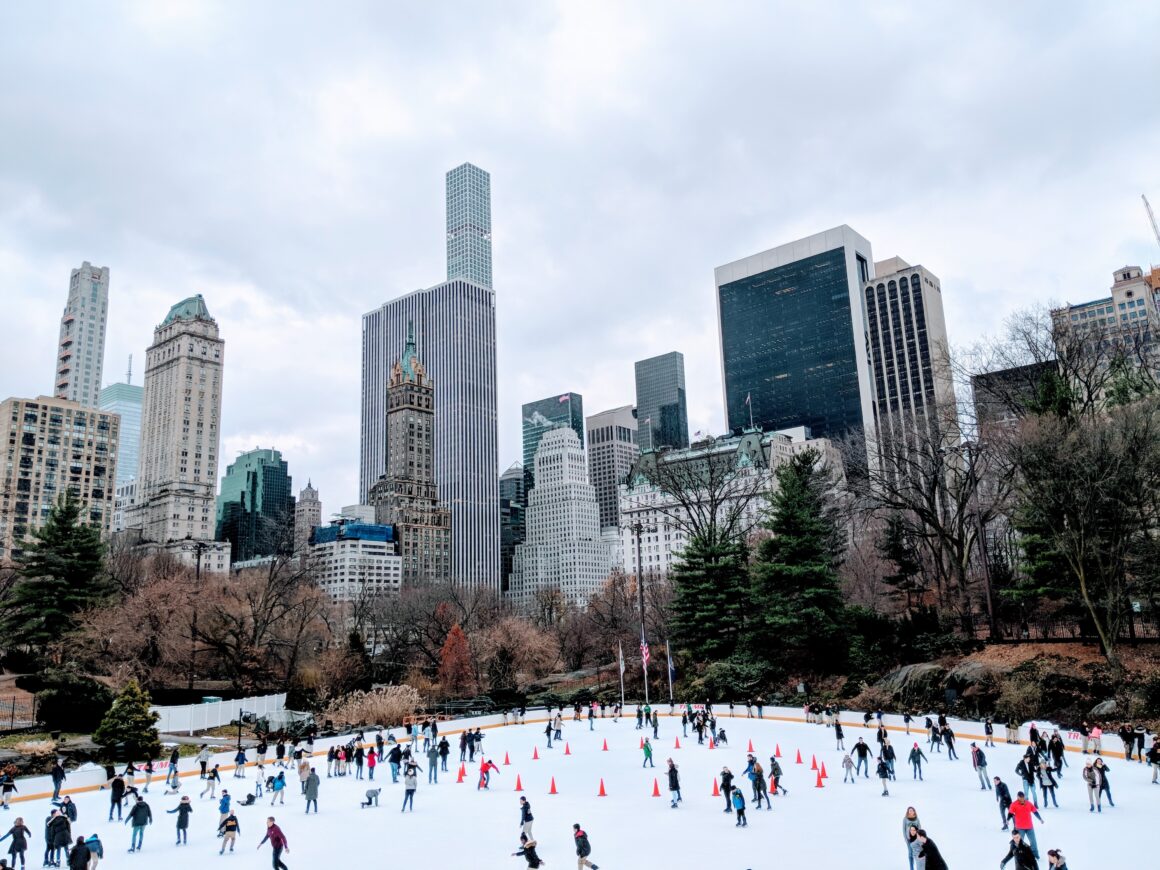 Central Park is even more magical in fall and winter, too, when the landscape shifts. You'll find the most magical ice rink in Central Park — and even if you don't skate, it's worth visiting!
2. The High Line (in Chelsea)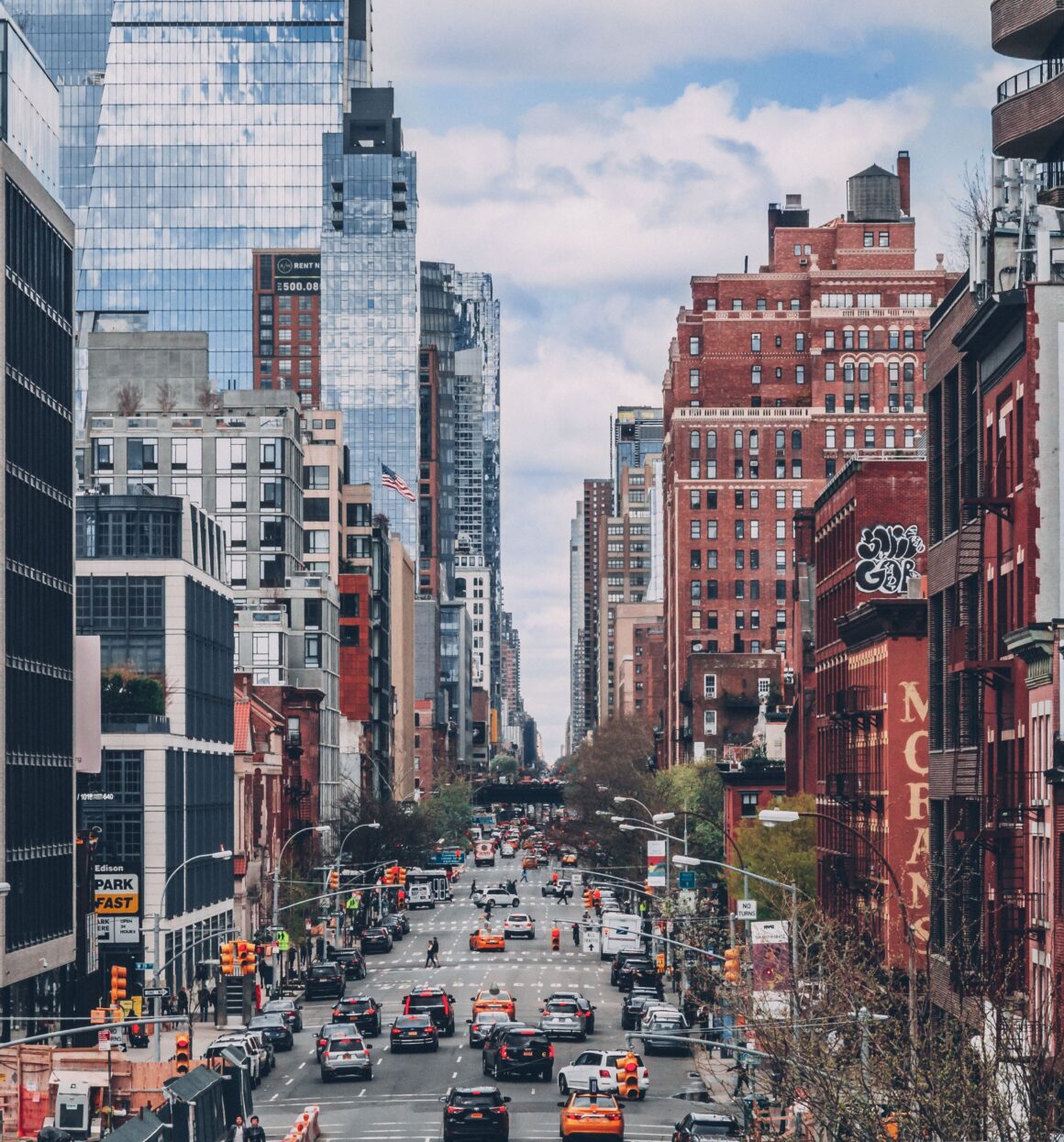 There are few things to do in New York City as iconic at The High Line. This 1.45 mile-long park, which first opened back in 2009, is the perfect spot to grab a coffee, walk, and snap photos. Built on an abandoned elevated train track, the route snakes above the industrial (and up-and-coming) West Side neighborhoods.
These days, millions flock to The High Line for dazzling views of New York City and the Hudson River. The best part? It's entirely free, making it one of my favorite free things to do in New York City. The park hosts star-gazing events, cultural events (Latin dance nights, anyone?) and art throughout the year.
3. The Brooklyn Bridge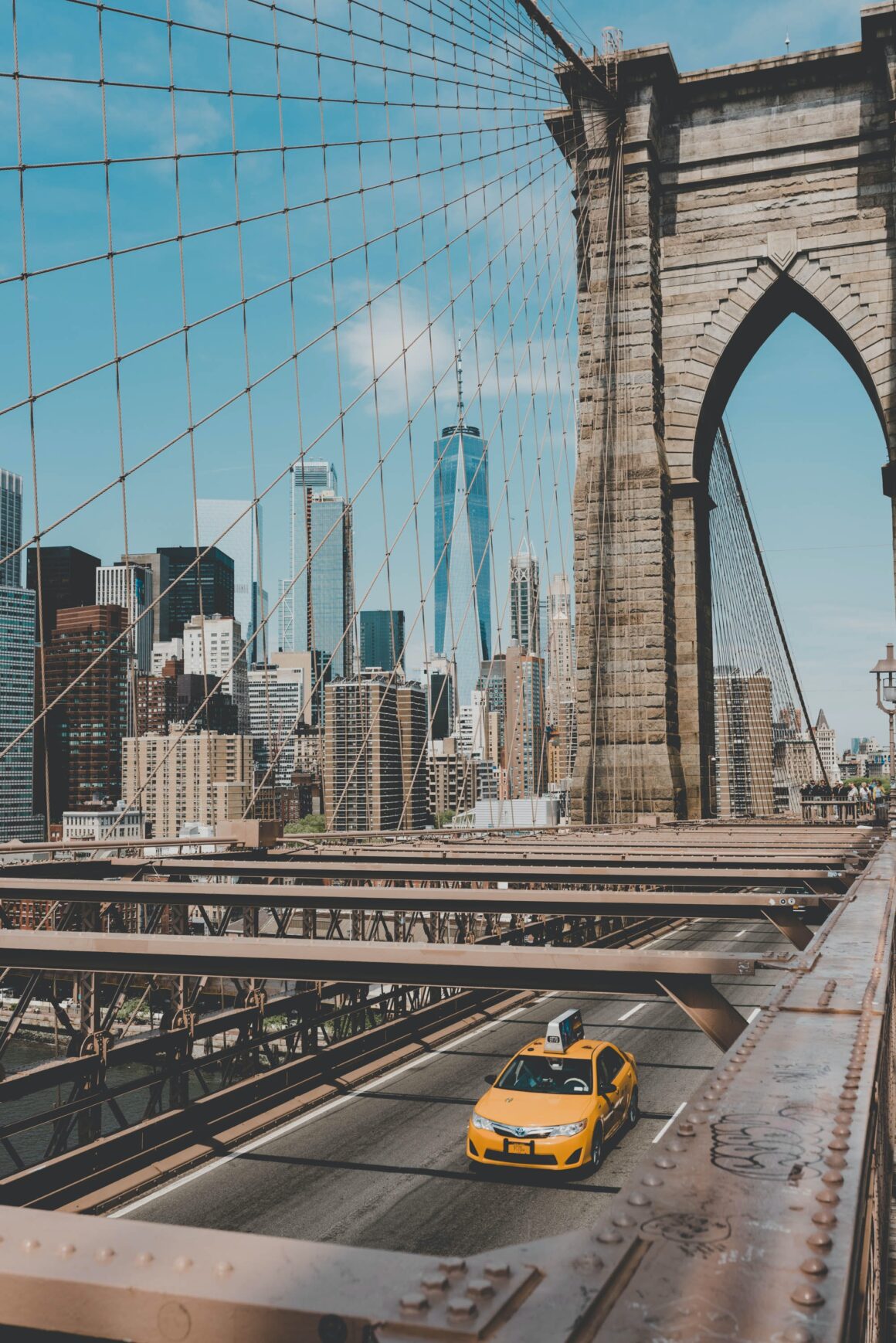 If you know anyone who has traveled to New York City, there's a good chance (okay, fine, a 99% chance) they've visited the Brooklyn Bridge. This iconic New York City sight, built in 1883, extends 1,595 feet across the East River, tying together Manhattan and Brooklyn Heights.
When the Brooklyn Bridge was first built, it was the world's longest suspension bridge. But nowadays, it's simply one of New York's most historic sights. Start on either side of the bridge and walk across – and don't forget to snap photos of the gorgeous bridge and the skyline! 
4. Grand Central Terminal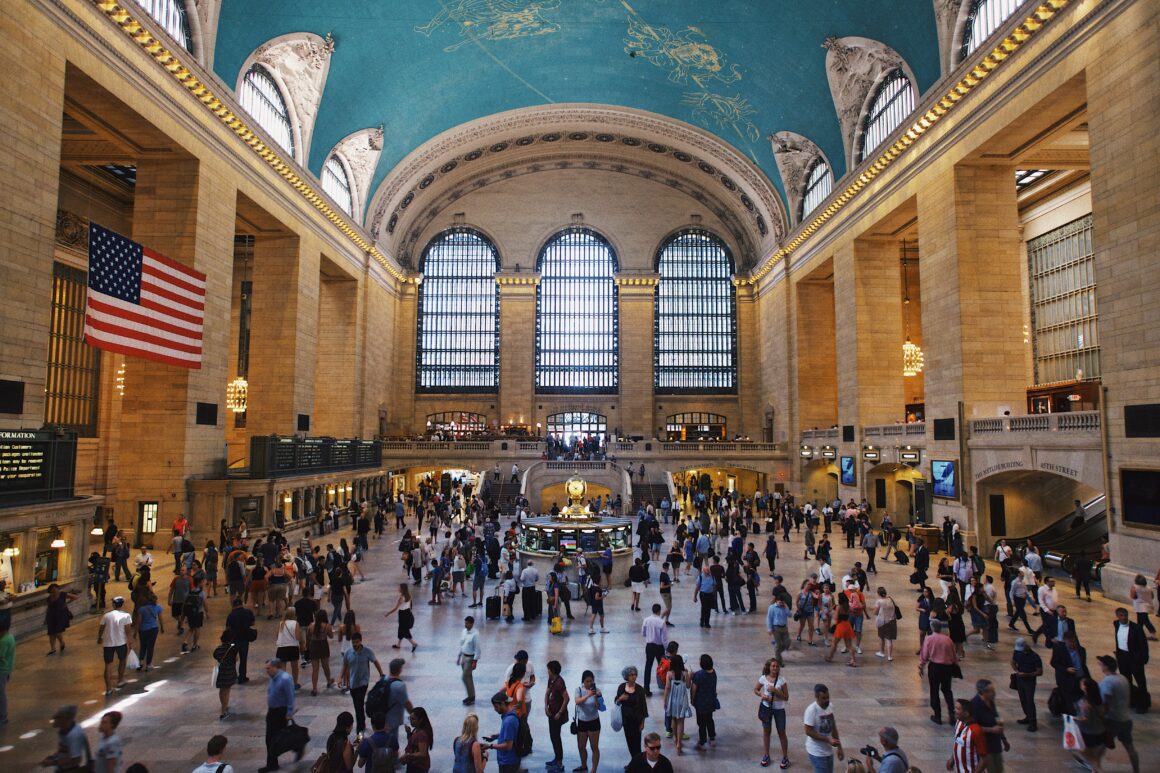 A train station? Yup! Mark this one down as an NYC must-do. Grand Central Terminal might be one of the most iconic subway stations in New York City, and it's one of the best things to do in New York City free.
Grand Central Terminal has been the backdrop for countless TV shows and movies – and once you visit, you'll see why. The ceiling art is stunning, and it's a beautiful place to snap some photos and people watch. Inside the terminal, you'll also find restaurants, a farmers market, shopping and so much more.
Once you're done visiting Grand Central Terminal, you can hop on the S line and head over to Times Square, our next favorite on our list of things to do in New York City for free.
5. Times Square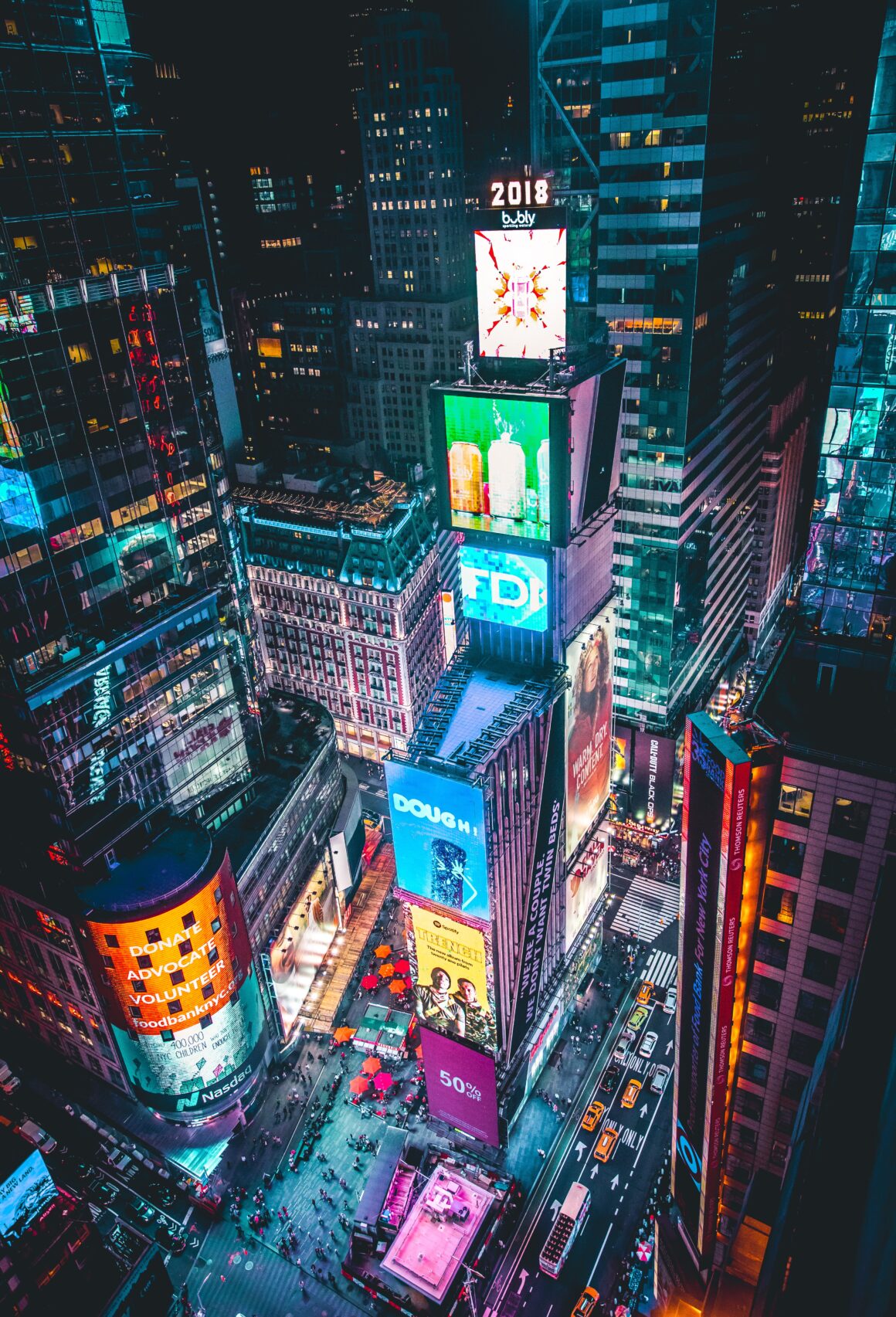 I may be one of the only people in the world who doesn't hate Times Square. But I'm going to say it: I…like Times Square. And yes, this probably makes me the odd one out as someone who has visited New York City dozens of times. Most locals will avoid Times Square, but I love it because it marks the start of the theater district, and I have been known to visit New York City for Broadway alone.
But…can you even say you visited New York City without at least stopping in Times Square once? For first-time visitors, this is one of the top things to do in NYC, hands down. Plus – it's FREE!
Times Square is chaotic, and it's a lot to take in. HUGE billboards, the M&M store, countless restaurants, street performers and even Broadway theaters… Times Square is a lot to experience! If you're visiting, consider stopping by as night, as it's one of the best free things to do at night in NYC!
My only recommendation? Avoid eating in Times Square. Most of the places are way overcrowded, and the quality isn't there. Instead, consider checking out my list of cheap eats in Midtown for my best picks nearby!
6. Washington Square Park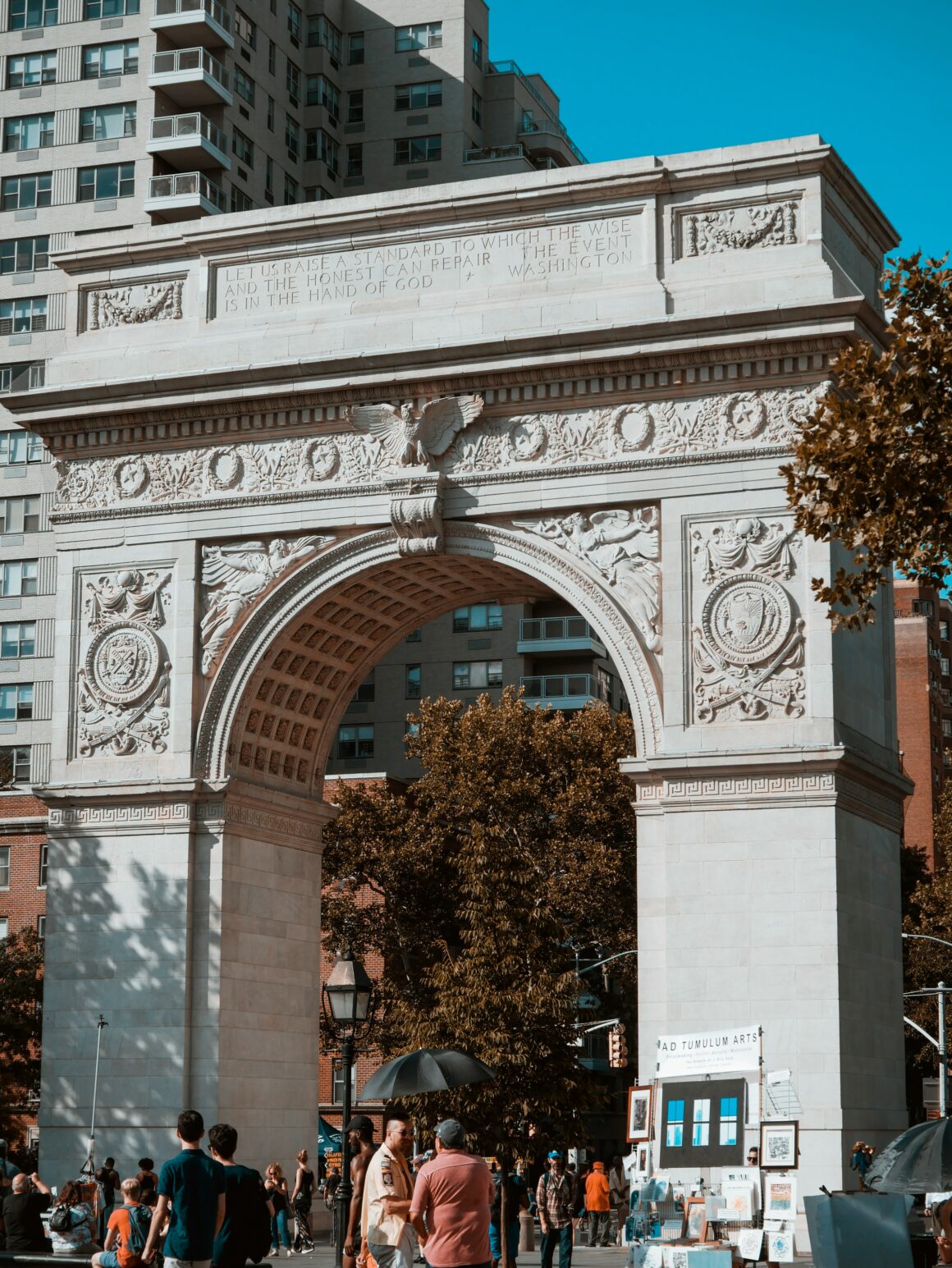 Washington Square Park is the center of people watching in New York City. As far as things to do in New York City for free, Washington Square Park is a must-see. This tiny, 10-acre spot is filled pretty much every hour of every day. You'll see chess players, musicians, performers, students, parents and everyone in between.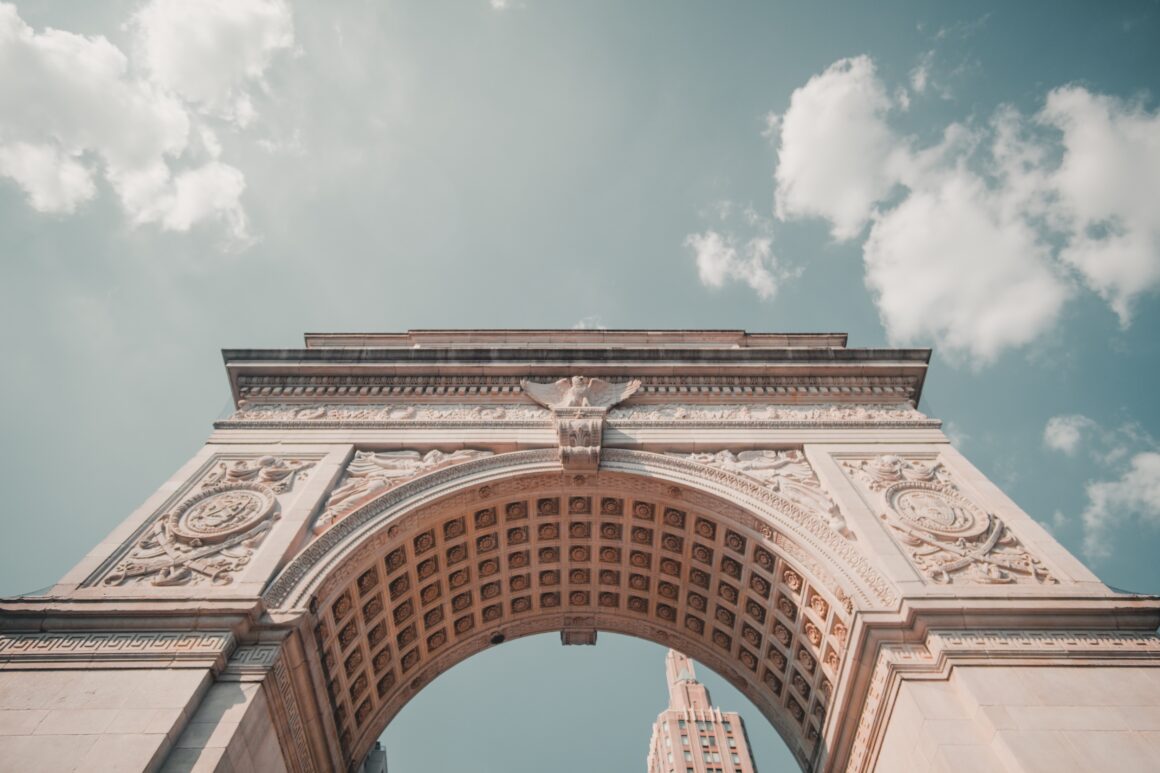 Don't forget to take in Washington Arc, named after our first president and observe the wreaths and motifs running from the base to the keystones. 
7. Hudson Yards (The Vessel, The Shops at Hudson Yards, and More!)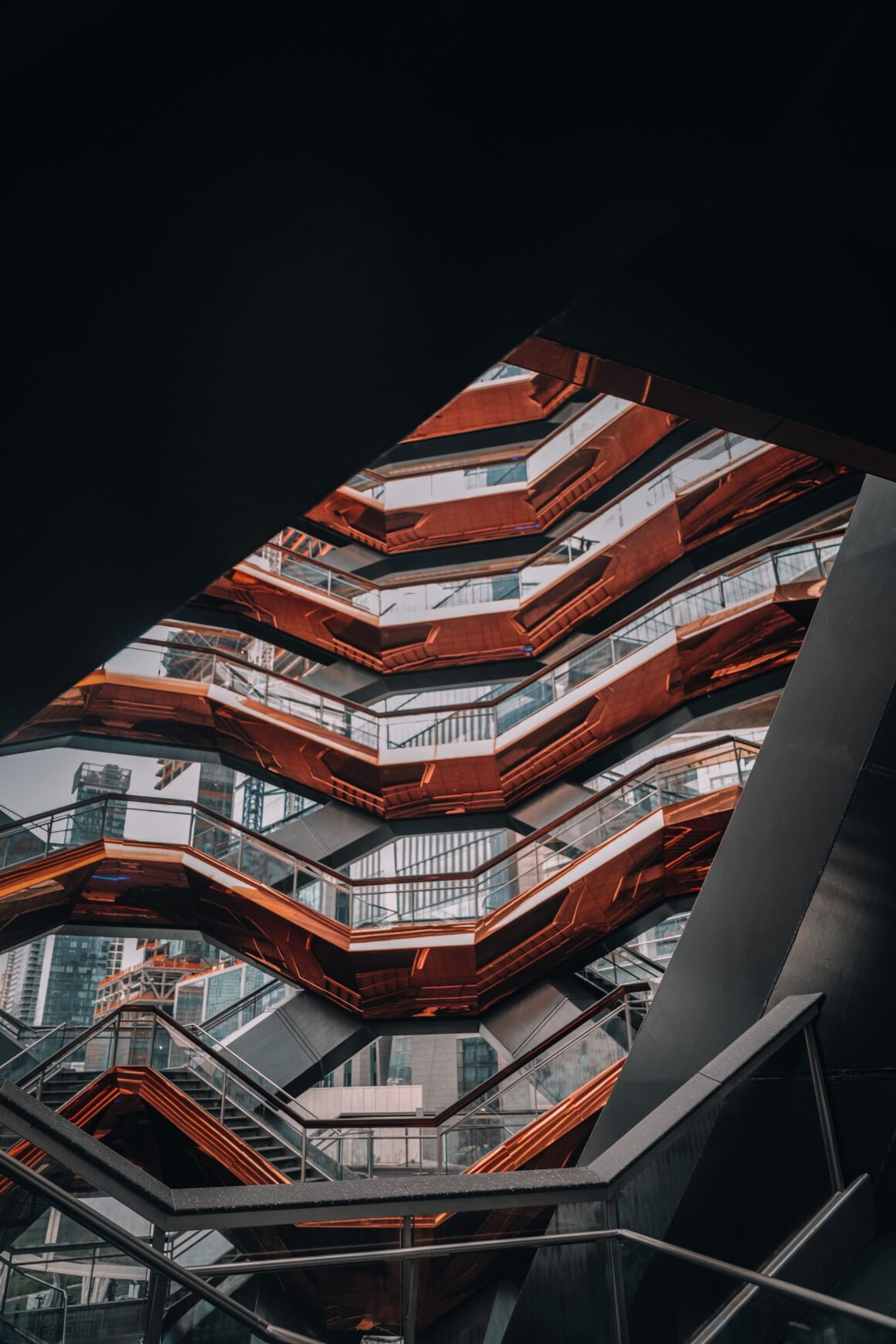 One of New York City's newest attractions is Hudson Yards. This cool, hip new area has to be one of the best free things to do during your visit to NYC. You won't find anything like it anywhere else.
So what exactly is Hudson Yards? Hudson Yards is an upscale shopping mall with the famous Edge Sky Deck (if you want a killer skyline view and have a little extra budget, grab tickets here). But there's so much more to explore in the area, including The Vessel, a 150-foot high beehive-like structure. You can't climb to the top anymore, but it's still an awesome photo opportunity. You can also visit The Vessel for free at the ground-level base with no reservation. 
In addition, you can start your journey on The High Line here!
8. The Oculus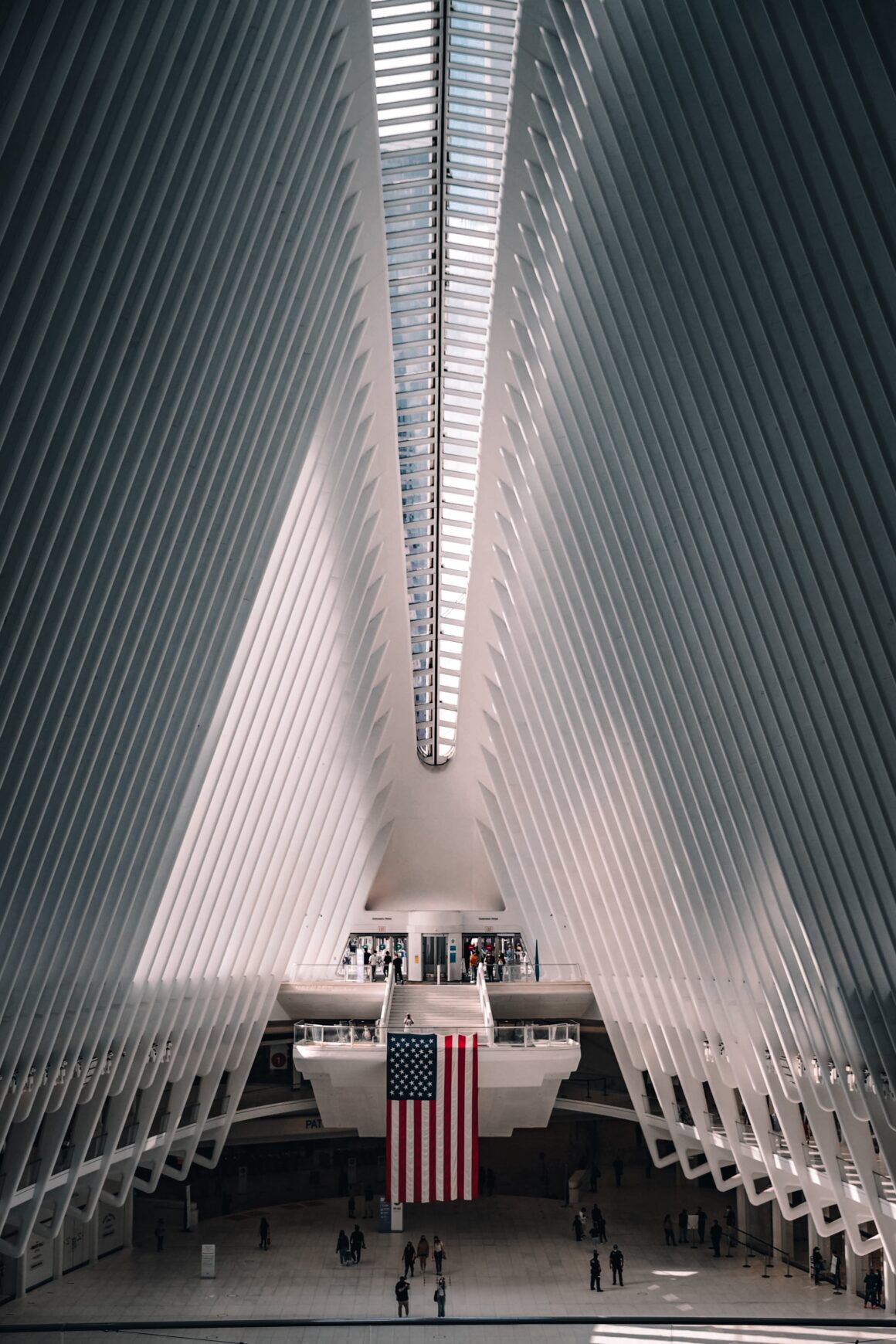 The inside of the Oculus has no doubt been photographed thousands of times, but that doesn't make it any less beautiful. This architectural gem at the World Trade Center is home to 12 subway lines and dozens of stores. The main floor boasts farmers markets, art exhibits, performances and so much more each week.
9. SoHo NYC Murals
Can you visit New York City without exploring the city's street art? Head down to SoHo for one of the best free things to do in New York City: the art murals. I always love the beautiful SoHo for their cute cobblestone streets and shopping, but the murals make it even better to explore.
The art is always changing, so I'd recommend wandering the streets yourself and exploring. However, some noteworthy spots with art general include:
Bowery New York Mural on 76 E Houston St.
Flowers mural by Jet Martinez is located at 250 Mulberry St., New York, NY 10012
Yumi Kim trash can mural 105 Staton St #1, New York, 10002
Color Factory Wall 251 Spring St 251 Spring St, New York, NY 10013
Tristan Eaton – "Audrey Hepburn" located on 176 Mulberry St, New York, NY 10013
Happy exploring!
10. Visit 30 Rockefeller Plaza (Or, 30 Rock!)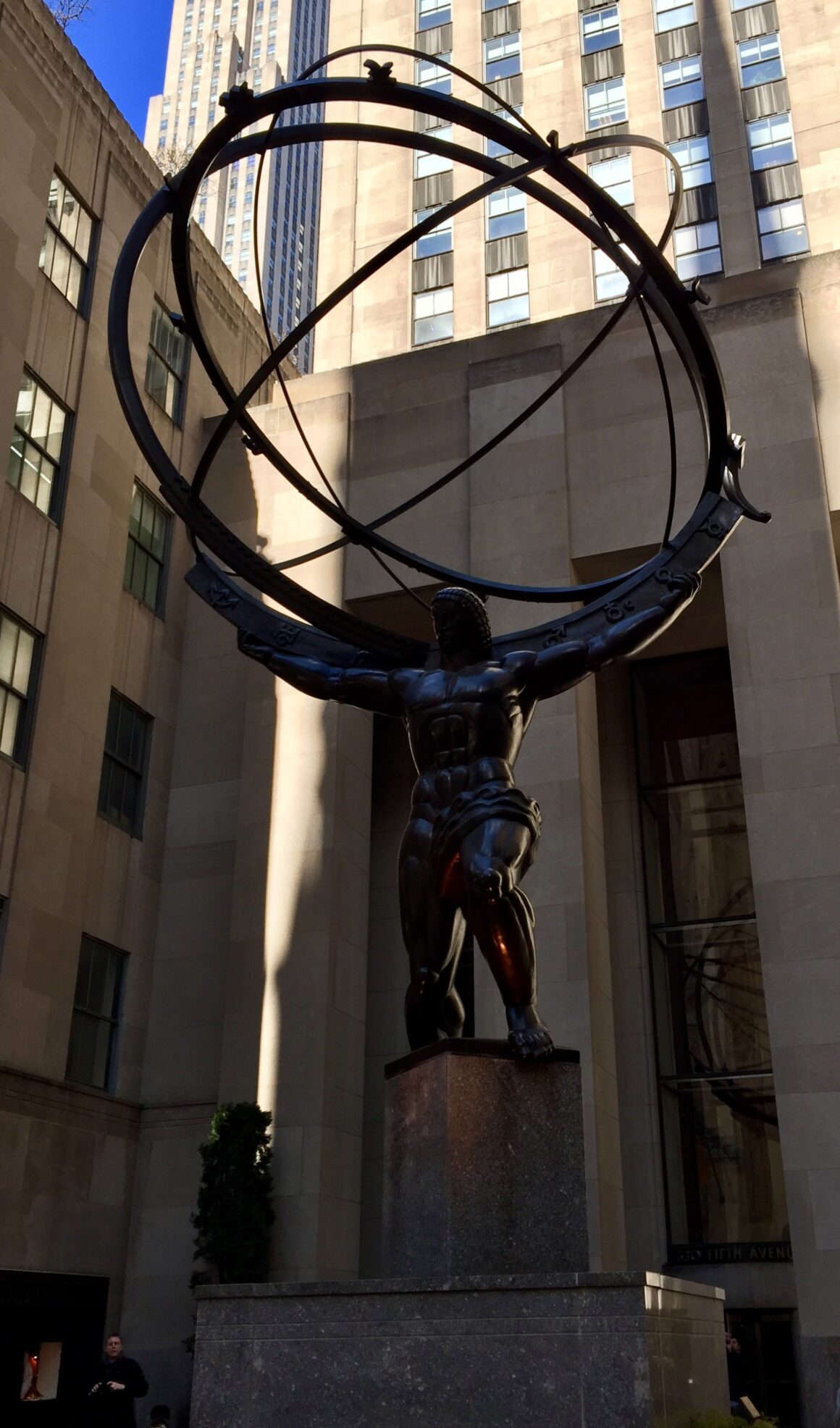 I'll admit it: 30 Rockefeller Plaza is one of my favorite spots in New York City, no matter the time of year. It holds so many memories for me, especially as a former NBC journalist and a Saturday Night Live diehard fan. Nowadays, I often stop by 30 Rock on my walking tours of New York City in between Broadway shows.
30 Rockefeller Plaza is one of my favorite free things to do in New York City because you don't need to spend any money to soak up the sights and take in the towering building and its surroundings.
You can browse more than 40 different eateries, take photos with the nearby Radio City Music Hall, check out Saint Patrick's Cathedral and even stroll down 5th Avenue. It's one of the most essential things to do in NYC. You'll also find a number of free TV tapings here – more on that below! 
If you can swing it, consider getting tickets for Top of the Rock. It's the best observation deck in NYC in my opinion – and I've done almost all of them.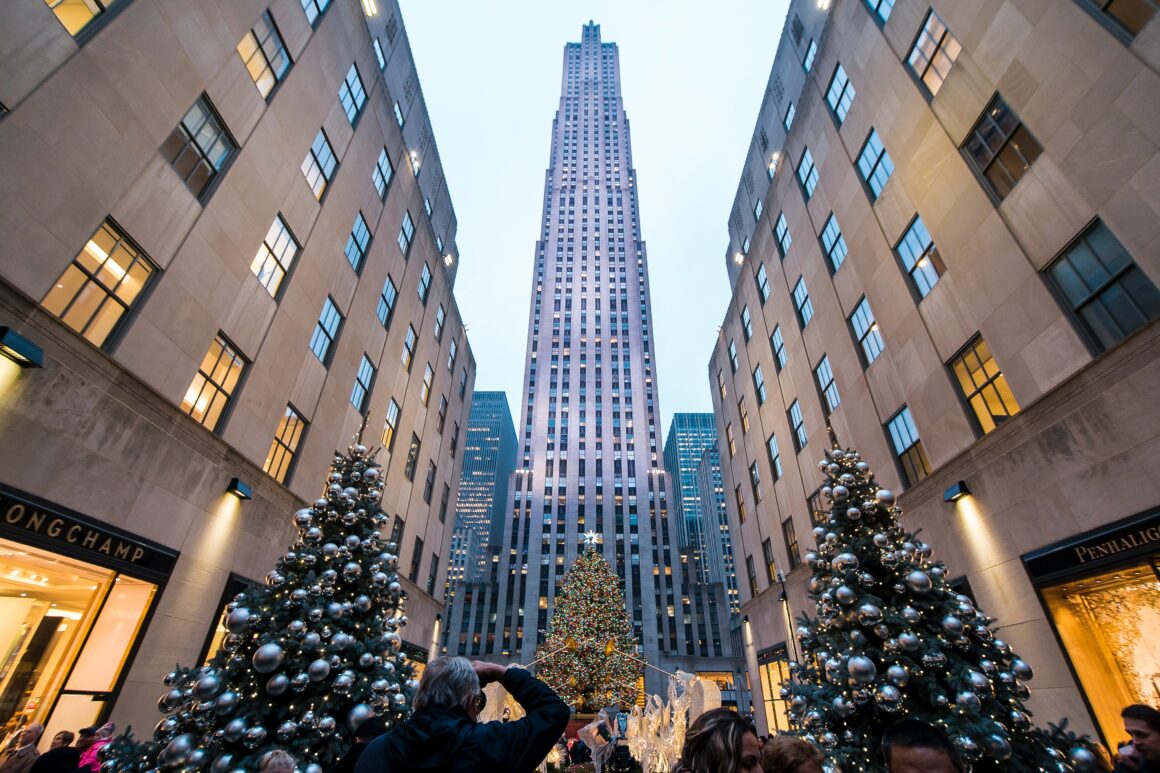 If you're around 30 Rock during the Christmas season, be sure to stop by and see their tree and the Saks Fifth Avenue lights show. Heads up, though: the crowds can get crazy, so I'd recommend stopping by during the day if you want to avoid those, as it's much less crowded.
Plus, some of my favorite cheap eats in NYC are in Midtown – perfect for keeping the budget in check while still splurging on the best food!
11. Attend a Live TV Taping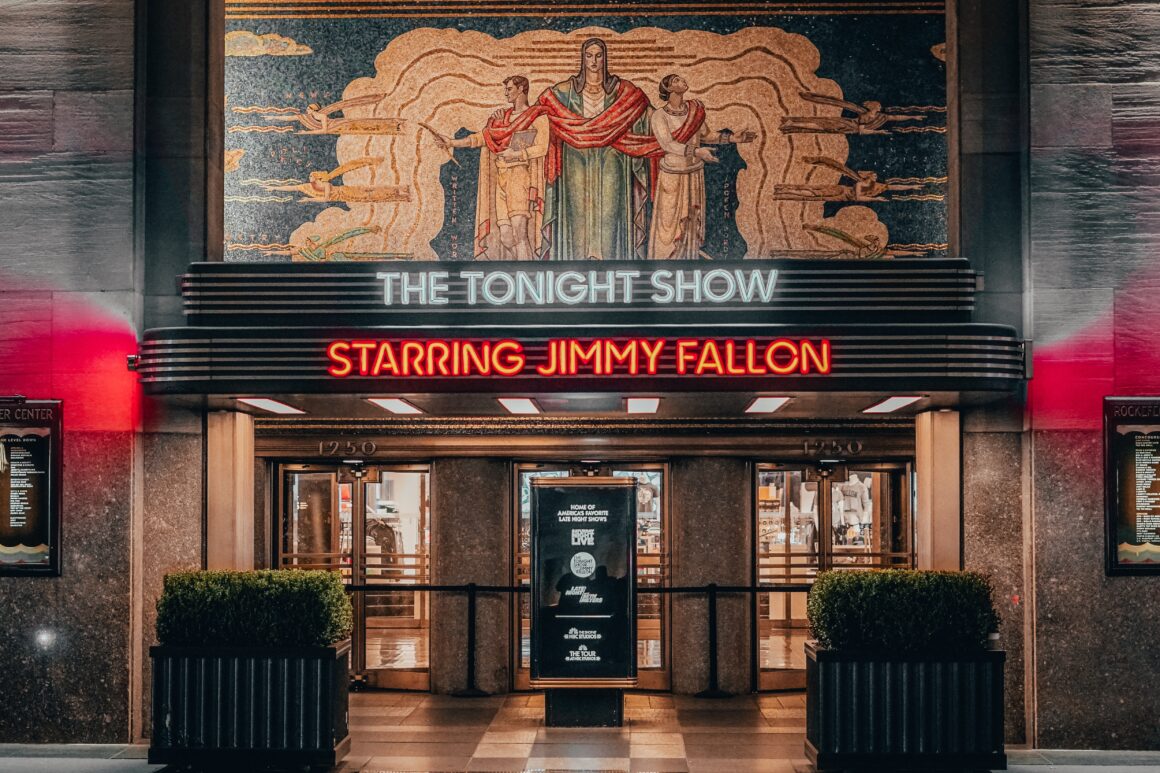 Ever dreamed about attending a live TV show taping? You're in luck! New York City is THE place to join a live studio audience, and it's one of the Best things to do in New York City – as well as one of the Best free things to do in New York City.
There are several free TV tapings in New York City, and they're all worth a visit, if you have the time. I've done dozens of TV tapings over the years – and they hold a special place in my heart. I'd recommend trying for tickets for The Tonight Show or The Late Show – but you can also check out The Today Show with no tickets by visiting 30 Rock during their live show. Most shows use 1iota for tickets.
If you're interested in attending taping for Saturday Night Live, keep in mind the ticket lottery is extremely competitive (and limited). I've done SNL more than a dozen times, and each time, I camped out for tickets.
12. 9/11 Memorial Pools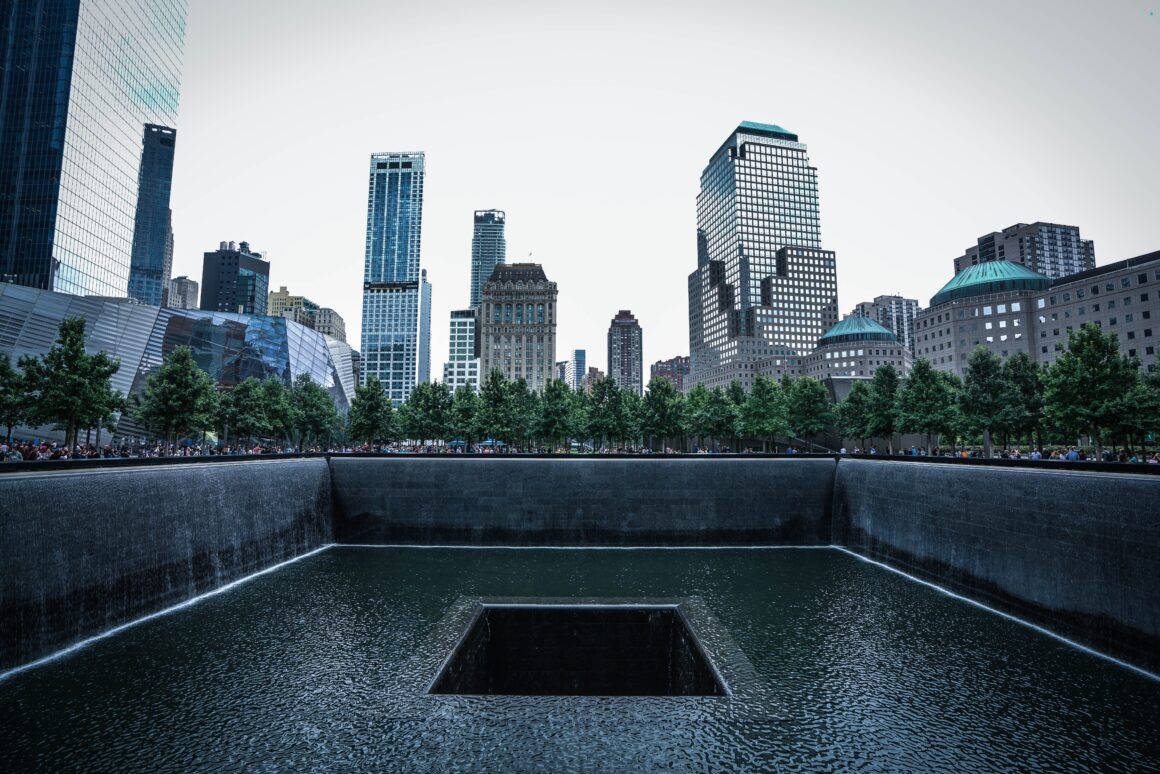 While the 9/11 Museum costs a small fee, the 9/11 Memorial Pools are completely free! These memorial pools were designed to honor those who lost their lives during the attack on the Twin Towers. These pools are 1 acre in size – they're actually the largest man-made waterfall in North America. 
If you're looking for more of a guided tour experience and have a little extra budget, I recommend a one-day guided tour of New York, which covers the 9/11 Memorial and so much more.
13. Governors Island
Craving an escape from the city? Governors Island may be the perfect spot to unwind. This ever-changing urban oasis combines park space and outdoor art space to create a special haven. This year-round destination has events no matter the season, making it the perfect low-cost destination.
Governors Island isn't entirely free – it costs $4 to cruise to the car-free paradise via ferry, but you can find free options if you opt for special discounts or early ferries (see the list of discounts here!).
14. Bryant Park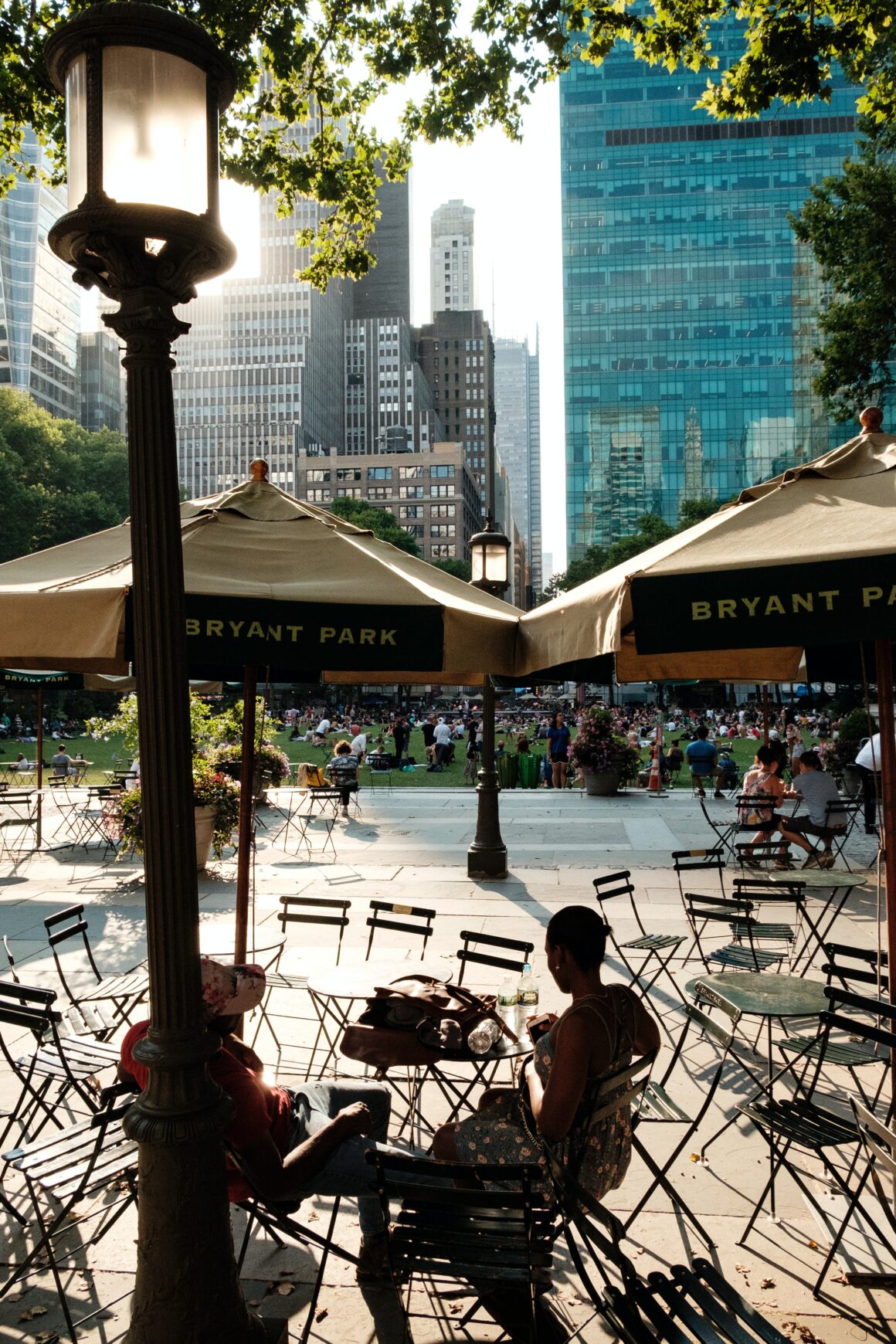 Bryant Park may just be one of the best parks for free activities in NYC! If you love urban spaces, Bryant Park is a must-see. Plus, it's one of my favorite picks for things to do in new york city for free – all thanks to its central location.
This green square is 9.6 acres and is home to some awesome events during the summer and winter, including free movie screenings, performances, exercise classes and so much more! It's also just a great place to eat your lunch in the summer and read a book while hanging out.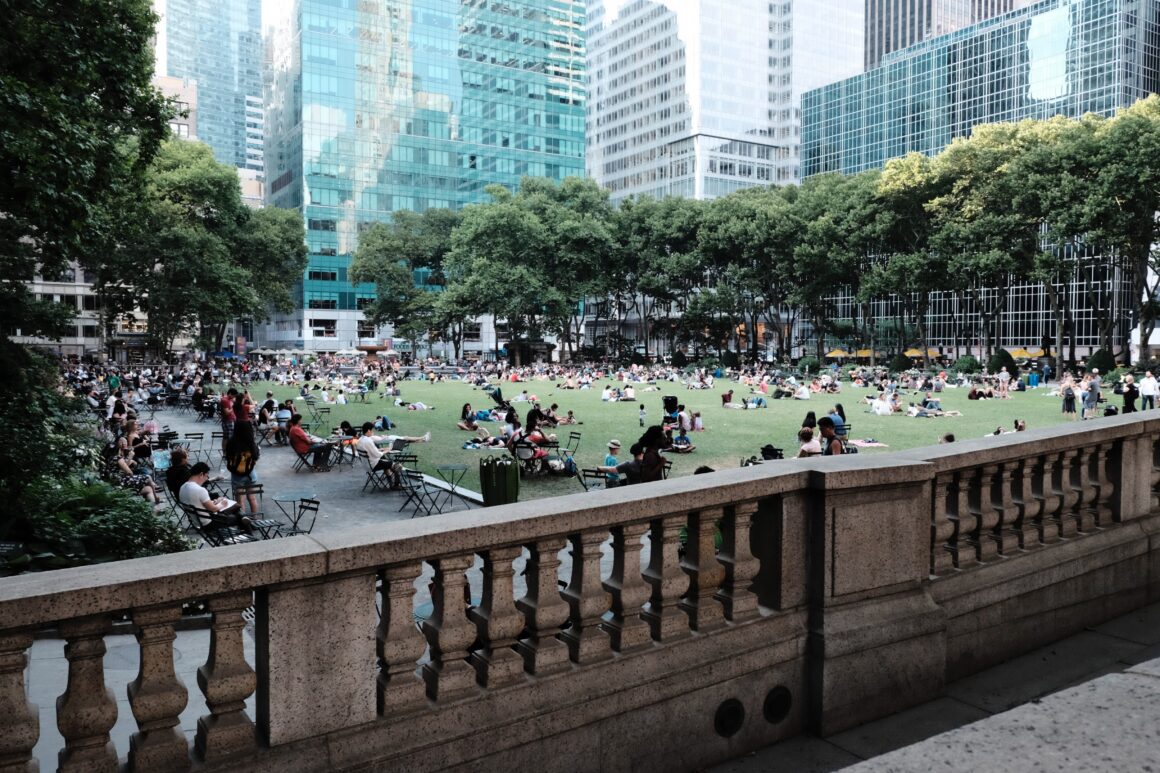 During the winter, Bryant Park becomes a winter wonderland! Home to the Bank of America Winter Village, which offers free ice skating (so long as you bring your skates!). A pop-up Christmas market, plenty of food vendors and even cozy winter igloos!
Plus, it's right next to the iconic New York Public Library, another one of our top picks for free things to do in New York City.
15. New York City Public Library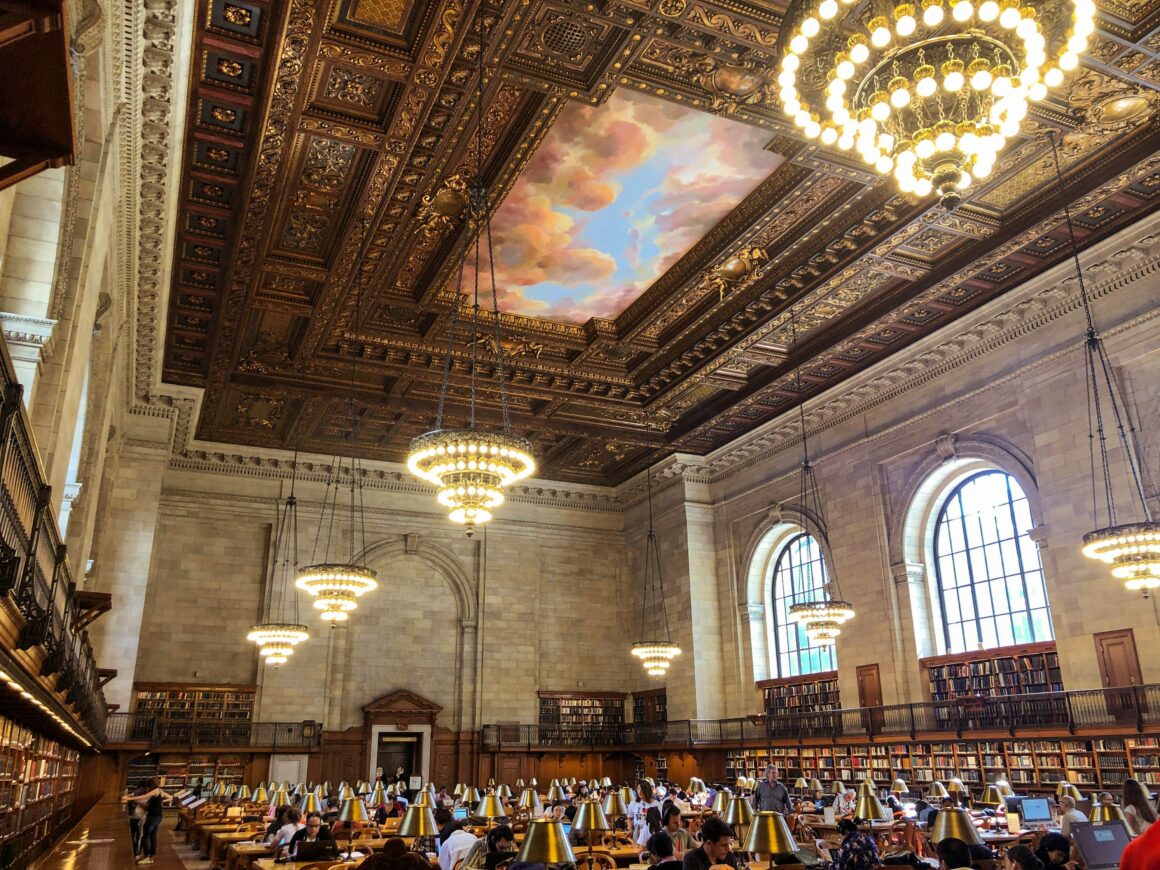 The NYC Public Library is certainly one of the most beautiful libraries in the world! If you love books and beautiful architecture, the New York City Public Library is THE place for you – and it's free! In addition to simply exploring the beautiful library, you can visit their exhibitions for free so long as you reserve tickets in advance.
This library is actually the second-largest library in the U.S. with 55 million books. It's been a National Historical Landmark since 1965 and a New York Landmark since 1967!
16. Shakespeare in the Park
Broadway can be expensive – but if you happen to visit New York City during the summertime, you can catch a play for free! Shakespeare in the Park might just be one of the most iconic things to do in New York City for free. It's beloved among locals and visitors alike, and for good reason.
Each summer, the Public Theatre puts on excellent productions for Shakespeare in the Park at the stunning venue in Central Park. There's truly nothing better – especially for the price tag of $0.00. There are a number of ways to get free tickets (find them here!).
17. New York City Museum Free Days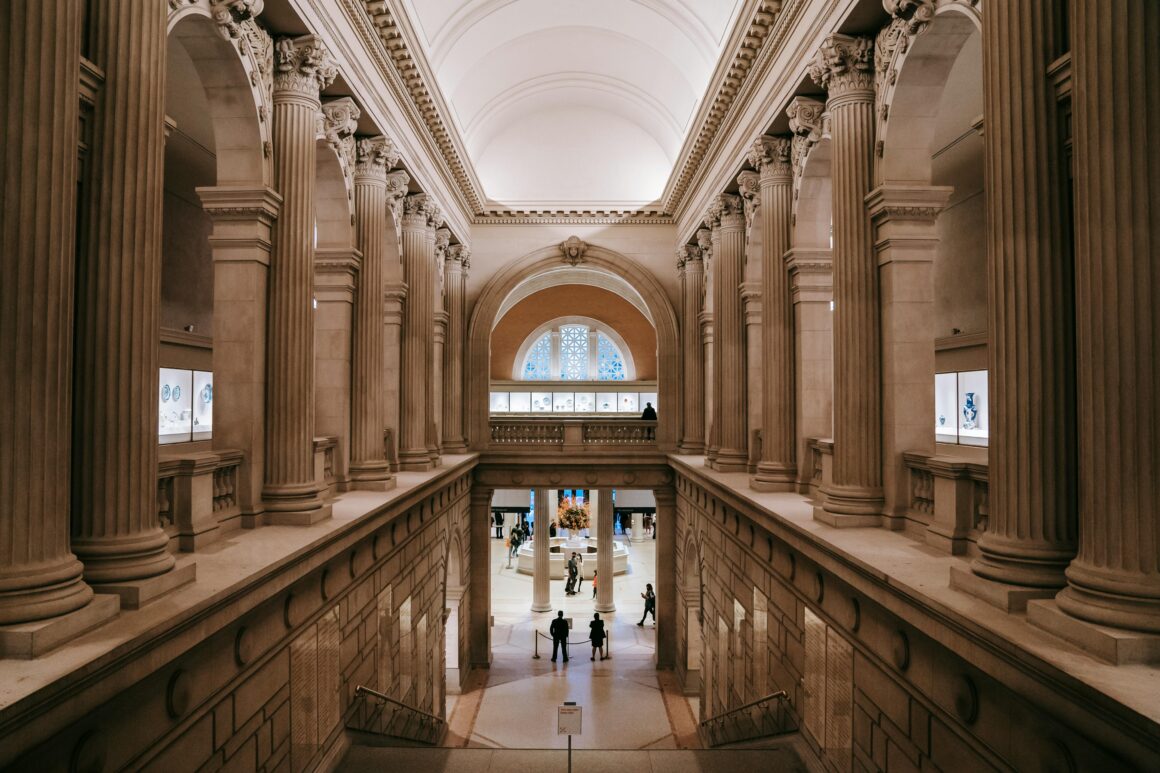 Did someone say free and cheap tickets to NYC's best museums? It's a thing! One of the best parts about visiting New York City is all of the city's cultural institutions and museums. The Metropolitan Museum Of Art, MoMA and the Guggenheim, for example, are the most popular museums in NYC.
A lot of New York City's museums offer free hours or days as well as pay-what-you-wish admission. You just have to dig around and find where and when these take place. For example, New York residents get free admission on the first Friday of each month to the MoMa.
Consider looking for discounts for NYC museums, too. Many – if not all – museums offer veteran discounts and senior discounts. If you do have the budget to splurge, though, a guided tour of museums like the iconic Metropolitan Museum of Art adds a lot of value and knowledge.
18. Little Island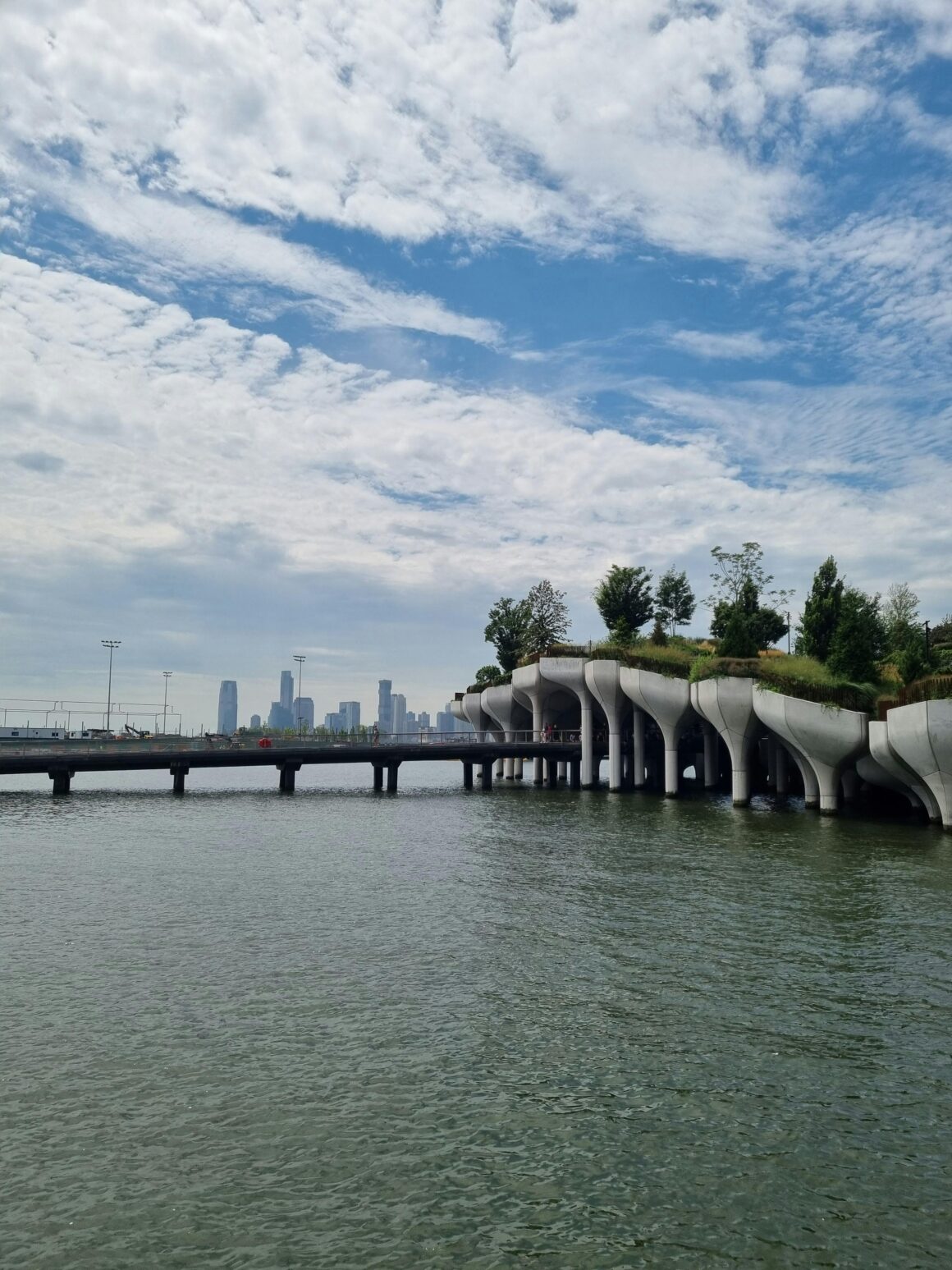 Little Island is one of New York City's hottest attractions – and it's totally free. Locals and tourists alike flock to Little Island, this "floating" greenspace, to soak up sunshine, take in the views, and enjoy the open lawns and cool installations. Plus, there's even a secret garden!
The park opens each day at 6 am, though closing times differ throughout the year. It's totally free to enter.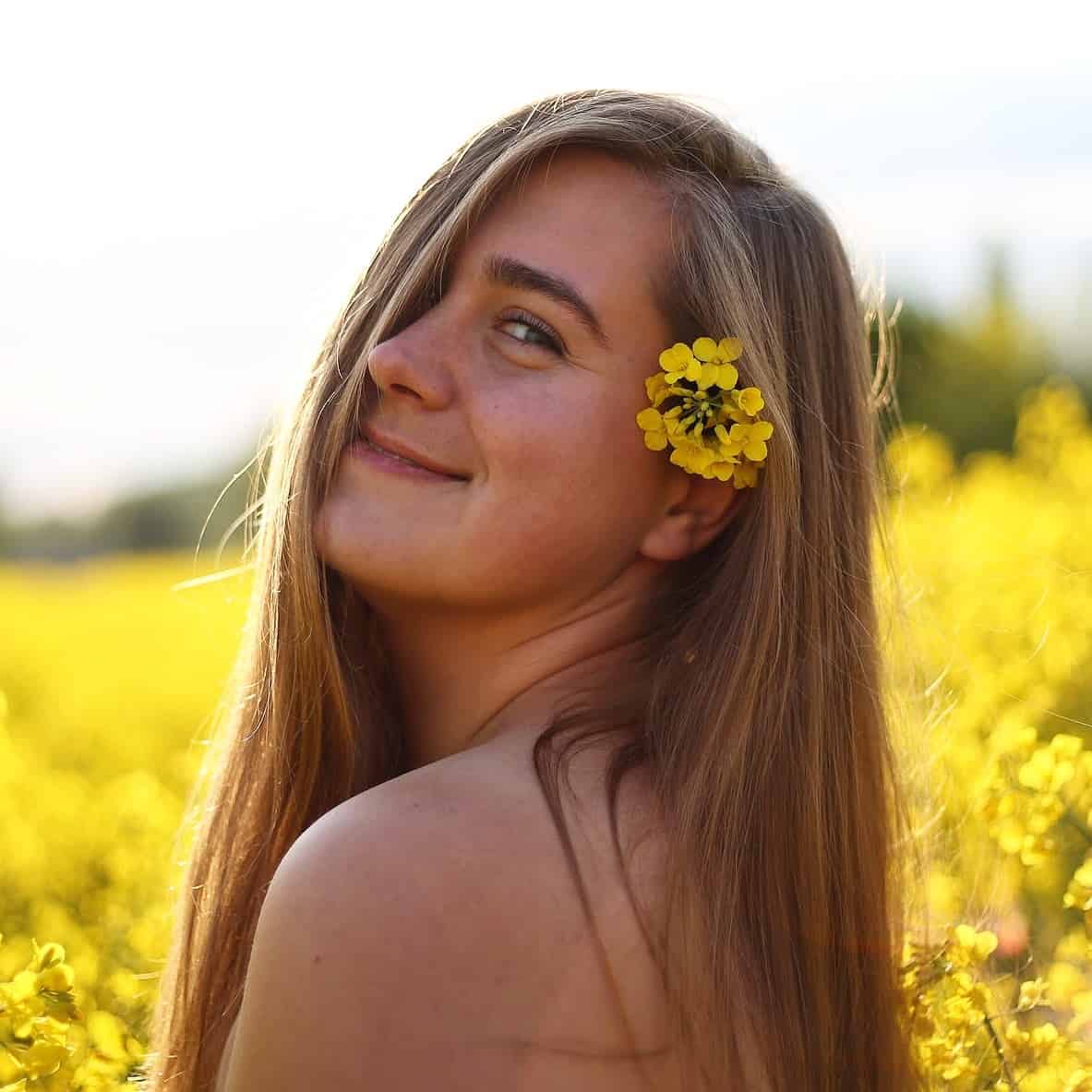 Samantha Tatro is a Czech-American third culture kid who grew up living and traveling abroad. Many years later, after living in California and working as a journalist, she decided to take the leap and move abroad again…this time to Prague, Czech Republic. Samantha started Undiscovered Path Home to help couples and solo female travelers find the courage to visit countries – and locations – off the beaten path. Her work has appeared in Bon Appetit, NBC News, The Adecco Group, and more.