Dreaming of setting sail in the Mediterranean, swimming in sparkling blue waters, and dancing in outdoor clubs on private islands? The Yacht Week Croatia is an iconic, super fun event that draws thousands of people each year – but the Yacht Week cost can be overwhelming for some before they understand their options. 
The Yacht Week Croatia (the original Yacht Week route!) is on many, many people's bucket lists. When I sailed with The Yacht Week Croatia, we had guests from as far away as the U.S. and Australia flying to Croatia to attend the event. If you're dreaming about spending a week on the water, but aren't sure how to start budgeting, I'm here to help you plan your Croatia Yacht Week adventure.
We set sail with The Yacht Week in Croatia in July 2023 – and despite the amount of research I did in advance, very few articles or budget breakdowns mentioned the true extent of the Yacht Week Cost. The Yacht Week boat fee is JUST the start – there are lots of hidden fees! So how much does The Yacht Week cost, really? Let's get into it with my detailed budget breakdown. 
Not ready to read this article? Pin it now!
When is Yacht Week Croatia?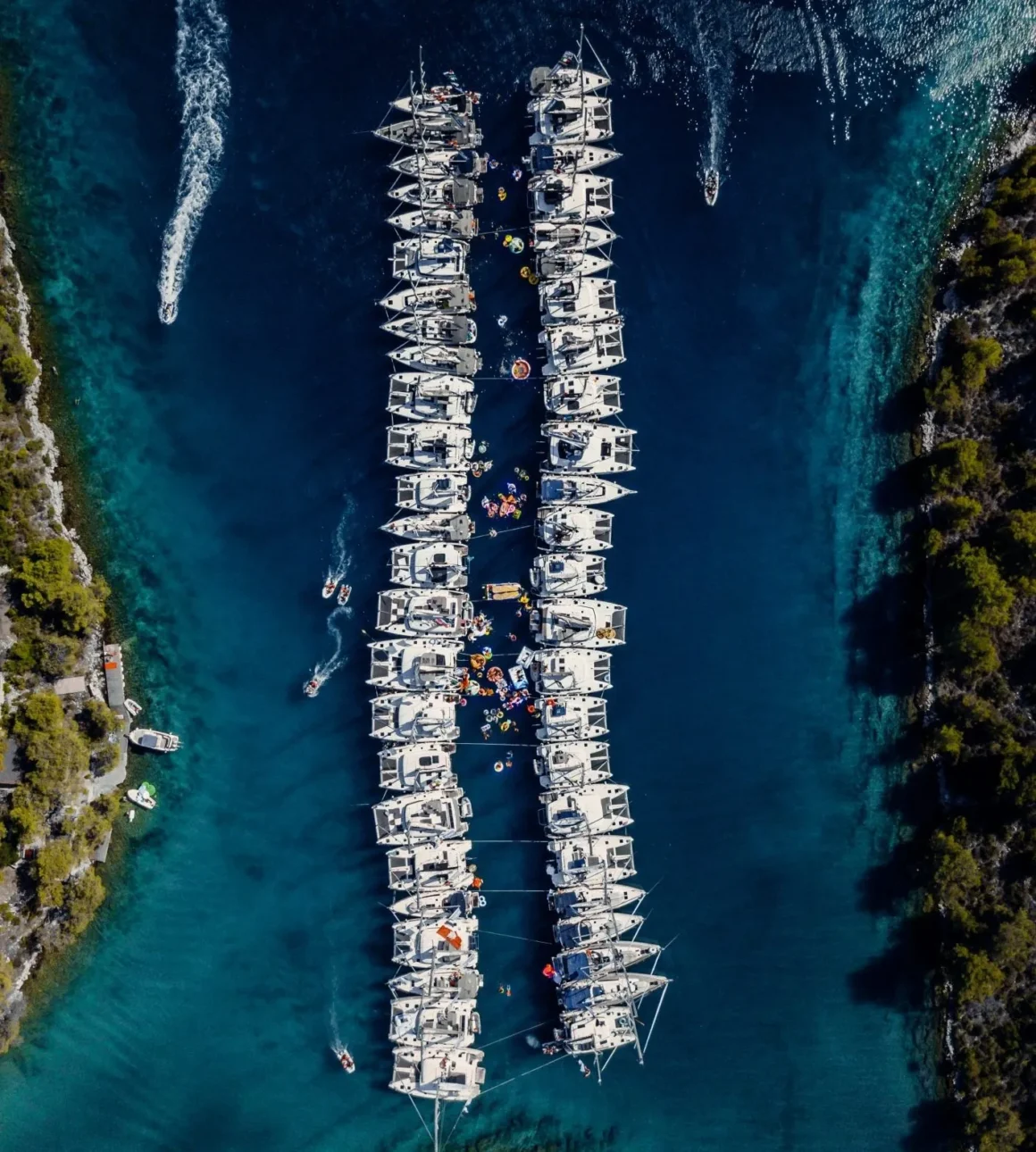 The Yacht Week happens every summer – it's the most iconic (and the original) rent-a-yacht-and-party experience in the Mediterranean. The Yacht Week runs what they call several different "routes," meaning they sail in a couple different locations (more on that below). However, Yacht Week Croatia is the "original route" – and the one many people pick for that very reason. Each year, Yacht Week runs seven day routes from May to August. 
There are other Yacht Week routes. Nowadays, Yacht Week runs routes in Greece, Turkey, and even Tahiti! You can find a full list of their destinations here. However, the original route? That's Yacht Week Croatia.
How much does Yacht Week cost?
Most people know The Yacht Week costs a pretty penny – but just how much does it cost?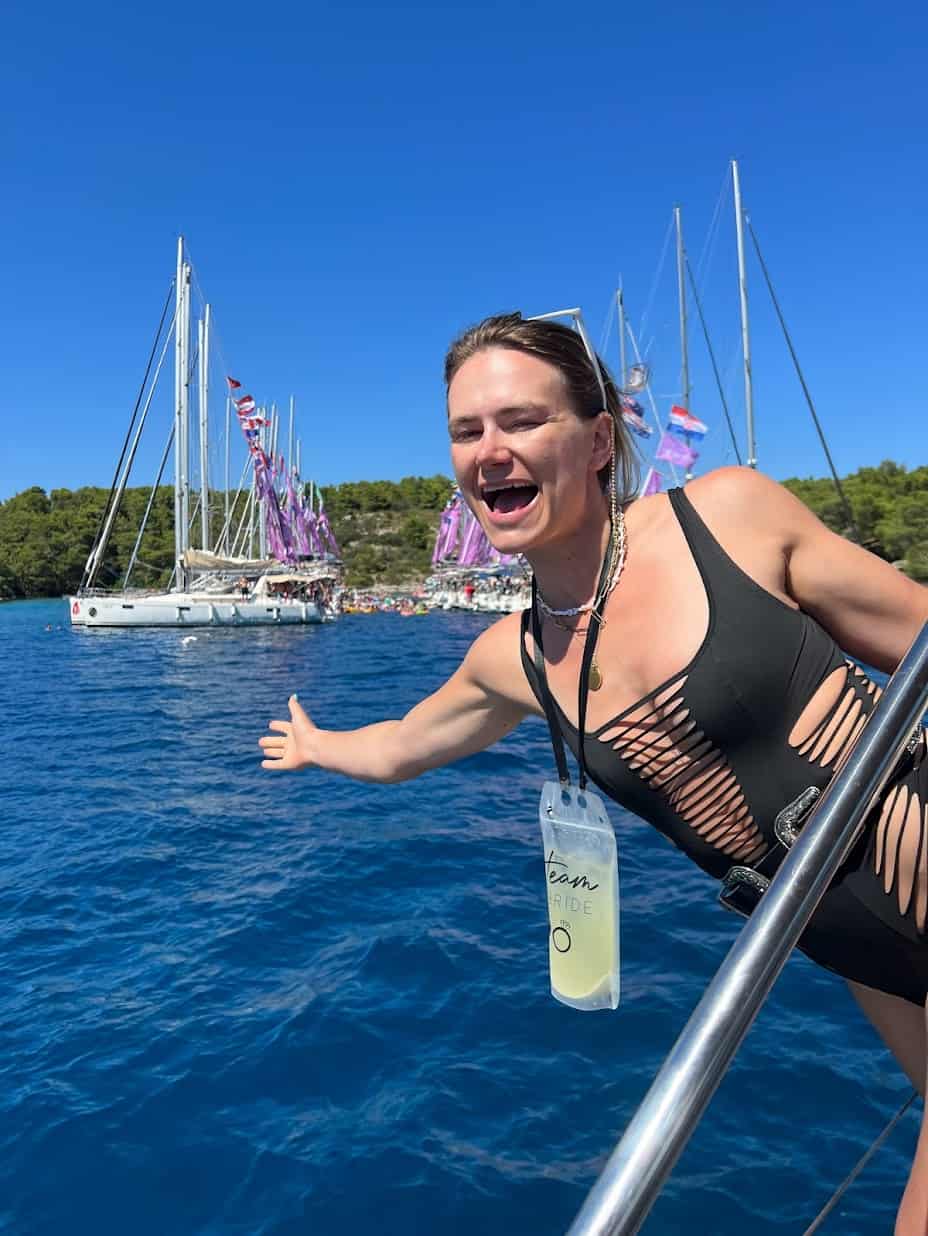 The Yacht Week cost depends on several factors:
Do you want a cabin on a boat, or will you rent out an entire boat with your group?
If you do plan to rent out your own boat, how many people will be in your group to help split the cost?
Do you want a host, or will you handle your own food?
Do you want a simple boat, or will you upgrade to a luxury option (a bigger boat with air conditioning)?
Our group attended The Yacht Week in mid-July 2023 and opted to rent a single monohull with no A/C – the simplest, most affordable option. However, we did add a host to our boat to help prepare meals and tidy the boat, which added a small extra cost. It ended up costing us 10,500 USD for the entire boat with a host.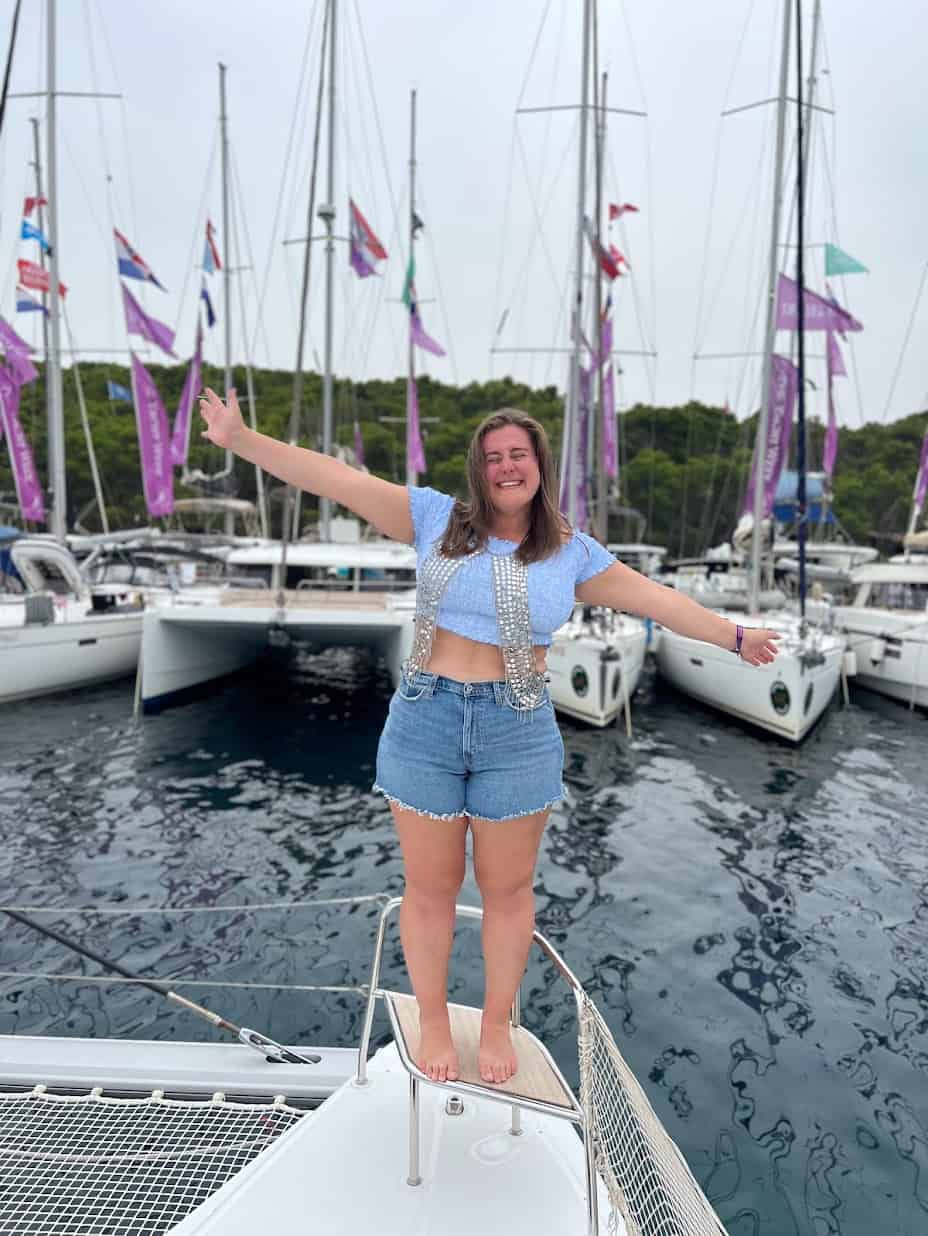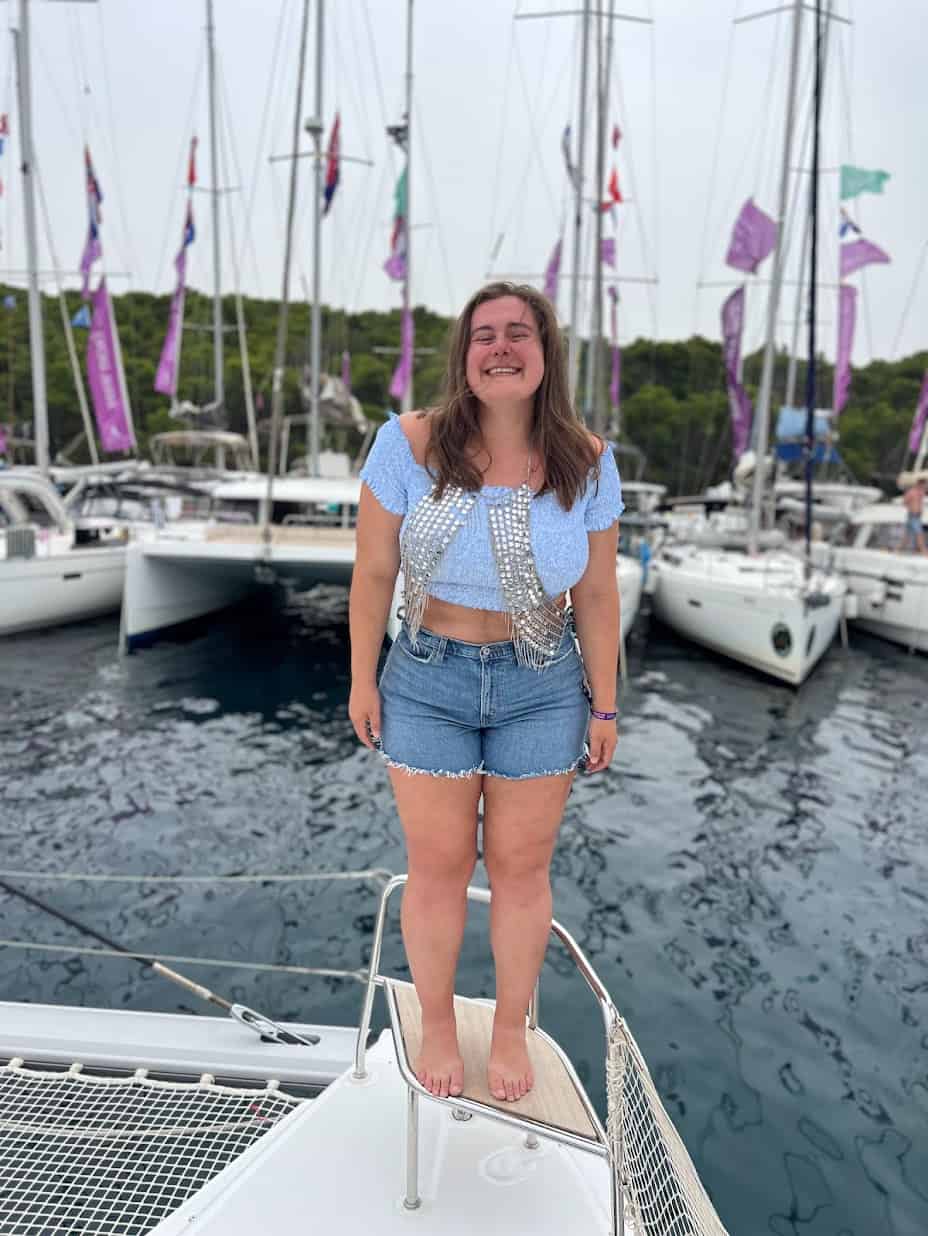 The great part about The Yacht Week is that you have multiple price tiers to fit a variety of budgets. Let's dive into the breakdown.
The Core Yacht Week Cost (the Yacht Fee)
First things first: you'll need to pick your boat. The Yacht Week offers four boat options:
Classic Monohull
Premium Monohull
Classic Catamaran
Premium Catamaran
Each option comes with a skipper, entrance to Yacht Week parties, towels and linen, and boat cleaning at the end of the week post check-out.
Though the costs change each year, generally, the classic Monohull is the most affordable option. When we sailed in 2023, the boat was 10,500 Euros total for the week. That's the starting price, though a premium catamaran will cost quite a bit more (though it also fits more people!).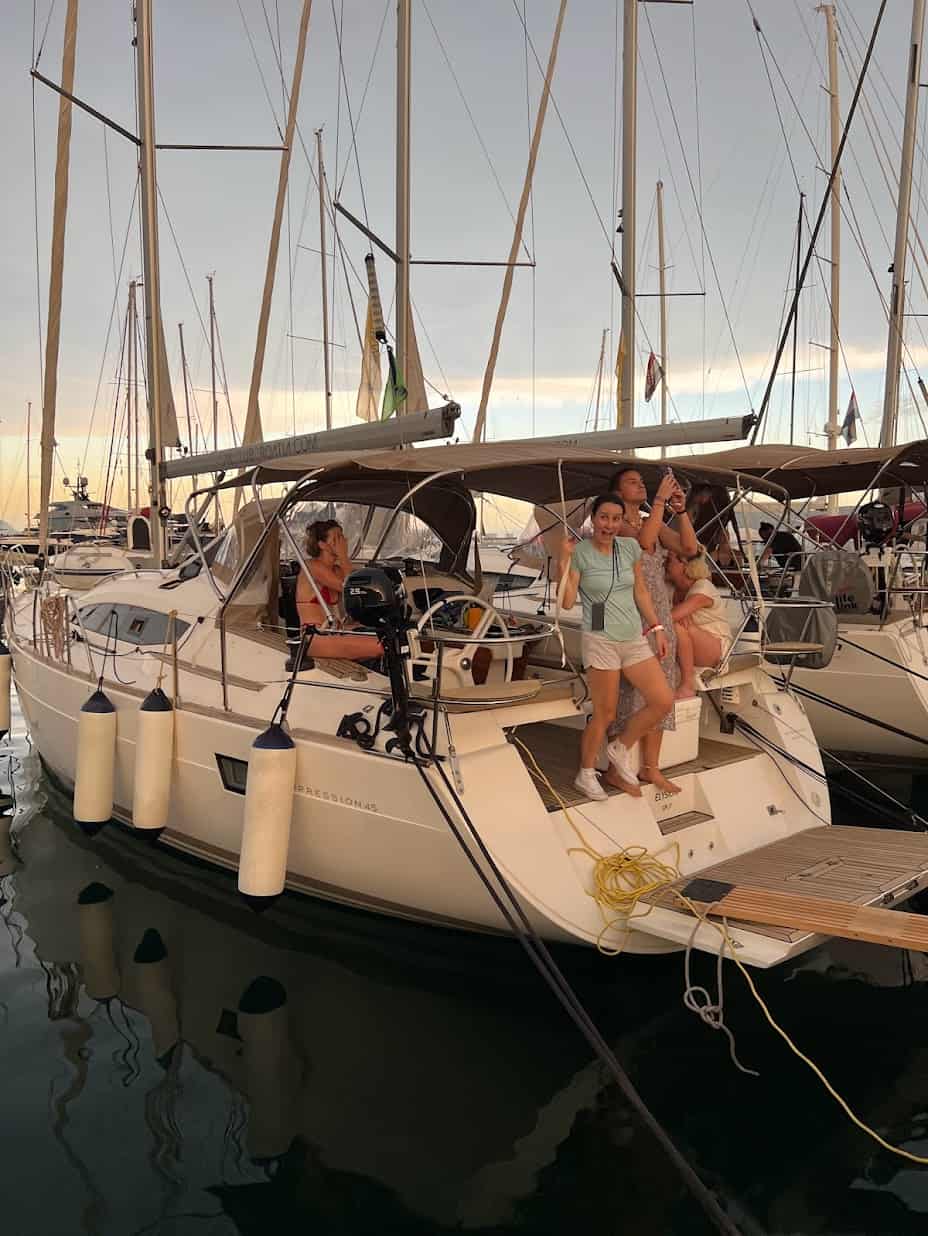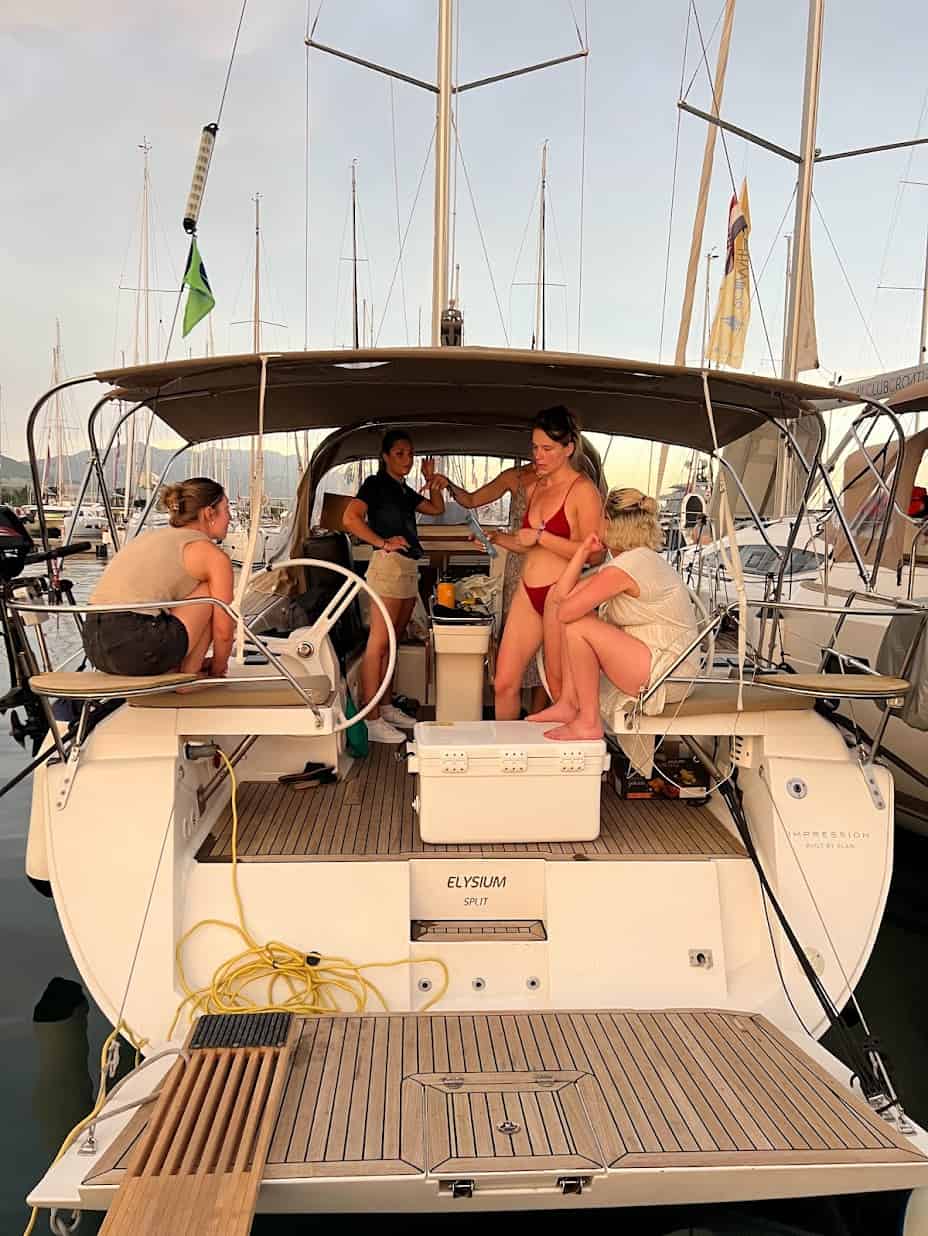 You can see how small the classic monohull looks above, but don't be surprised — it fits more than you might expect!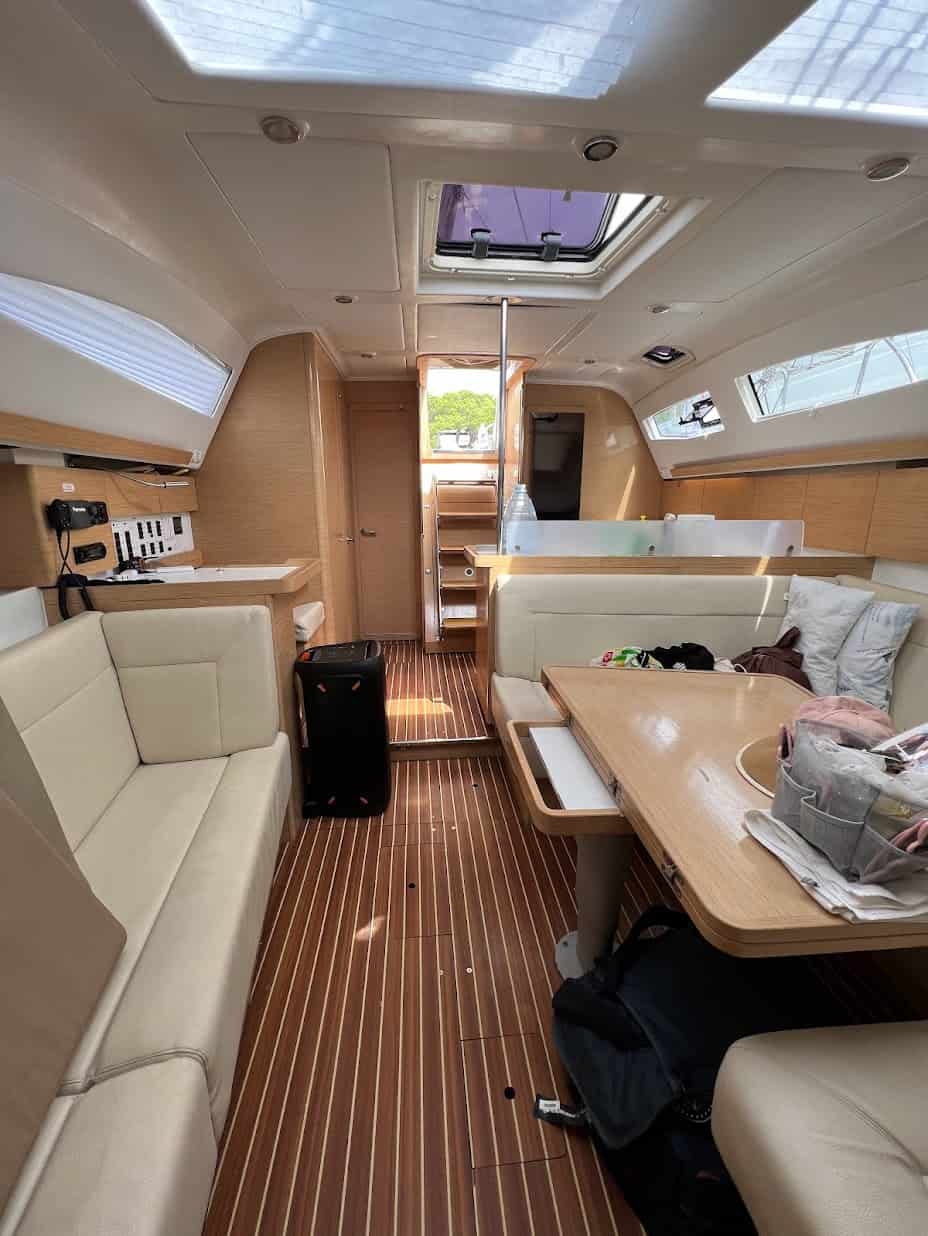 If you're unhappy with these options, Yacht Week has a luxury option that allows you to pick your own boat – many of which are often more expensive. We won't talk about that option here, as it changes a little each year, both price-wise and option-wise. 
Adding a Host to Your Yacht Week Experience
Above, we talked about the "Host" option for Yacht Week. What exactly is a host?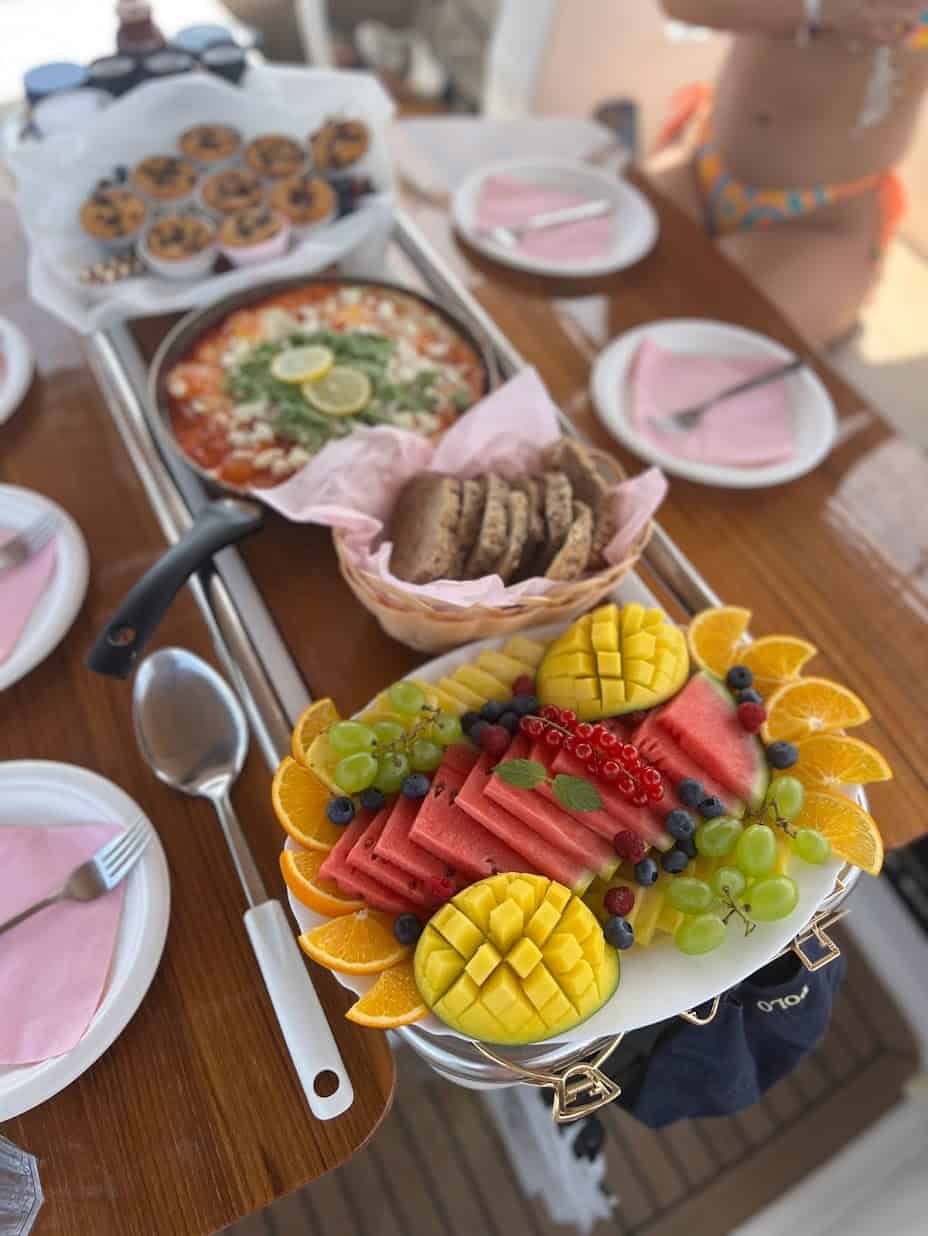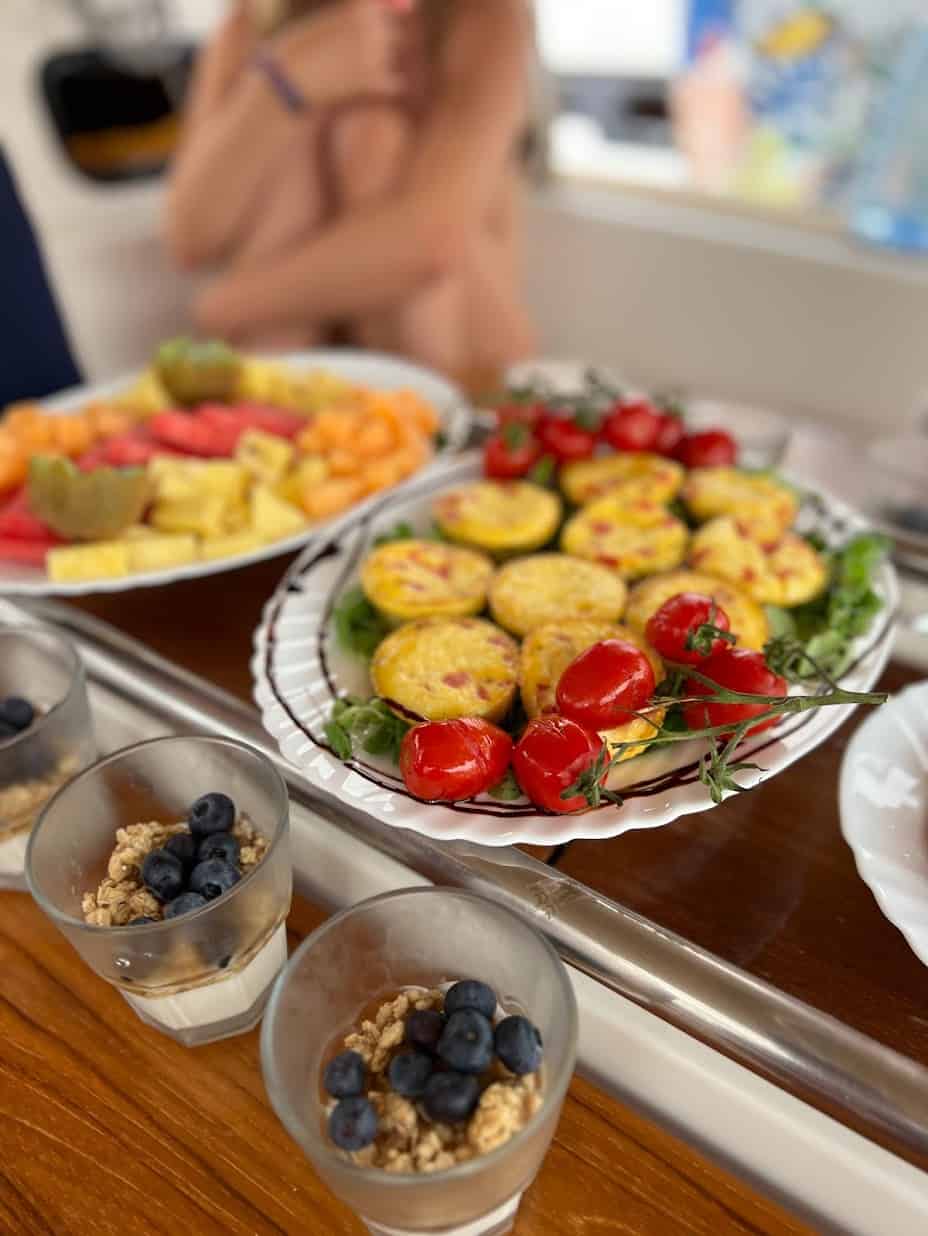 A host is your chef for the week – and she also helps keep the boat tidy and assists on deck when needed. The host will cook:
All breakfast meals on board
All lunch meals on board
Two dinners on board
If you're booking a single cabin on your Yacht Week boat, you may find the host is often, if not always, included in the price.
However, if you're booking your own boat to split with your friends, you'll have the option to add your own host. The price of the host will depend on the amount of people you're bringing on your boat. For six people, we ended up paying around 100 USD extra for the host each.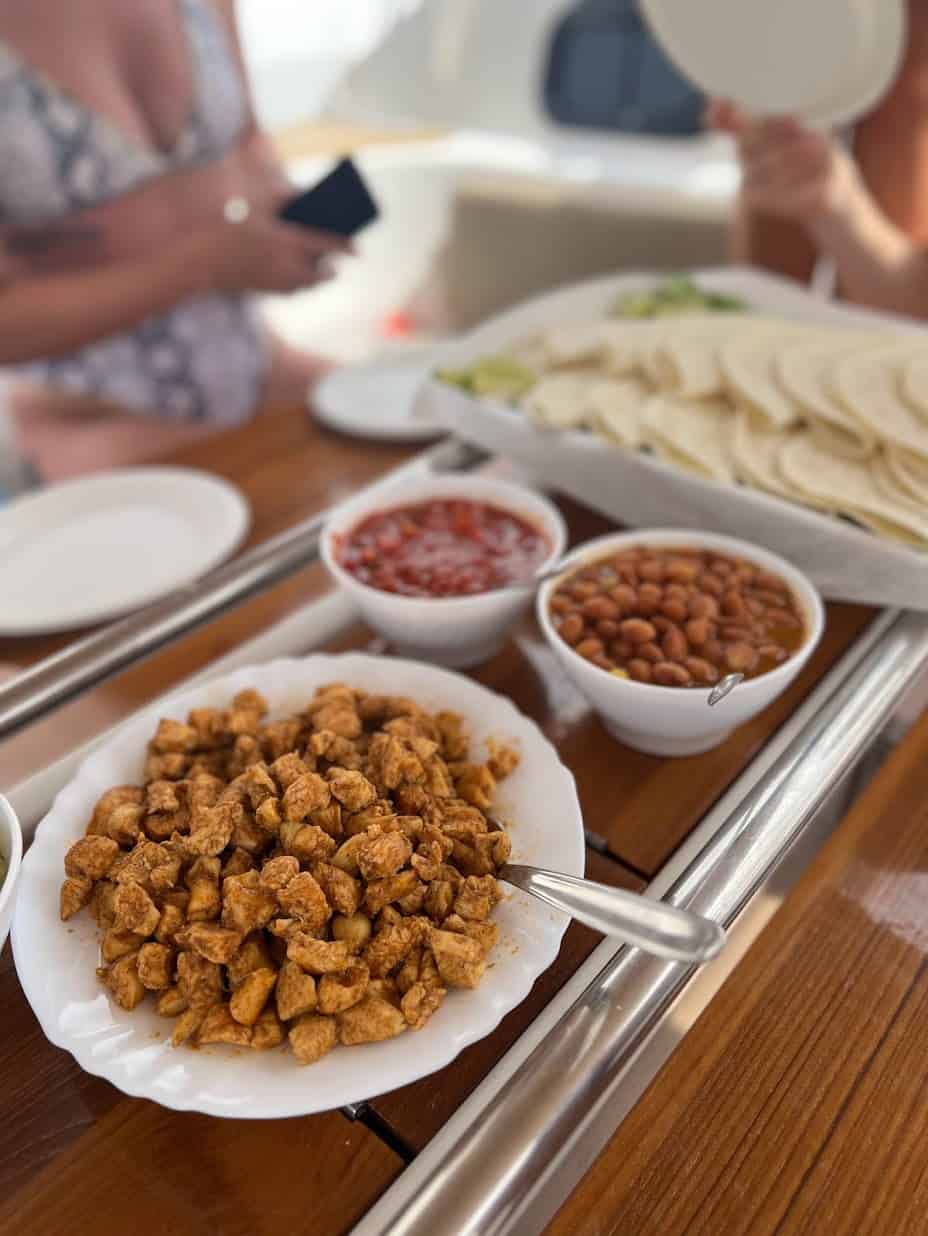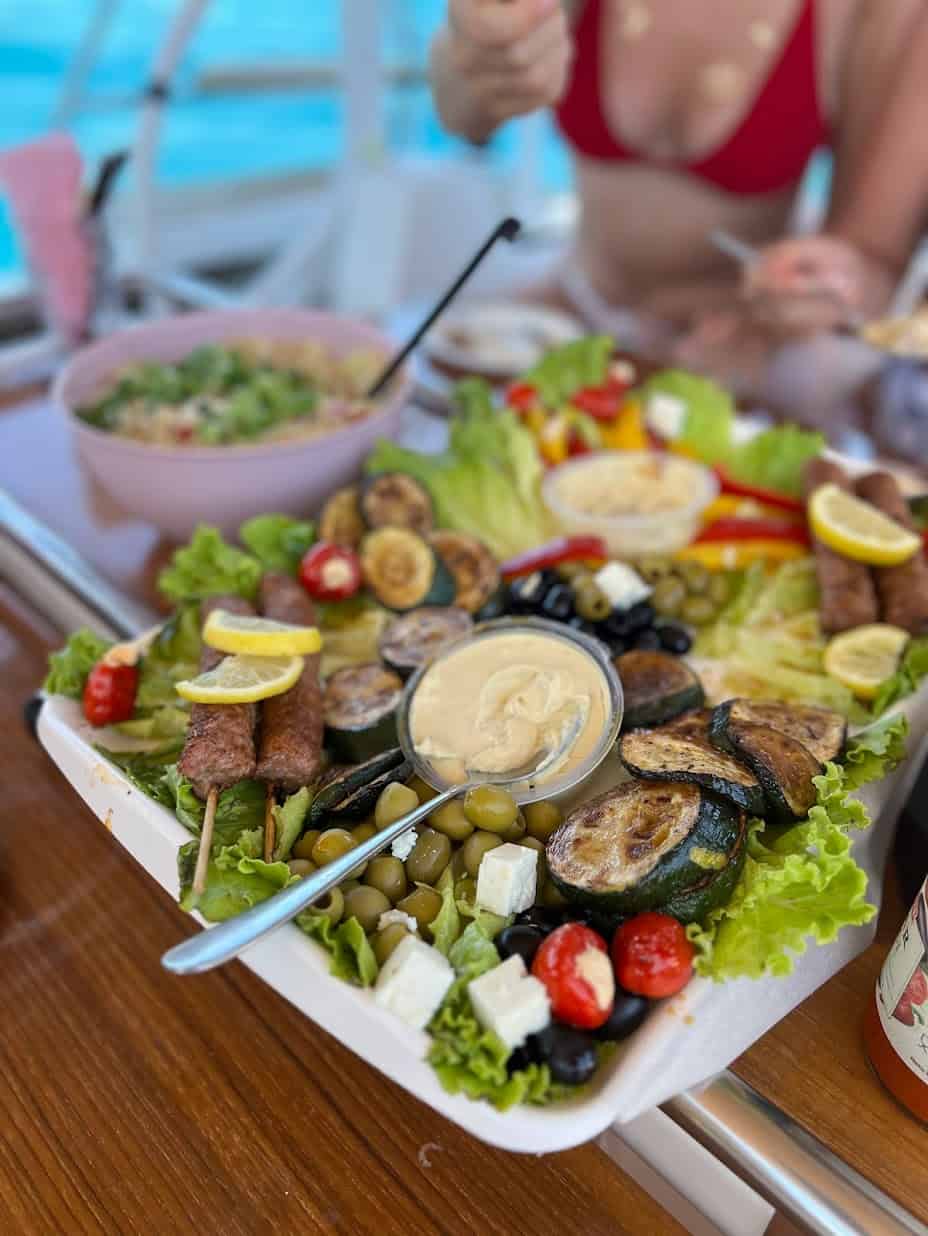 Keep in mind your host and skipper will need their own cabin, so you'll have fewer options to split the cost. Normally, the host will split a cabin with the skipper – taking 2 people off the total number of people to fill the boat.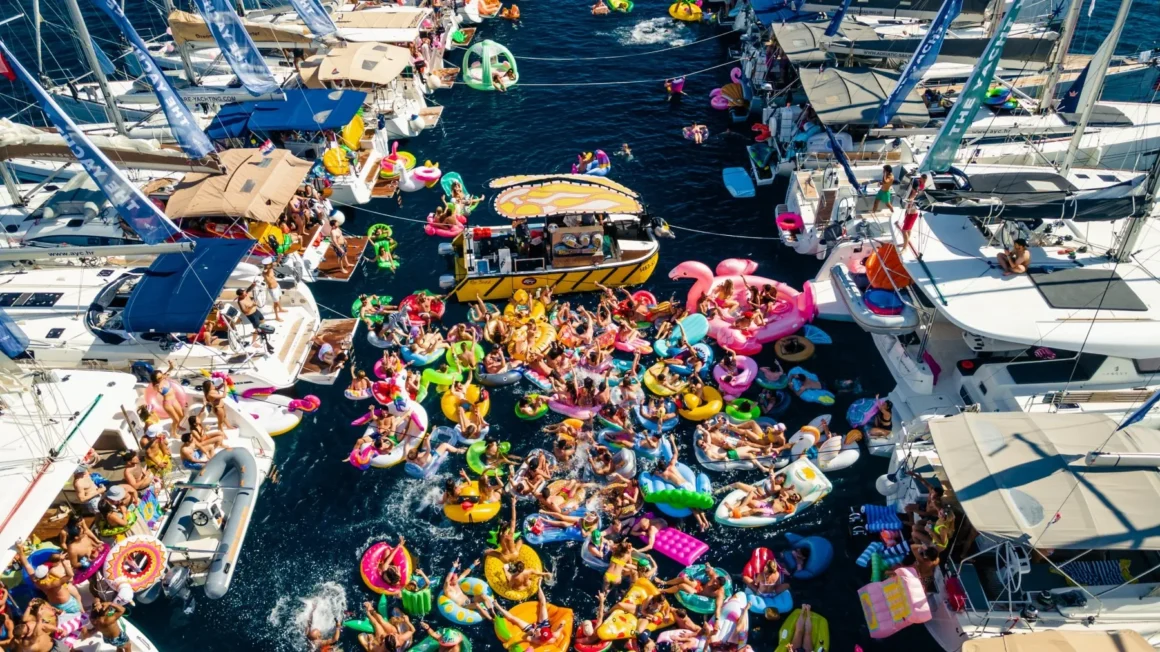 There's a significant amount of hidden fees many Yacht Week attendees don't fully understand until they book their trip. Paying for the boat is only a portion of your full cost! Let's dive into the parts of The Yacht Week they don't discuss.
Refundable yacht deposit/ security deposit: One person will pay this amount upon check-in. This deposit covers damage to the vessel. Assuming there is no damage, you'll get the deposit back at the end of the week. You'll pay $2,500 Euros, and you will almost always pay by credit card.
The Cash Kitty: The biggest fee no one talks about? The Cash Kitty. The Cash Kitty is a name assigned to a group of miscellaneous fees collected at the start of your trip. These include port fees, yacht fuel, shore power, water, ice, and water taxis – among other things. The cash kitty will vary for each boat, because shore fees and fuel needs will be different for each boat. You can use this nifty calculator on their website (hidden way down at the bottom) to learn about your estimated fees.

For a monohull on the Croatia Original Route, fees run around 1950 Euros total – or 200 Euros per person. For a catamaran, those fees run around 2500 Euros total – or 245 Euros per person. The breakdown assumes, of course, you're filling the boat. If you don't plan to fill the boat, each person will need to pay more. At the end of the trip, if your skipper has leftover money, they will hand it back to you. On our boat, we had no leftover money.
Tip: You'll need to tip your crew at the end of the trip, too! Your tip should be around 10% to 20% of your total booking price. That means for a classic monohull, a 20% tip would be around 2,000 USD. You will need to tip your crew in cash. 
Food & drink: If you're booking your own boat, you'll need to worry about food and drinks, too – no matter if you have a host or not. Not every spot you dock will have easy access to restaurants or food (though most major ports will, of course). That's why you should go grocery shopping in advance. For an entire week's worth of food and drink for six guests, a host and a skipper, we paid around 850 Euros. However, we also opted out of one dinner and therefore had less food.

A word of advice about the food situation: the best grocery store you'll find? It's near the dock, about a 10 minute walk away. None of the other ports had as large or well-stocked stores. So stock up early, if you can – because there aren't always food options everywhere you go.

That's also why I recommend a host: she's familiar with the boats and storage space. There isn't a ton of room in the fridge, so it's usually a tough fit.
Host & Skipper Food Fees: During your charter, you'll need to cover any costs for your host and skipper to have food. It's tradition to invite them to dinner with you and cover their costs. If you don't want to do that, you'll need to give them cash to eat dinner.
Transport to/from the marina: You'll need to get to and from the marina, which will be assigned to you closer to the date of departure. Don't fret – if you can't afford a taxi, there's an excellent bus that runs often between Trogir, the airport, and Split for two Euros.
Additional speakers and/or cooler: I know the Yacht Week website says the boats come with speakers, but that's normally not true. If you want to blast music, you'll need to rent a speaker. The speaker will cost 250 Euros to 300 Euros, depending on size. The smaller cooler will cost 70 Euros, the bigger one, 90 euros. If you're visiting in peak summer, opt for the bigger cooler for sure. Keep in mind these are provided by a third party and prices fluctuate year by year.

Pro tip: You can't actually play loud music at most ports past 8 p.m. or 10 p.m. And some days, you'll be at port for the entire day.So keep that in mind!
Misc. Costs: Be sure to bring some spending money for miscellaneous expenses. That means dinners on shore, for the most part, and drinks when you're out and about. This should cost around 100 – 200 Euros at most, depending on how much you drink and how much you eat.
When you take the security deposit out of the equation, we brought around 500 to 1,000 Euros extra per person to cover the above fees – and spent all of it, too. 
How many people do you need for Yacht Week?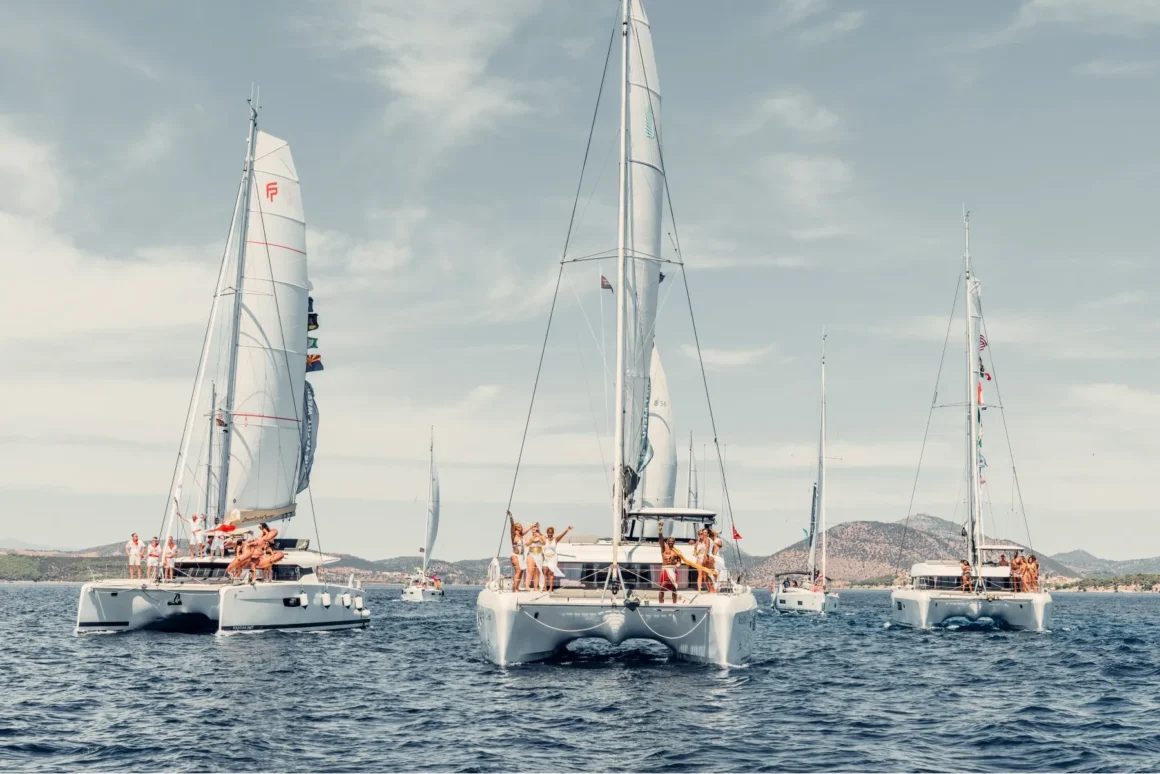 You can travel with as little people as you want – or as many (to an extent).
If you want to go solo, you can book a bed in a cabin on a yacht. Alternatively, you can look on "Crew Finder" and other Facebook groups for groups looking to add people to their yachts.
However, if you want to rent out your own boat, you can fill it up. The maximum depends on your boat and whether you opt for a host. Generally speaking, it's a maximum of 6 to 12 people. You can bring less, of course, but everyone will have to pay more to cover the total cost.
Do you need A/C?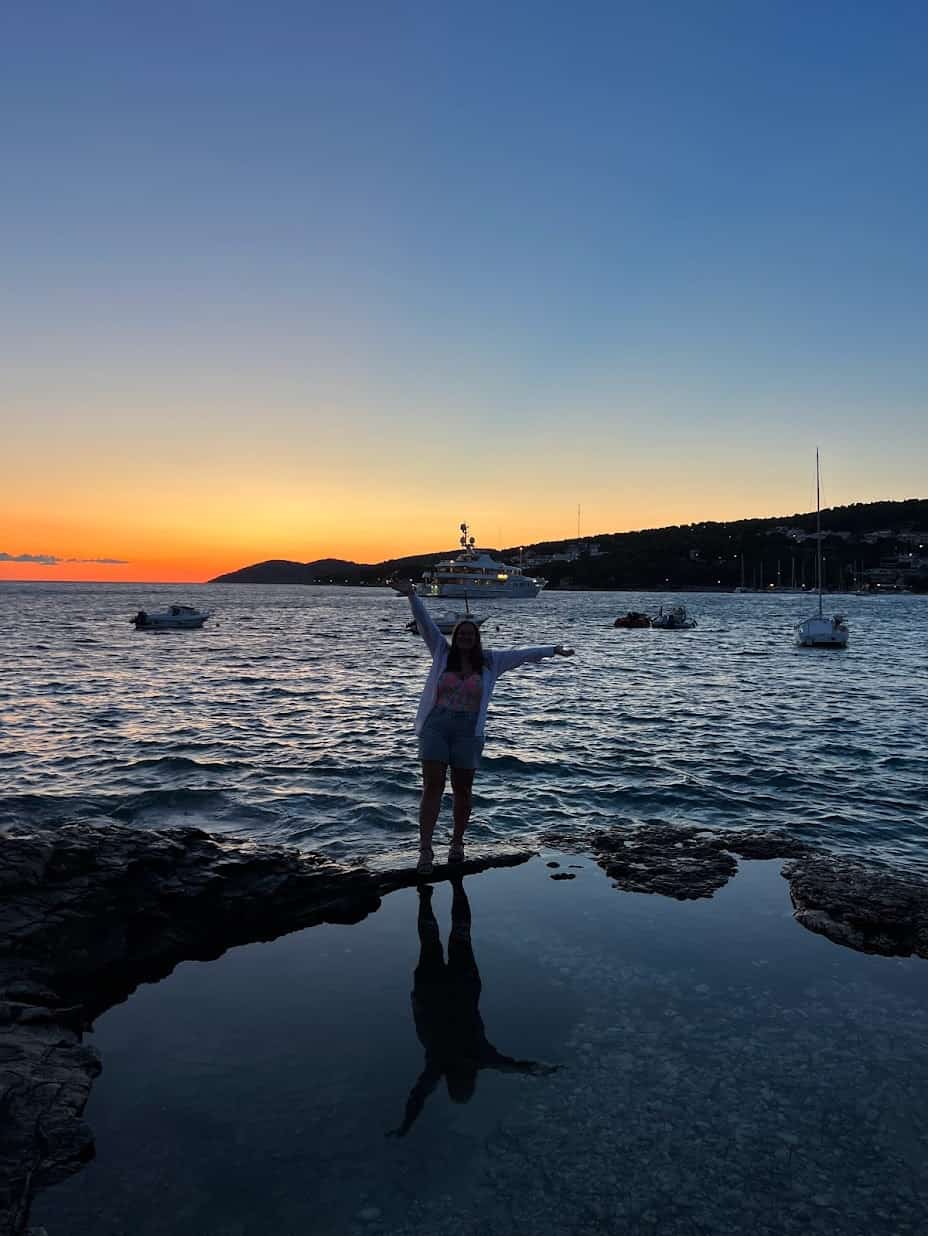 Ah yes, the golden question. Do you need air conditioning when you're booking Yacht Week? Let's be honest: Yacht Week costs can add up, and it may seem a little pricey.
Before getting on the boat, I read as many blog posts and forums as I could – and everyone recommended air conditioning. I was really worried because we booked a boat without air conditioning.
We traveled in mid-July, and it was really hot. We're talking 38 degrees Celcius our first two days. Did we make it? Yeah, it ended up being totally fine. Many boats have lots of space to sleep outside. You can bring cushions and camp under the stars.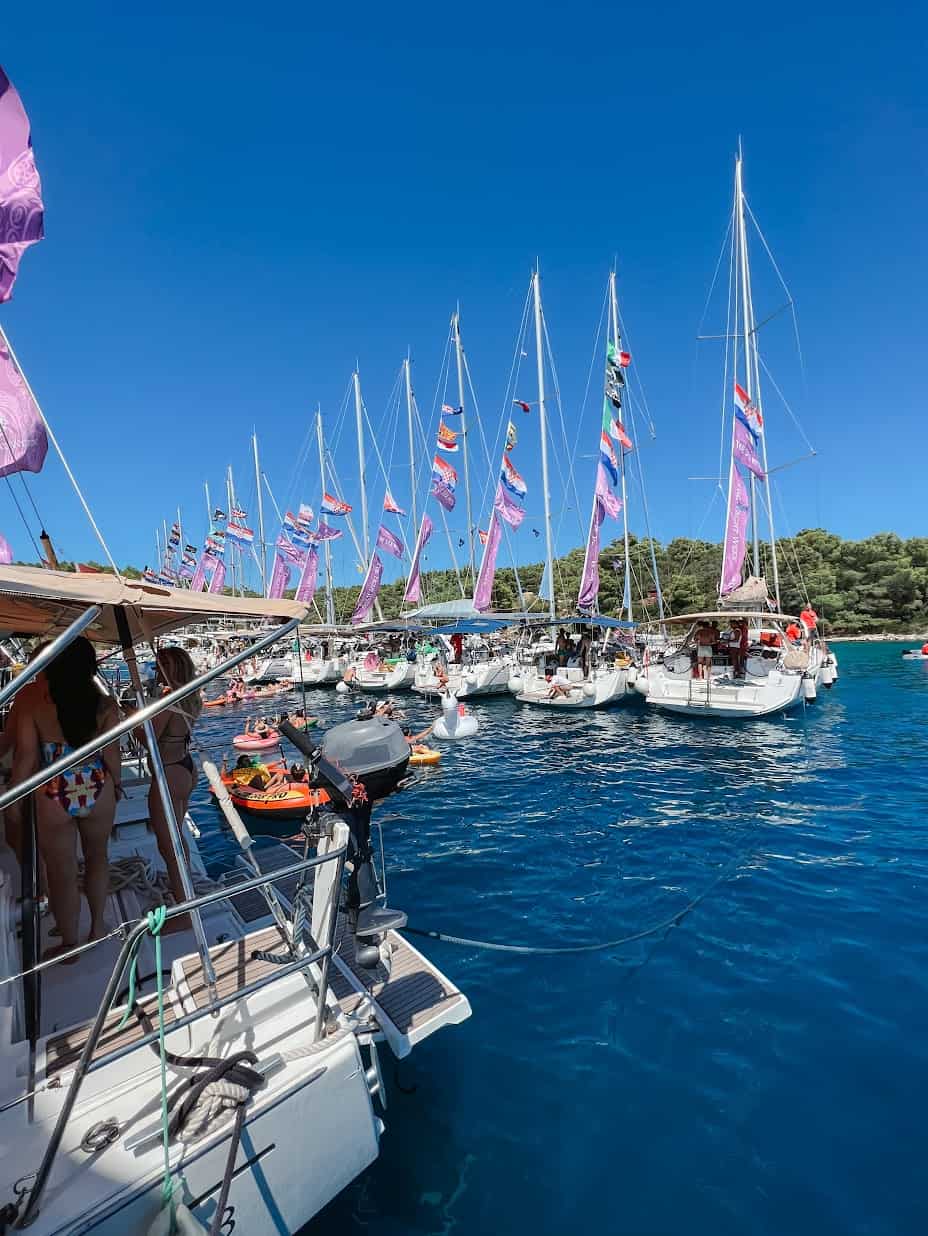 Half our boat opted to sleep outside, the other half, inside. Either way, everyone was surprised – it ended up being much easier to sleep than we expected. Later in the week, when it cooled off, most people ended up sleeping inside with no problems.
So do you need A/C? It's up to you.
Remember: The reality is different, and not everything you read online is true. People we met with A/C on their boats told us the A/C had been broken…and was broken the entire trip and the entire season.
These are boats, after all. Things break, and they don't always get fixed. If you book a boat with A/C, remember, there's a chance it may be broken. In addition, remember you can only use the A/C when plugged into shore power (which was only 4 days on our route). 
Final Musings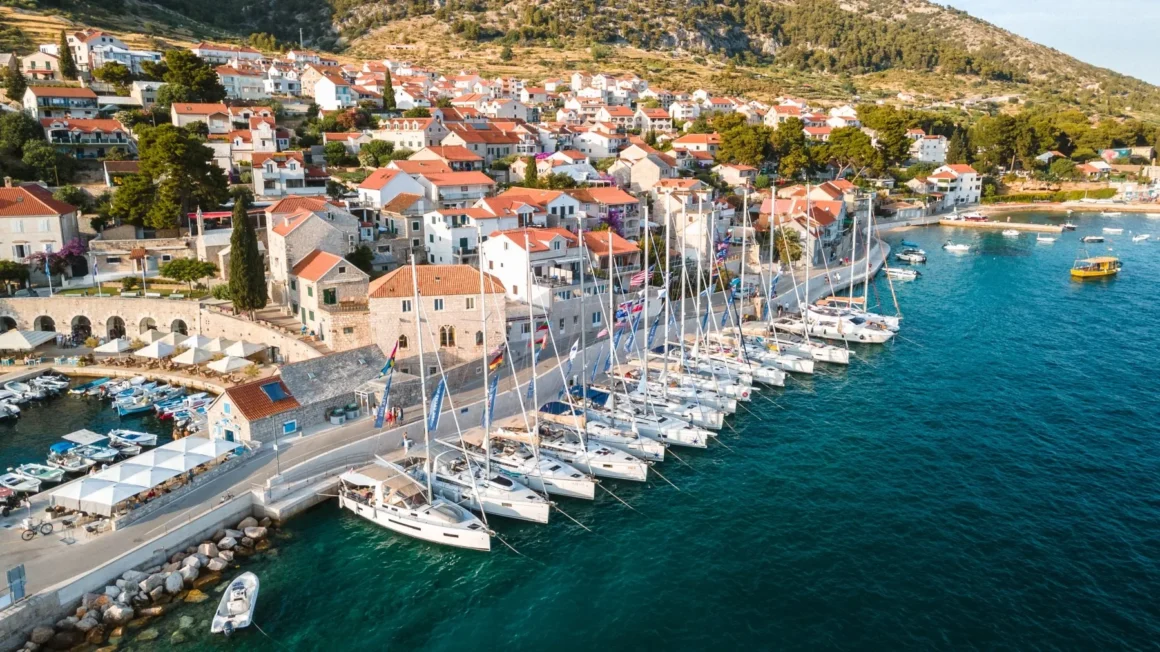 Yacht Week Croatia can be affordable – if you're willing to skip out on some of the luxuries. One mentality shift? Think of it like camping! To optimize your Yacht Week Croatia costs, make sure to think about alllll the hidden fees and costs in advance. There's nothing worse than being surprised with costs. Happy Sailing!!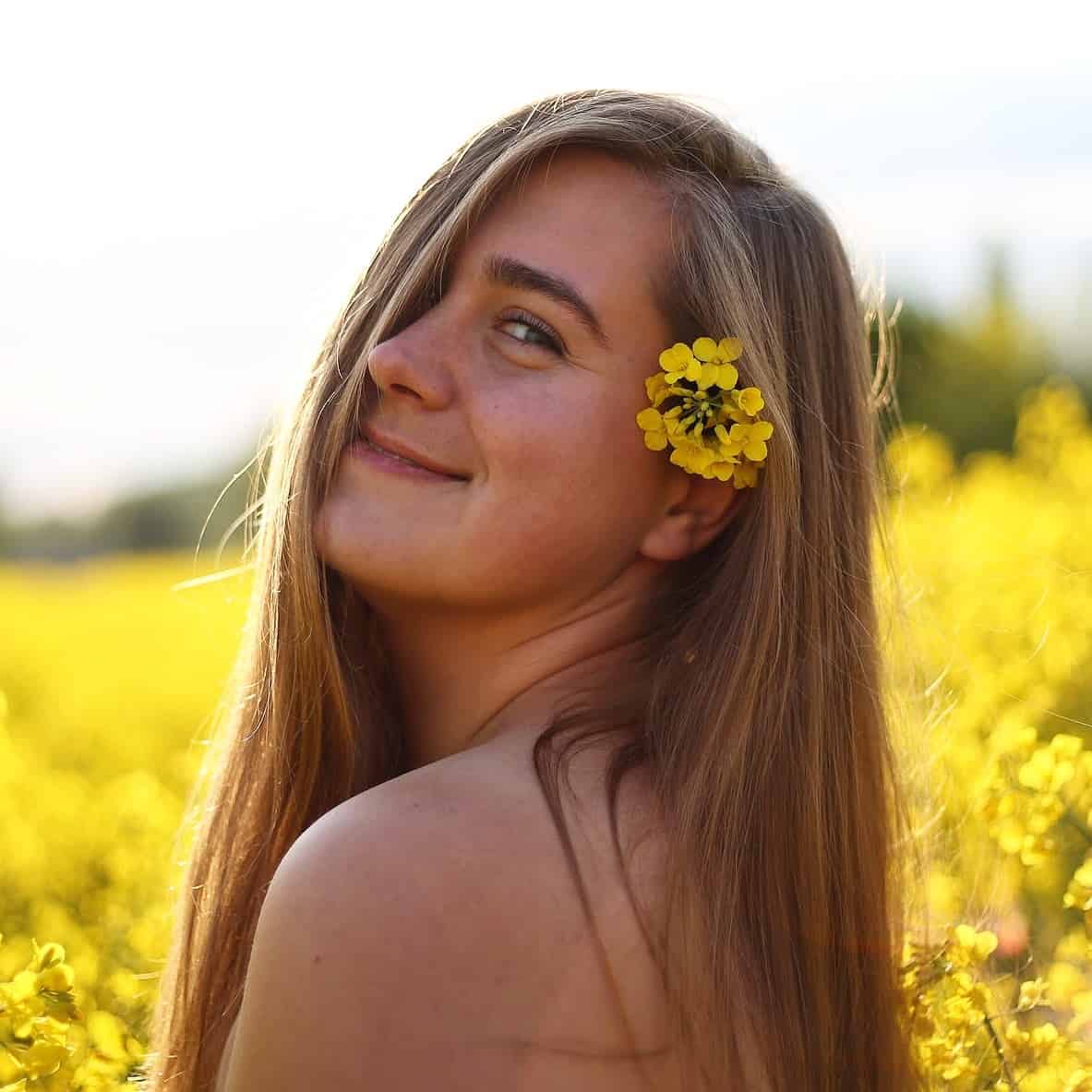 Samantha Tatro is a Czech-American third culture kid who grew up living and traveling abroad. Many years later, after living in California and working as a journalist, she decided to take the leap and move abroad again…this time to Prague, Czech Republic. Samantha started Undiscovered Path Home to help couples and solo female travelers find the courage to visit countries – and locations – off the beaten path. Her work has appeared in Bon Appetit, NBC News, The Adecco Group, and more.