Prague is often considered one of the most breathtaking cities in Central Europe. Picture medieval architecture, charming cobblestone streets, and vibrant cultural scene — Prague's beautiful scenery makes it an irresistible choice for discerning travellers seeking an extraordinary experience. Scattered throughout the city, you'll also find some of the best luxury hotels in Prague. Whether you're seeking a romantic escape, a cultural adventure, or a leisurely retreat, Prague's luxury hotels provide a haven of elegance, comfort, and unparalleled service.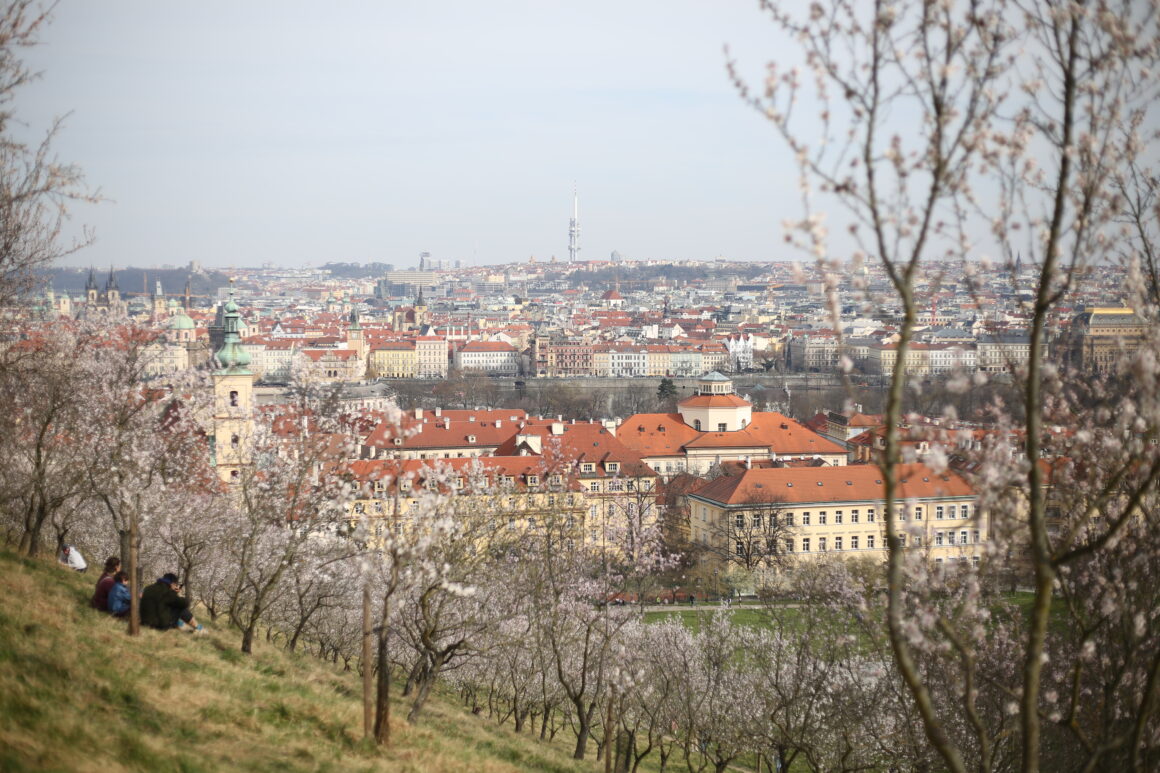 It's no secret I love luxury hotels and try to stay in them as often as possible. When putting together this list of the best luxury hotels in Prague, I looked at several key factors: location, value for money and amenities.
As a Czech-American living in Czech Republic, consider me your local tour guide: I will always recommend the luxury hotels in Prague that I would want friends and family to visit. My picks for the best luxury hotels in Prague are close to the best restaurants in Prague, the best bakeries in Prague, and of course, central to all the top sights you will want to visit in Prague – so you can easily walk around Prague and see the city the way it is meant to be seen. Prepare to be captivated by the grace and splendor of Prague's best luxury hotels. 
Want to save this post for later? Pin it by clicking the posts below!
The 13 Best Luxury Hotels in Prague
Travelers seeking out luxury hotels in Prague are spoilt for choice. Some of the best hotels in Prague are, in fact, luxury hotels with everything from plush beds and sweeping views to VIP service and rooftop spas. Let's dive into my comprehensive list of the very best luxury hotels in Prague – as recommended by a local living in the Czech Republic, with added insight on location, nearby things to do, and more!
1. Mandarin Oriental Prague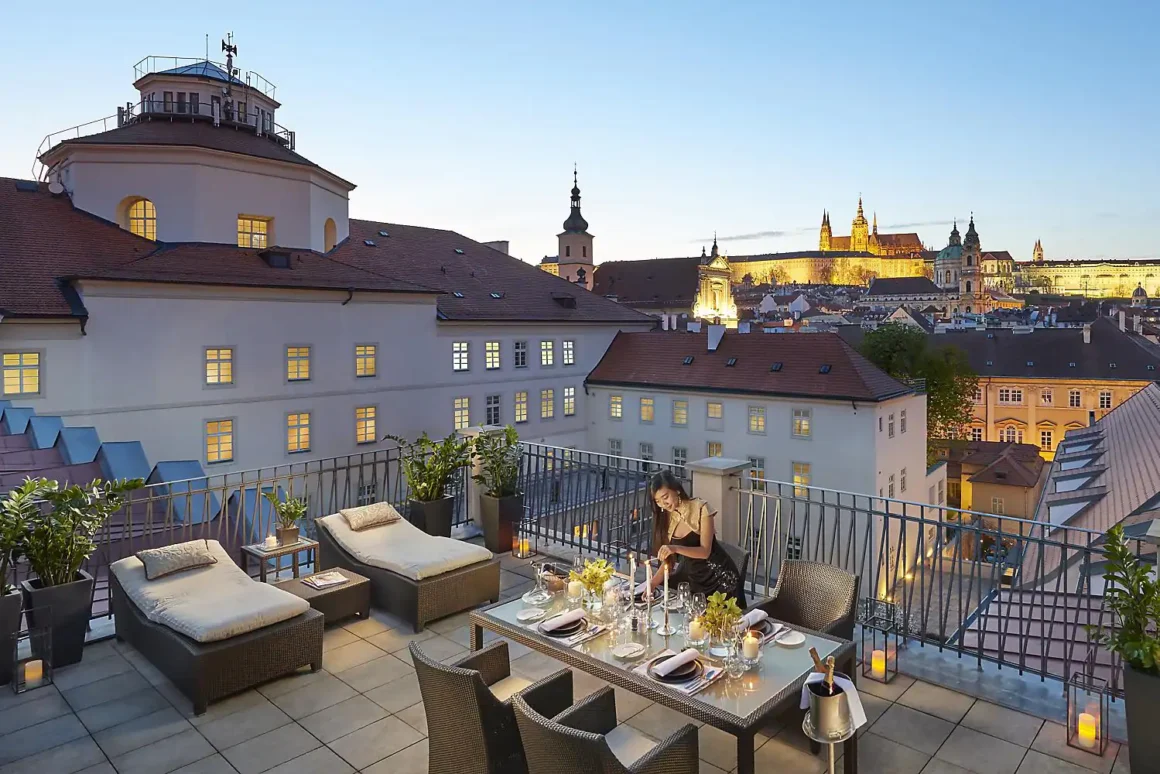 Neighborhood: Malá Strana
Tucked away in one of Prague's former monasteries, this hotel may be one of Prague's most coveted luxury hotel stays. The Mandarin Oriental, with its stunning vaulted ceilings and historic charm, offers perhaps one of the best locations in Prague – close to Prague Castle and Charles Bridge, yet far enough away for a serene stay. If you're looking for a splurge, the presidential suite has a gorgeous private terrace to take in the sweeping views.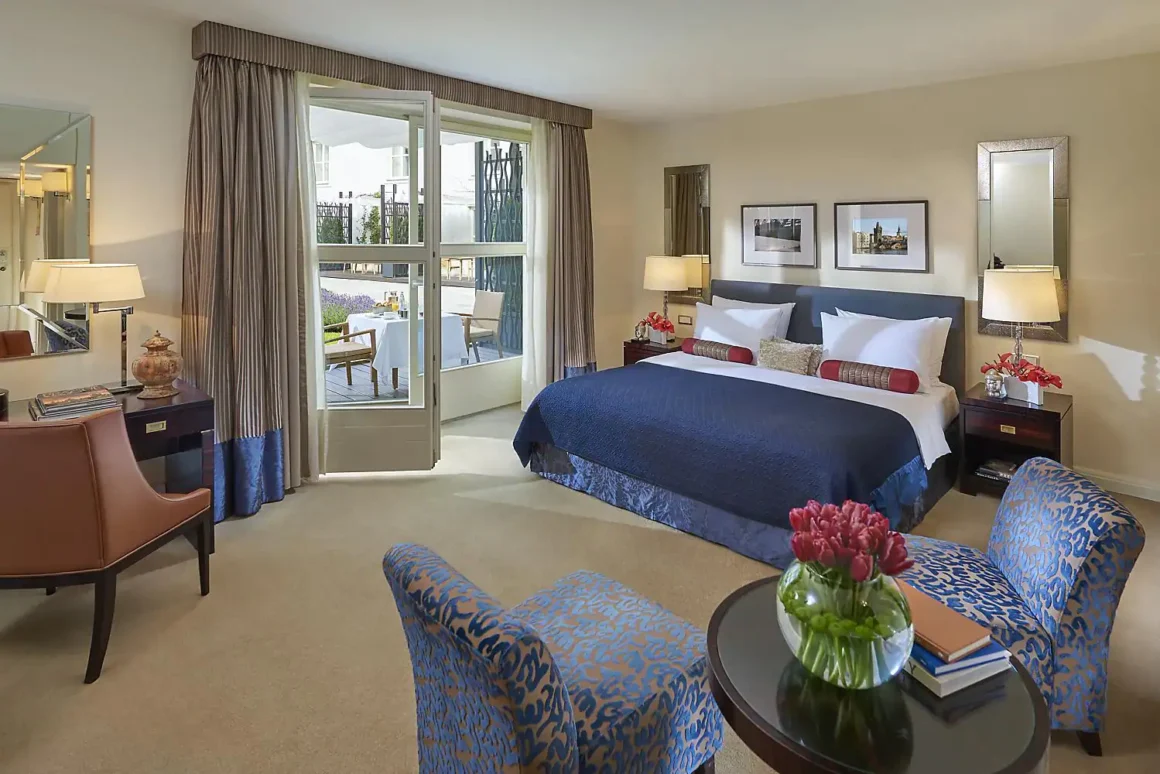 Don't miss out on their yoga classes and their refurbished spa, which was once a chapel. The best part about the Madarin Oriental is their service, which makes you feel like a VIP no matter your tier of room.
2. The Julius Hotel Prague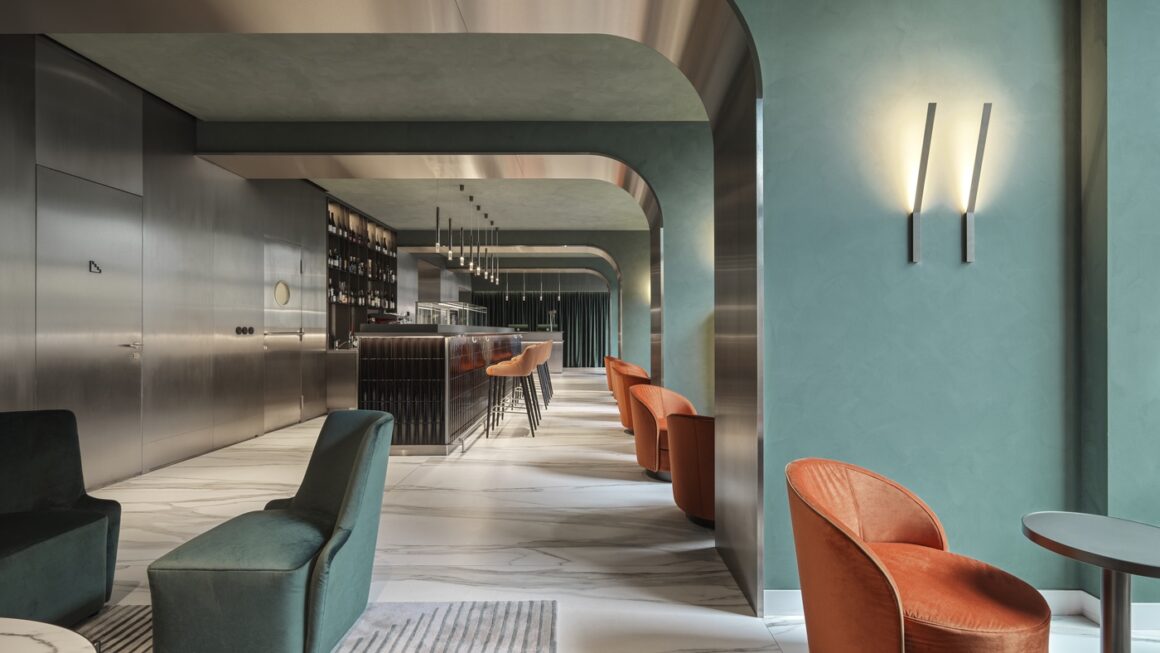 Neighborhood: Old Town
The Julius has perhaps one of the better locations in Old Town – just far enough from Wenceslas Square to make me feel comfortable recommending it. The great part about this hotel's location is that you have easy public transit access to Karlin and Zizkov, two of my favorite neighborhoods in Prague (and really cool, hipster-ish neighborhoods).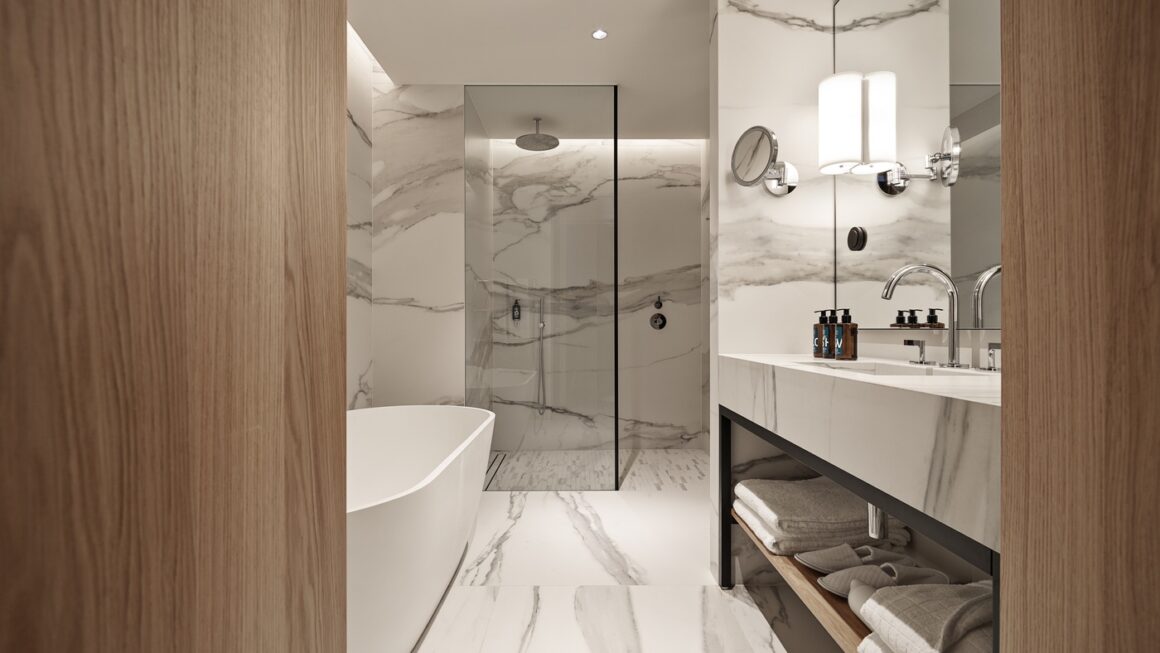 This may be the best hotel in Prague Old Town, especially if you're seeking out a larger building with Scandinavian-inspired design. Despite its influence, Julius Hotel maintains its Czech charm with 168 rooms – all spacious enough for luggage and comfortable for both long and short stays. The suites feature plush living rooms and kitchens (with microwaves, toasters, and more!), a nice feature for families.
3. The Dancing House Hotel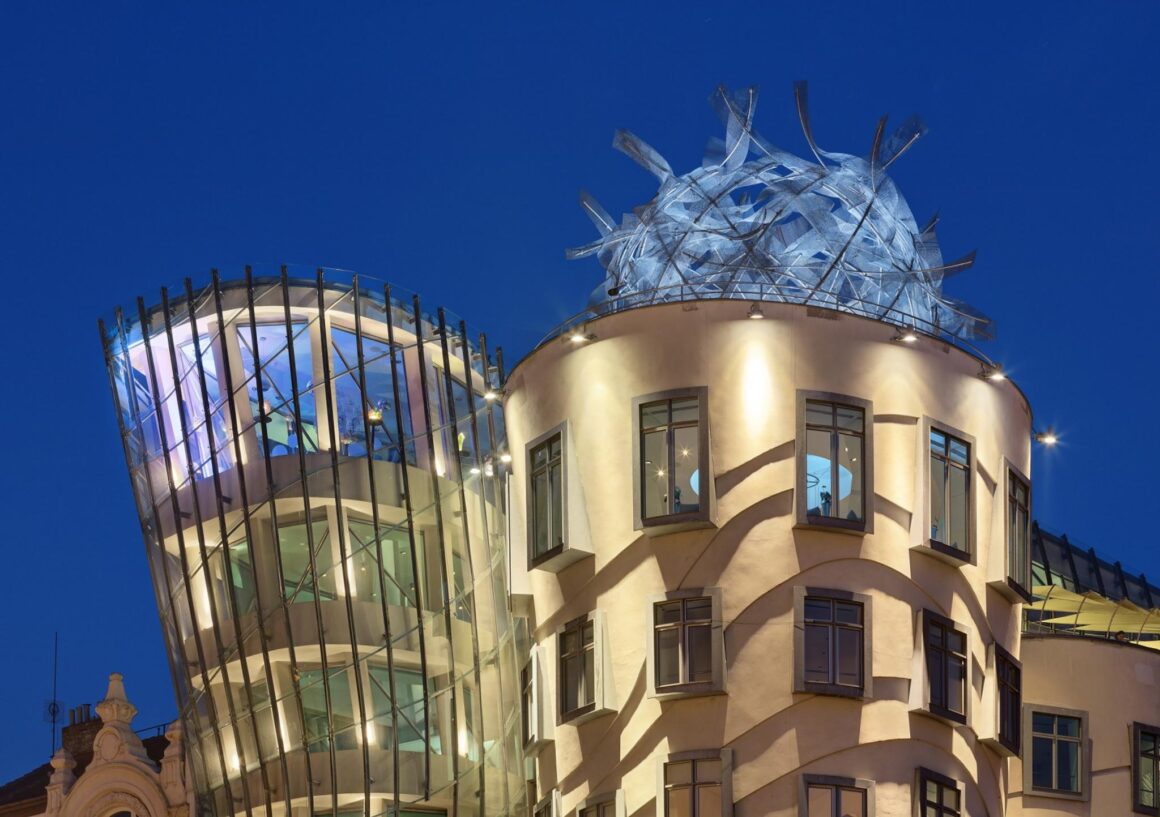 Neighborhood: New Town
Tourists from all around the world flock to The Dancing House every day to see the architectural splendor in real life… So why not stay there? The Dancing House Hotel boasts some of the best views in Prague overlooking the Vltava River. There are just 31 rooms spread out across three floors; it's a 5-star hotel but unfortunately has no gym or spa.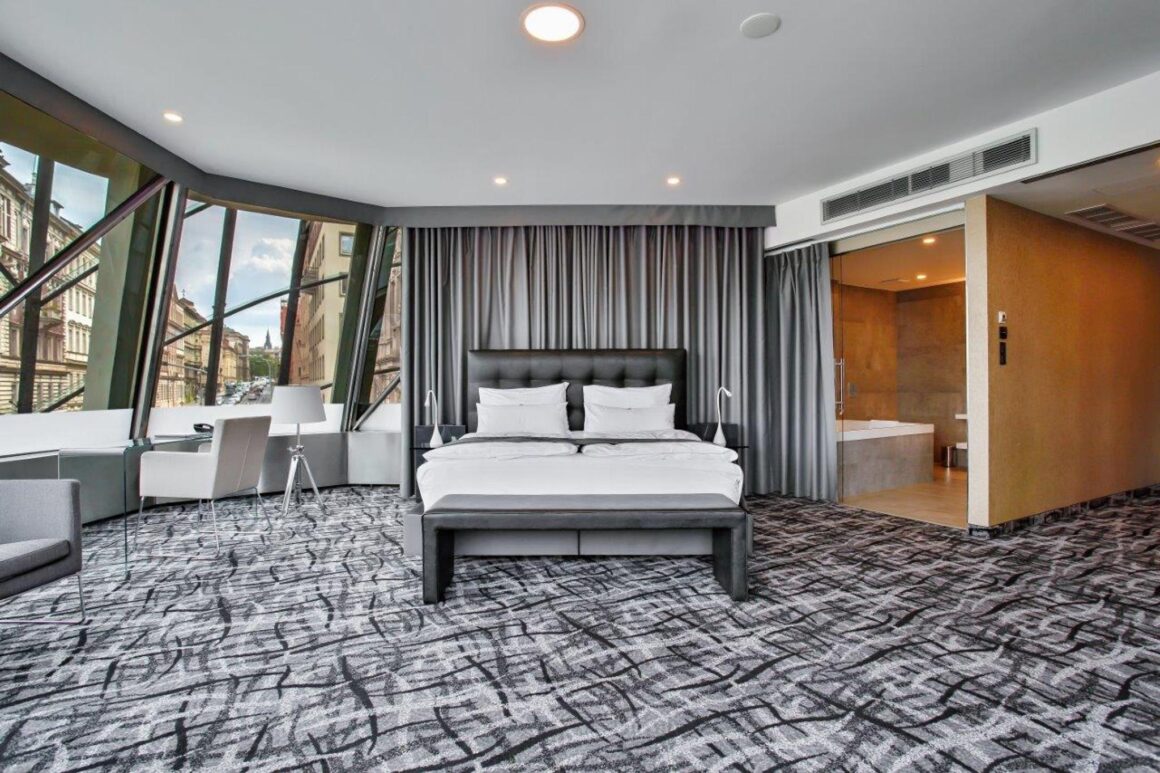 However, this hotel may have one of the best locations in Prague, at least in my eyes: you're located centrally enough to walk to almost every major attraction, but you're still far enough away to enjoy plenty of local charm and great restaurants nearby. If you're looking for a splurge, the Ginger Royal Suite is absolutely stunning – talk about a 180-degree view of Prague's best view. Truly one of the best 5 star hotels in Prague! 
4. Emblem Hotel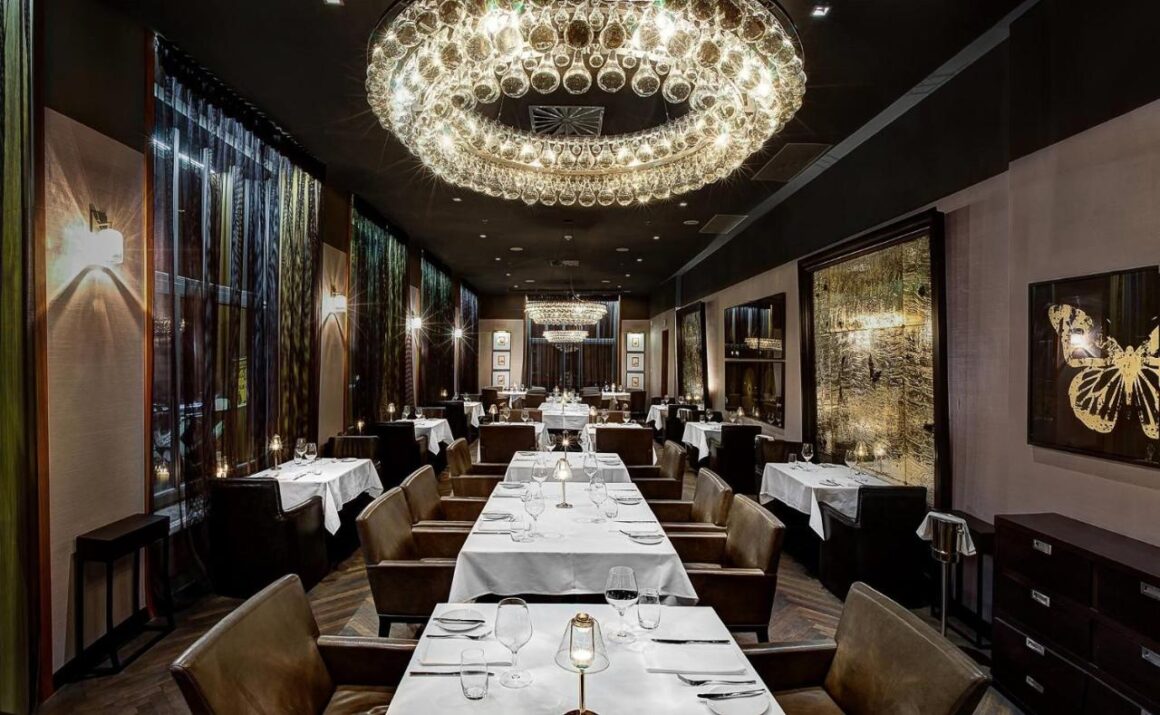 Neighborhood: Old Town
This boutique, designer hotel is all about its vibe and experience. The rooms might be quite small, but then again, this is Old Town, so I wouldn't expect much else.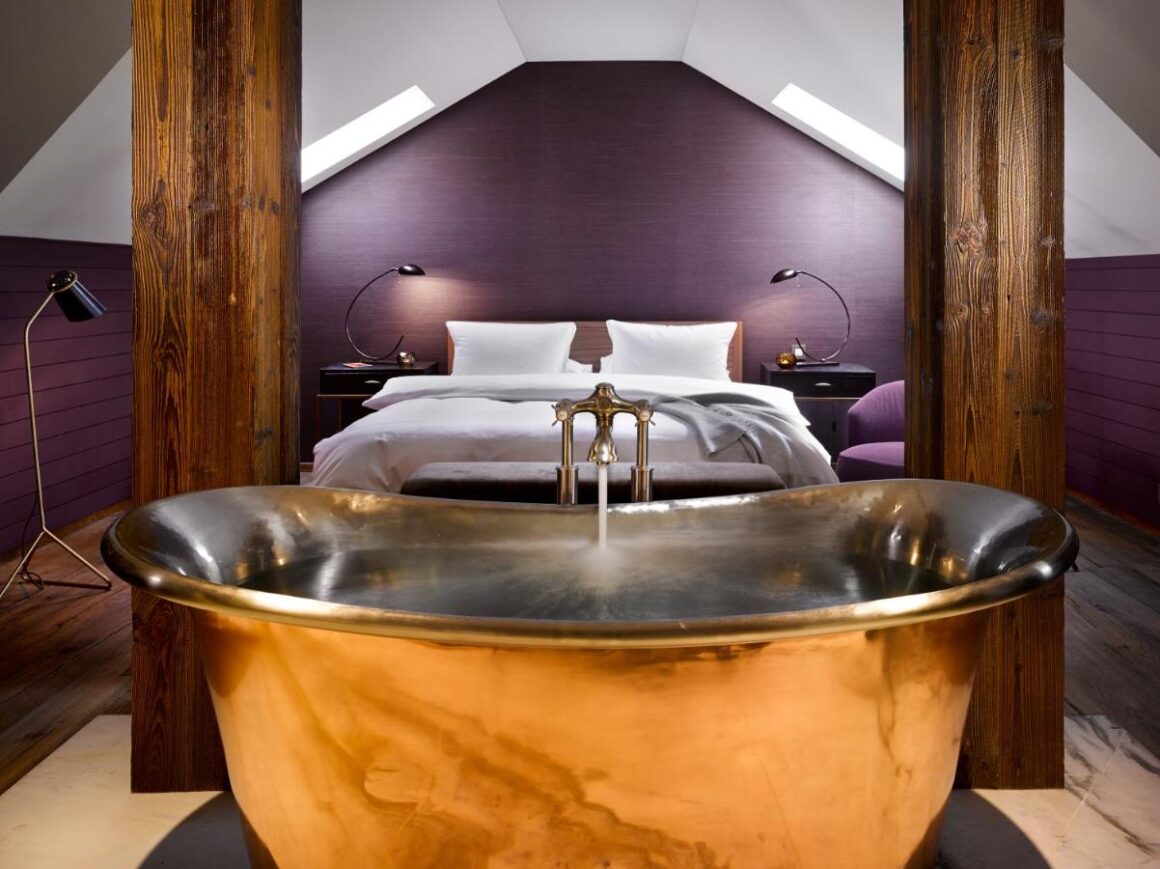 Chances are you won't want to spend much time in your room, anyways, especially when you learn about The Emblem Hotel's rooftop jacuzzi bar and the lavish M Spa overlooking Petřín Hill. It's truly one of the best hotels in Prague Old Town, hands down, especially if you want to tackle some of Prague's best things to do. 
5. Salabka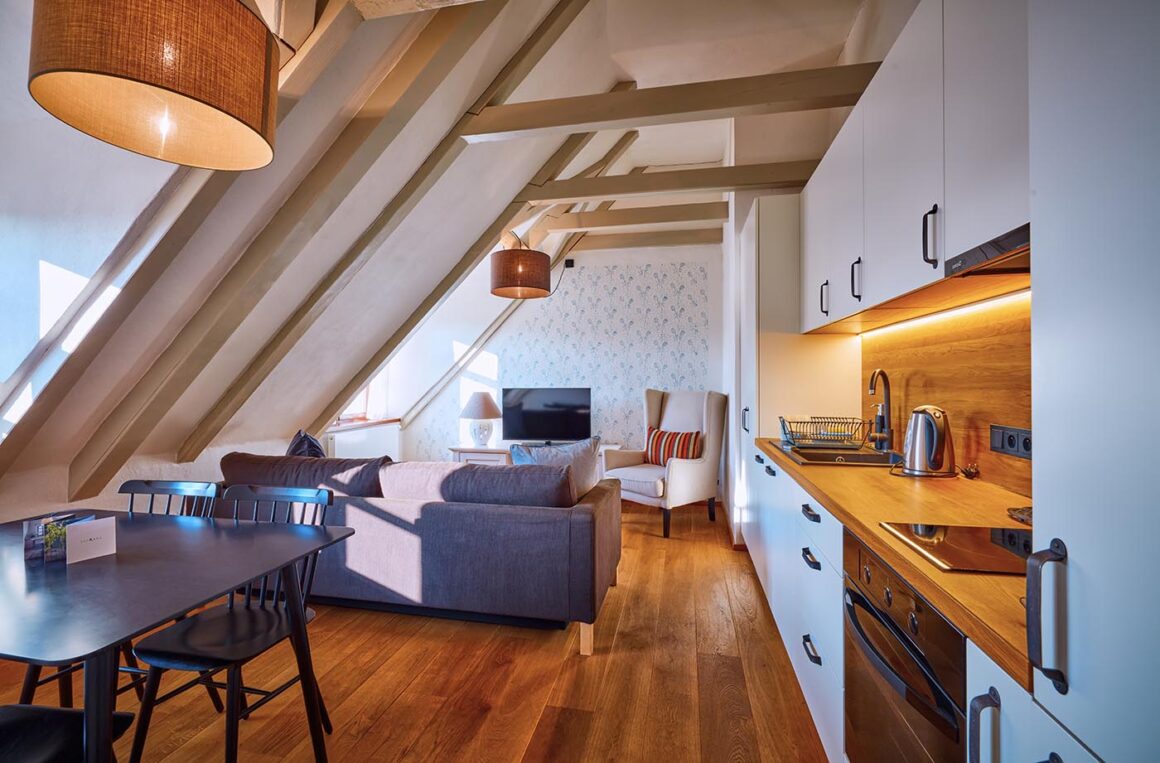 Neighborhood: Troja
Most people know Salabka as one of Prague's most notable wineries, but this famous spot also offers a small selection of apartments – complete with stylish decor, modern touches and serene views.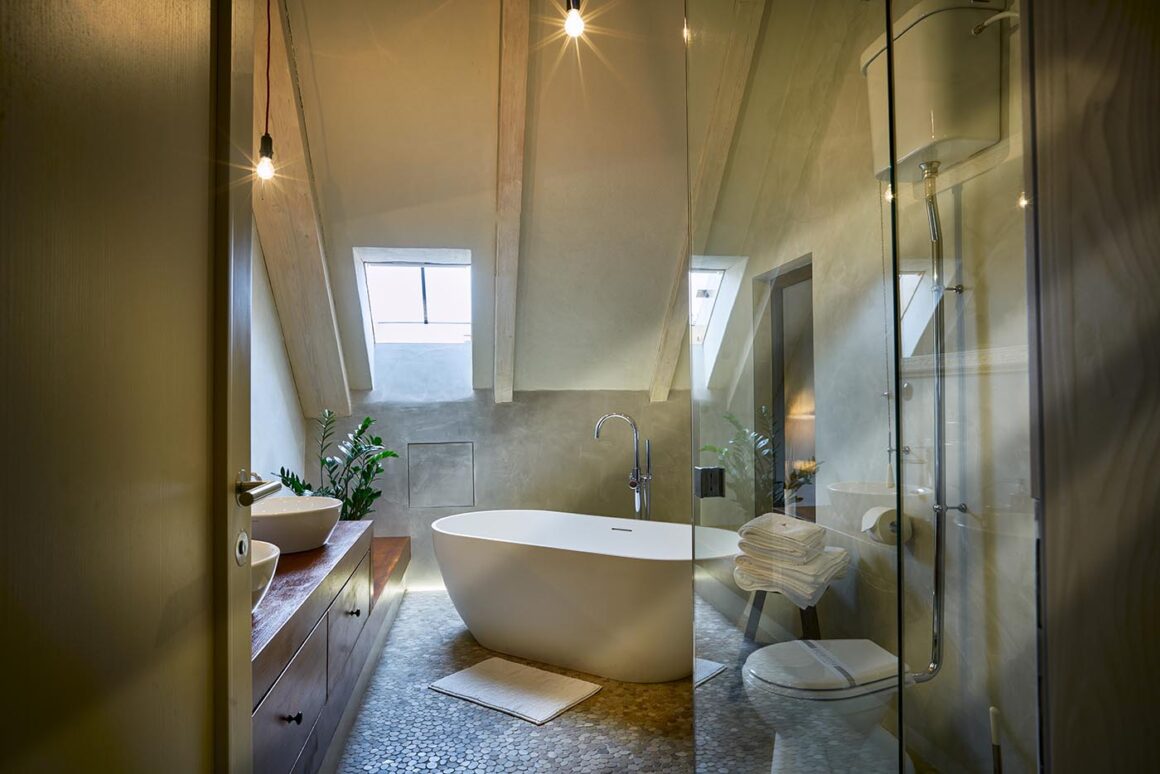 The Salabka winery and apartments are located in Prague's Troja neighborhood, right by the Prague Zoo and Château Troja. This isn't the most central location, but it is one of Prague's most beautiful neighborhoods – and it's far enough from the center that guests can experience a less touristy Prague. 
6. Golden Well Hotel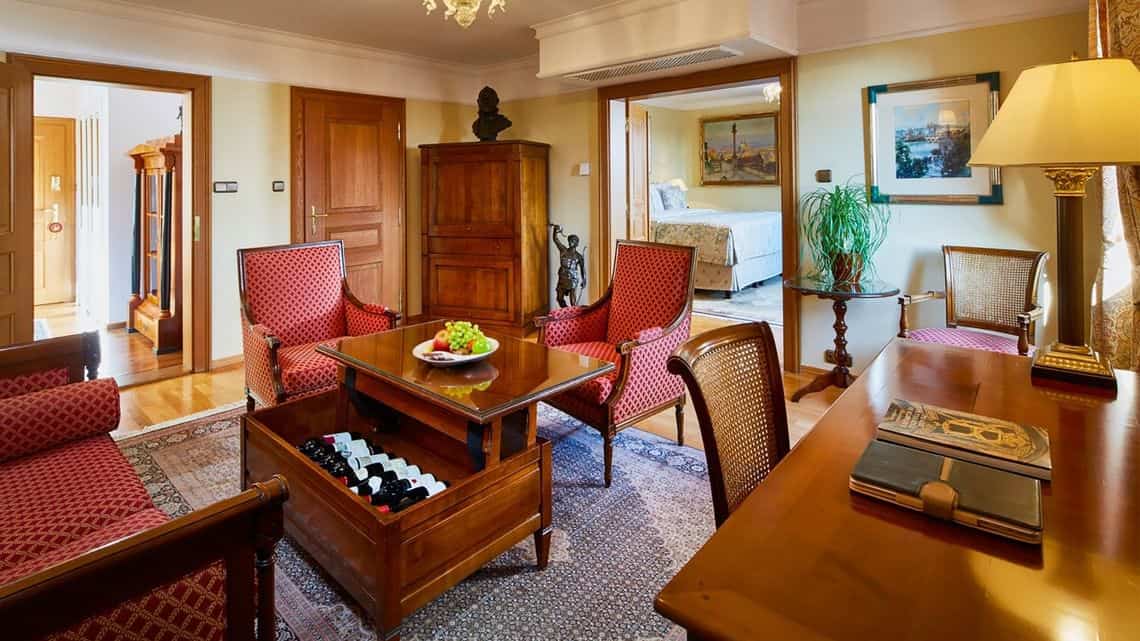 Neighborhood: Malá Strana
Looking for a hotel fit for royalty? The renaissance-era Golden Well Hotel is nestled into the sloping castle hill in Prague, near the city's iconic Prague Castle. Back in the day, Hapsburg Emperor Rudolf II and even Tycho Brahe stayed at this not-so-hidden gem.
This exclusive hotel has 19 spacious, comfortable rooms decorated with period furniture, classic Czech wooden floors and paintings from Czech painters. The views are unparalleled, looking out over the city of a thousand spires.
If you're staying at Golden Well Hotel, don't miss their unbelievable rooftop terrace, which has one of the best views in Prague, hands down. Local chef Pavel Sapík's sea-centric dishes make this a perfect spot to enjoy pan-fried sea bass or Argentinian angus steak with foie gras rougié while sipping a glass of wine and soaking up the sunset.
7. Prague Carlo IV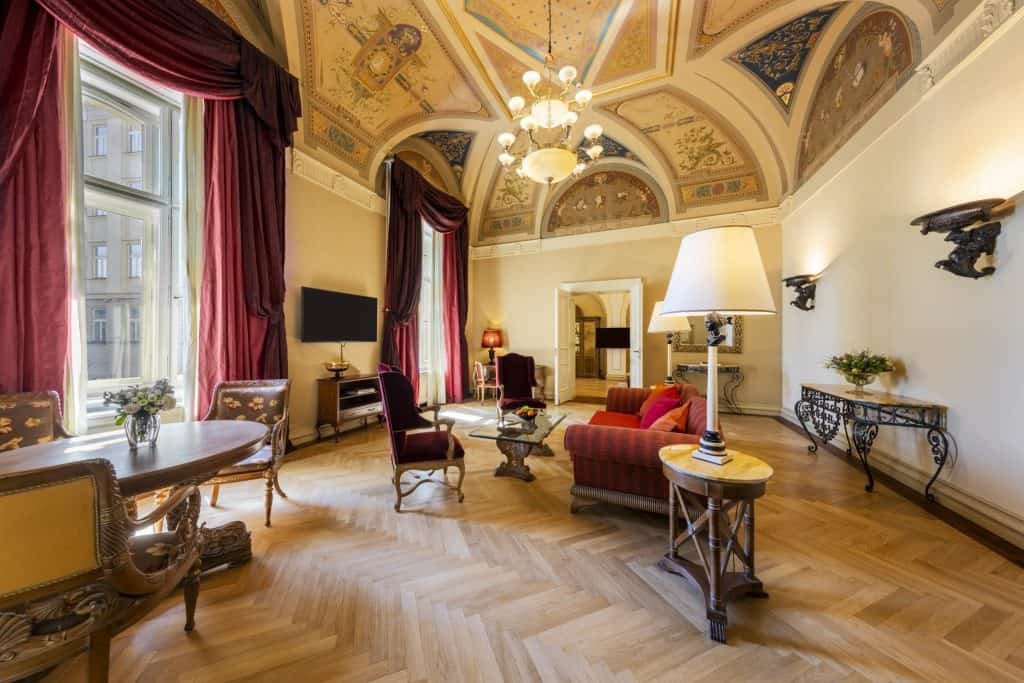 Neighborhood: Nové Město
The grand Carlo IV looks exquisite from street level. The hotel is housed in the 19th-century neoclassical palazzo and former bank – and it's just as impressive outside as it is inside. Once you step inside, you're transported back in time with the alabaster columns, friezes on the wall and grand chandeliers.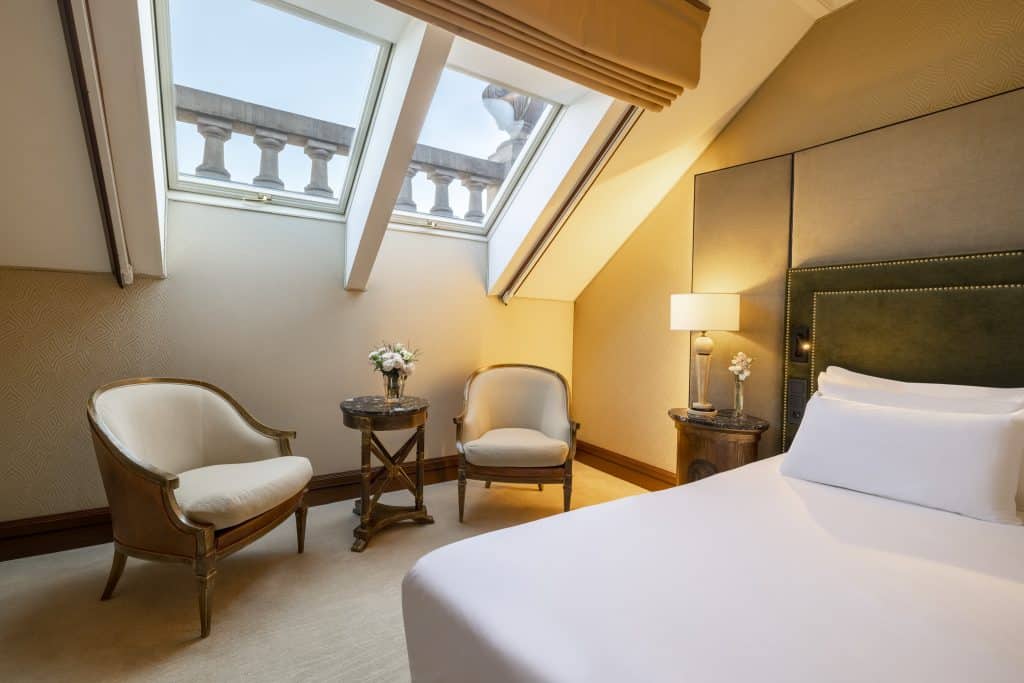 Carlo IV has no shortage of luxury offerings for its hotel guests, making it one of my favorite picks for best luxury hotels in Prague. They offer a cigar bar, which happens to house one of Europe's oldest cognac vaults, as well as a luxurious Roman spa.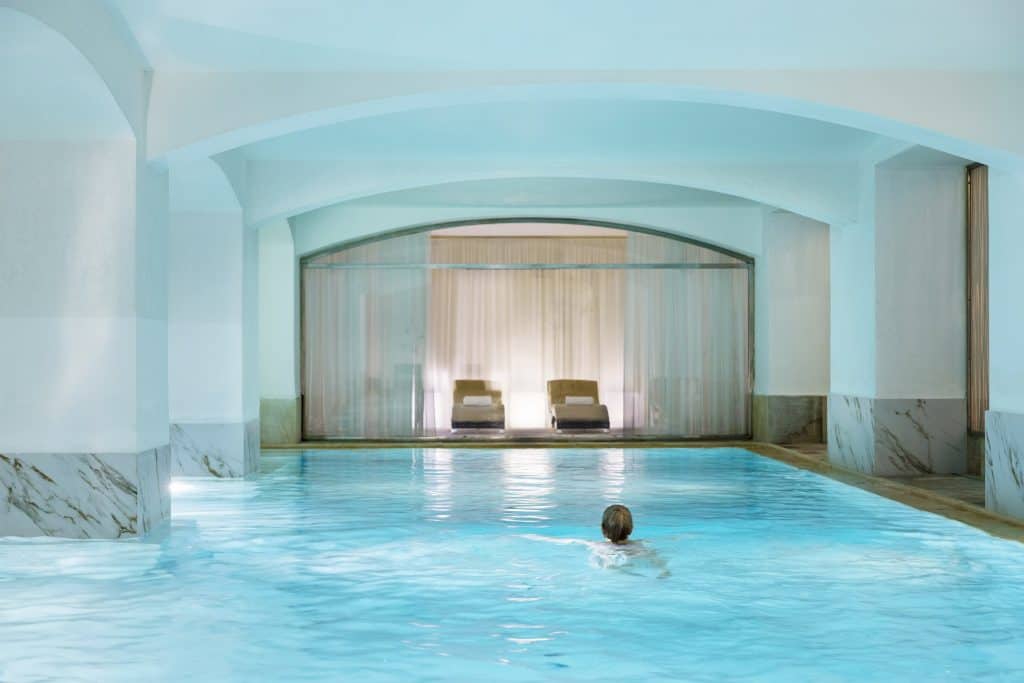 The upstairs rooms are all stunning – truly fit for royalty. If you can, I recommend booking one of the suites, which has one-of-a-kind period furniture and stunning stucco ceilings.
Why is Carlo IV one of the best hotels in Prague? Aside from the reasons listed above, the hotel also has a fantastic location: close to major public transit as well as Prague's Old Town. There are plenty of great restaurants nearby, including some of my favorite restaurants in Prague.
8. Augustine, a Luxury Hotel Collection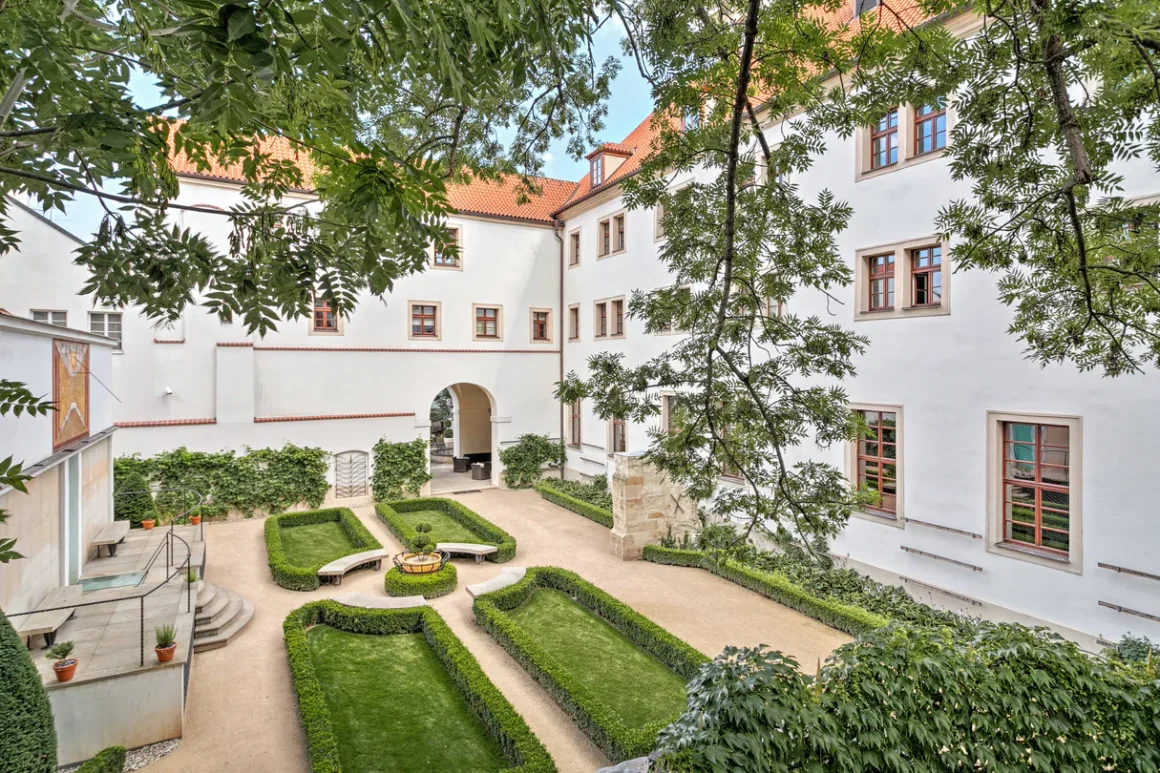 Neighborhood: Malá Strana
If I had to pick a top 3 selection of the best hotels in Prague, Augustine would absolutely, without a doubt, make the list. The ultra-lux Augustine is known for its incredible location, hidden away on a quieter street in Prague's stunning Malá Strana neighborhood, close to Prague Castle. The actual buildings? A renovated 13th-century Augustinian monastery (hence the name).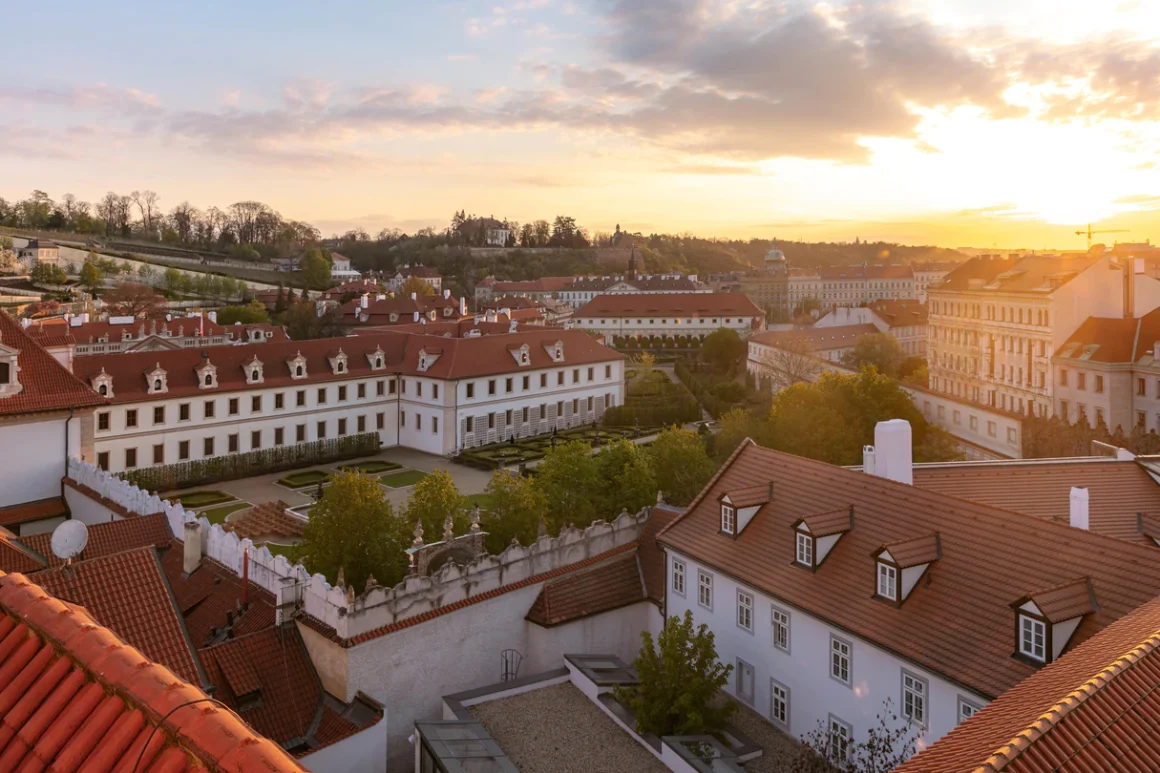 Monks still live close by, but the hotel's interiors are anything but dated: Olga Polizzi has created a historic haven for guests, including the glass-walled courtyard restaurant, Art Deco and Cubist chairs, and of course the guest rooms. The rooms themselves (there are 101 rooms!) often retain their original iron doors and their original Gothic stone arches with more modern interiors. It's the perfect blend of old and new.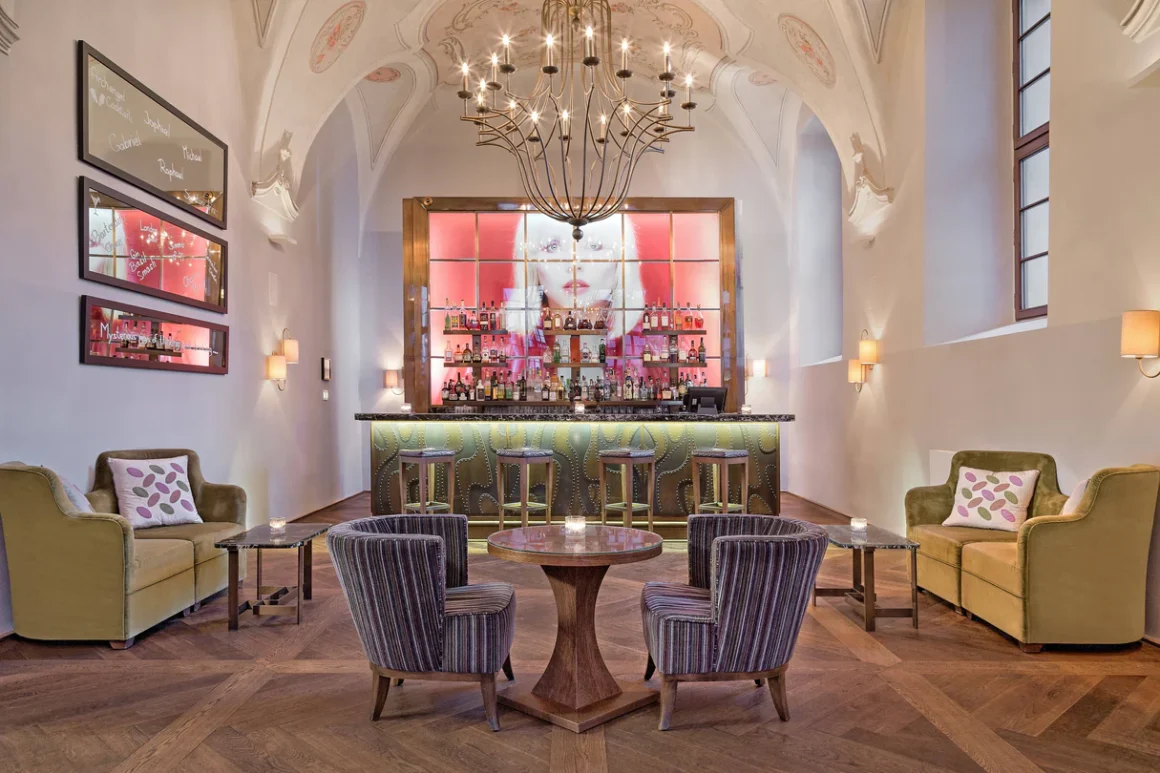 Augustine is known, even among locals, as one of the best hotels in Prague. It's the perfect base to explore Prague, but if you want to stay back and relax – don't miss the spa or the Refectory Bar (featuring Monk-made brews!), which has an amazing outdoor terrace in the summer.
9. Four Seasons Hotel Prague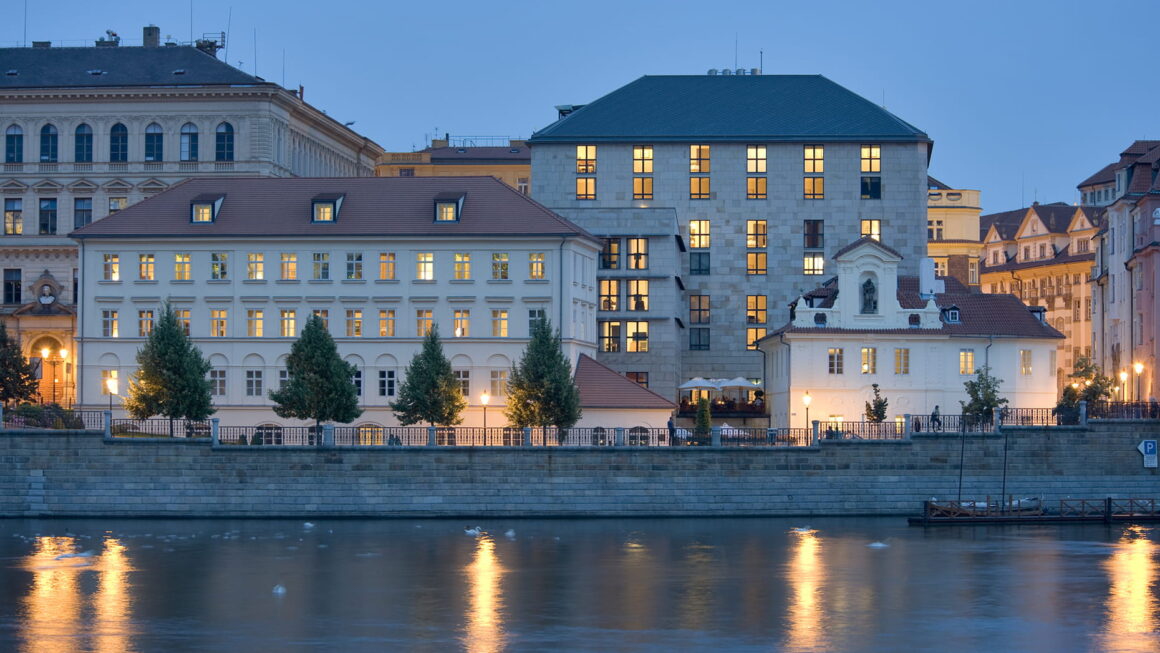 Neighborhood: Old Town
There are few luxury hotels on this list with better locations than Four Seasons Prague, making it one of the best picks for luxury hotels in Prague. Four Seasons Prague occupies three central buildings in the heart of Prague's Staré Mesto (Old Town), closer to the Vltava River and Charles Bridge. Despite the central location, the hotel is tucked off to the side in a slightly quieter part of Old Town. This luxury hotel truly makes a phenomenal base for exploring Old Town and the surrounding areas – in fact, many of Prague's most beautiful sights are within a short walking distance.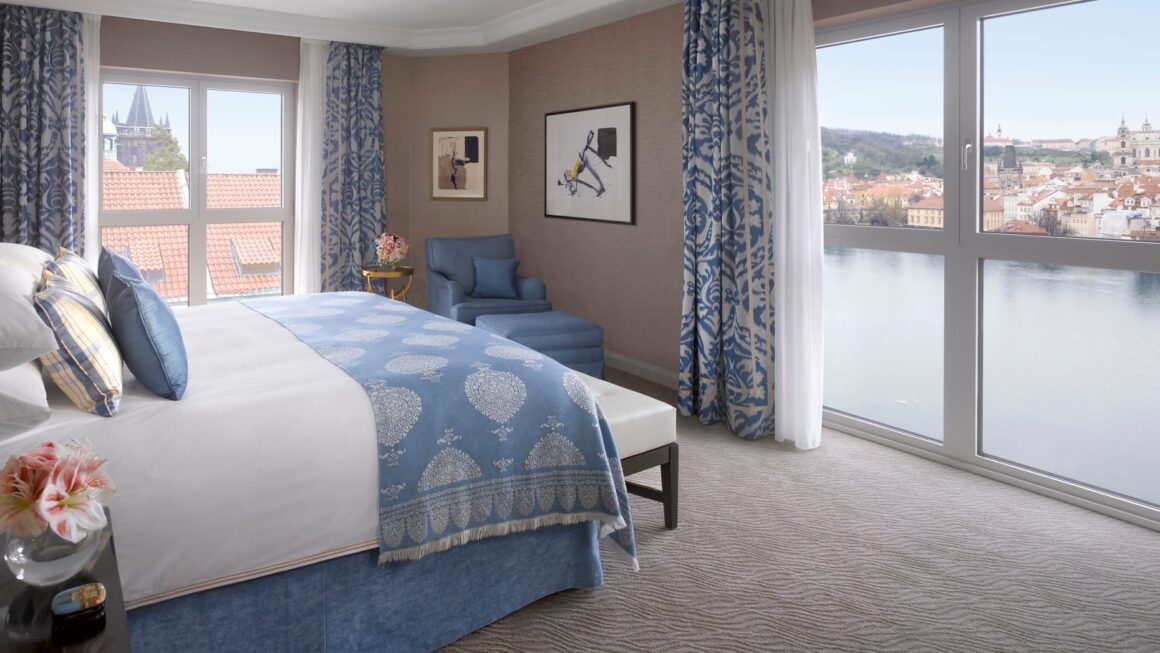 When you step inside, you'll find a unique blend of Romanesque, Art Nouveau, and Baroque styles. The hotel's 110 lavish, contemporary rooms were recently remodeled by French designer Pierre-Yves Rochon; they retain their gorgeous old-fashioned crystal chandeliers with striking white-and-gold wallpaper and lavish, comfortable beds.
10. Hilton: Old Town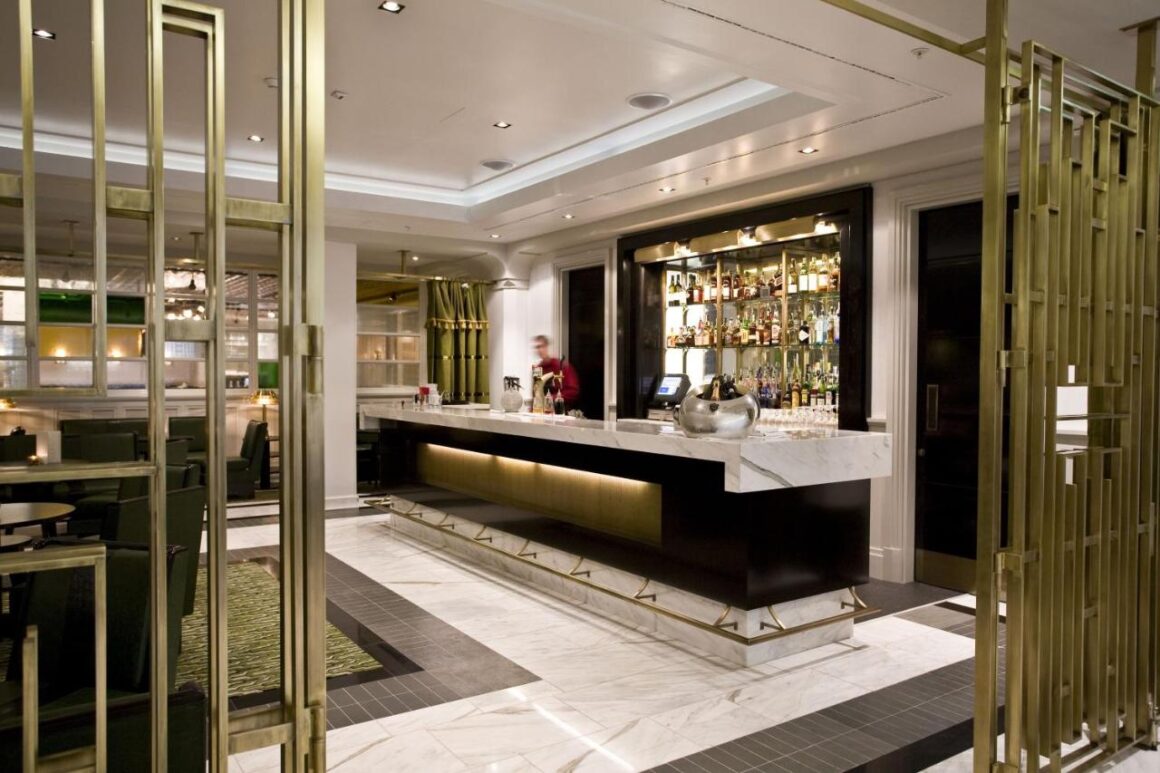 Neighborhood: Old Town
There are two Hilton hotels in Prague, and they happen to be about a 15 minute walk from each other. What a difference 15 minutes makes! If you're opting for a Hilton hotel, pick the Old Town location. This modern hotel is right around the corner from Namesti Republiky, tucked away on a quieter street in a busy area. Expect Art Deco décor reminiscent of Prague's interwar golden era of decadent hotels and a lavish breakfast buffet, American style.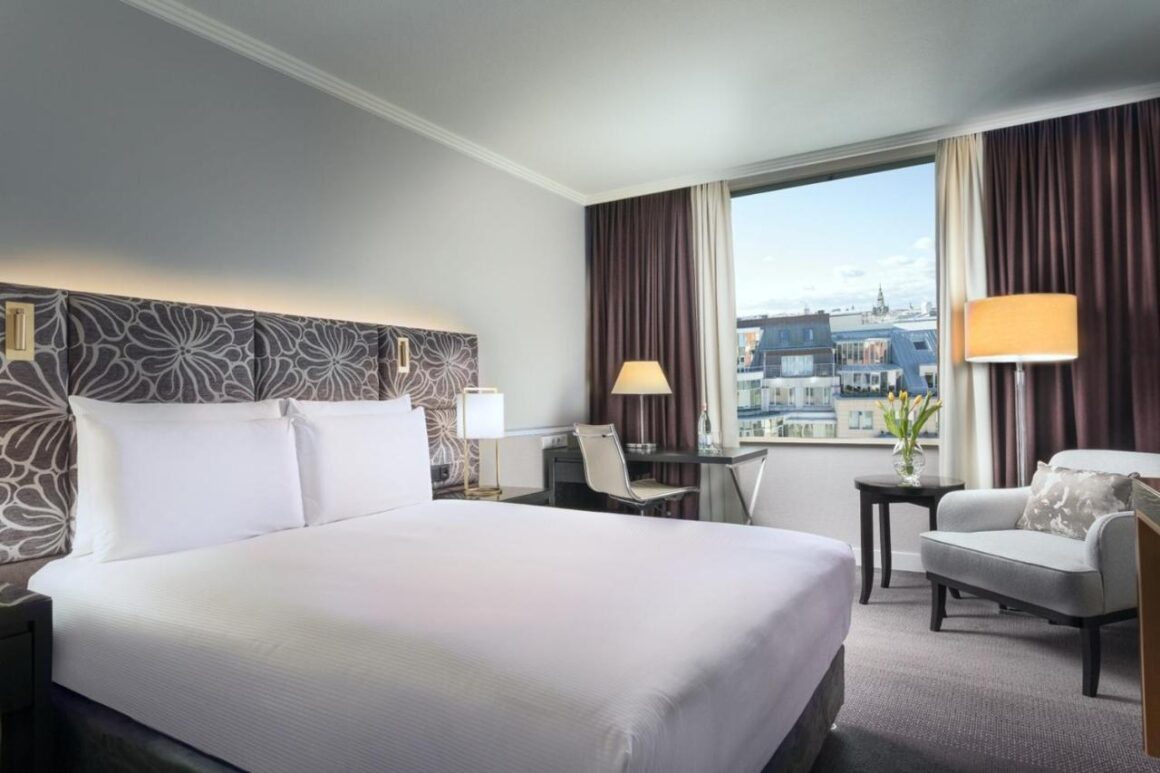 Hilton Old Town is the best option for those seeking out a luxury hotel in Prague within walking distance from some of the city's major sights. Some of my favorite restaurants and cafes are within a short walking distance from this hotel, making it an excellent choice for tourists.
11. Hotel Savoy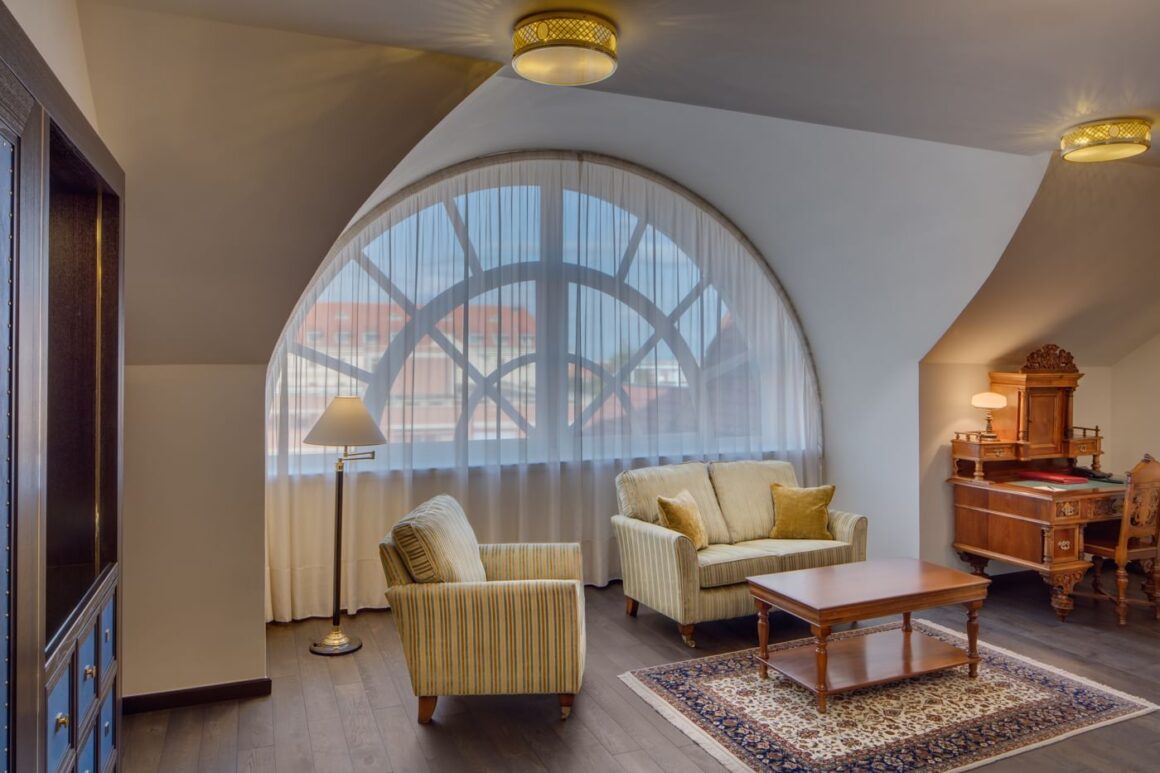 Neighborhood: Hradčany
Despite Hotel Savoy's clear proximity to some of Prague's biggest sights, celebrities and tourists alike flock to this oasis hidden in plain sight. The hotel's Art Nouveau façade originated in 1882, but don't let it put you off – the interior is decidedly more modern than its reception makes it look. The hotel houses 55 rooms, many of which include marble baths and top-of-the-line amenities for guests. There's also a fantastic restaurant and spa and wellness area.
12. Le Palais Art Hotel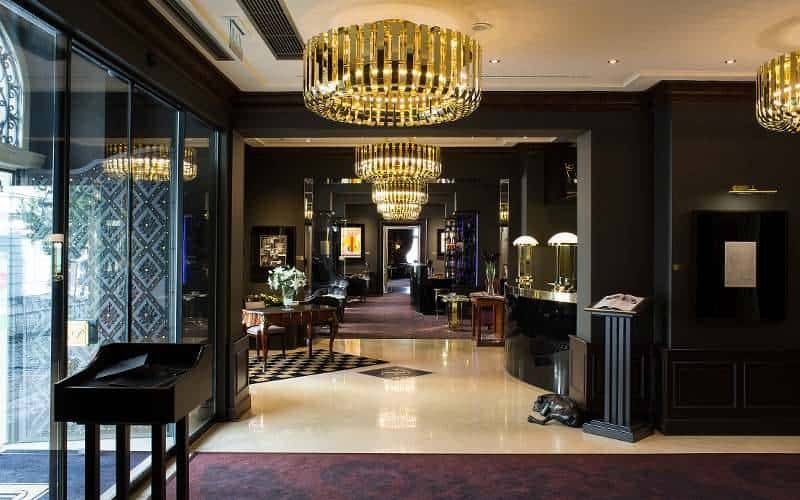 Neighborhood: Vinohrady
Many of the hotels on this list tend to be located in Prague's most central neighborhoods – but if you're looking to get off the beaten path, don't miss Le Palais Art Hotel. Located in the hip, trendy neighborhood of Vinohrady, Le Palais Art Hotel is a 19th-century Belle Époque mansion, the perfect spot for a modern art lover. Inside, expect lavish touches at every corner, from chandeliers and vaulted ceilings to mosaic-tiled floors and paintings by Czech graphic artist Miloš Reindl.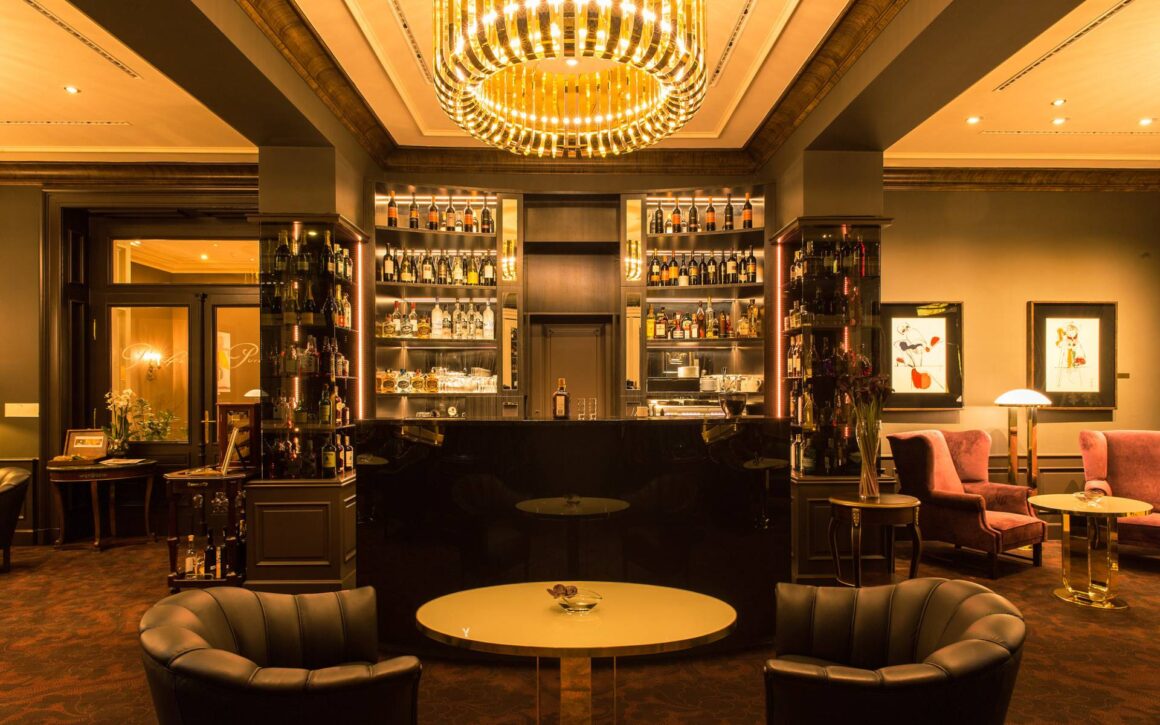 This hotel's location makes it a perfect pick for the tourist looking for a more neighborhood-centric location with plenty of restaurants in walking distance – all while still coming home to the luxurious rooms at Le Palais. I always recommend my friends and family stay in Vinohrady when visiting Prague because it's one of the best places to stay in Prague if you want to truly feel like a local.
13. Hotel Josef, a Design Hotel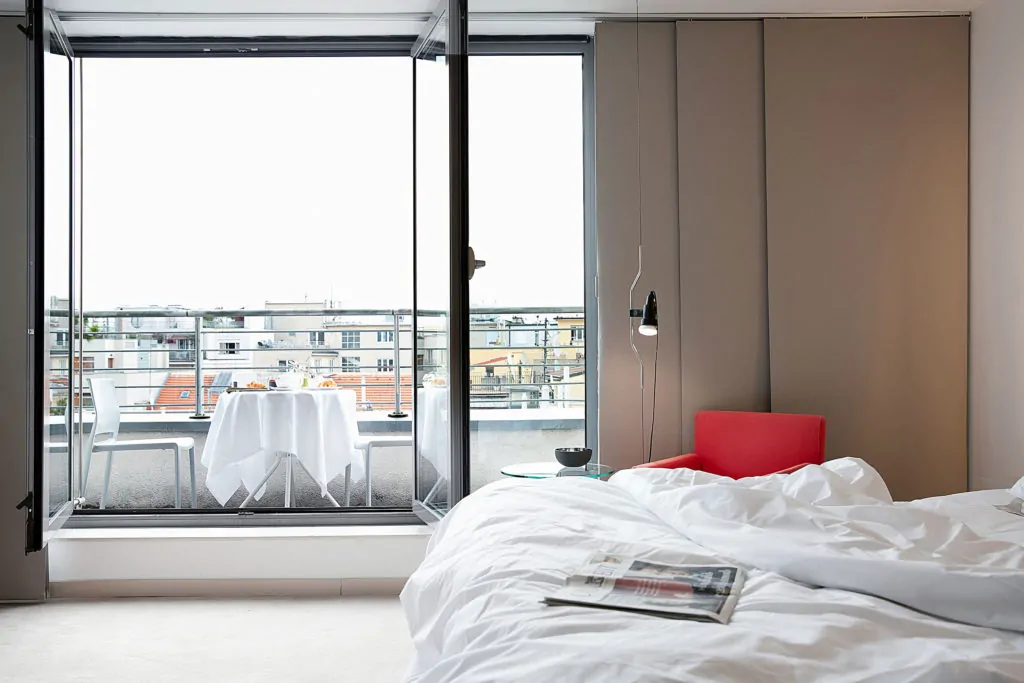 Neighborhood: Old Town Located in Old Town's Medieval Quarter, Hotel Josef celebrates modern designs and clean aesthetics. The Czech-born, London-based architect Eva Jiřičná has turned Hotel Josef into a celebration of modern aesthetics, complete with a glass-and-steel spiral staircase and 109 guest rooms in two more minimalist buildings.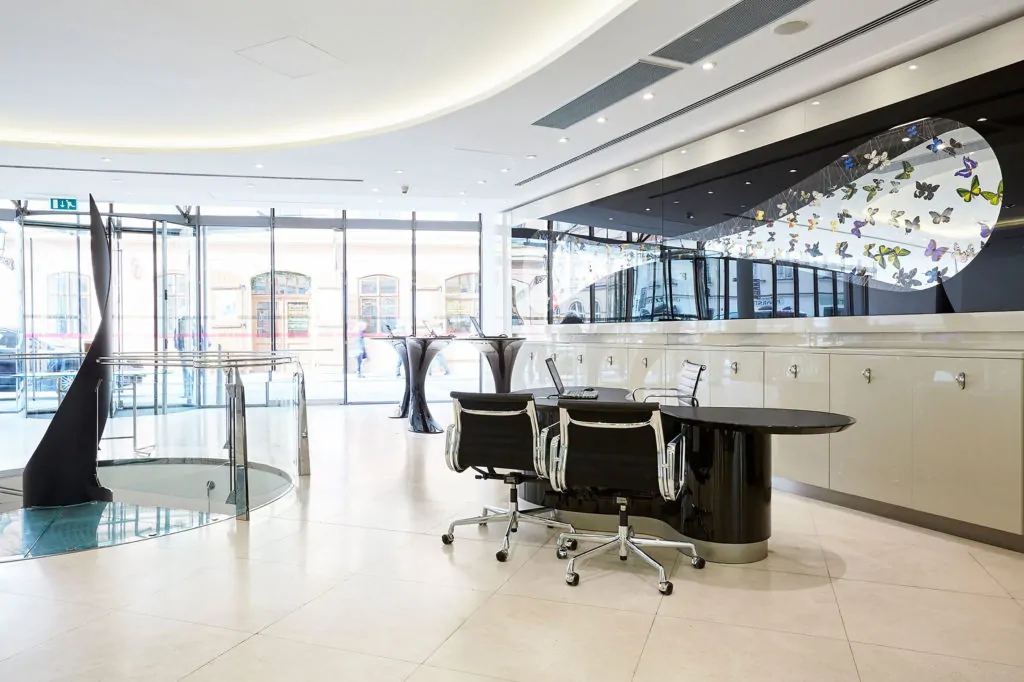 The rooms have glass bathrooms, colorful pops of colors and metal sunshade windows. The hotel has their own bakery, but lacks its own full-service restaurant. Don't let that deter you, though – there are plenty of fantastic spots nearby for explorers.
Liked this post? Pin it here!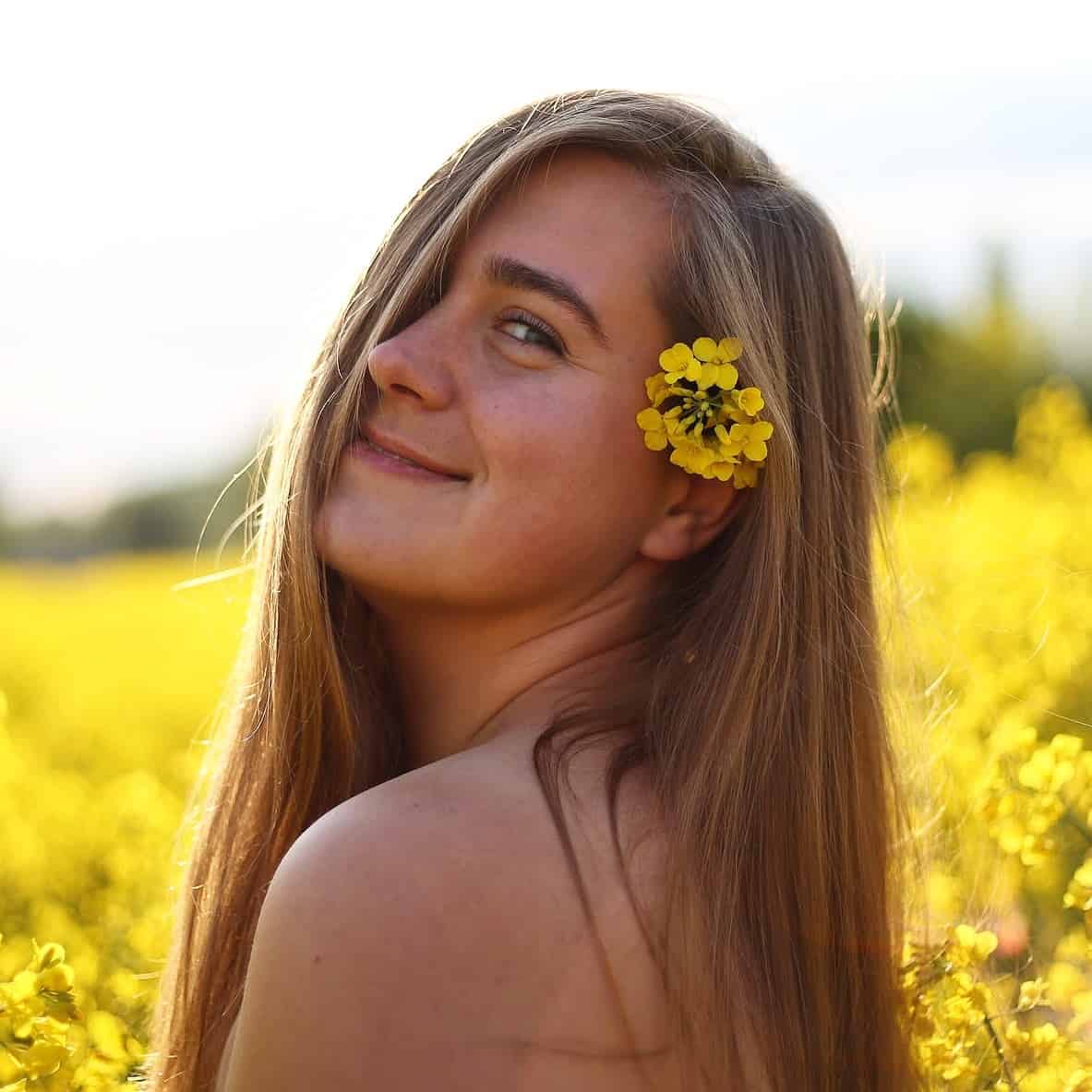 Samantha Tatro is a Czech-American third culture kid who grew up living and traveling abroad. Many years later, after living in California and working as a journalist, she decided to take the leap and move abroad again…this time to Prague, Czech Republic. Samantha started Undiscovered Path Home to help couples and solo female travelers find the courage to visit countries – and locations – off the beaten path. Her work has appeared in Bon Appetit, NBC News, The Adecco Group, and more.