I first learned about Mallorca, Spain in a novel. Emma Straub's The Vacationers is set in a quaint, charming villa on the Spanish island, and I couldn't help but fall in love with Mallorca solely based on this one novel, especially because I was living in San Diego at the time. Their lives seemed so romantic on vacation: the tapas, the seaside views, the winding roads…That's when I placed Mallorca on my travel list, though at the time, I thought any trips to Mallorca would be far in the distant future. When I visited for the first time, after I moved to Czech Republic, I realized how much I had been missing…And the importance of browsing through the best beach hotels in Mallorca for the perfect vacation.
Mallorca is home to some of the most beautiful beaches in Europe, and some of the luxury hotels in Mallorca sit on the best beaches in Mallorca. That's why it's so key to pick the right place to stay, especially if you don't plan to rent a car. Looking for a more modern hotel? Do you need seaside views from your room? Is a hotel built into an old castle more your vibe? Looking for a golf course? Mallorca has it ALL.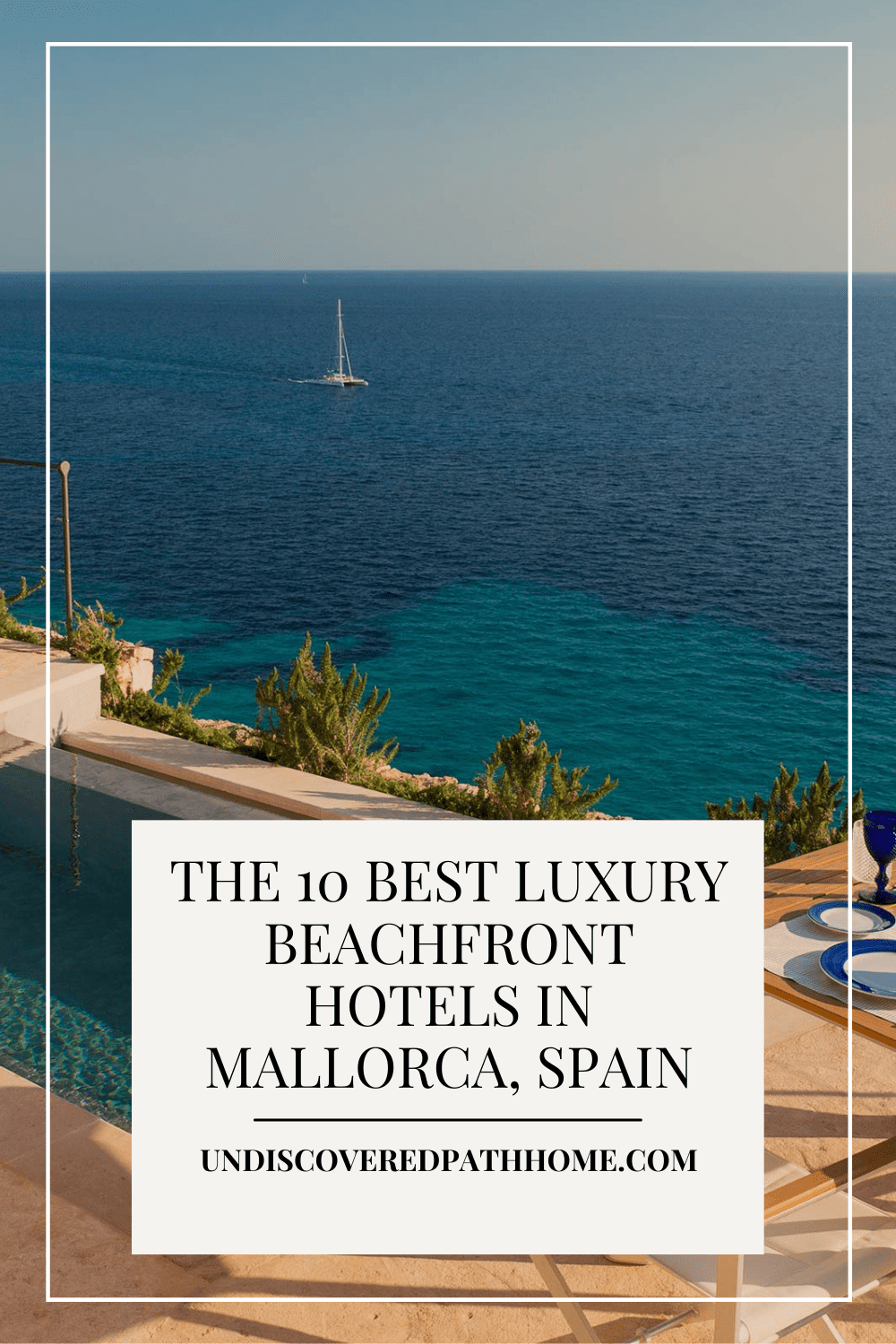 Here's my breakdown of some of the best beach hotels in Mallorca, Spain for the most luxurious holiday.
Best Beach Hotels: Where to Stay in Mallorca
Before I visited Mallorca, Spain for the first time, I struggled with figuring out where to stay in Mallorca. Mallorca is the largest of the Balearic Islands in the Mediterranean, and it can take three hours to cross from one side of the island to the other (read: you either need a car, or need to pick the right hotel). The beautiful island is known for its beach resorts, sheltered coves, limestone mountains, and crystal clear waters and of course, its best beach hotels.
But if you've never visited Mallorca, Spain, you'll probably be wondering where to stay in Mallorca Spain: the eastern coast? The western coast? Deia, Mallorca is one of the most sought-after destinations on the island, thanks to its mountainside charm and quintessential relaxed Spanish vibes. But if you do want to stay on the western coast, you're probably asking: where to stay in Deia, Mallorca? And what about Palma, the island's biggest city? Should you stay in Palma de Mallorca? And if you do plan to stay in Palma: where to stay in Palma de Mallorca?
Long story short, Mallorca is a beautiful island…but you won't be able to see it all during your trip.
Where to stay in Mallorca for the best beaches
My advice: for the best beaches in Mallorca, stay on the eastern coast of Mallorca. The predominantly flat section of the island offers hidden coves, crystalline waters, long stretches of sandy shores, and quaint fishing villages.
During my trip to Mallorca, I loved the vibes and the beaches on the eastern coast. The western side of the island has plenty of charm as well, but the beaches tend to be much harder to access and the windy roads may wear out even the most resilient of travelers.
Where to stay in Mallorca for couples
Looking for a romantic getaway? Couples looking for the perfect cozy island vacation should look to Mallorca's western coast, home to some of the most charming villages and beachside coves. Mountainside Valldemossa or Deia or the picturesque seaside spot Soller all offer intimate, secluded spots with seaside views.
Where to stay in Mallorca for families
Families should consider picking one of Mallorca's all-inclusive hotels for their stay. The eastern side of the island offers plenty of quaint hotels right on the beach with minimal driving and maximum relaxation. The western coast, on the contrary, has long, winding roads and cliffside driving…which can be a challenge for smaller kids.
Map: Best Beach Hotels in Mallorca
Check out my map here!
Best Beach Hotels in Mallorca
With its white sandy beaches and laid-back vibe, Mallorca, Spain is the perfect holiday spot for both Europeans and visitors coming from further abroad. These are some of the best beach hotels in Mallorca, perfectly situated so you can soak in the best beaches in Mallorca.
1. Hotel El Llorenç Parc de la Mar (Palma de Mallorca)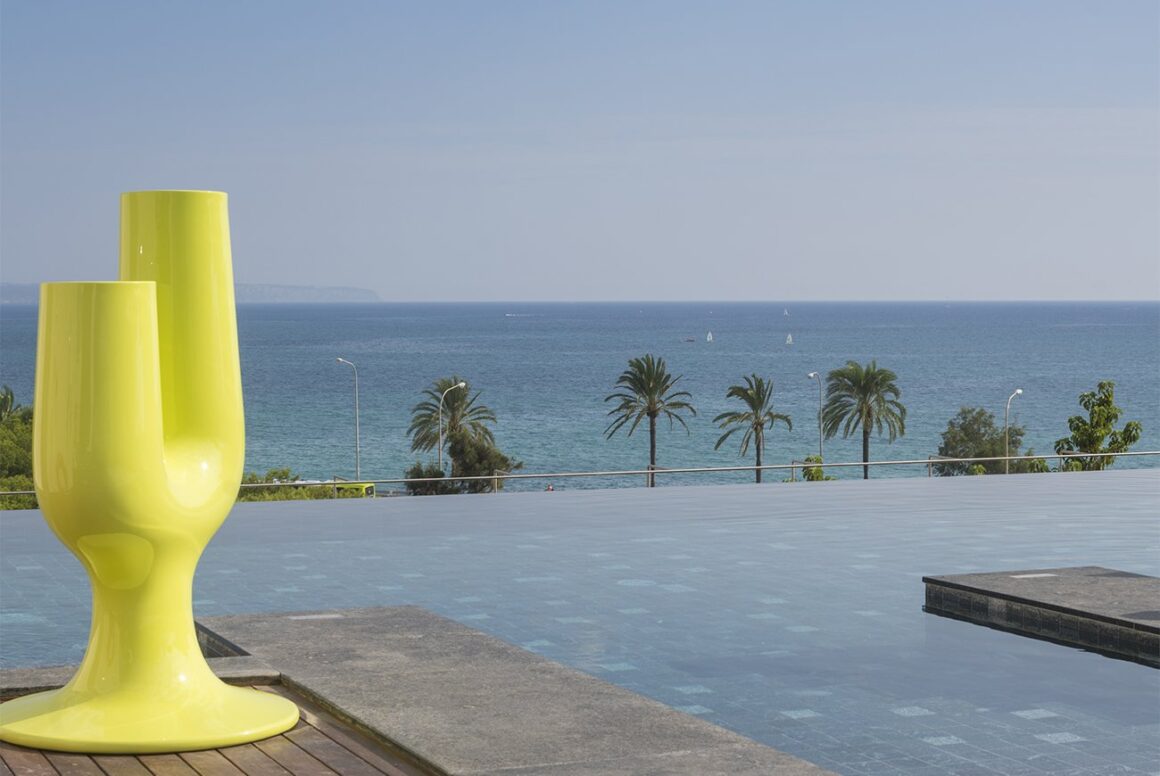 The five-star boutique Hotel El Llorenç Parc de la Mar looks out over Palma Bay and promises endless ocean views for your relaxing holiday. This newer spot was built with infused Arabic patterns and influencers by Designer Magnus Erhland. Situated near Palma de Mallorca, this new spot makes it easy to access both the Old Town and the beautiful ocean nearby. The best part? An unbelievable infinity pool and plush sunbeds with an open bar. It's right by the water, though not directly on the beach, but still deserves a mention thanks to its sweeping views and proximity to the beach.
2. Gran Melià de Mar (Illetas)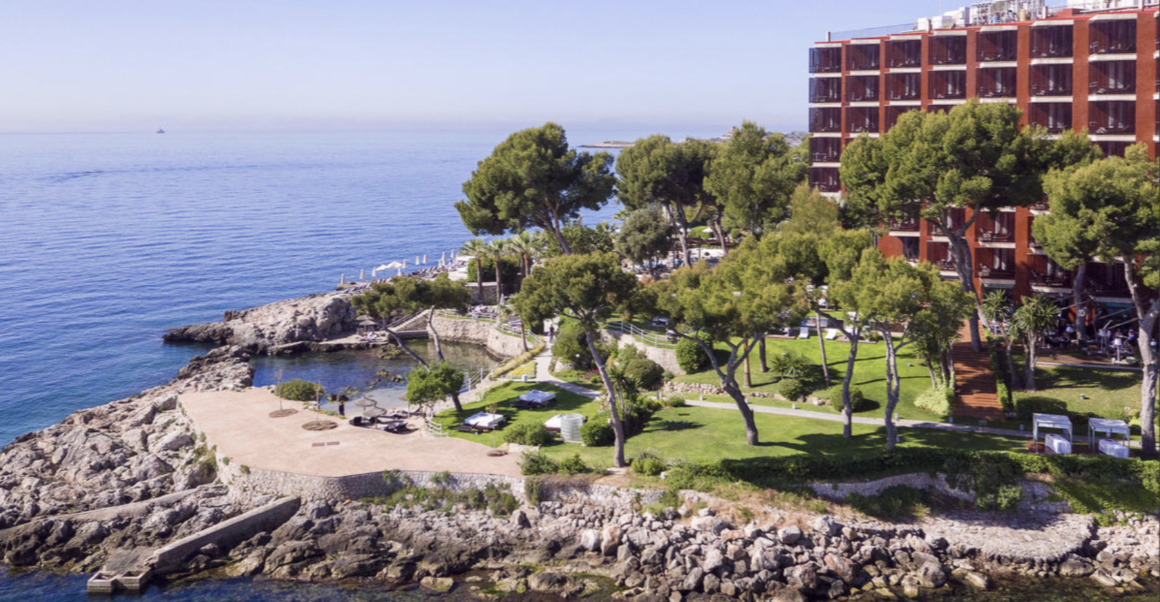 The Gran Melià de Mar is an adults-only hotel perched on a seaside ledge in the Illetas seaside, just west of Palma. The property is everything you want from your relaxing beach vacation: a relaxing atmosphere with plenty of lounge chairs, epic views at every turn, and a nice pool for a dip. Nearby, there's a small, almost-private beach (which is difficult to access from non-hotel guests) which offers pristine waters. Plus…there's a wonderful spa with plenty of wellbeing and beauty treatments.
3. Hotel Hospes Maricel (Cas Català)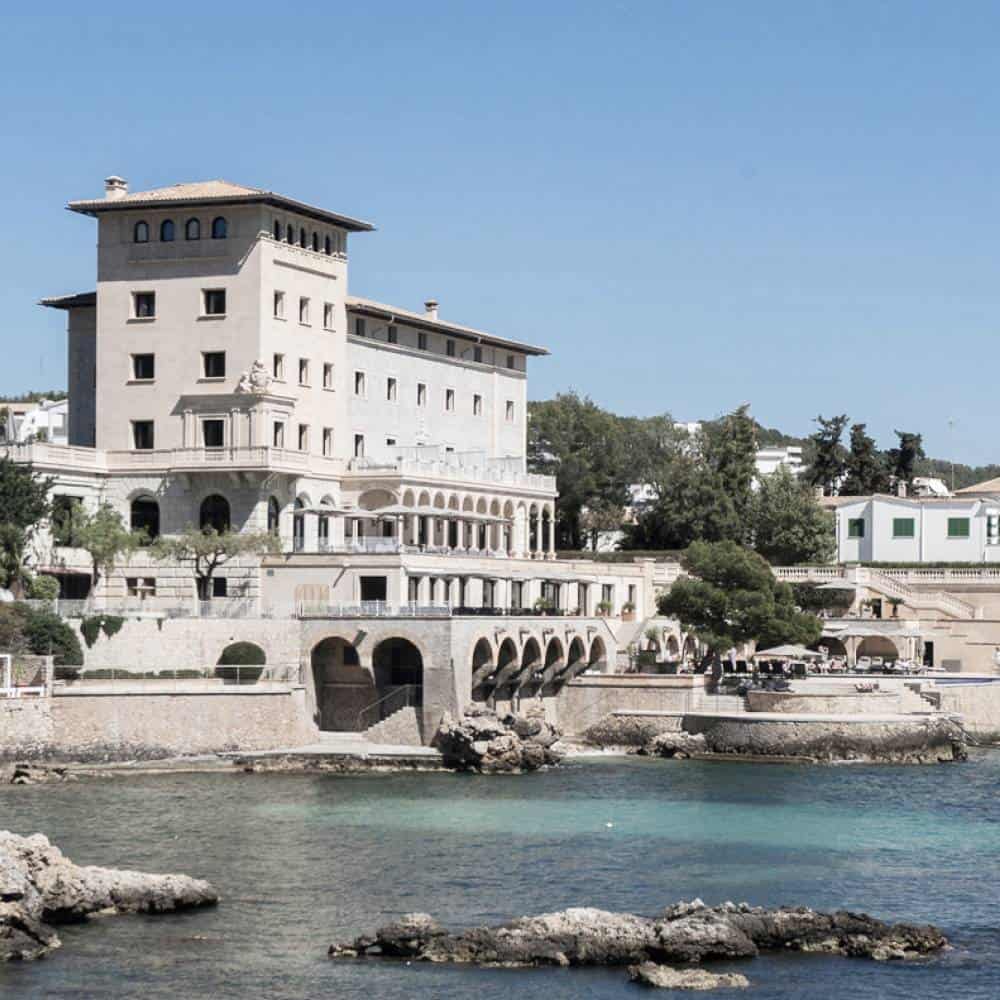 The big advantage to staying at Hotel Hospes Maricel in Cas Català is the location. This beautiful hotel is located right on the water near Cas Català, close to Palma de Mallorca and The Gran Melià de Mar. The building was originally a majestic palace in the 1940s and it exudes glamour and old-world style – the perfect place for your elegant and relaxing vacation. The hotel has plenty of amenities to keep you busy, including a next-level spa, pool bar and a private jetty…So you can head out on a boat right away, if that rocks your boat.
4. Hotel Santos Nixe Palace (Cala Mayor)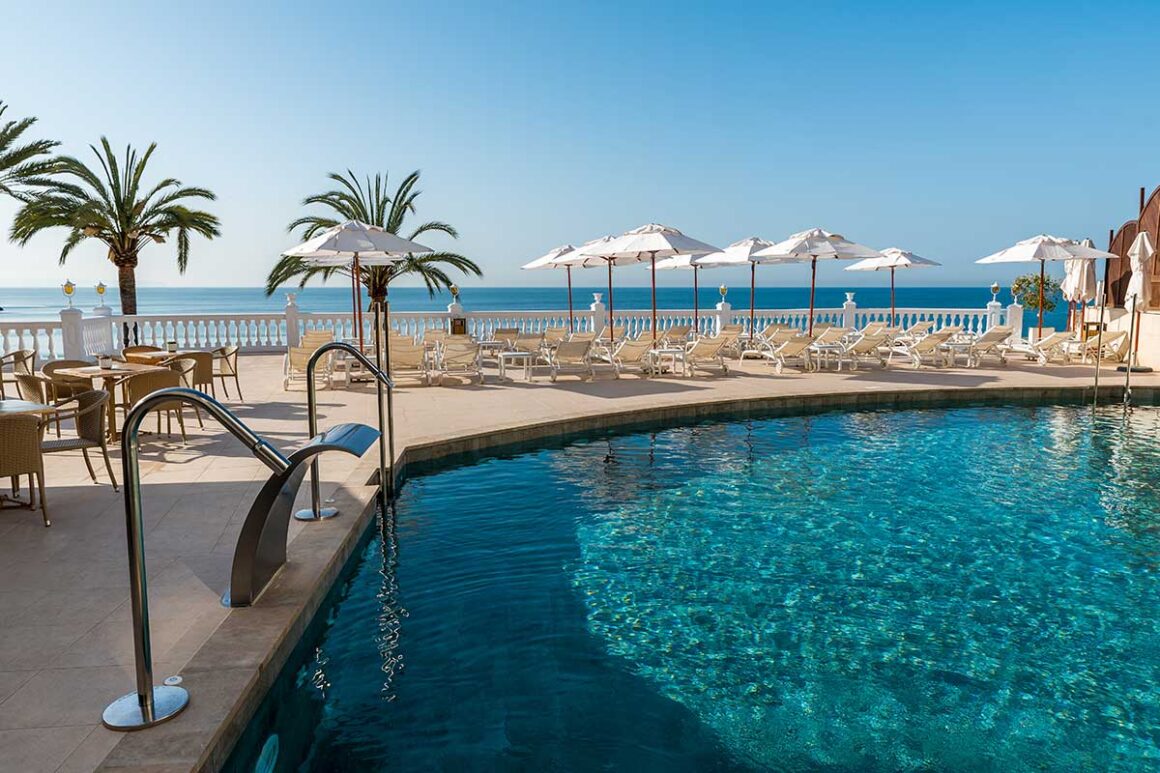 The beautiful beachfront Hotel Santos Nixe Palace is located in Cala Mayor, a family-oriented stretch of beach close to Palma de Mallorca. The Palma de Mallorca beaches are some of the most beautiful and most scenic, and this hotel is no exception. Hotel Santos Nixe Palace has its own lovely little spot on a private, white sandy beach with some of the most gorgeous waters. Nearby, guests have access to golf courses, luxury marinas, and all the sights and foodie spots in Mallorca.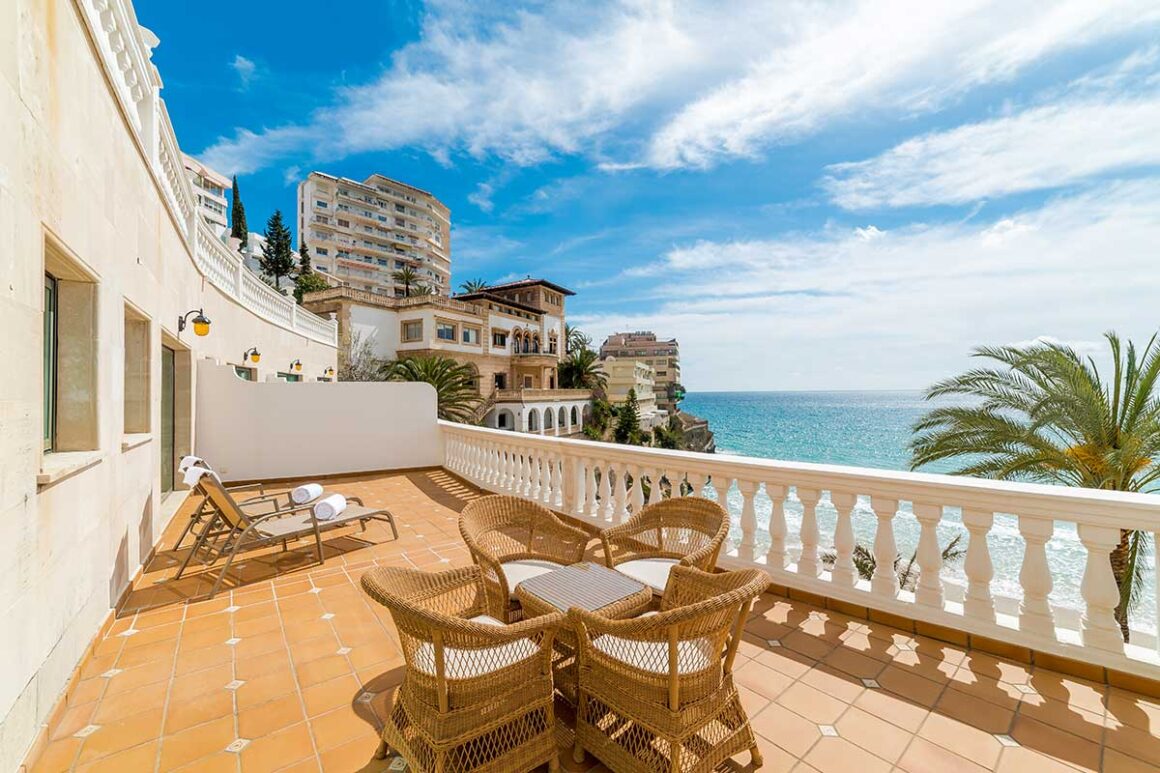 Another big advantage to this hotel? A thermal hot tub with views of the Mediterranean. The spa at Hotel Santos Nixe Palace also includes a huge solarium room and indoor-outdoor space that creates an expansive relaxation space.
5. St. Regis Mardavall (Puerto Portals)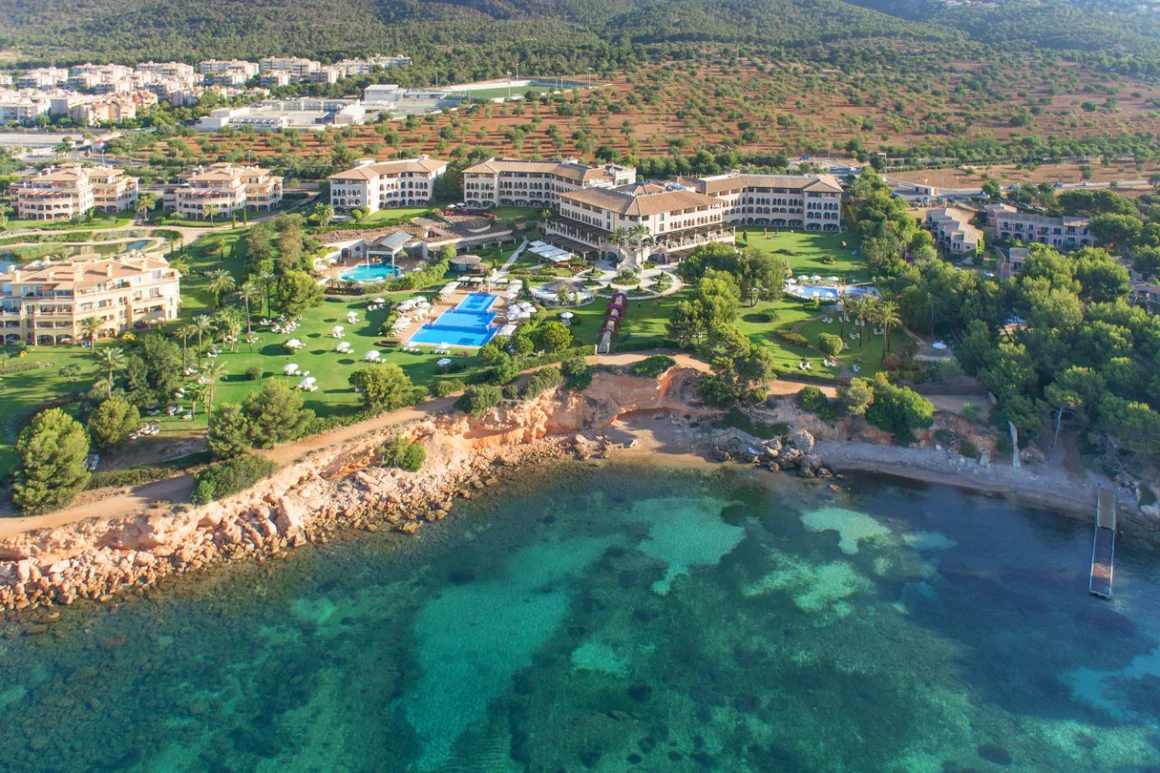 Located on the southwestern coast of Mallorca, the St. Regis Mardavall is an absolute gem – and by far one of the most luxurious and one of the best beach resorts in Mallorca, Spain. First class service meets Mallorcan style at this Marriot property, right next to Puerto Portals in Costa d'en Blanes. This large property stretches toward the sea with sprawling green lawns, two pools, plenty of lounge chairs, and 180 degree views of the ocean. The property also has gourmet restaurants, a spa, a kids club, and a golf academy, to name a few. The surrounding ocean is beyond beautiful – the perfect place to enjoy one of the best beach hotels.
6. Cap Rocat (Cala Blava)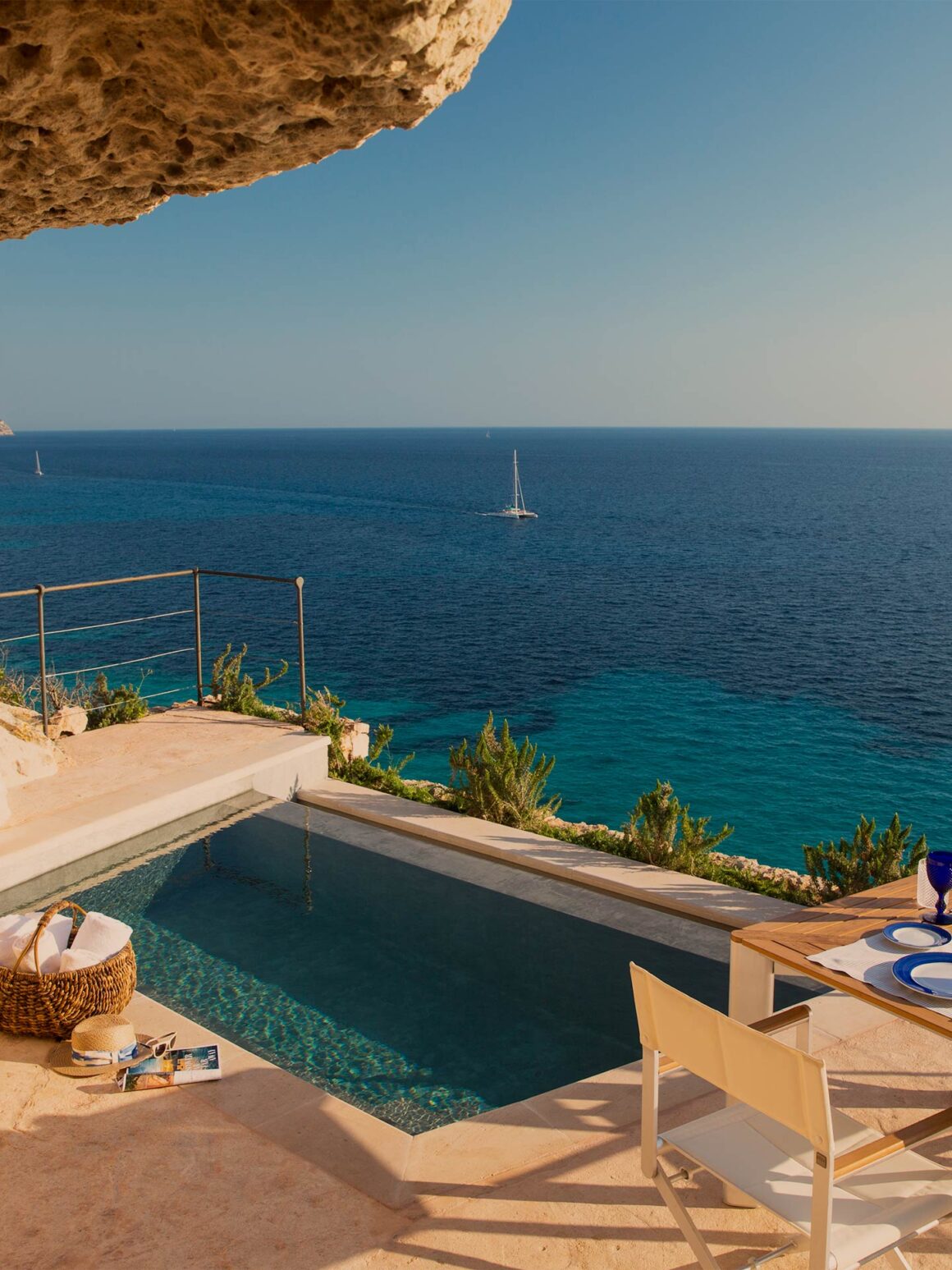 The five-star Cap Rocat is one of the most secluded and luxurious resorts in the Mediterranean. This unique, adults-only hotel is built into an old military fortress, renovated by architect Antonio Obrador. The result is a spectacular building with hidden nooks and crannies and endless views. A spectacular salt water infinity pool is perhaps one of the most prominent and unique additions, so you can feel as if you're swimming in the ocean while you gaze out at the crystal clear waters.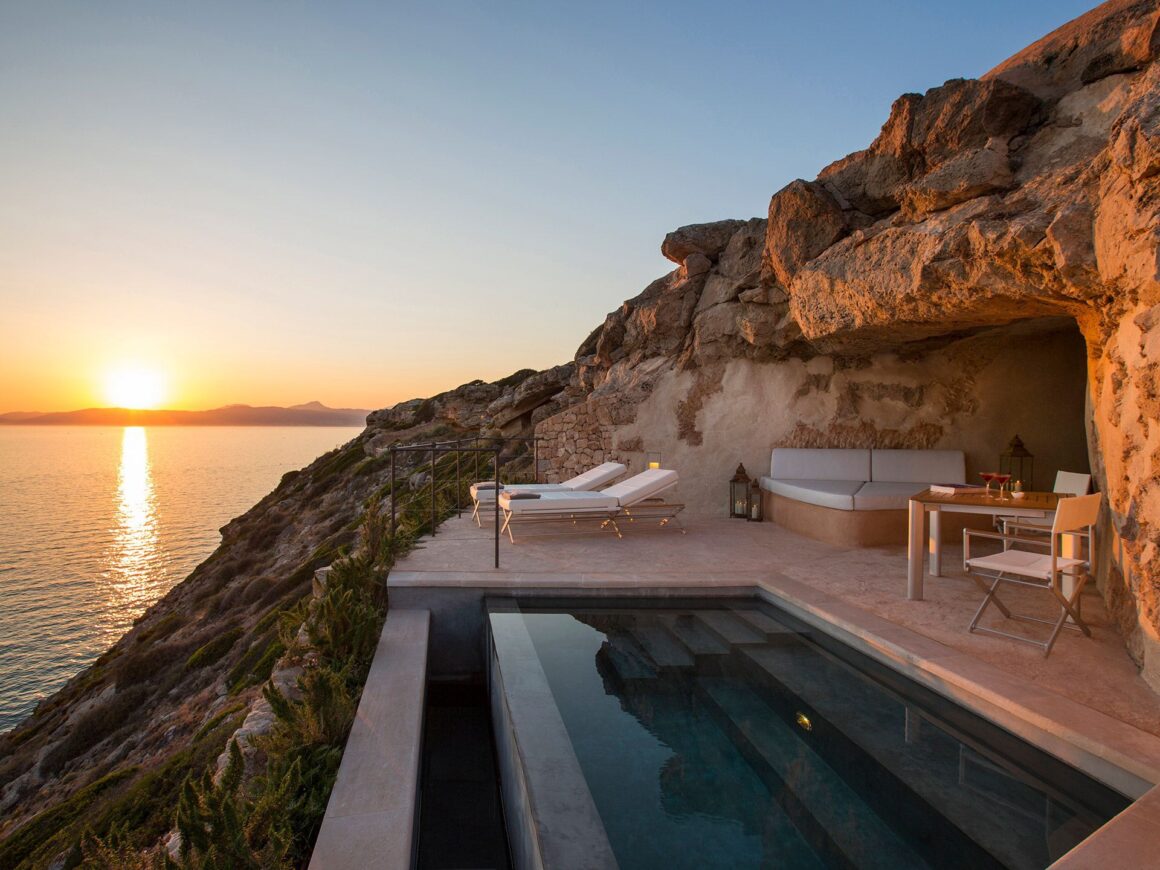 The dramatic mix of old architectural style (think: stone walls, crenulation) has modern accents that make the hotel and its rooms feel both updated and timeless. There's direct access to a nearly private beach nearby. It's public, of course, but accessing it without hotel access is basically impossible.
7. Hotel Can Simoneta (Canyamel)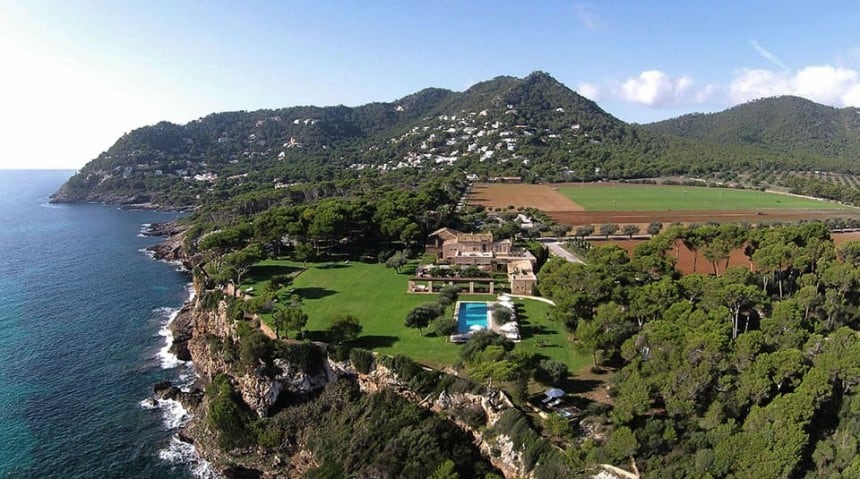 Looking for one of the best beach hotels off the beaten path? Hotel Can Simoneta sits high on the cliffs off Mallorca's northeastern coast in Canyamel. This beautiful section of Mallorca is known for the jaw-dropping views and stunning waters. It's also one of the best parts of Mallorca for those seeking that authentic Mallorca experience. These beaches are some of the best beaches in Mallorca, no doubt.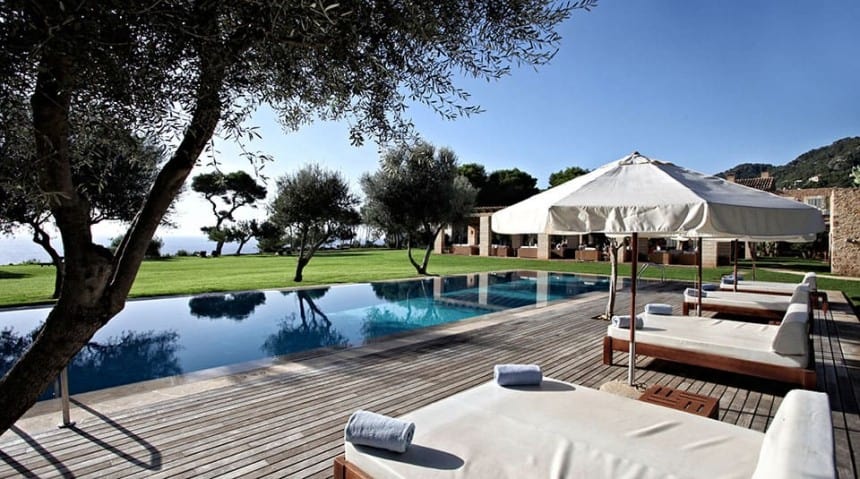 Hotel Can Simoneta has large green lawns right up to the cliffs, letting guests get that 180 degree view of the Mediterranean sea. The 5-star hotel is adults-only and has tons of activities nearby for guests, from top golf courses and horseback riding to cycling and lounging. The wellness spa – a must visit – includes organic products, too.
8. Pleta de Mar Hotel (Canyamel)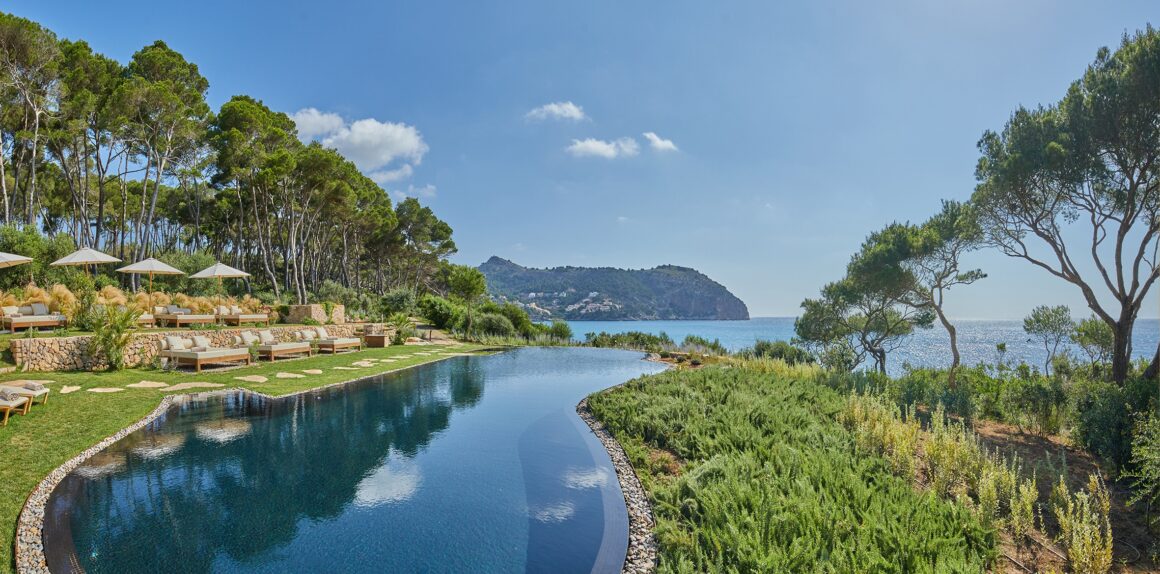 Sustainability meets luxury at Pleta de Mar Hotel, a 5-star hotel located in Canyamel. Much like our previous pick, this hotel is located off-the-beaten-path in Mallorca, tucked away between beautiful blue waters and rocky cliffs. This waterfront property is perfect for people looking for a luxury spot that blends into its surroundings. Materials like wood and stone help the buildings fit into the surrounding nature.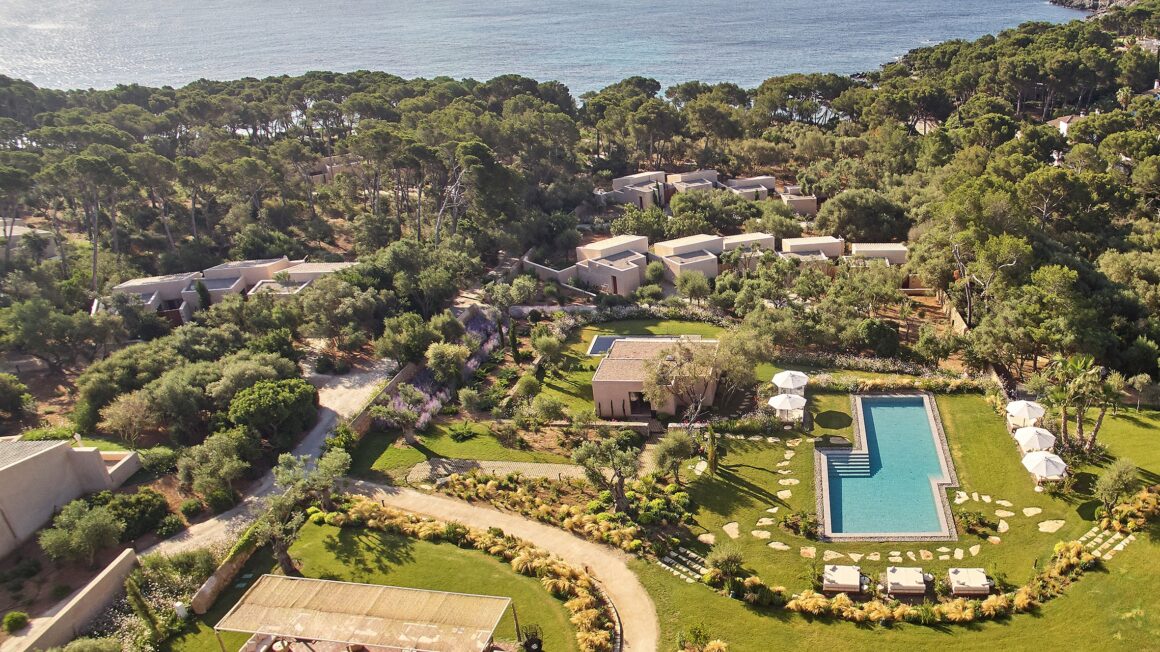 The property is home to two infinity pools (one heated in cooler months) as well as direct private beach access. The location can't be beat, and for those willing to drive a little further north on Mallorca will be rewarded for their time.
9. Melià South Beach Hotel (Magaluf)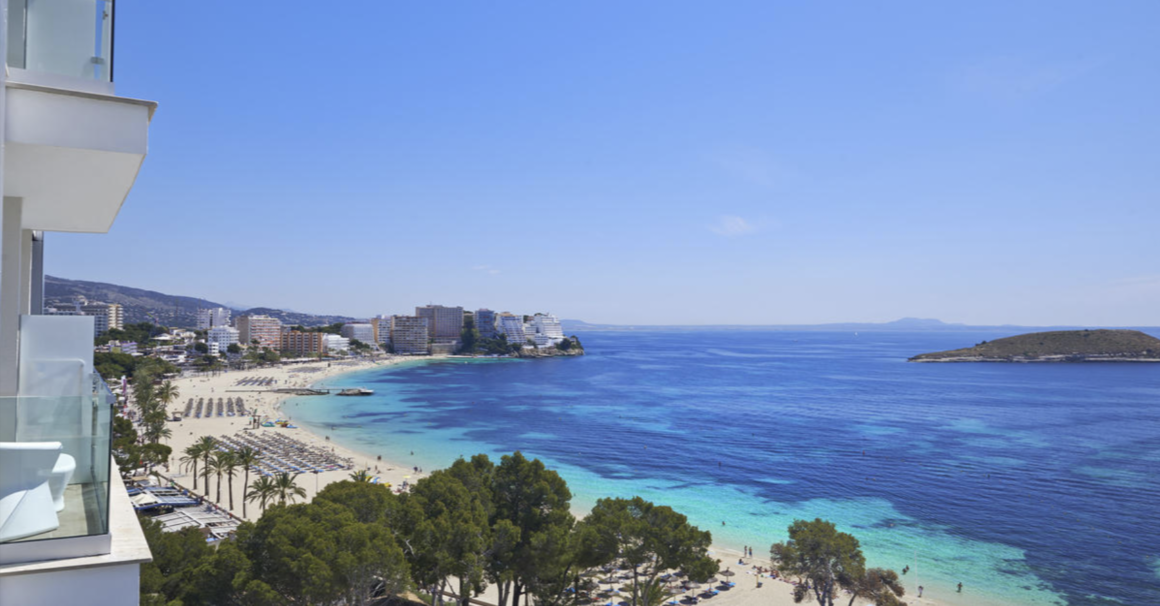 Situated on one of the most beautiful beaches in Mallorca is a small little piece of paradise. Melià South Beach Hotel is the perfect spot for those looking for a more lively location without compromising on the beach. This luxury hotel sits right on Playa de Magaluf and gives guests their own exclusive section on the white sand beach. The hotel caters to modern guests looking to combine their holiday with a fun and friendly atmosphere. There are two pools on the property: a family/kids pool as well as an adults-only pool.
10. El Vicenç de la Mar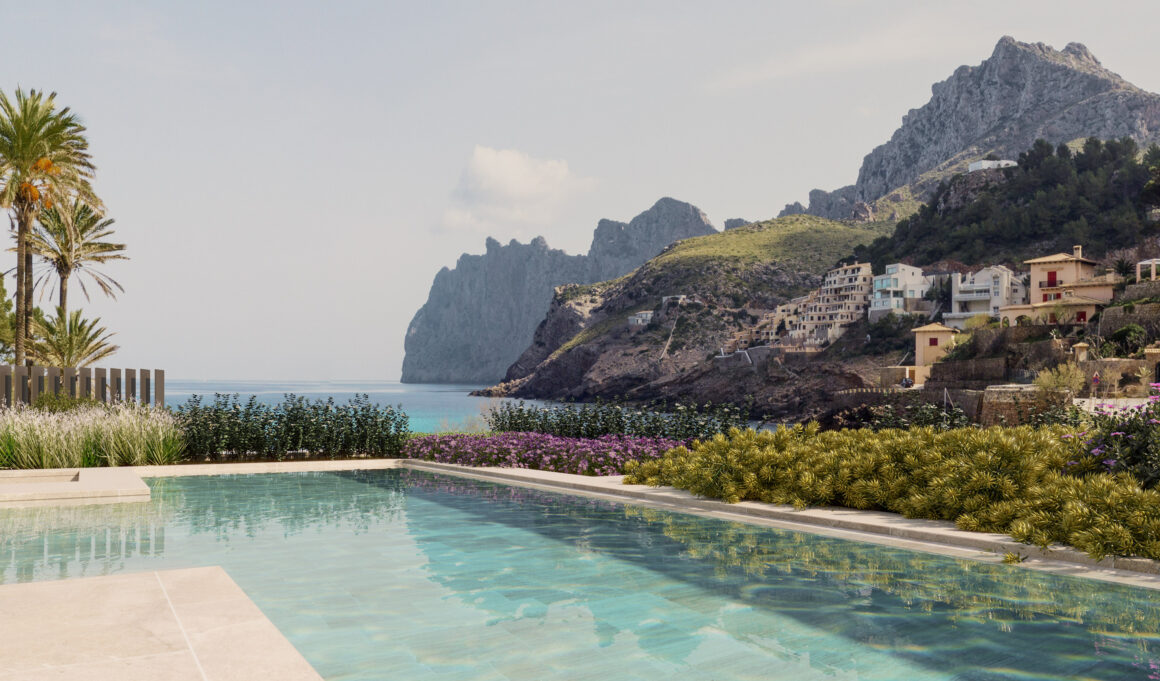 You'll find El Vicenç de la Mar on the northwestern side of the island, near some of Mallorca's most beautiful coastlines. Designer Magnus Ehrland is responsible for the beauty behind this hotel, which combines modern design with Mallorcan vibes. Soothing earth tones, airy interior design and large windows define the aesthetic at this stunning hotel. The experience is all about luxury. From their show-stopping roof terrace to Michelin-garnered Santi Taura's cuisine. When it comes to the best beach resorts in Mallorca, this 5-star hotel is absolutely one of the top picks. It's a piece of Mallorca's finest.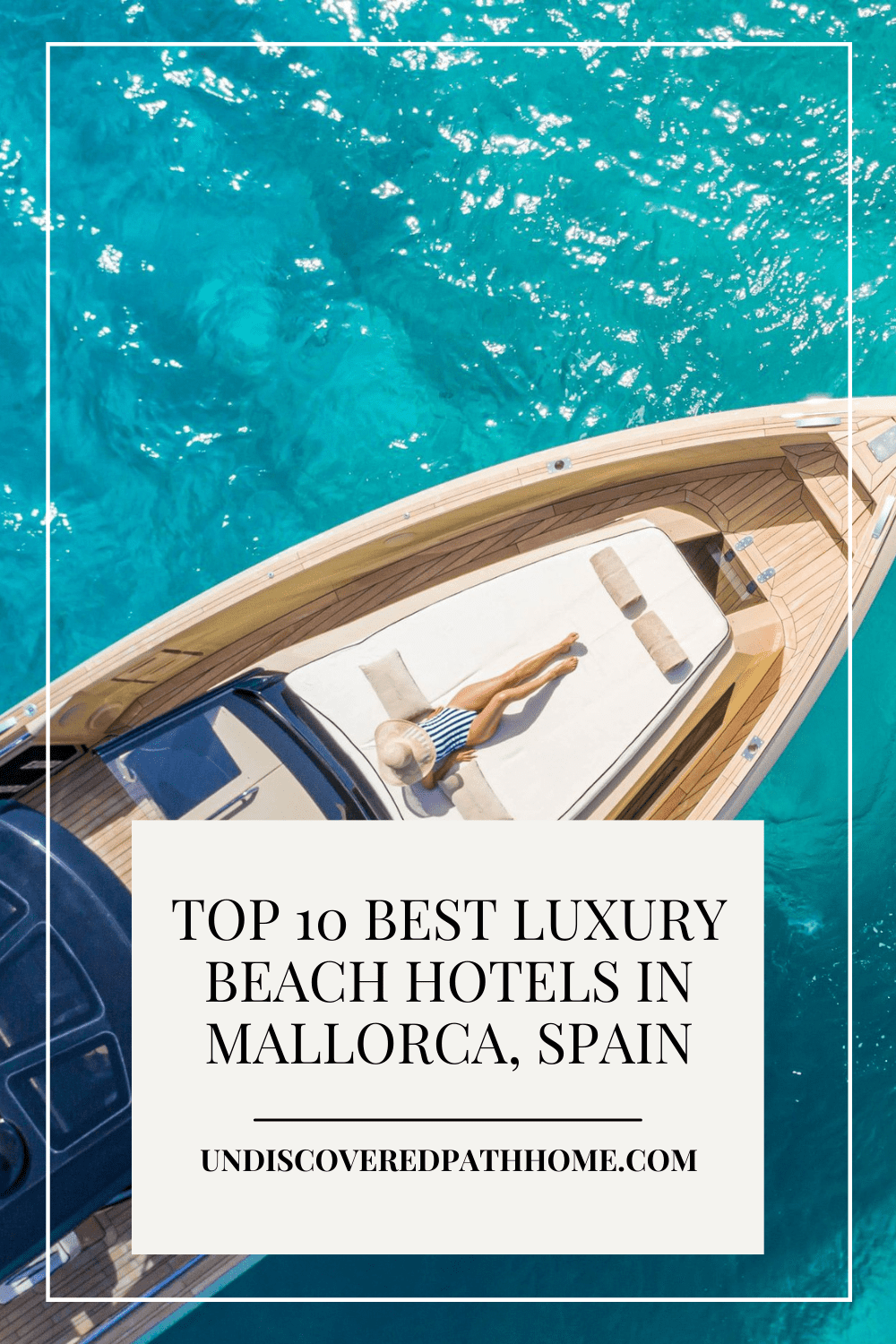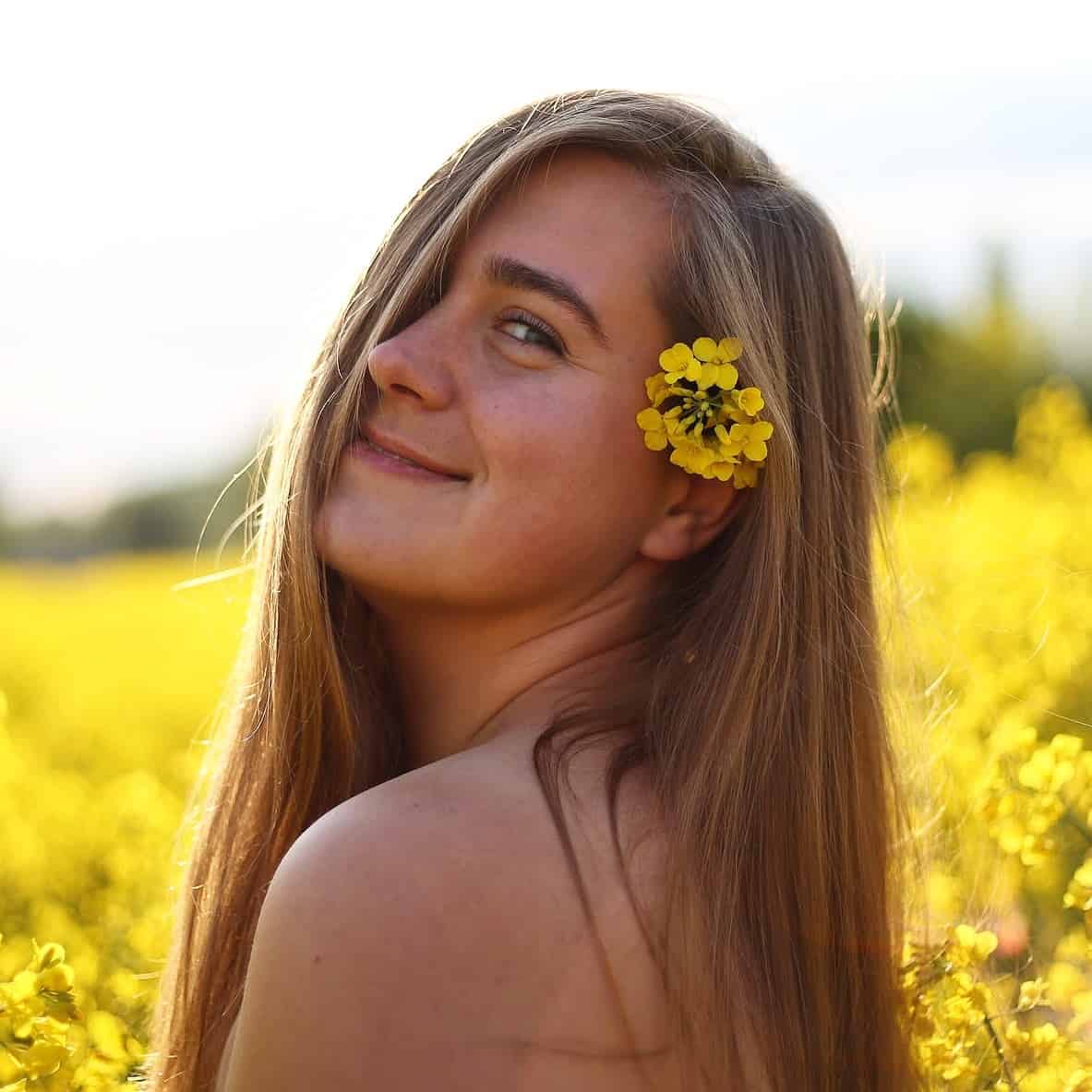 Samantha Tatro is a Czech-American third culture kid who grew up living and traveling abroad. Many years later, after living in California and working as a journalist, she decided to take the leap and move abroad again…this time to Prague, Czech Republic. Samantha started Undiscovered Path Home to help couples and solo female travelers find the courage to visit countries – and locations – off the beaten path. Her work has appeared in Bon Appetit, NBC News, The Adecco Group, and more.