With more than 50 kilometers of fine white sand beaches, rocky coves, cliffside spots, and crystal clear waters, Mallorca is home to some of the best beaches in Europe. Summer after summer, thousands of tourists flock to Mallorca to enjoy their beach hotels, their crystalline waters, and their tasty tapas. Mallorca has so many beaches that each beach really does have different qualities and characteristics. From remote beaches accessible only by hiking to vibrant town beachside spots to family-friendly beaches, there's truly something for everyone in Mallorca. Whether you're looking to feast on grilled octopus seaside or simply roll out your towel and sunbathe, there's something for everyone among the best beaches in Mallorca. Here are 8 jaw-droppingly beautiful beaches in Mallorca. 
The Best Beaches in Mallorca
Mallorca's most beautiful beaches are prized for their endless sun, see-to-the-bottom waters, and chill vibes. My picks for the best beaches in Mallorca rival some of the most beautiful tropical islands I have visited – and for good reason. Much like Puglia, Mallorca's beautiful beaches can often be undiscovered and empty, if you visit at the right time of year.
1. Cala Deià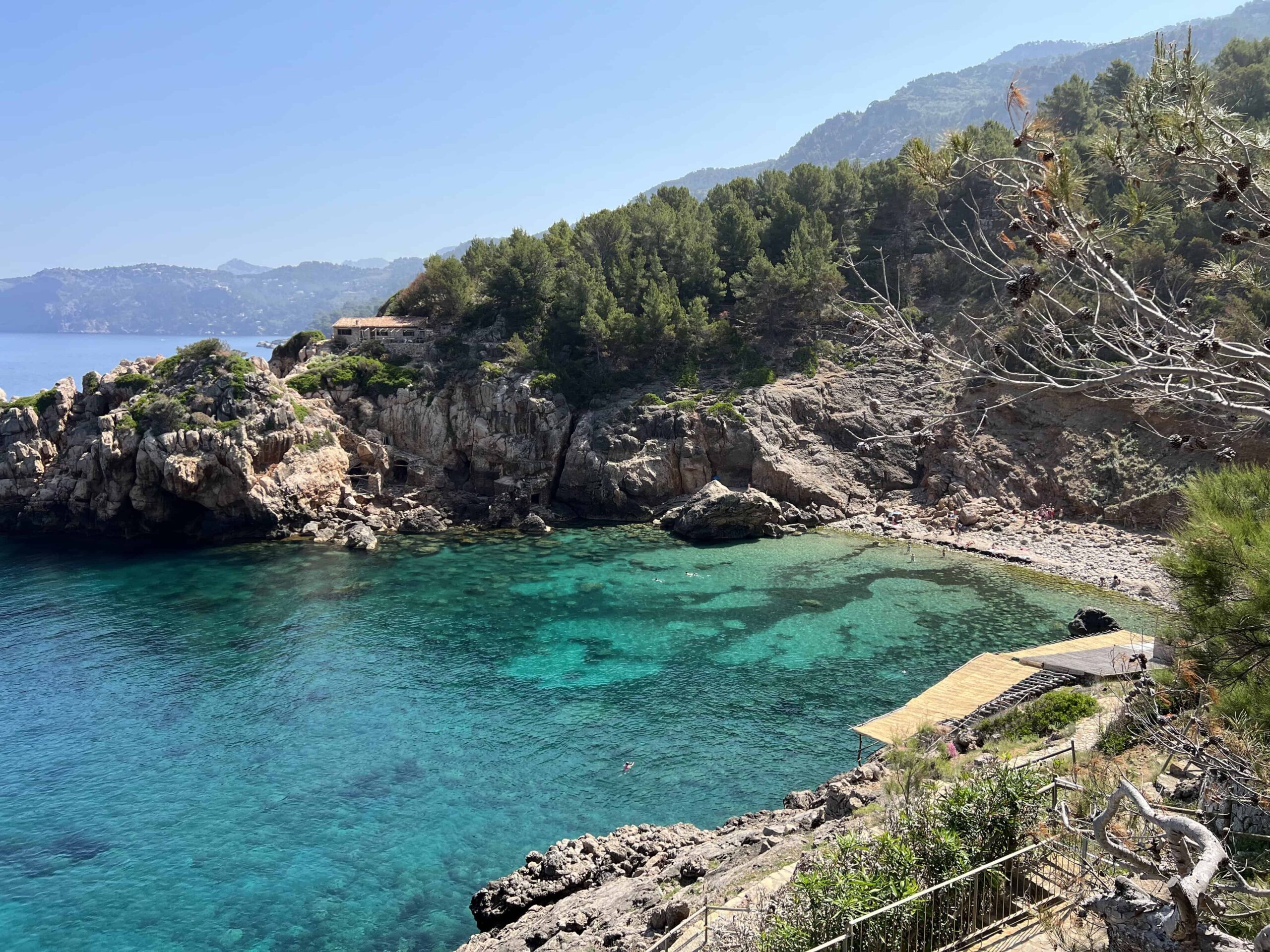 Located on the western side of Mallorca, down a steep and windy road, lies Cala Deià. This locals-only spot is the most stunning beach on the west coast of the island, and it is hands down the most beautiful stone beach on the island. Drivers, beware: a winding, steep single-lane road leads from the village of Deià to this pretty pebble beach. This former fishing port is now a popular beach for industry folks escaping their jobs, Instagrammers, and Deià locals. Parking during high season is basically impossible, but it's easy to hike down from the village to the beach following signs in 15 to 20 minutes.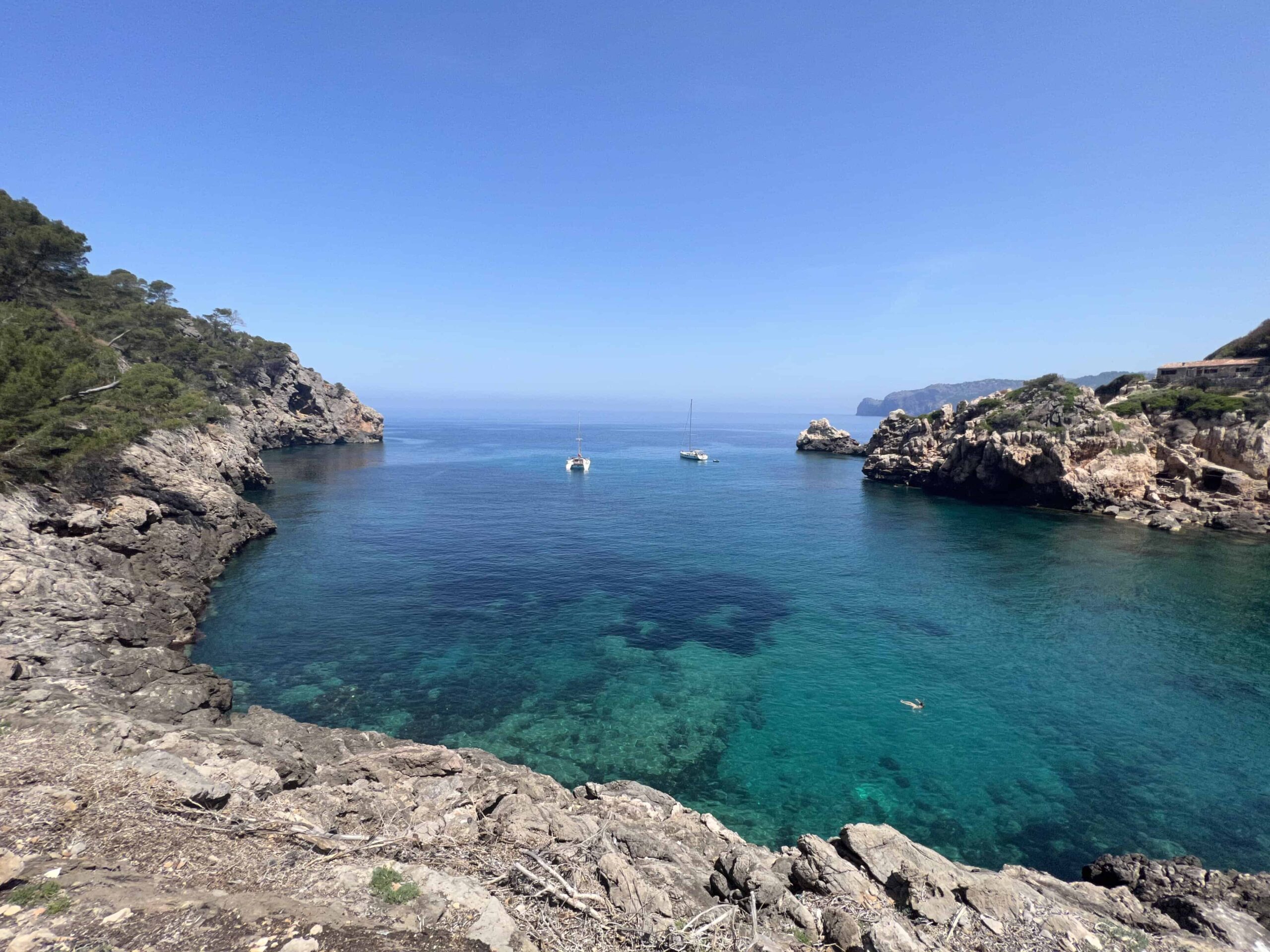 The best part about Cala Deià? There are two incredible restaurants right on the water, though the most popular – Ca's Patró March – requires reservations weeks in advance (the food, though…is UNBELIEVABLE). During my Bachelorette trip, we stayed at an Airbnb just above the restaurant and absolutely loved this beach.
2. Cala Mondrago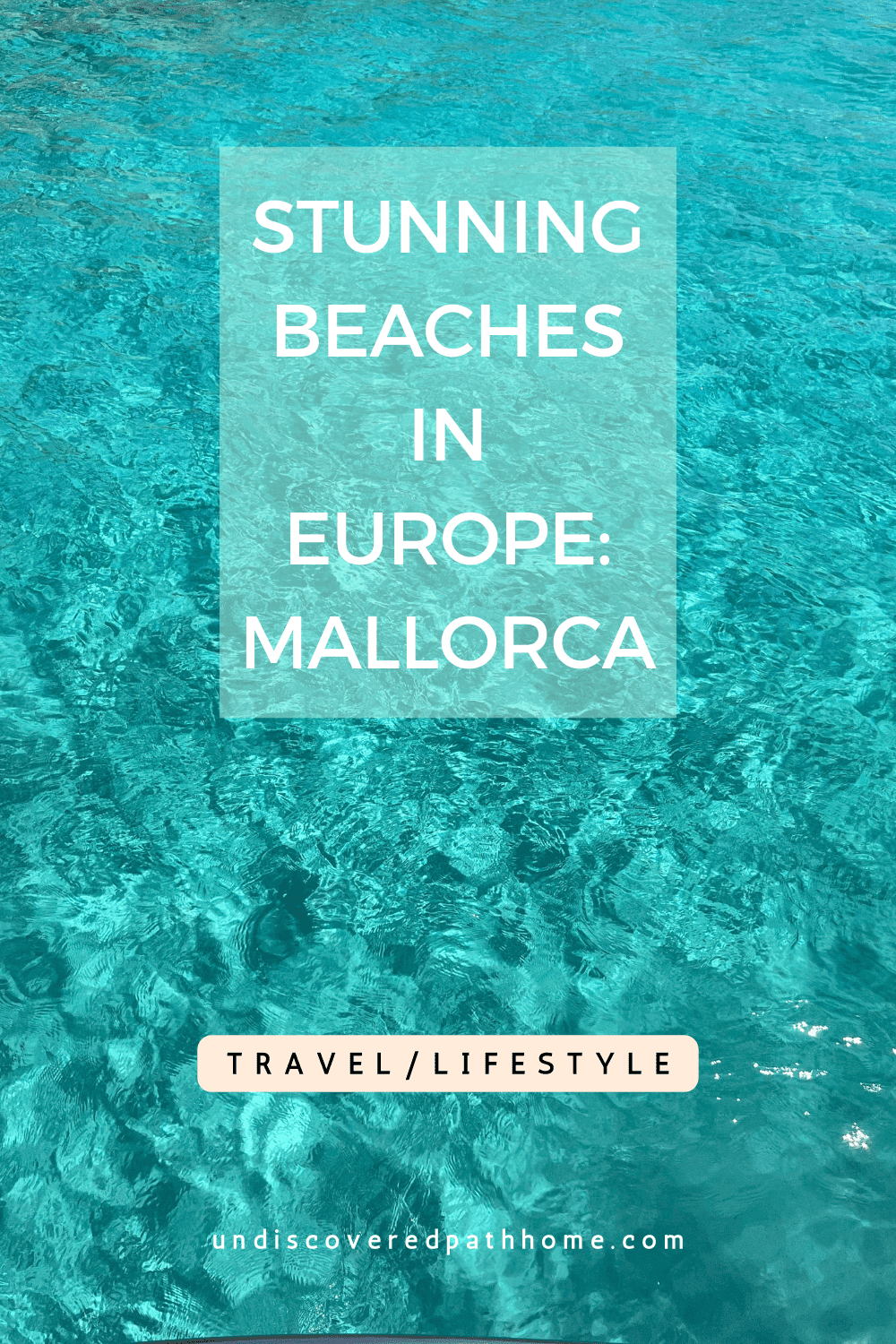 The eastern coast of Mallorca is home to some of the most beautiful beaches and beach hotels, and Cala Mondrago is no exception. Located in a nature reserve just southeast of Santanyí, this beach (also known as Sa Font de Nalis) is a great spot for beachgoers looking for a spot that is both easy to access and beautiful. High-rise hotels and villas haven't quite found their way to this section of the island, though the beach does offer a few amenities, from a beach bar to parasol rentals. You can park near the beach and walk five minutes down to the coast.
Be careful, though: because this beach is so accessible, it can get really crowded on weekends. If you are up for a hike and want something a little more secluded, consider hiking 500 meters to the nearby Cala S'Amarador. Even that small hike deters many beachgoers, and you'll be rewarded with equally beautiful views and fewer crowds.
3. Calo d'es Moro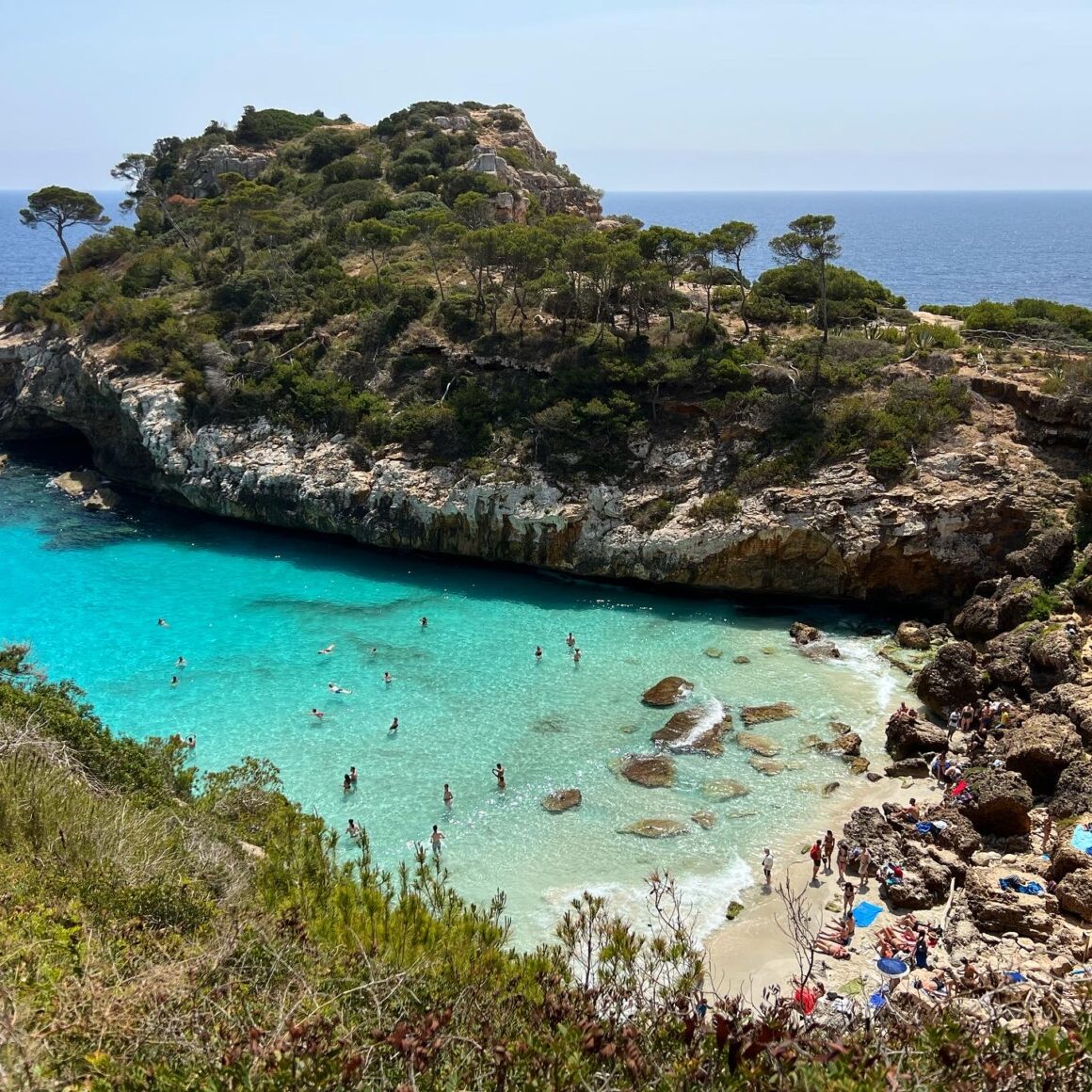 This not-so-hidden-secret was one of the most incredible beaches we visited in Mallorca. Calo d'es Moro is beautifully maintained by a private foundation, which owns and cares for the beach. This jaw-dropping beach requires a little bit of rocky hiking, and the route isn't always obvious (follow the crowds!). Once you reach the beach, you'll need to climb down steep rocks to reach the shore. Don't let the extra effort deter you.
This is hands-down one of the most beautiful beaches in Mallorca, though it can get quite crowded in the summer. Plan to arrive early to grab a little spot in the sand.
The best part? No cell service! You're completely off the grid, so to speak, and you can really take in the beautiful sights in Mallorca. If you find this beach too crowded, keep walking to Cala S'Almonia, another gorgeous beach nearby.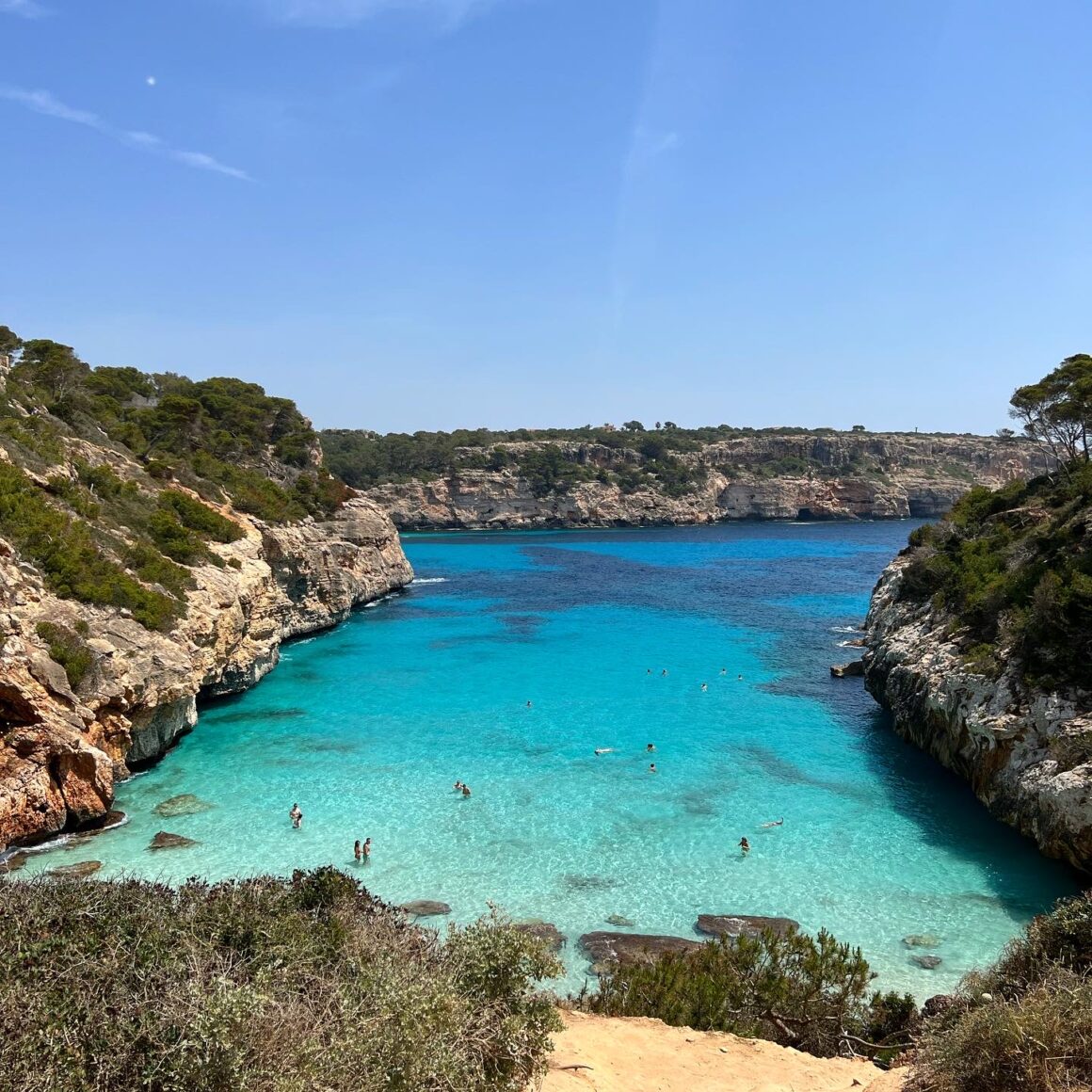 4. Es Trenc
Es Trenc is Mallorca's famous "virgin" beach. The beach has a storied history: in 2008, after three decades of protest, the stretch was saved from the threat of development. Es Trenc is truly rugged with no bathroom, showers, or other installations. That means bringing your own umbrella and towel, and of course any food and water. This gorgeous beach stretches between Colònia de Sant Jordi and Sa Ràpita. Es Trenc has untouched white sand and shallow waters that rival any Caribbean or Maldives beaches.
5. Cala Varques
Cala Varques has somehow escaped the same fate as other nearby beaches: development. This east coast beach is set among pine forests and herbs. You can easily access this beach by car, but it somehow still feels secret and tucked away. Once you park on the road, pass through a large metal gate and walk 15 minutes through the forest to the coast. Don't expect any fancy facilities. This beach has no sunbeds, no restrooms, no water sports…and no noise. The turquoise waters and tranquility make this one of the best beaches in Mallorca.
6. Cala Portals Nous
You'll find Cala Portals Nous close to the harbor Puerto Portals. This long, white sandy beach is popular with locals. You can rent umbrellas and chairs for your beach day, and the area even has showers. It's the perfect fit for families looking for a relaxing day on the coast. Nearby, you'll find nice restaurants close to the beach.
7. Cala Formentor
Cala Formentor is located on the wild Formentor peninsula, located on Mallorca's northern tip. This beach is one of several beautiful spots on the northern coast of Mallorca, which often have fewer tourists and more dramatic scenery. Of course, nothing on Mallorca is truly remote…but the easy (and spectacular) 10 kilometer drive along Ma-2210 is absolutely worth the trip. Along the way, you'll spot this little beach. Cala Formentor is a small little spot with a narrow strip of beach and crystal-clear water.
8. Cala Mesquida
The pristine Cala Mesquida is a longer stretch of beach on the north eastern part of the island. When you park, you'll see the sands stretching out ahead. Because of its northern location, rocky cliffs surround the beach. Fine white sands make this place perfect for a relaxing day out, and shallow waters stretch far out. The beach does have facilities for visitors, as well. It's honestly one of the most beautiful beaches in Mallorca and perfect for those looking to swim and float for hours.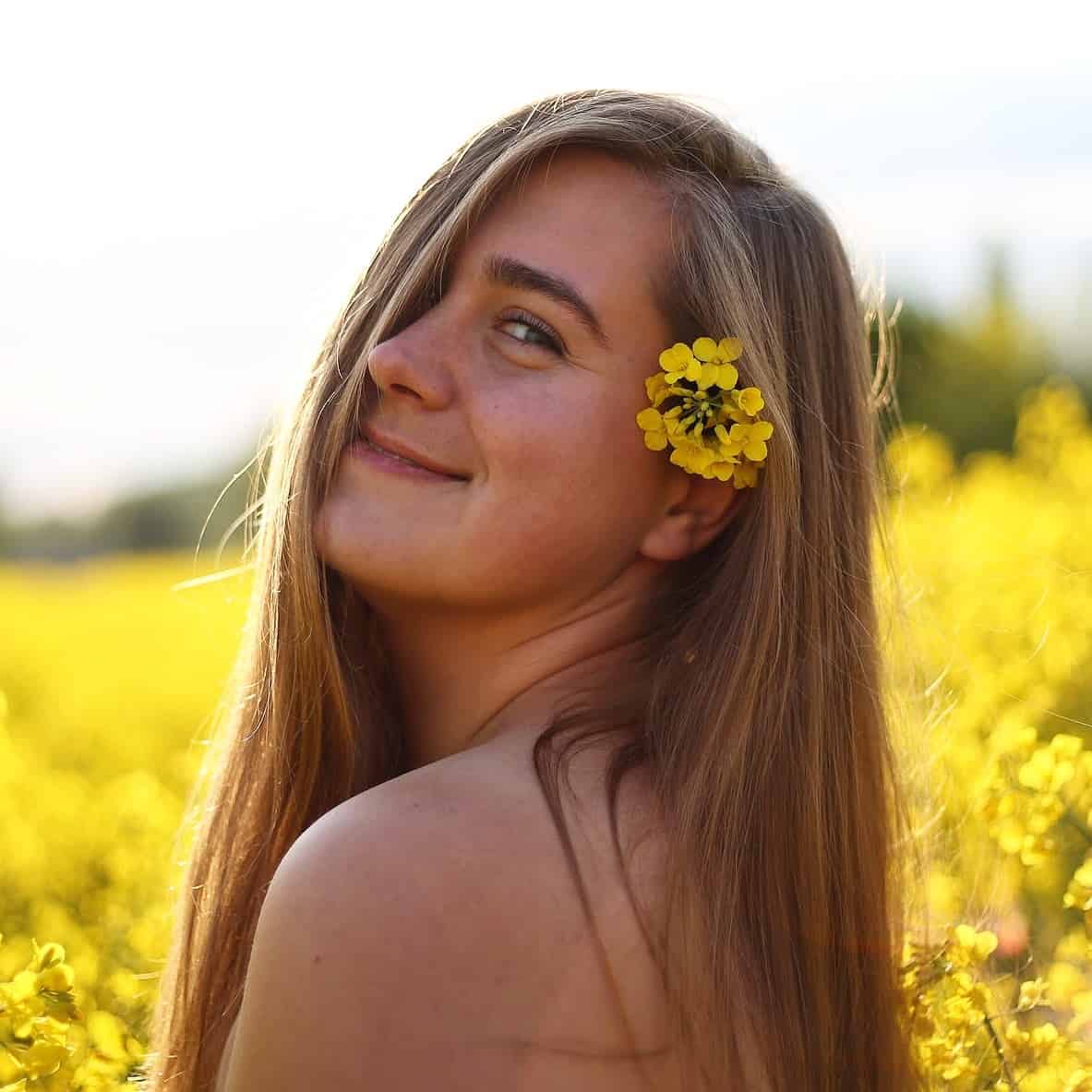 Samantha Tatro is a Czech-American third culture kid who grew up living and traveling abroad. Many years later, after living in California and working as a journalist, she decided to take the leap and move abroad again…this time to Prague, Czech Republic. Samantha started Undiscovered Path Home to help couples and solo female travelers find the courage to visit countries – and locations – off the beaten path. Her work has appeared in Bon Appetit, NBC News, The Adecco Group, and more.