There's nothing better than a meal that hits the spot…and also hits your budget. Budget travellers, students, and tourists are always looking for the best cheap eats in Prague. And there are many, many places to eat delicious, cheap food in Prague. In fact, the Czech capital might have some of the best cheap eats in Europe. Need I say more?
Looking for my COMPLETE list of the best restaurants in Prague and my favorite cheap eats, separated by cuisine? I got you! Get my Ultimate Foodie Guide to Prague right here with 70+ restaurant recommendations, from Czech food spots to trendy brunch spots to local cafes!
Before I keep going, let me just say: I don't think you should always eat cheap in Prague. Is it cheap to eat in Prague? Yes. Prague is known as one of those inexpensive destinations to visit, and the food is no exception – but that doesn't mean that everything is cheap. There are so many stellar, awesome restaurants in Prague that produce high quality, delicious, incredible food. You should try those places, too, especially if you have time to splurge.
That being said, I know that so many students and tourists are on a strict budget. Hey, I've been there too, many times. I don't always want to spend 800 CZK on a dinner, either. Sometimes, I just want to eat cheap in Prague. So that's why I've put together this list of my favorite cheap places to eat in Prague. They are tried, tested, true…and really, really good.
Disclosure: this article contains affiliate links, which means when you make a purchase, I will earn a small commission. Affiliate links cost you nothing and help keep my content free. It's a win-win! For more information, check out my disclosure policy here.
Best Cheap Eats in Prague
For those of you on a budget, don't worry. Prague has so many great places to eat on a budget — and my full list of the best cheap eats includes options that are affordable AND delicious.
Don't have time to visit all of these yourself? A lot of my followers ask me about foodie tours! If you want to explore Prague's best food in a tour setting , I always recommend booking this foodie tour for the full, off-the-beaten-path experience, which tackles some of the city's BEST food with the most knowledgeable tour guides, well-known Czech food bloggers who also provide context about the food.
Alright, without further ado, here are some of the best cheap eats in Prague!
Pro tip: Not sure what to pack for your Prague trip? Check out my full packing guide for Prague and Czech Republic here. It's filled with useful tips about weather, different region, a complete checklist for every season, and more!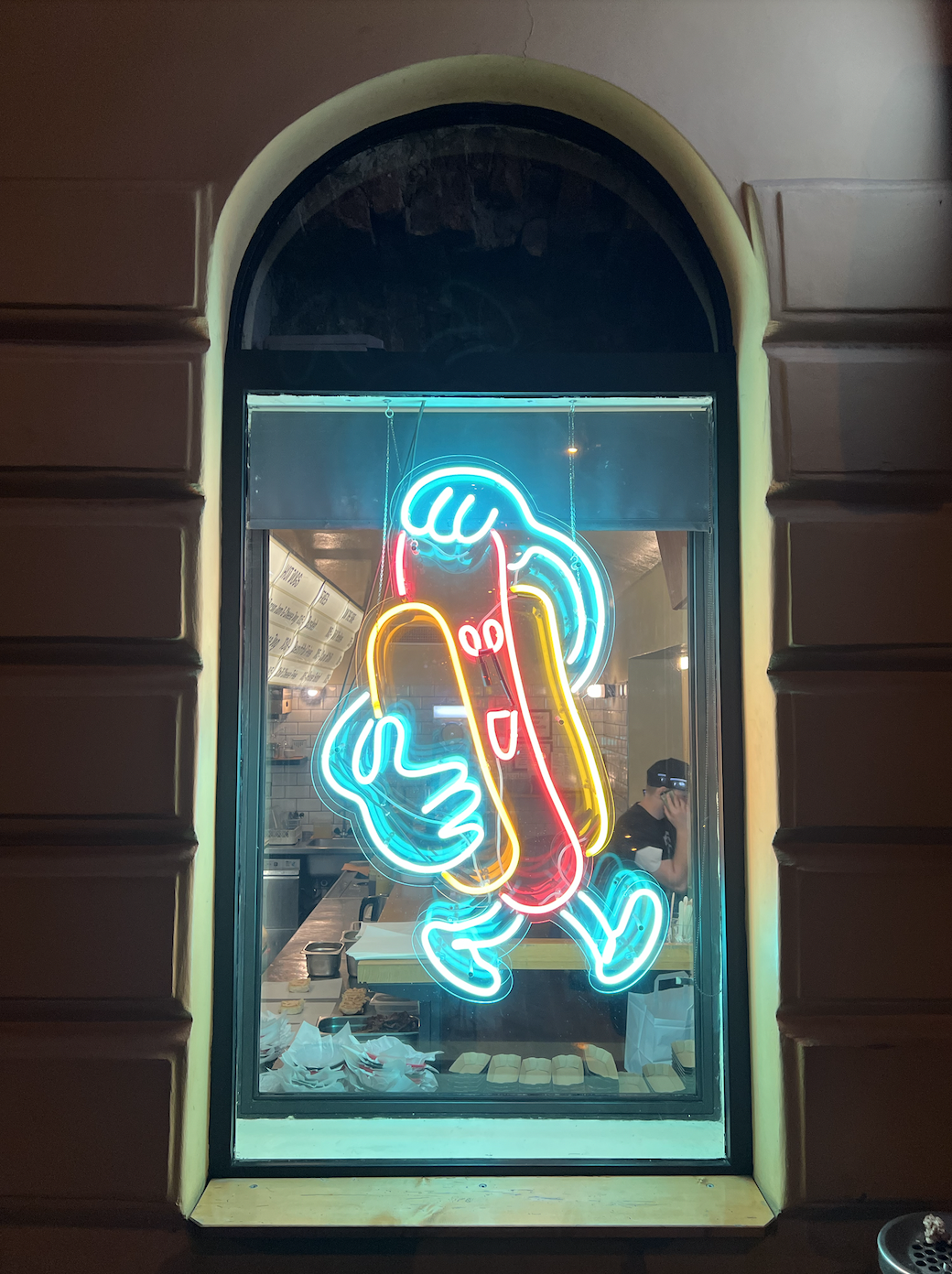 Mr. HotDoG, located in Holesovice, is one of those cute little neighborhood spots that serves up delicious food. I had this place flagged for years and only visited it for the first time recently. Mr. HotDoG has three types of food on their menu: hot dogs, fries, and burgers. I know what you're thinking… But this place is actually super good.
Think of this place as a Czech twist on American classics. Yes, they serve hot dogs, but they're not those gross, bland American hot dogs. They're tasty, flavorful Czech-style hot dogs. The same goes for the burgers. The burgers have such high quality meat and these fluffy, tasty buns. I'll just be honest: this is probably one of the best cheap eats in Prague that serves up comfort food.
Looking for something tasty yet affordable? Order the swiss and kraut loaded hot dog for just 129 CZK, or $5.50 USD or the bacon cheese slider for 119 CZK, or $5 USD. You won't be disappointed with these adorable eats!
When you walk into Zlatý kríz, you might feel like going back in time. This deli has an old, Communist feel to it. But don't let it put you off. This place is an institution with some of the most traditional Czech treats, including none other than… drumroll please…the chlebícek, an open-faced sandwich that Czechs use to celebrate special occasions.
Don't knock it before you try it. Chlebícek are often made with a variety of ingredients, like potato salad, boiled eggs, sliced cold cuts, and more. They might sound terrible, but they're honestly super delicious, and one of my favorite snacks. This one at Zlatý kríz is hard to beat, both in value and in taste. Grab a few in a box (they won't cost you much, either, so you can plan on eating 2 or 3). You can take them to a nearby park to eat, or simply scarf them down right outside. Either way, no one is judging you.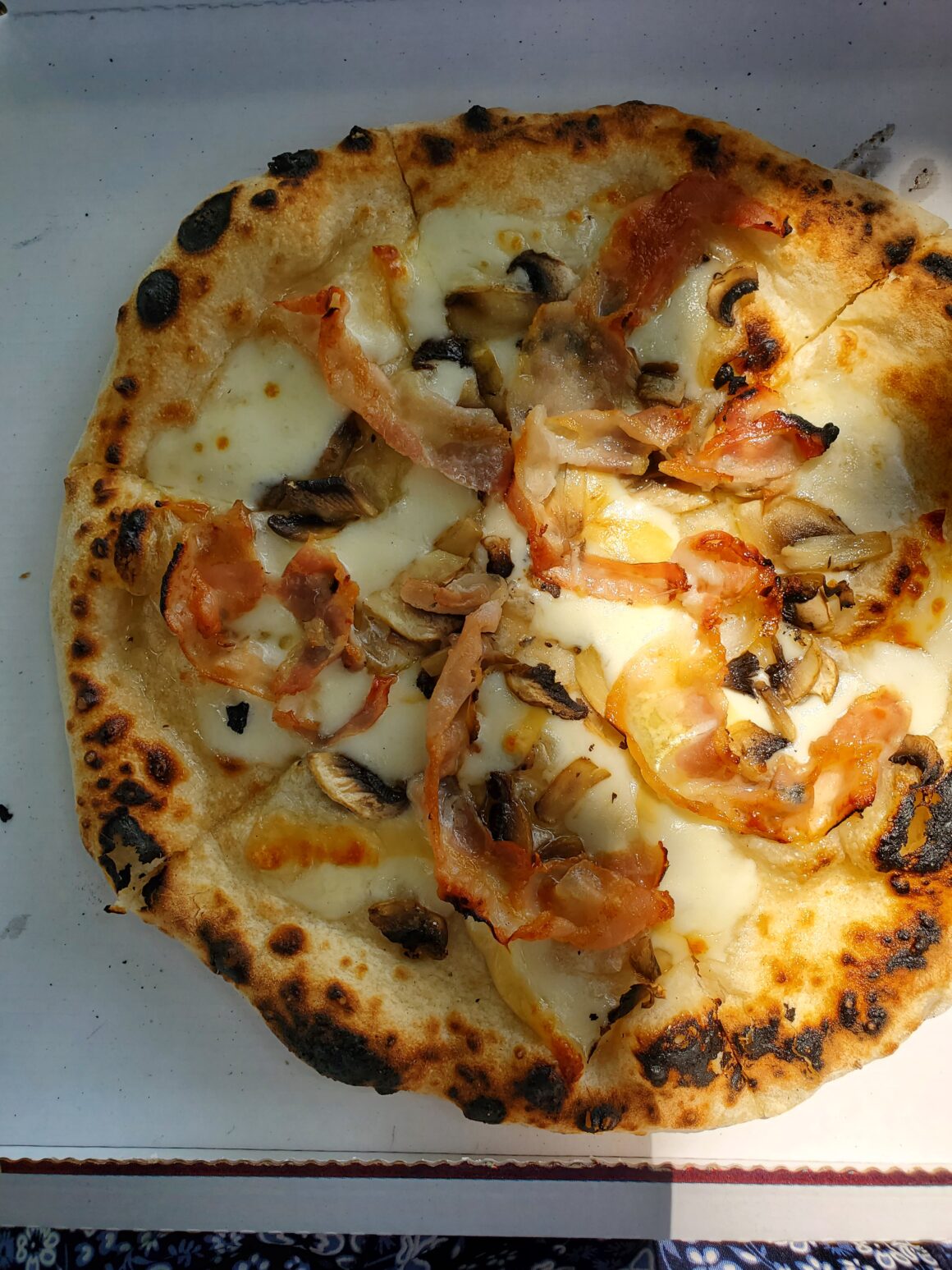 If you love pizza, then this one's for you. Le Pizze di Frankie is a tiny little gem I discovered shortly after I moved to Prague. It is, hands down, the best Neapolitan pizza you can get in Prague. And it is freaking UNREAL.
Le Pizze di Franki has two locations: one tiny little stall behind the Kotva Department Store, and a bigger location in Nusle, near Vrsovice. I've been to both, and I've loved both. What really sets this place apart is their high quality ingredients and fluffy, flavorful dough.
Though they do offer more elaborate pizzas, pick the simple-yet-amazing margherita pizza for your budget. For just 165 CZK, or approximately $7, you'll eat one of the best pizzas of your life.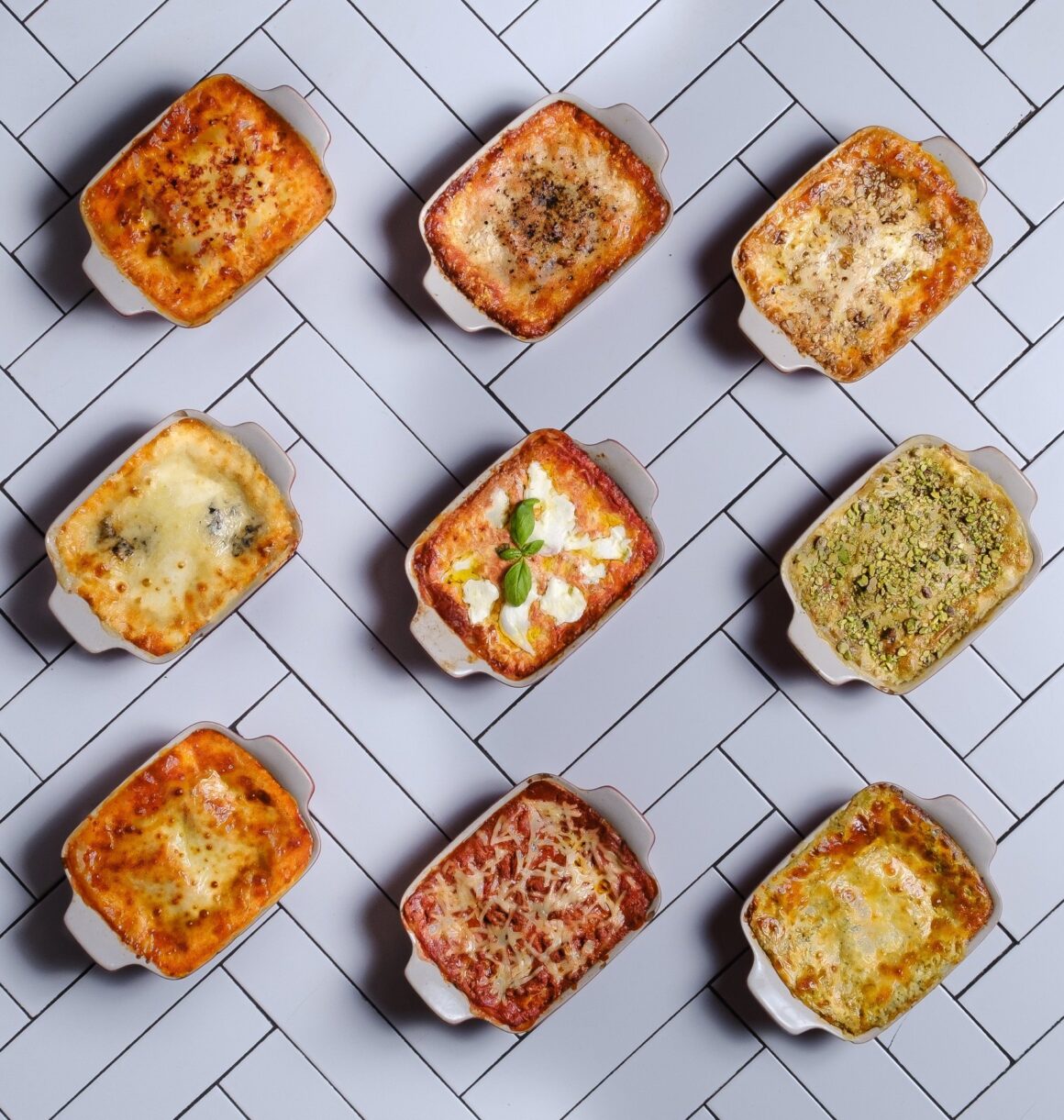 Who doesn't love a good lasagna? Lasagneria, located in Vinohrady, has a singular focus: making some amazing lasagna. Their narrow menu has a variety of different lasagna choices available, but for budget eaters, pick the pesto lasagna. At just 169 CZK, or $7,50, you'll get a big, heaping slice of lasagna served in its own little ramekin. Their pesto is just so, so good. Can you blame me for coming back for more?
One of my favorite parts of living in Czech Republic: the jidelnas. For those of you that have never visited, you absolutely must stop at one jidelna (and this one is quite good!). In Czech Republic, many lunch meals have traditionally been made as pre-prepared menus. The restaurant might have 5 – 10 meals listed on a chalkboard, and once they run out, the meal is struck from the menu. That's the concept of a jidelna, which traditionally cooks for lower income workers, students, and anyone looking for a cheap meal.
You will be shocked at what delicious food Lidová jídelna Tesnov (which translates as People's Canteen at Tesnov) makes for such low prices.
Expect self service, large trays, a big menu, and communal tables. But don't let this turn you off. You may have to wait in line a little on the street, but this place has a narrow focus, and they do it well. The food is good, great, even, and people are kind and welcoming. You won't spend more than $5 – $10 USD for an amazing amount of food, guaranteed.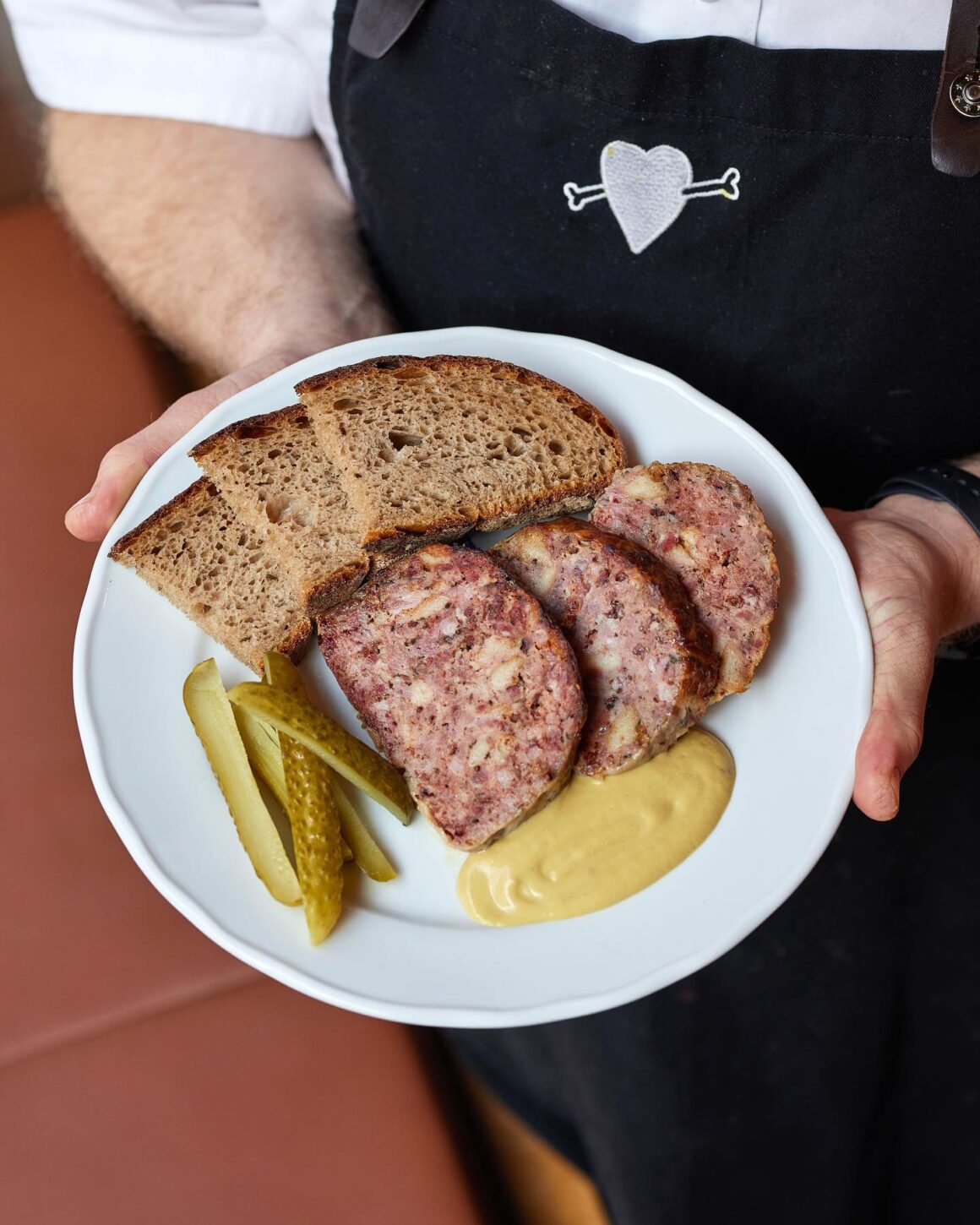 This little spot has a special place in my heart. Naše maso has to be one of my favorite places in all of Prague. Translated as "Our Meat," Naše maso is a popular local butcher in Prague, though at this point, tourists have discovered it, too. If you're stopping by during peak hours, expect to find a line out front (but don't worry, it moves super fast!).
No matter what you order at Naše maso, you just won't be disappointed. I've had a variety of their sandwiches and little bites, and I literally always walk away thinking, THAT WAS AMAZING.
For those looking for good cheap places to eat in Prague, you can't miss Naše maso. The best value here for cheap eats is a two-way tie: their warm meatloaf (let me explain!) or their grilled sausages (of which there are many). The warm meatloaf comes with bread and mustard or as a sandwich on a bun. Whichever option you chose, just know that you'll walk away thinking, "Can Meatloaf really be THAT good?" For 145 CZK, or $6 USD, you won't be disappointed. Similarly with their grilled sausages, which are too varied to pick just one, you'll walk away with such a feeling of contentment. And that's why I just LOVE this place.
7. Paprika (multiple locations)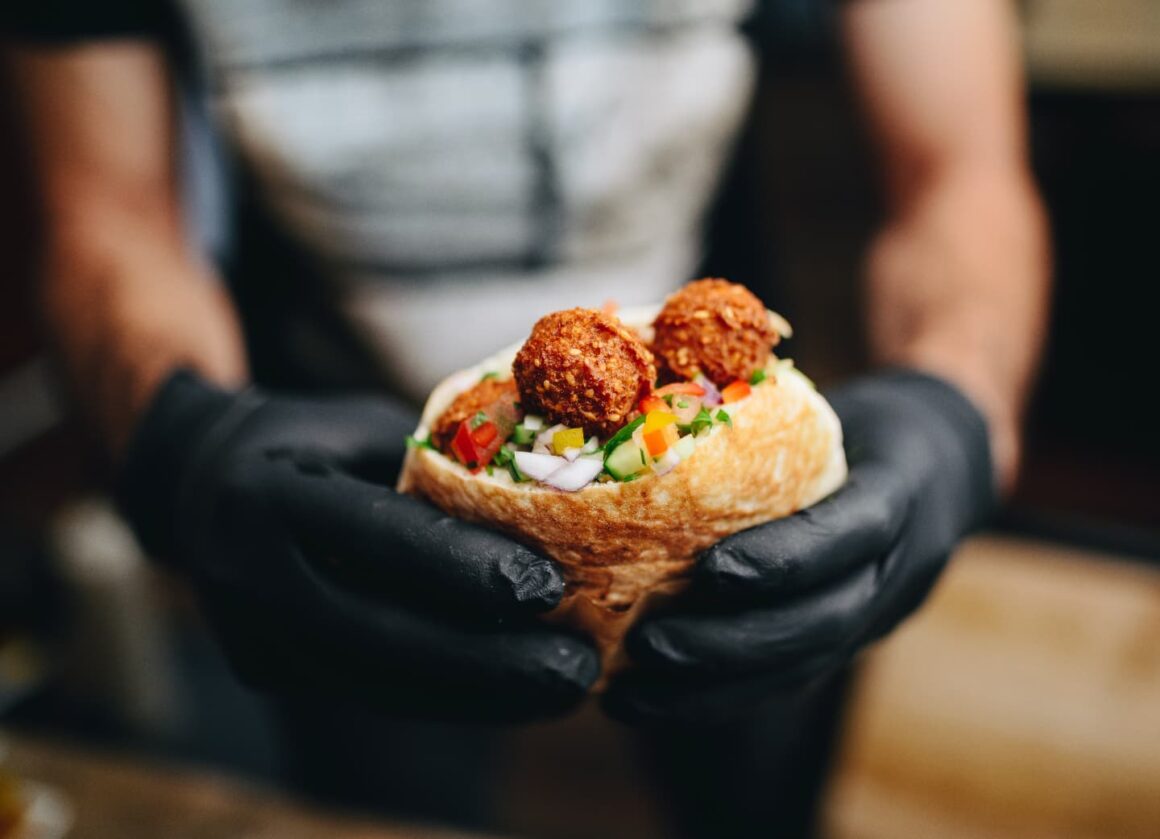 The Mediterranean bistro Paprika is one of the best deals in town! This bistro has long been one of my favorites when I'm craving some really delicious food, but don't really want to spend an arm and a leg. Paprika has two locations: Andel and Vinohrady.
I have tried more than a few things on their menu, and I have plenty of favorites. But I think the best budget bytes are their falafel sandwich (just 135 CZK, or $6 USD, and SUPER filling) and their hummus and falafel plate (189 CZK, or $8.50 USD approximately). Their hummus plates come loaded with way more hummus than you can eat, homemade pita bread, and of course falafel. You can't be disappointed here.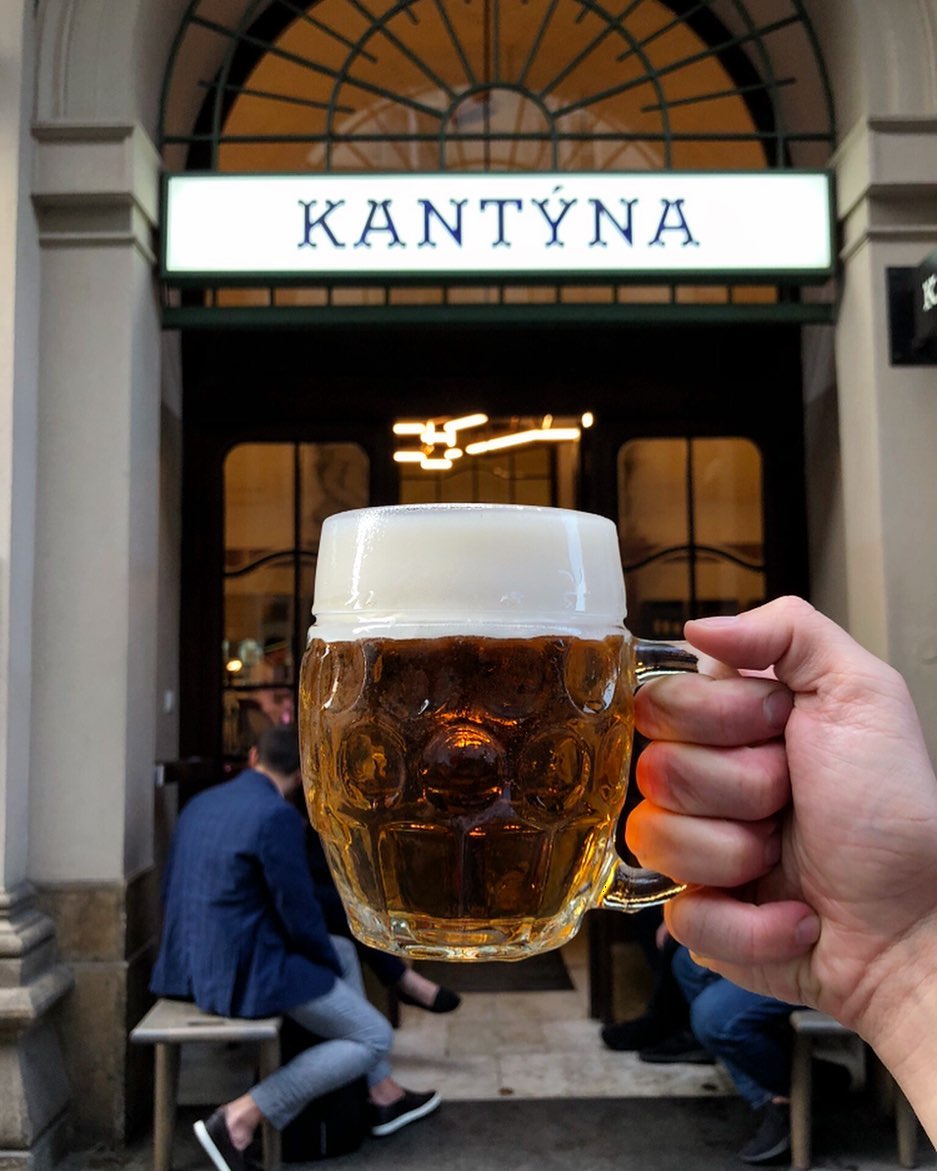 The restaurant slash butcher Kantýna, located in Prague's Old Town, is by far one of the best places to get a mean sandwich. It's also a local favorite (we go here every few months!) because it offers what Czechs love most: meat and beer.
Don't be fooled: not everything at Kantýna is cheap. In fact, the burger runs around $10 USD, a steep price for many locals. But some of the items on their menu are an absolute bargain for those looking for delicious, budget-friendly food. Their food consistently ranks as one of the best cheap eats in Prague for a reason!
What should you get? You can get an absolutely killer soup (think: potato soup, Goulas, beef broth with liver dumplings) for around $4 USD maximum. But if you're willing to splurge, consider their pastrami sandwich, which runs around $10 USD and is honestly so, so good… you just won't regret it.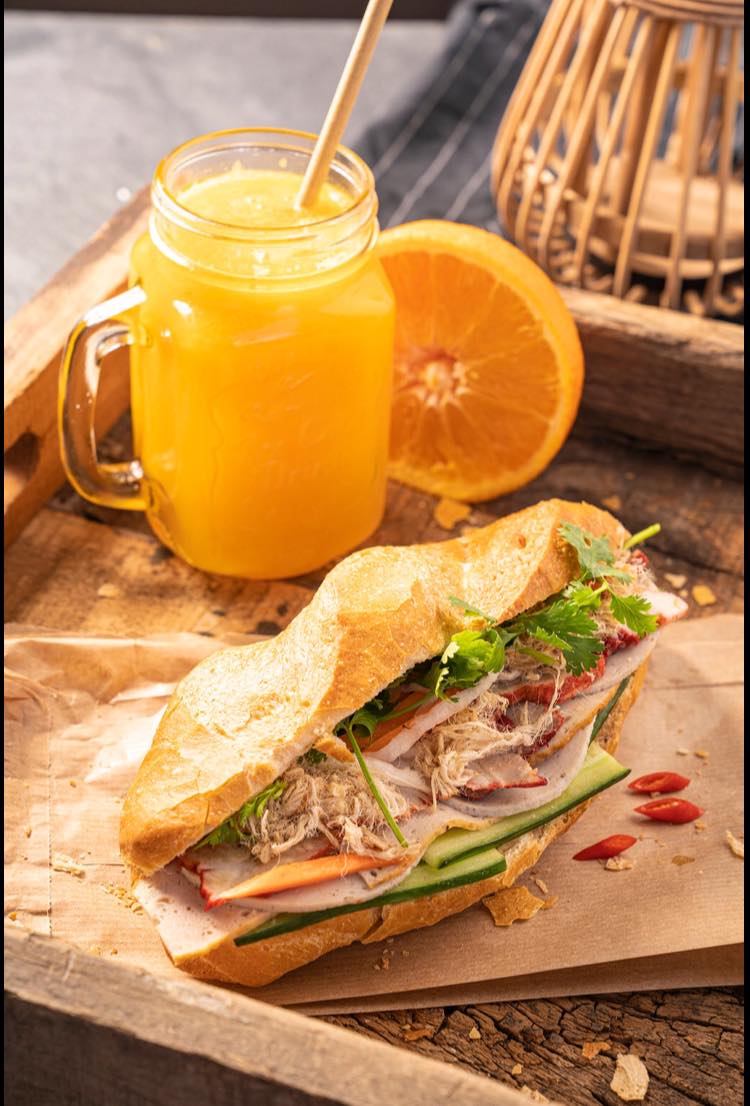 If you want truly affordable food that's totally worth the trip, you need to head outside of Prague. Did you know that the Czech Republic is home to one of the largest Vietnamese communities outside of Vietnam? At SAPA Praha, you can find the most authentic Vietnamese food at a fraction of the cost. This warehouse complex on the outskirts of Prague is home to countless delicious restaurants – both street-food-style and sit-down spots – and budget bytes.
Be warned: SAPA will seem overwhelming when you enter. You'll notice a lot of vans, confusing traffic, and big stores. But if you want to eat cheap in Prague, this place will not let you down. Walk further into the complex, and you'll find some hidden gems.
Some of my favorite restaurants here include Dung Lien restaurant for their Bún cha, a small stand next to the popular Hai Ha for Banh Cuon, or HALO Bahn Mi for – what else! – their Bahn Mi sandwiches. I can comfortably say that the banh mis at HALO are out of this WORLD, and the loaded sandwich only costs around 120 CZK ($5 USD) with a coffee! Feel free to thank me after you visit.
Okay, okay, I know how it sounds. South American food in Prague? Your gut reaction ("ummmm") is totally spot on. Normally, I stick to my mantra of "I had the best Central/South American food outside of Mexico when I lived in San Diego, and nothing can top that."
But these Venezuelan arepas at this Vinohrady spot are both cute, tasty, and budget friendly, all at once. It's an affordable option in an otherwise pretty expensive area.
The cost? Well, the most expensive options on the menu cost around 200 CZK, or $8 USD. If you're not into the arepas, this place is also home to some great empanadas and their soup only runs 80 CZK, or $3!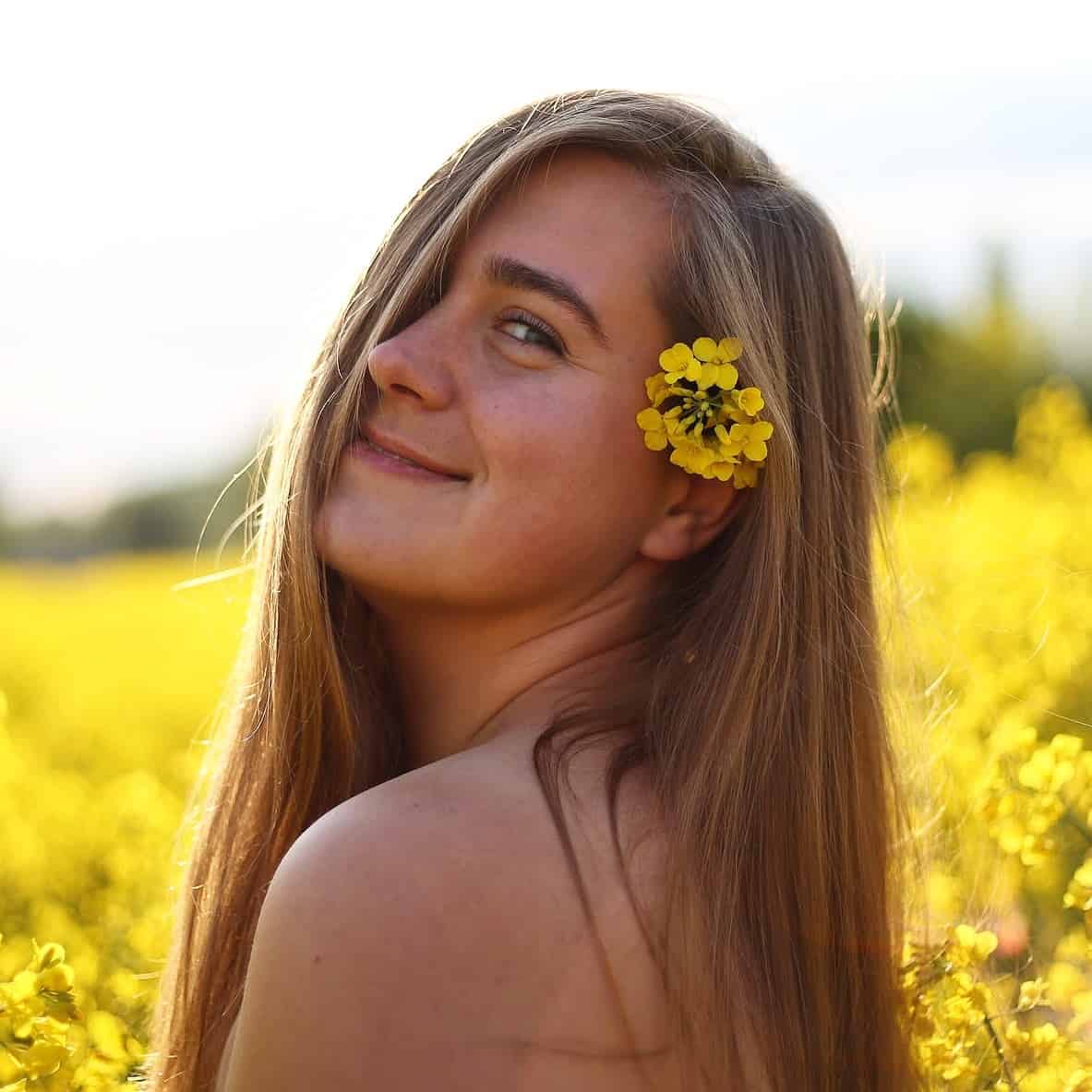 Samantha Tatro is a Czech-American third culture kid who grew up living and traveling abroad. Many years later, after living in California and working as a journalist, she decided to take the leap and move abroad again…this time to Prague, Czech Republic. Samantha started Undiscovered Path Home to help couples and solo female travelers find the courage to visit countries – and locations – off the beaten path. Her work has appeared in Bon Appetit, NBC News, The Adecco Group, and more.