Czech Republic is home to more than 2,000 castles. The country actually holds the record for the highest density of castles per capita in the world. If you opt to rent a car and drive through the rolling Czech countryside, you're in for a treat. Dreamy white castles nestled on a hill, impenetrable fortresses towering above rivers, and summer palaces on acres of manicured parks…Czech Republic truly has a castle for every fit and fancy. Have I convinced you to plan a road trip to visit the most breathtaking Czech castles yet? This is my comprehensive list of the best castles in Czech Republic as a local living in the countryside.
Disclosure: this article contains affiliate links, which means when you make a purchase, I will earn a small commission. Affiliate links cost you nothing and help keep my content free. It's a win-win! For more information, check out my disclosure policy here.
The Most Beautiful Czech Castles
After years and years of flagging every little hidden gem… This is my all-time, best-ever list of the most beautiful and the most breathtaking Czech castles. It's by no means a complete list of my favorite Czech castles, but it does include the absolute cannot-miss Czech castles.
Full disclosure: you can visit some of these castles by bus, train or private tours, but renting a car is often the best option in Czech Republic. That's because public transit doesn't run very late or very often in the Czech countryside. I always use RentalCars.com because they offer free cancellation on most bookings, so worst case, if I change my mind, I cancel. Plus, their customer support is excellent!
Pro tip: Not sure what to pack for your castle day trip? Check out my full packing guide for Prague and Czech Republic here. It's filled with useful tips about weather, different region, a complete checklist for every season, and more!
1. Karlštejn Castle
Let's start off with one of the easiest castles to visit on a day trip from Prague. Karlštejn Castle is located 30 kilometers southwest of Prague, and it's one of the most popular castles in the country. It was first founded by Czech ruler and Roman emperor Charles IV as a place to store his treasures, including holy relics from the Holy Roman Empire and royal gems. In addition to the fortress-like castle, you can walk around the beautiful castle grounds. This is especially serene in fall, when the leaves all turn.
Visiting tip: You can reach Karlštejn by public transit, but it requires some walking. Likewise, booking a tour can be a great way to get there more directly and have a guide to explain the history and significance. This tour is an awesome choice — it's a small group and visits nearby castles, as well. Likewise, you can opt for a traditional Czech experience: biking to the castle! Czechs love to bike, and this tour is the freaking best! There's also an e-bike option, too!
2. Hluboká nad Vltavou Castle
Looking for the dreamiest castle in the country? Zamek Hluboká nad Vltavou is one of my favorite castles in Czech Republic, and it also happens to be the most romantic and breathtaking. Hluboká nad Vltavou has more than 100 luxurious, brightened rooms and 11 great towers. My favorite parts are the castle grounds and the greenhouse-like structure next to the castle. Inside, the castle houses painted Chinese vases from the 18th century as well as other pristine gems. The neo-Gothic structure is absolutely a standout among Czech castles.
Tour tip: It can be a bit tricky to reach this town with public transit — it's out of the way. This tour combines the Hluboka with one of my other favorite castles on this list, Cervena Lhota, which is a great option for anyone who doesn't want to rent a car and drive through windy roads.
3. Konopiště Castle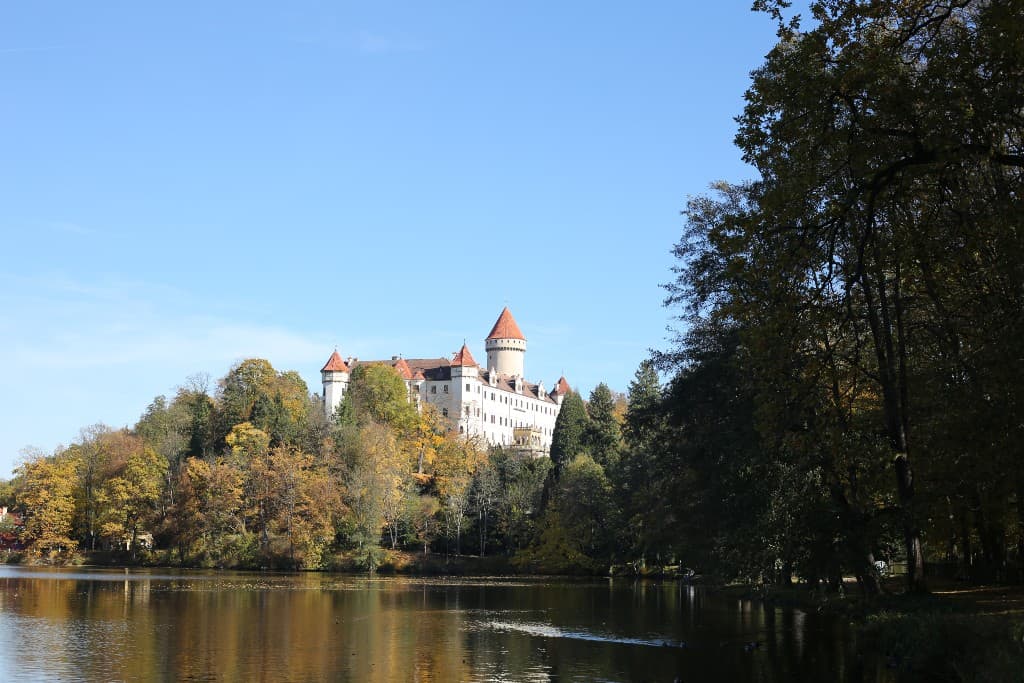 Konopiště Castle holds a special place in my heart. The romantic Konopiště Castle, located just south of Prague, is one of the most beautiful castles to visit in the Czech Republic. Known to many as the Franz Ferdinand Castle, this chateau was once home to Austrian Archduke and Heir to the throne, Franz Ferdinand d'Este.
This beautiful Czech castle is hands down one of the most breathtaking spots in the countryside, and makes for a simple day trip from Prague. If you're planning a trip to Konopiště Castle, make sure to plan time to explore the sprawling castle grounds, too.
Tour tip: I personally love this tour because Lucy is really well educated on the castle — you spend a lot of time exploring the Castle!
4. Lednice Castle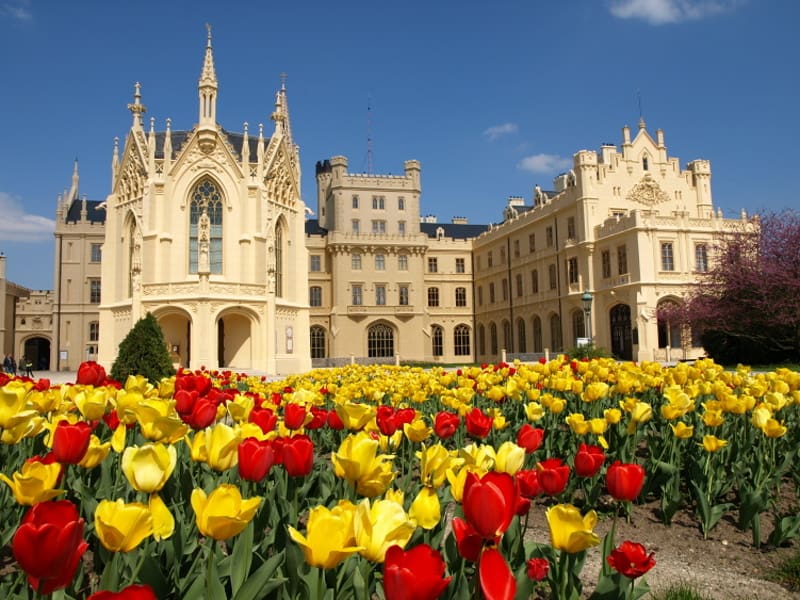 Lednice Castle is simply one of the most breathtaking castles in Czech Republic, and one of the most beautiful castles in Europe. This neo-Gothic structure is located in South Moravia, near the Austrian and Slovakian borders, and is a UNESCO World Heritage site. When you visit, be sure to explore the greenhouses, pond, and tall minaret in addition to the lavish castle interiors.
Tour tip: This castle is GORGEOUS, but it's really tough to get here without a car (that's why. sometimes, it's best to rent a car or opt for a tour). If you book one of my favorite tours, you can combine a castle visit with a visit to Czech Republic's underrated wine region. You can check it out here.
5. Nové Město nad Metují Castle
The small chateau Nové Město nad Metují lies in Northern Bohemia in the picturesque town of Nové Město nad Metují. The once-dilapidated baroque chateau was reconstructed at the start of the 20th century. The iconic bridge was designed by architect Dušan Jurkovič, the same architect responsible for the Moravian Pustevny. You'll love the castle, of course, but you'll love the sculptures of gnomes even more. These sculptures are caricatures of the lord and the servants.
6. Bouzov Castle
Tucked away near Olomouc, Bouzov Castle is a medieval structure built at the end of the 13th century. The castle underwent vast reconstruction at the end of the 19th century and emerged a romantic residence complete with a drawbridge, battlements, bay windows, and more. This stunning castle is a beautiful addition to any Czech castle trip. Plus, it's been used in filming in Czech films as well as Netflix's The Letter for the King.
7. Orlík Castle
Perched above the Vltava River, Orlík Castle is located right between South and Central Bohemia. This little castle is surrounded by the Orlík water reservoir and endless forest in some of the country's most beautiful landscapes.
This early Gothic castle was once used as a customs office to collect fees for river use, but later acquired by the House of Schwarzenberg. The family converted it into a castle.
8. State Castle and Chateau Český Krumlov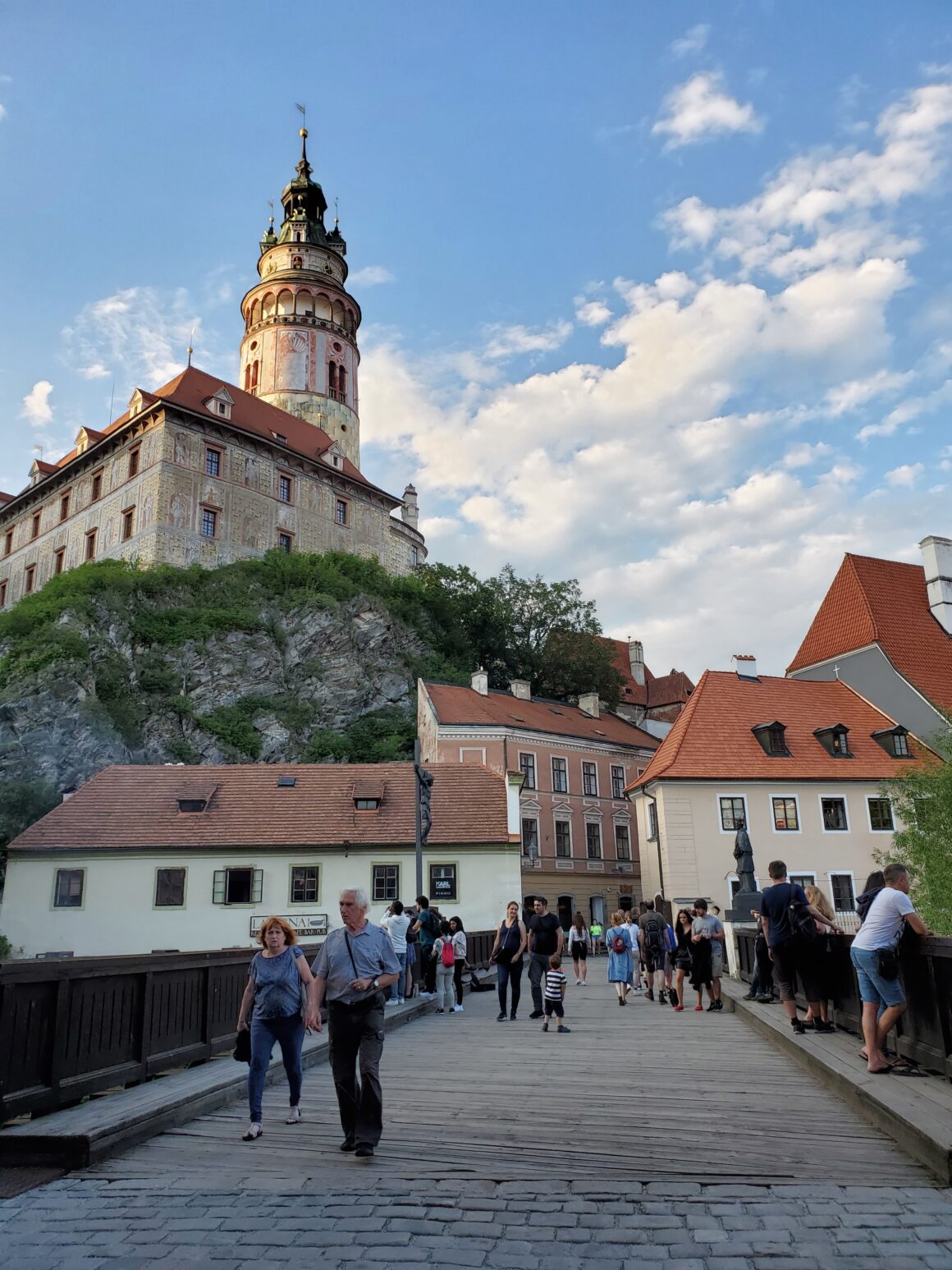 The Český Krumlov castle is a sight to behold, towering above the small fairytale town in Southern Bohemia. This UNESCO site and gothic mansion is actually 40 structures with a park spread over seven hectares. Just look at the view from high above!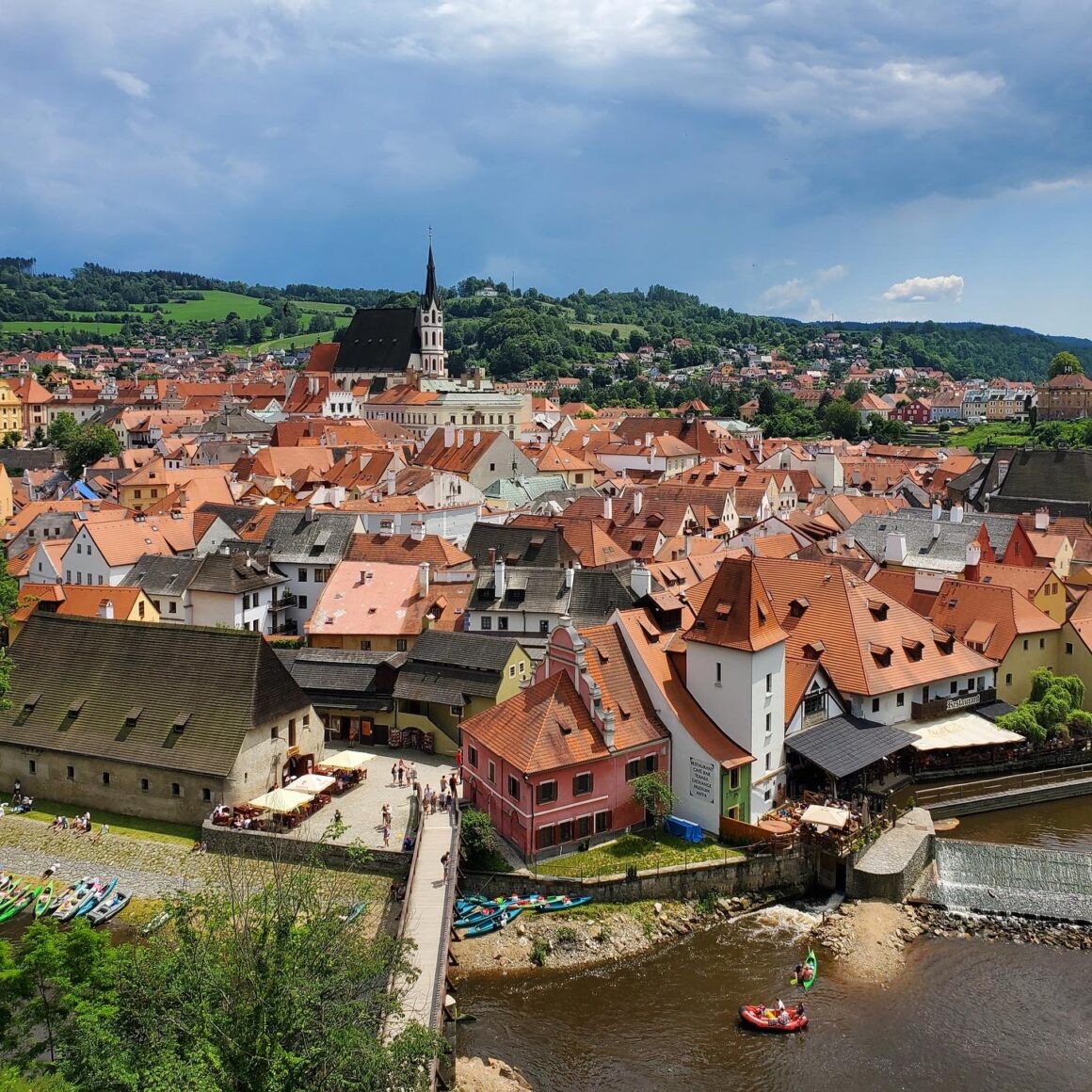 You'll fall in love with the views from the castle alone, which provide a beautiful vantage point high on the hill. The castle gardens draw visitors from all over who come to admire their hedges and flower gardens.
Tour tip: If you're looking to visit, I always recommend this tour. It's a little more expensive, but if you can swing it, taking a private tour to this fairytale town makes a lot of sense. You can beat the tour buses and arrange your own hours — allowing you to see the city when it is not so busy.
9. Červená Lhota Castle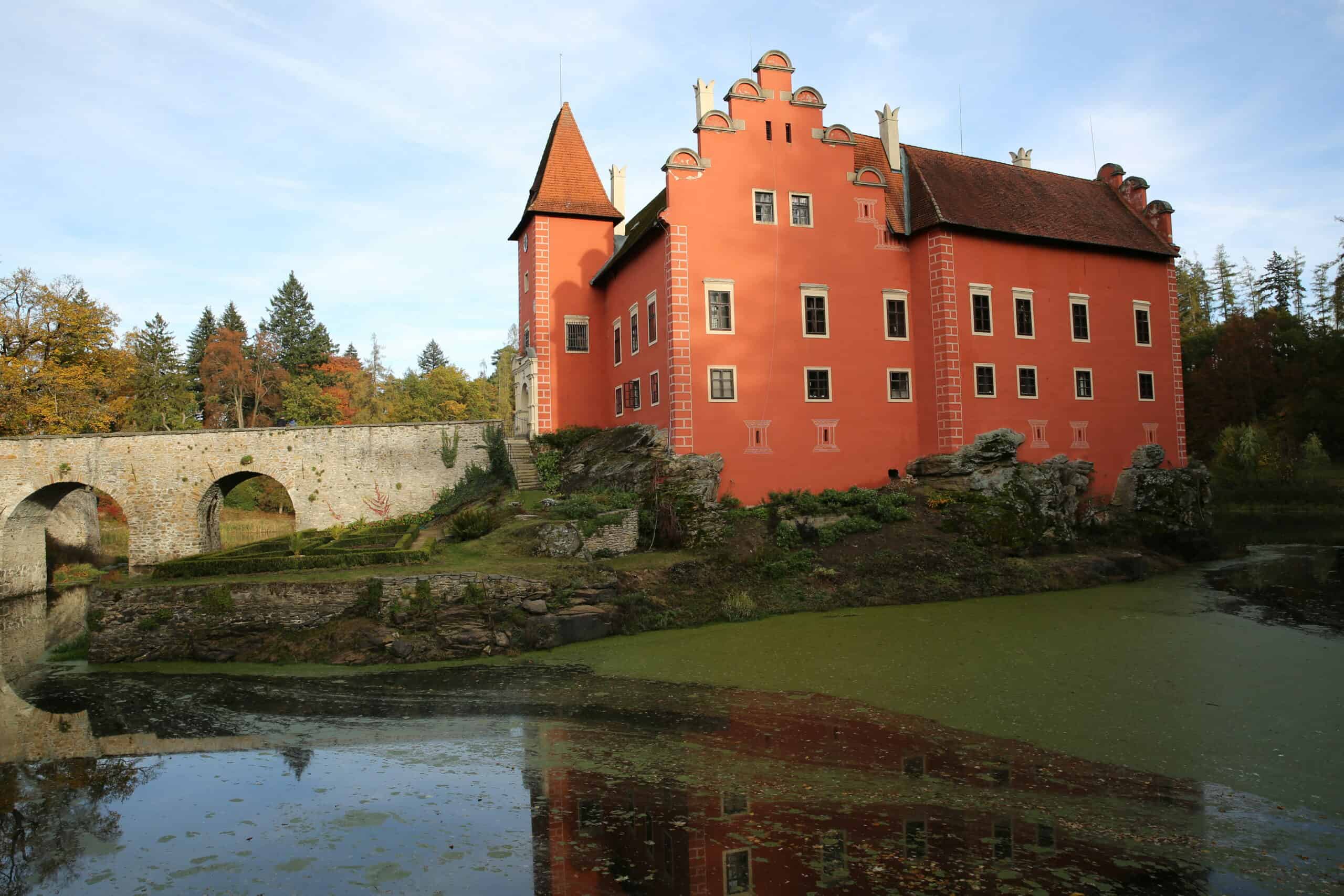 What list of the most beautiful Czech castles is complete without Červená Lhota Castle? This fairytale castle is so romantic, it actually served as the scene for numerous Czech movies, including the famous Zlatovlaska. The exterior of the castle alone is worth a visit, but don't miss the interior, either: it's pristine and well-maintained and features a unique look into a day-in-the-life of the former residents.
Tour tip: This tour combines the this castle with Hluboka, which is a great option for anyone who doesn't want to rent a car and drive through windy roads.
Liked this blog? Pin it and save it for later!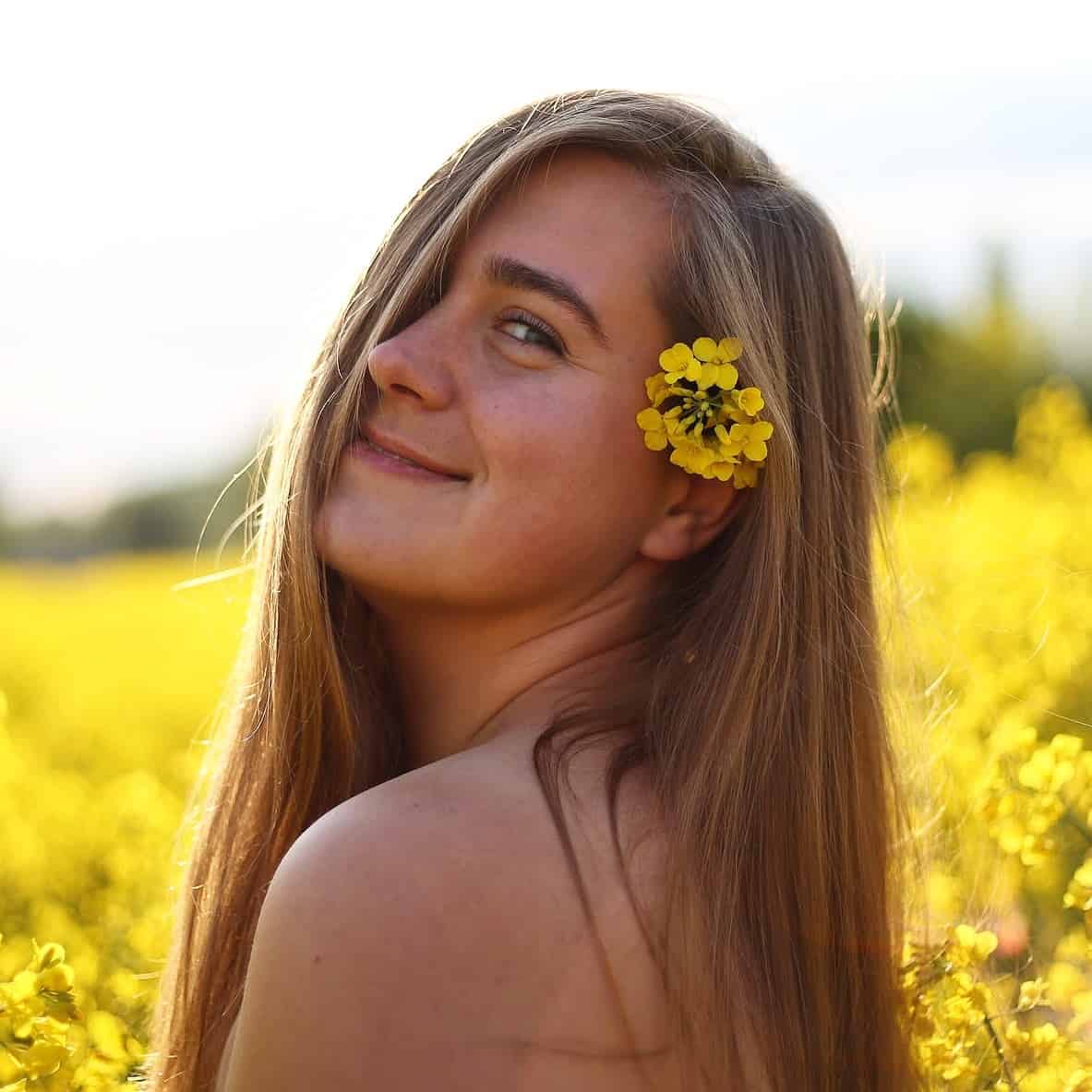 Samantha Tatro is a Czech-American third culture kid who grew up living and traveling abroad. Many years later, after living in California and working as a journalist, she decided to take the leap and move abroad again…this time to Prague, Czech Republic. Samantha started Undiscovered Path Home to help couples and solo female travelers find the courage to visit countries – and locations – off the beaten path. Her work has appeared in Bon Appetit, NBC News, The Adecco Group, and more.