If you're planning a trip to Prague and have a few extra days on the itinerary, why not explore nearby Prague attractions? I love Prague with all my heart (you know that), but it's a little bit of a bubble. If you have time to leave Prague, there are a couple day trips from Prague that are 100% worth the trip. Prague makes for a great base to explore the nearby countryside – especially if you plan to take public transit.
There is so, so much to do in Prague, but without visiting the rest of the Czech Republic, you're missing out on all the wonderful sights that the country has to offer. Czech Republic has countless cute towns, romantic castles, rolling fields, peaks and valleys…the list goes on.
What are my qualifying factors for the best day trips from Prague with public transit? Well, firstly, you need to be able to access the spot by public transit. And second, the spot needs to offer great value. Most people only have a few days in Prague, and they don't have enough time to see the small tiny spots (that's for another list, and a longer trip). This list focuses on some of the most beautiful day trips from Prague that you just can't miss.
Best Day Trips from Prague by Public Transit
If you're not planning to rent a car, these are some of the most beautiful spots around Czech Republic that you cannot miss – accessible by bus or train. Without further ado, my favorite day trips from Prague.
1. Konopiště Castle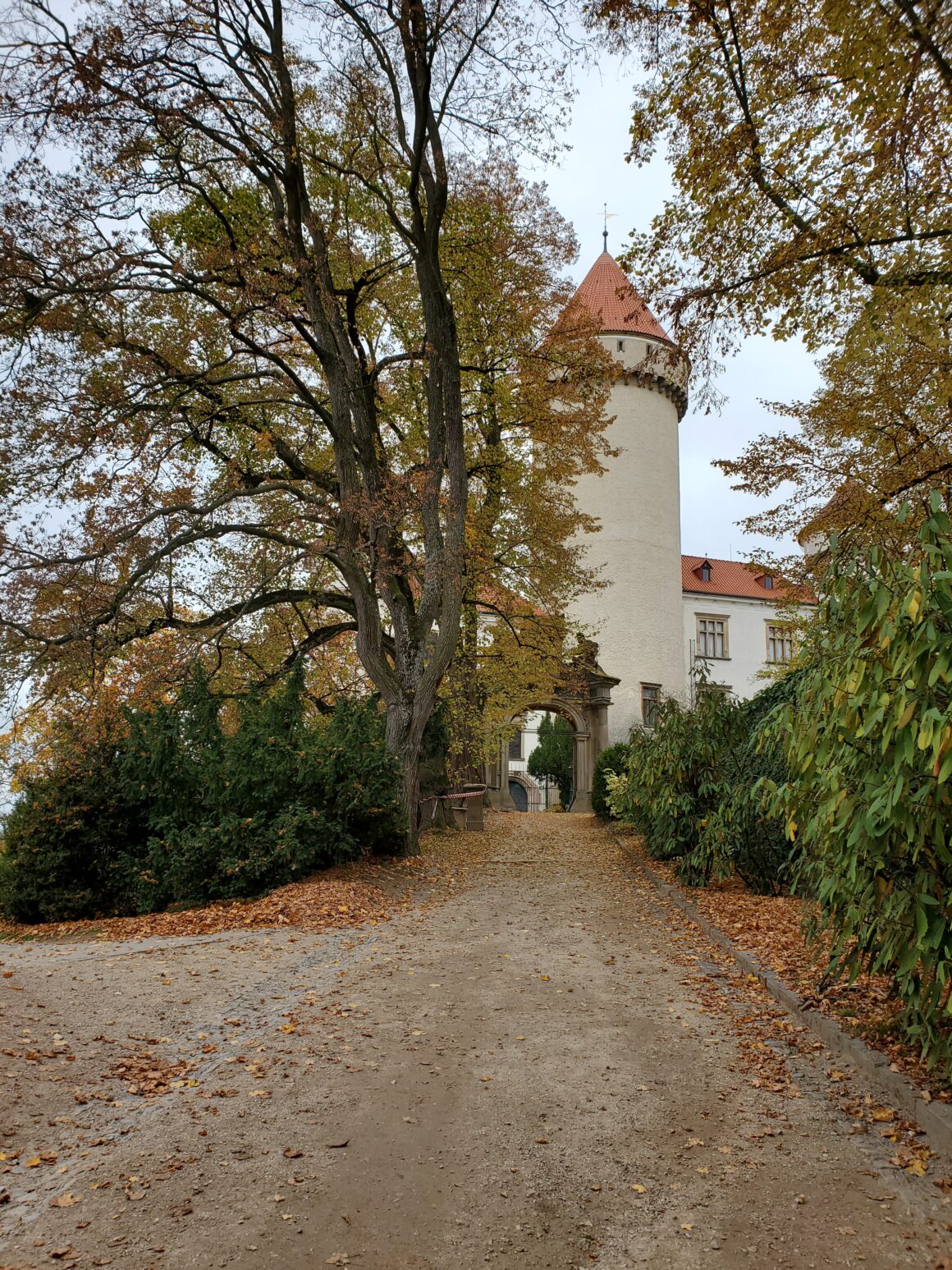 Okay, okay, so I may be biased here, but Konopiště Castle is by far one of the most beautiful day trips from Prague – and it's super easy with the train! I grew up visiting Konopiště every year and I now live nearby, so this place is near and dear to my heart. But aside from the emotional attachment, I always recommend people visit this beautiful little spot if they have a little extra time.
This impressive castle was the residence of Austrian Archduke Franz Ferdinand d'Este, heir to the Austrian throne and one of the most iconic figures of the 20th century. The Archduke hated court life in Vienna so much that he chose to spend most of his time in Czech Republic with his Czech wife, Sophie.
If you do plan to visit, you can opt to take a guided tour through the interior of the castle. You will see the family rooms as well as the many, many hunting-related artifacts the Archduke left behind. However, if guided tours aren't your thing, you can still tour the chateau gardens (the Rose Garden with its amazing peacocks is my favorite), walk around the lake, and tour the former hunting grounds. Another bonus: the Stará Myslivna restaurant down the hill offers some delicious Czech food with a menu consisting of game meat.
How to get to Konopiště Castle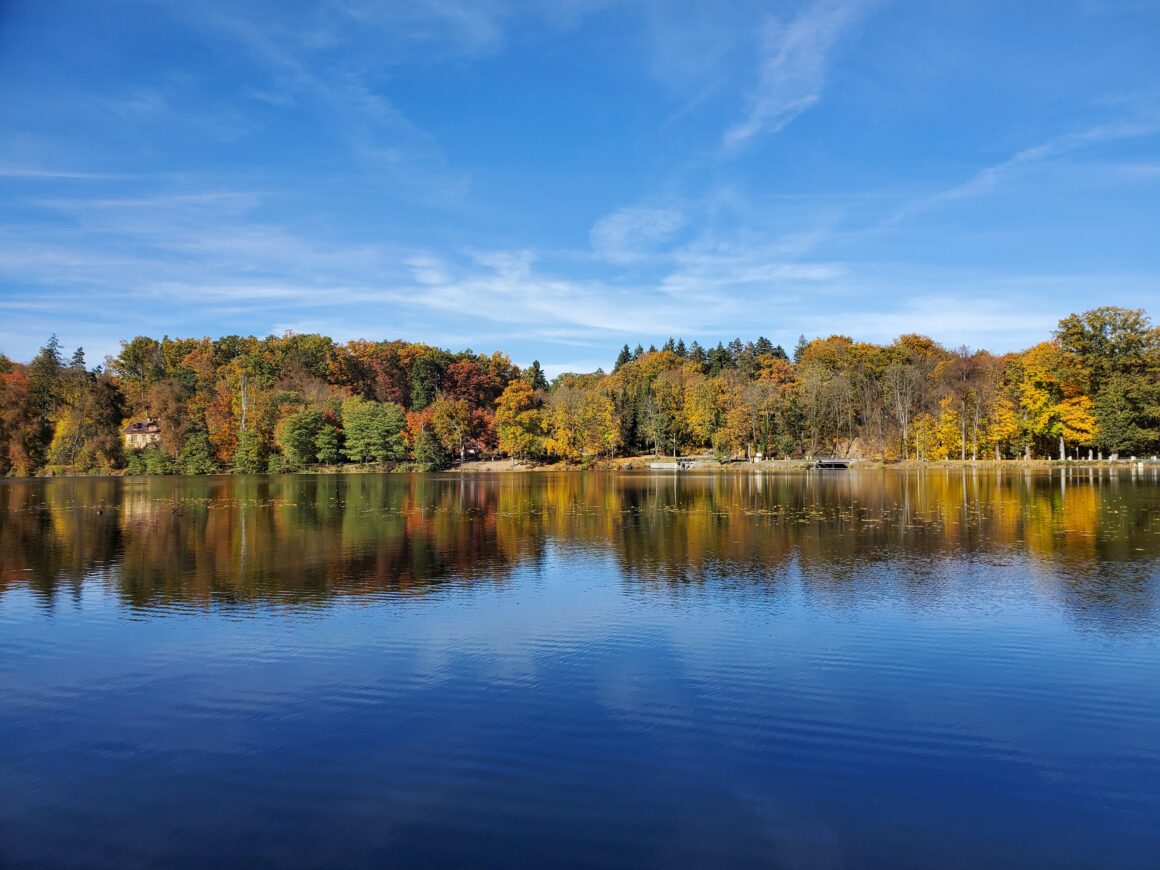 From Prague's main train station, take a train down to Benesov. There are two options: the S9, a slow train that stops in every small town, and the R17, a fast train that goes direct to Benesov. The former takes around an hour and the latter takes around 35 minutes.
2. Karlovy Vary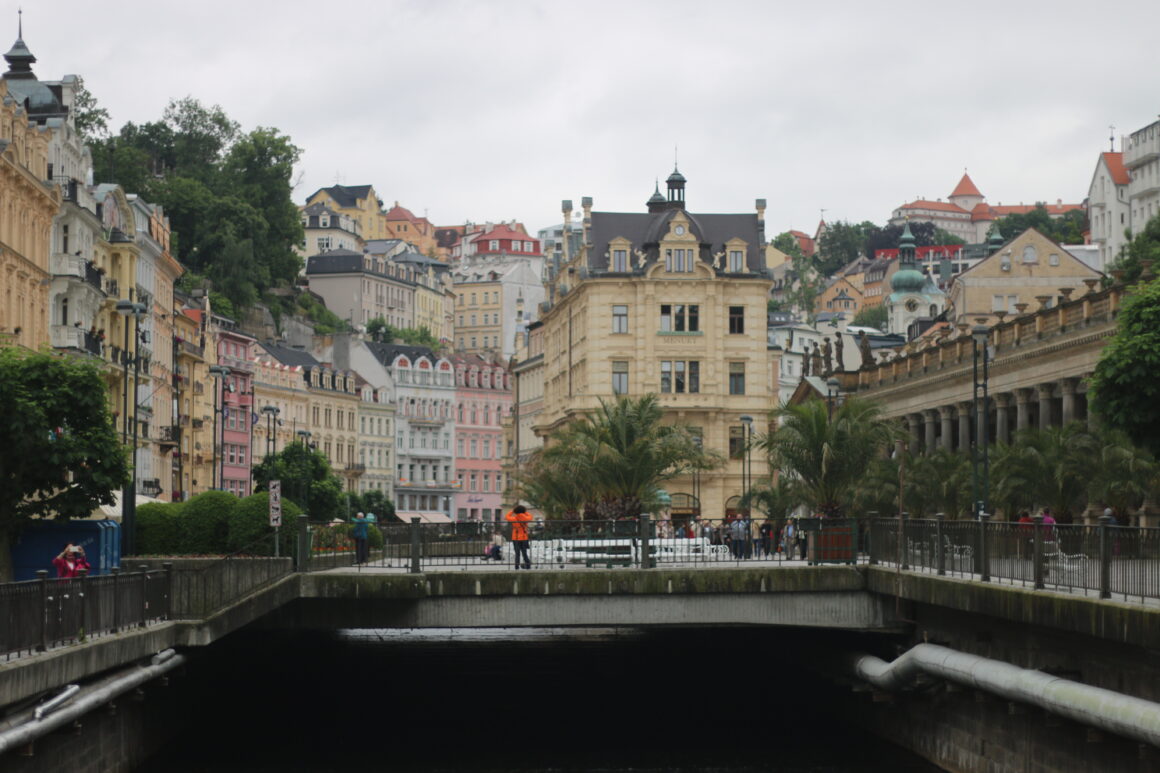 This gorgeous spa town, located west of Prague, is one of my all-time favorite day trips from Prague. Karlovy Vary is a riverfront city known for their thermal springs (you can drink from them in town!) and spa resorts, but you don't have to head to the spa to really enjoy this town. The never-ending rows of spectacular buildings along the river make this town so special and so scenic. While you stroll around, you'll encounter some of the city's many colonnades with hot spring foundations inside. This town also offers some great hiking nearby. Come for the views, but stay for some of the most authentic Neapolitan pizza in Czech Republic.
How to get to Karlovy Vary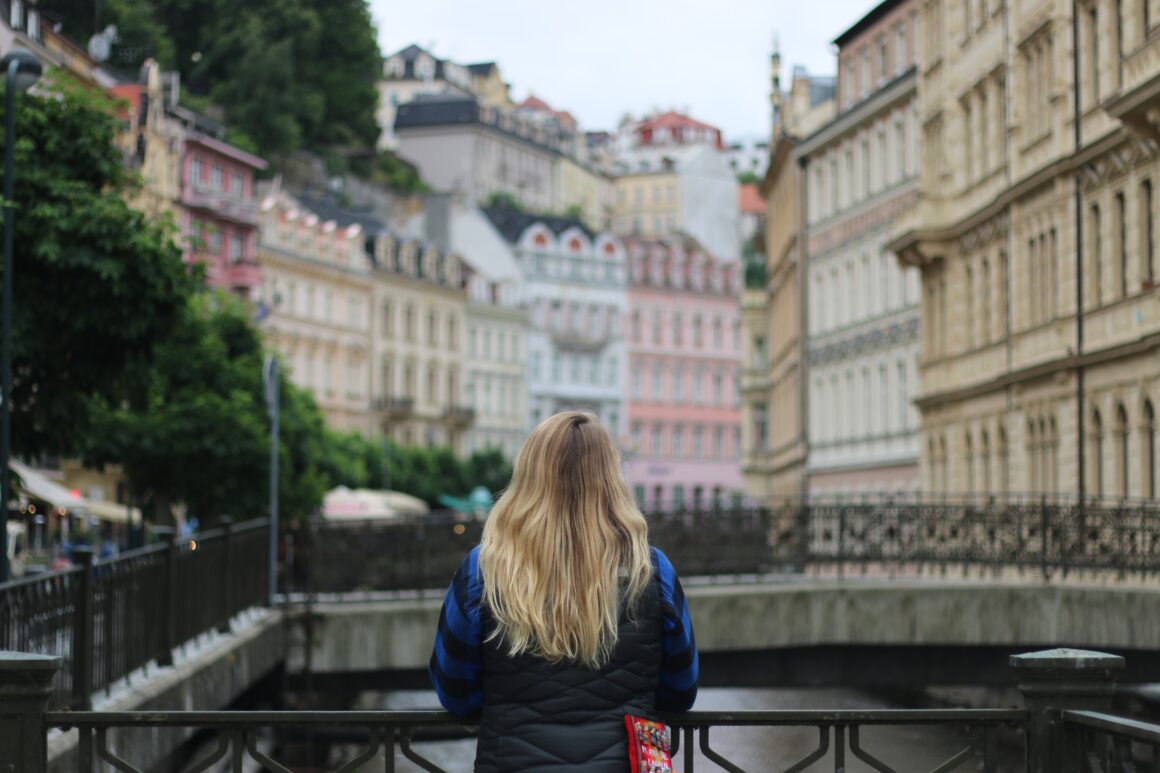 The easiest and most direct way to get to Karlovy Vary is by bus. Student Agency and FlixBus both offer affordable fares. You can also take a train to Karlovy Vary, but it takes well over three hours as it's not a direct train. I'd recommend the bus!
3. Telč

The picture-perfect town of Telč is an idyllic day trip from Prague by train. This well-preserved town is frequently rated one of the most beautiful towns in Czech Republic, and it's home to the well-reserved Jewish Quarter and Jewish Cemetery. Both these spots are UNESCO World Heritage Sites.
Telč's old town features renaissance and baroque architecture with a picturesque main square. The colorful townhouses and galleries are completely unforgettable, and one of the many charms of this small city. Nearby, there's a gorgeous 17th-century chateau with a gorgeous lookout spot and surrounding park.
How to get to Telč
You can take a train from Prague with one switch, or plan on taking a bus.
4. Brno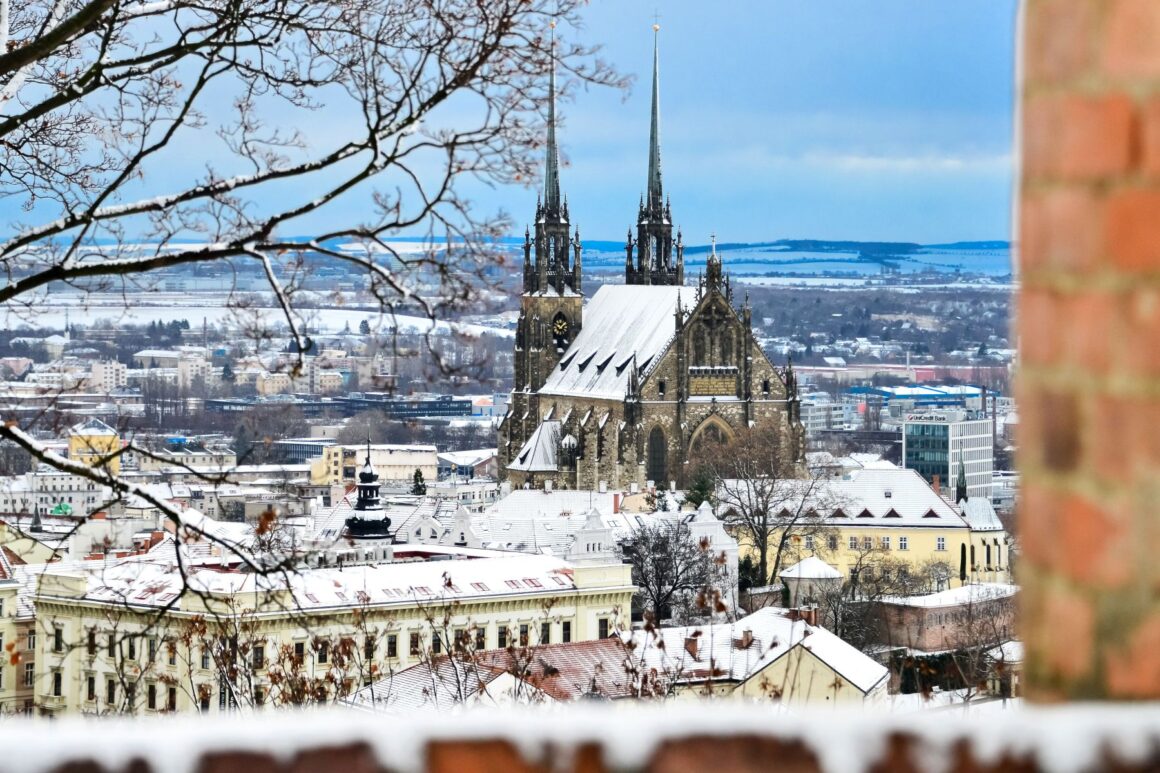 Brno is Czech Republic's second largest city, and the town marks the start of Moravia, a gorgeous area known for its rolling hills and wine production. Brno is much smaller than Prague but still offers a punch. Check out the 13th-century Špilberk Castle, which offers picturesque views and the City Museum right nearby. The Cathedral of St. Peter and Paul is home to some amazing Baroque architecture. Don't miss the Moravian Gallery, either.
If you're a foodie, Brno is a great place for you, too! On top of the endless history (often skipped over by Prague tourists!), Brno is home to some of the most amazing little foodie spots and coffee spots. Check out INDUSTRA, Eggo Truck, Monogram Espresso Bar, and SO much more.
How to get to Brno
To get to Brno, take a speed train from Prague's main train station. It takes around 3 hours, but it's a direct train and it is well worth the trip.
5. Karlštejn
If you're all about castles, this one's for you. Karlštejn Castle, located southwest of Prague, is a popular tourist spot – but that doesn't mean you should just skip it all together. This gorgeous castle was built back in 1348 and has since been home to many influential kings in Czech history. If you love to walk or hike, Karlštejn has plenty of long (and short) hikes around the castle grounds.
How to get to Karlštejn
Take a train from Prague's main train station. It's less than an hour away.
6. Kutná Hora
The historic town of Kutná Hora is just 80 kilometers east of Prague. Kutná Hora is home to some of the most beautiful architecture in the country: the Baroque St. Barbara's Cathedral, a UNESCO World Heritage Site that was built in 1338, Kacina Chateau, built in 1822 and the Gothic All Saints Chapel, known as the Bone Church.
I know, I know…A bone church sounds a *little* creepy. But hear me out! This unusual attraction is home to more than 70,000 remains of people that died during the 1380 plagues. Other bones are from victims who died during the Hussite Wars of the 15th century.
If a bone church isn't your thing, why not check out the rest of the town? The Baroque St. Barbara's Cathedral has an extravagant interior with frescoes featuring minting and mining and a mural of the Vision of St. Ignatius. Don't forget to check out the Italian Court and the former residence of Bohemian King Vaclav IV.
If you happen to have a car, Kacina Chateau is a few minutes drive away from town. It features a private theater, pharmacy, library, and so much more!
How to get to Kutná Hora
The fastest way to reach Kutná Hora is by train from the main train station.
7. Plzeň (or Pilsen)
The town of Plzeň – known to many as Pilsen – is located southwest of Prague and easily accessible by train. This cute town has a number of historical sites to see, including Square of the Republic (Námestí Republiky), home to Cathedral of St. Bartholomew (katedrála sv Bartolomeje) and its 100-meter-tall spire. If you have time, make sure to visit the Great Synagogue, built in the 19th century. It's the third largest synagogue in the world.
Of course, who can visit Plzeň without stopping at the Pilsner Urquell Brewery. This brewery is universally seen as the home of the Pilsner Lager, and they've been brewing it for the last 150 years. If you're a beer lover, you can tour the brewery and of course taste test their beers. You might find they taste a little better than in the U.S.
How to get to Plzeň
Take a train from Prague's main train station right to Plzeň.
8. Český Krumlov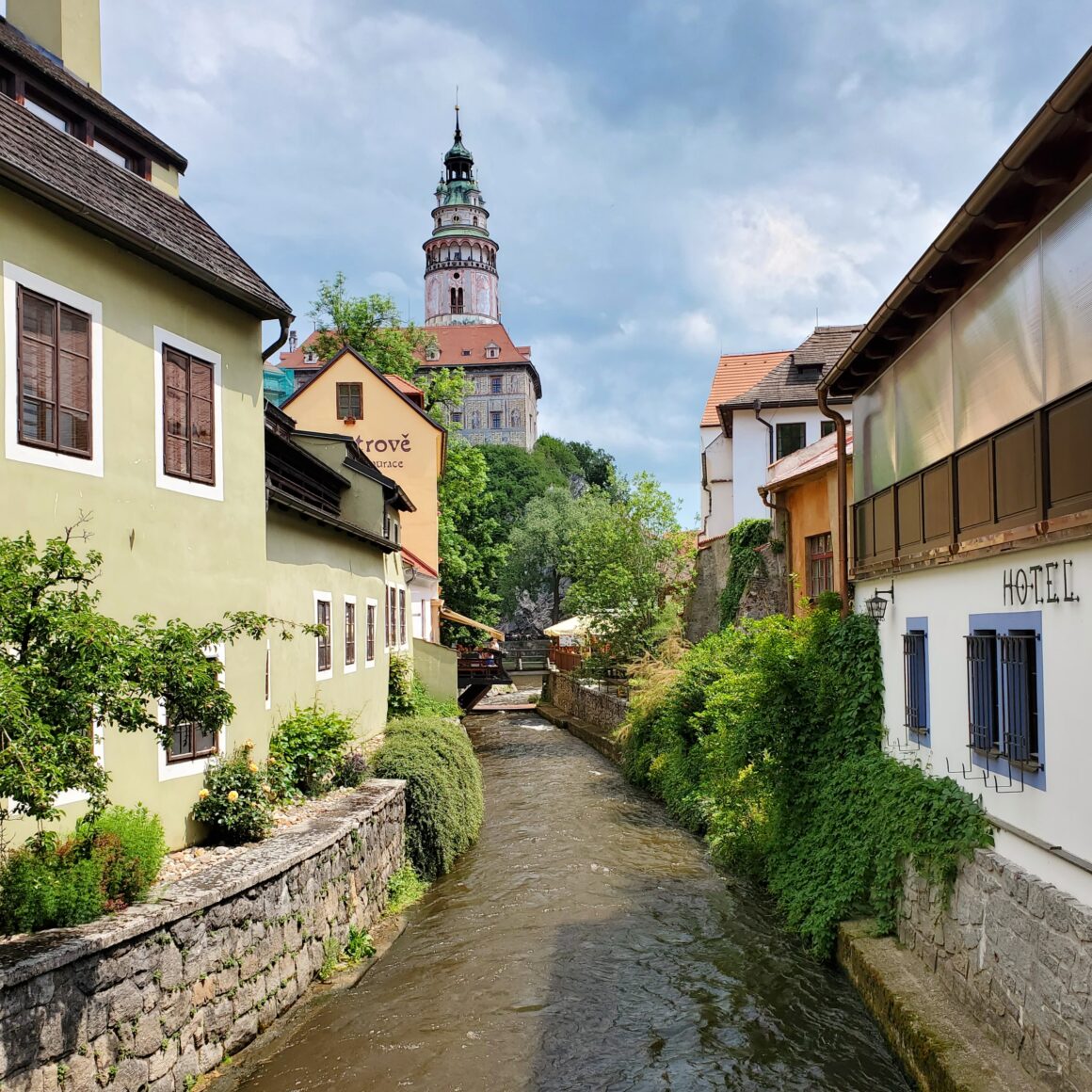 Český Krumlov, a small village located about an hour and a half south of Prague, is one of the most beautiful villages in the country. This fairytale spot is nothing short of stunning: a winding river, old streets with colorful buildings, a castle perched right above the city… It's an absolute must-visit. It's also the most famous day trip from Prague, thanks to all the aforementioned beauty.
This town has become increasingly popular with international visitors in recent years thanks to a series of viral social media videos. But who can blame anyone for wanting to visit this stunning spot? This UNESCO town can get very crowded during peak hours, so I'd recommend spending one night here if you can. That being said, if you only have a day, don't count this place out because of the crowds. There's still plenty of little nooks and crannies to get lost in.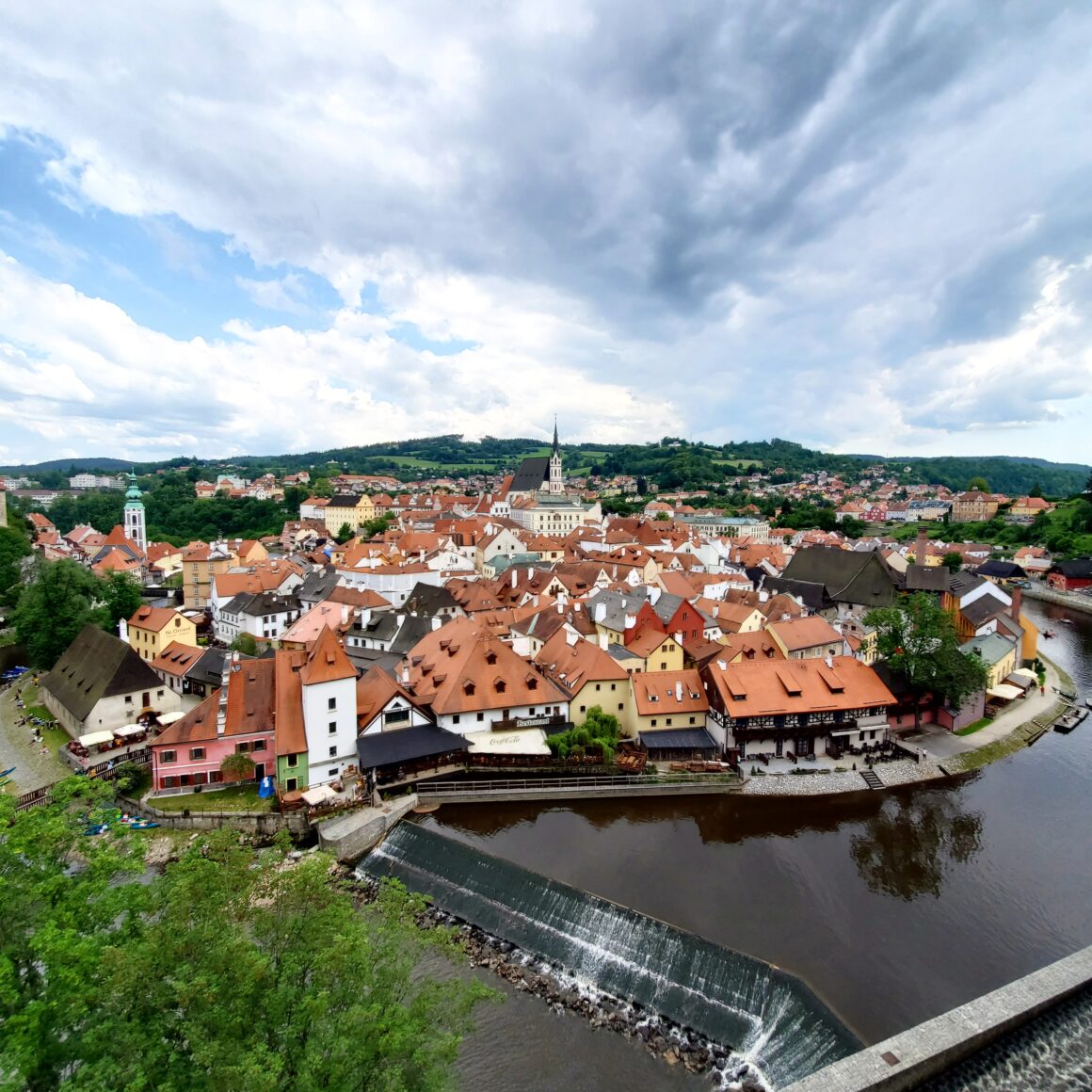 How to get to Český Krumlov
Český Krumlov is accessible by train or by bus. In my opinion, it's much faster to take a direct bus (with Flixbus, for example). Make sure to come early as this little town can be almost two hours away with traffic.
9. Olomouc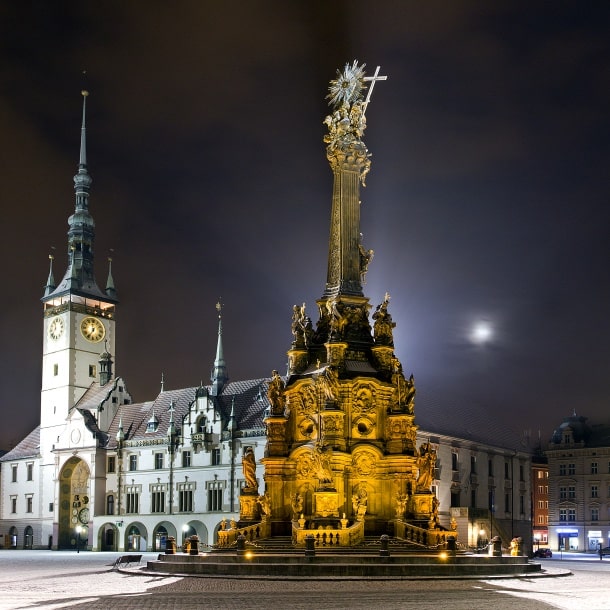 I never see Olomouc mentioned on any lists for popular day trips, and it's genuinely surprising. This town, located in the eastern part of the country, is known for its iconic 18th-century Holy Trinity Column, a monument adorned with religious sculptures, as well as its six baroque fountains. The town is also home to the beautiful Gothic St. Wenceslas Cathedral and the Romanesque Bishop's Palace. Olomouc is also home to another astronomical clock, similar to the one in Prague. Why should you visit? It's less popular than some of the other destinations on this list, and it packs a lot of historical punch.
How to get to Olomouc
Take a direct train from Prague to Olomouc. There are multiple trains each day, and the journey time is around 2 and a half hours.
10. Tabor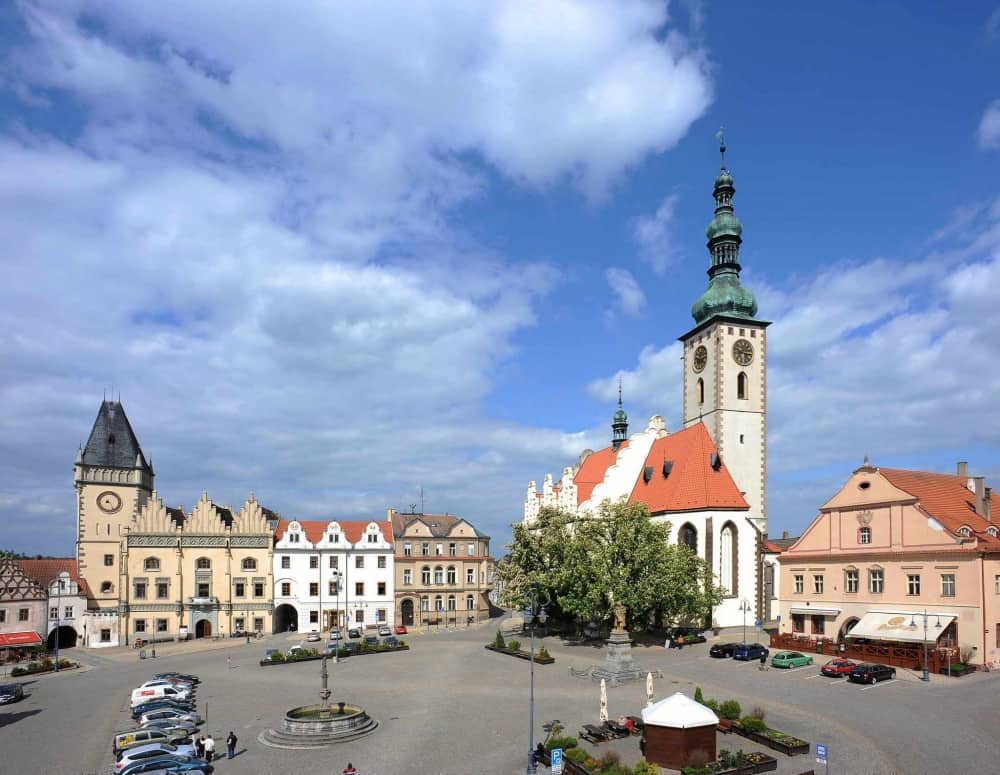 Tabor is another beautiful spot that never makes any lists. This small town, located an hour south of Prague, is a perfect day trip spot for those looking for some history. Tabor was founded in 1420 by Radical Hussites known as Taborites; these separatists from the medieval Catholic Church built a town that could be easily defended, hence Tabor's beautiful hilltop location overlooking the rolling hills and the countryside.
The founders of the town also built a system of underground tunnels, which are now open for public tours. It's such a cool experience to see these tunnels. But if you're more interested in above-the-ground history, make sure to visit their beer museum. Tabor is also home to Restaurant Goldie, named one of the best restaurants in the country. If you want to check it out, you'll need to book in advance in the summer.
The best part about Tabor? It's oftentimes overlooked by tourists, and you can really experience an authentic Czech town.
How to get to Tabor
You can take an express train from Prague to Tabor (the R17) and get there within an hour and 15 minutes.
11. České Budějovice
České Budějovice is the provincial capital of South Bohemia, but many people will only stop here for a little before heading to Český Krumlov. This town has so much to offer, though, and it's totally worth its own stop. Start your adventures in the town's main square, Přemysl Otakar II main square. This square is home to the ornate 18th-century Samson's Fountain, and it's also surrounded by colorful Baroque buildings. The Town Hall is gorgeous, as is the 72-meter-tall Black Tower (make sure to go up for the best views). Another can't-miss activity: walking along the city's waterfront, at the confluence of the Vltava and Malse rivers.
How to get to České Budějovice
There are a number of direct trains that run to České Budějovice each day. You can also take a RegioJet train directly if there's no Czech Railways train running.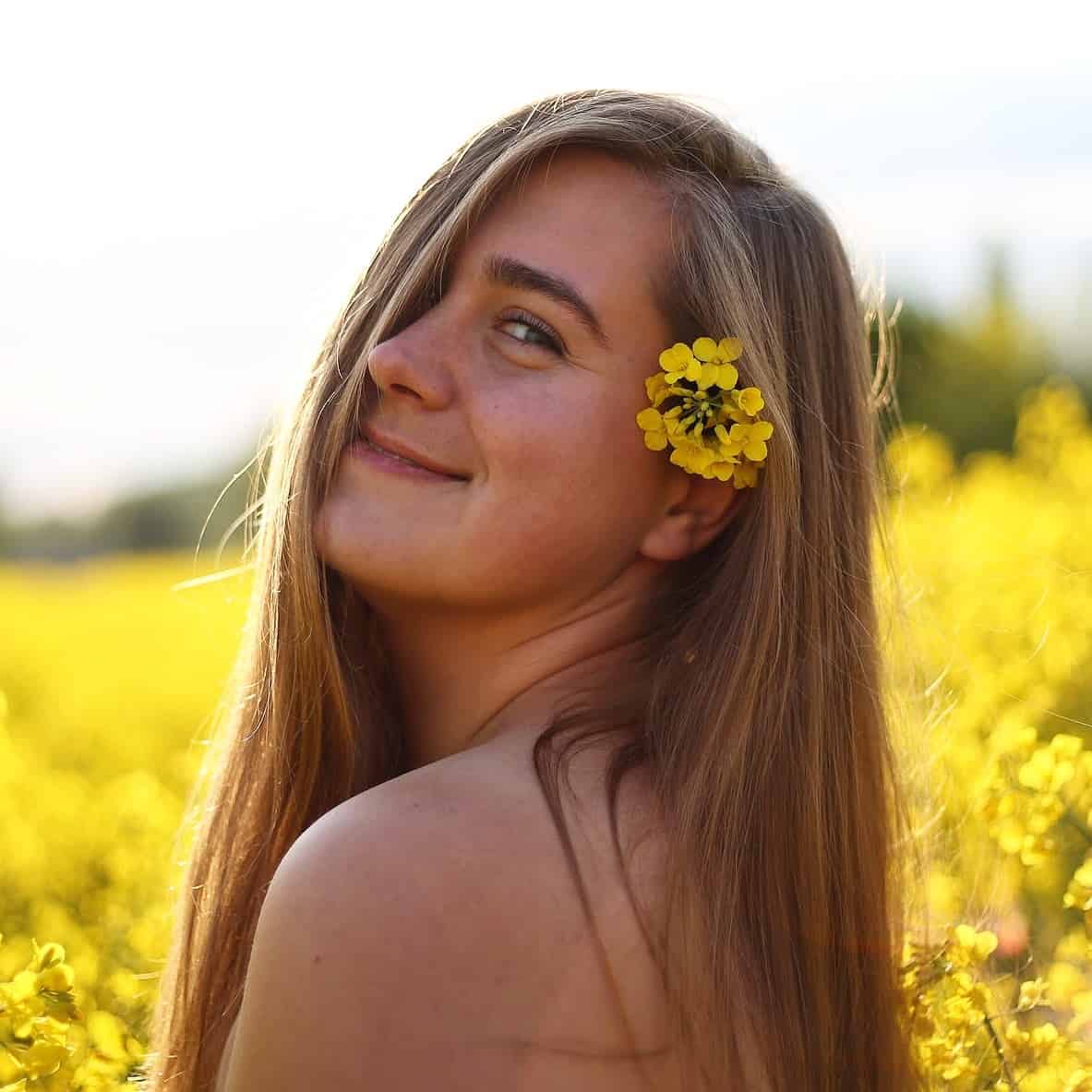 Samantha Tatro is a Czech-American third culture kid who grew up living and traveling abroad. Many years later, after living in California and working as a journalist, she decided to take the leap and move abroad again…this time to Prague, Czech Republic. Samantha started Undiscovered Path Home to help couples and solo female travelers find the courage to visit countries – and locations – off the beaten path. Her work has appeared in Bon Appetit, NBC News, The Adecco Group, and more.