I can't even tell you how many people have asked me throughout my life: What is Czech food? I can't blame them…Traditional Czech cuisine hasn't been popularized like Italian food or Mexican food. Most people have no idea what to expect when they visit Prague. Will they like the food? Will they be able to eat Czech food without feeling disgusted? My parents are both incredible cooks, and I was lucky to always eat lots of Czech food and different cuisines growing up, even when we moved around. That's why I was always surprised when I met people who didn't know about Czech food and traditional Czech dishes. 
In a city packed with thousands of restaurants, how do you find the best ones? Where do you find traditional Czech food? I got you! Get my Ultimate Foodie Guide to Prague right here with 70+ restaurant recommendations, from Czech food spots to trendy brunch spots to local cafes!
Many Czech traditional dishes feature soups, sauces, dumplings, and local ingredients. In fact, one of the big reasons it can be difficult to find Czech food elsewhere is the ingredients. The flour for dumplings, for example, is milled differently in Czech Republic. You can't really find a one-to-one substitute in the U.S. (believe me, we have tried and tried…though there are some close substitutes). Similarly, one traditional Czech dish with dumpling, cranberry and cream is made with celery root, an uncommon vegetable to find in the U.S.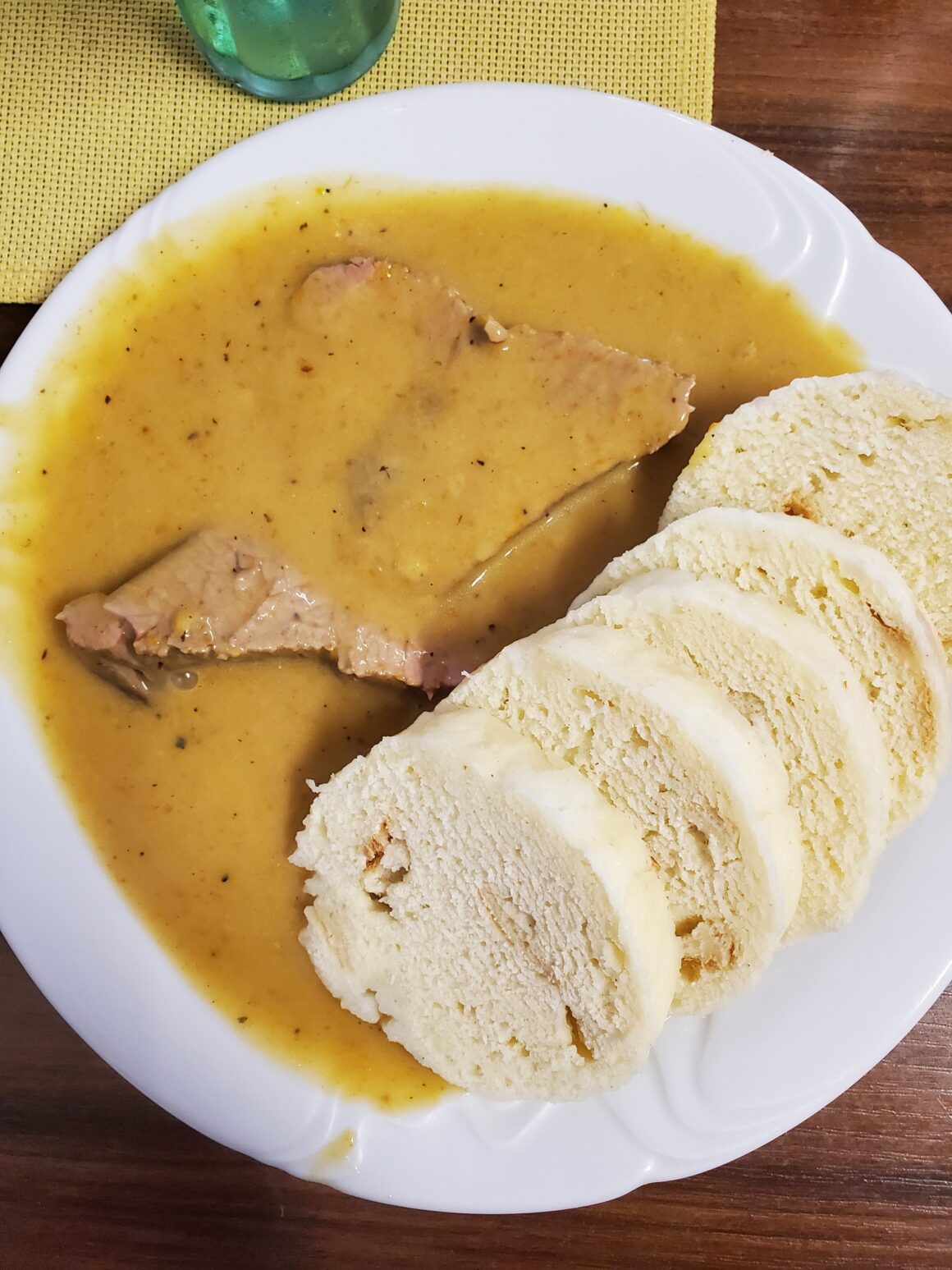 Before we get into it, a word of warning: if you're hoping to find salads in Czech cuisine, look elsewhere. Czech food is delicious, comforting, and yes, more than a little addictive…But it's much more of a meat-and-potatoes vibe than a salad-with-avocado vibe. But you aren't visiting Prague to taste test salads, right?
When to eat traditional Czech dishes
An important note before we start. If you want to try traditional Czech food, you need to eat at lunchtime. Lunchtime is by far the most important meal for Czechs. Czechs will often have something simple for breakfast, like bread and butter, and a lighter dinner. But in contrast to many English-speaking countries, Czech Republic centers around lunch.
Lunch is almost always served hot, and it's by far the most important meal of the day in the Czech Republic. A Czech lunch will always have a minimum of two courses, though three is not uncommon. Czechs will always start the meal with a soup, even in summertime. Soups may be creamy and hearty in the winter and in the summer, more brothy and light. Then, the main course. Many Czechs will have a light dessert, like a baked buchta or koláč. Unlike American desserts, these tasty treats are often made with much less sugar and focus on the ingredients.
In a typical Czech restaurant, lunch menus will only have a few options. You'll still see this around Prague, though it's becoming less common: a menu out front, with soups and mains scribbled on the board. Because many traditional Czech dishes take so long to cook, once the restaurant runs out, the name is struck from the menu. All the dishes are homemade, of course. In my own hometown, I will get to a restaurant around 11:30 if I want the best pickings. However, in Prague, this isn't always necessary.
So long story short: if you want to have that traditional Czech experience, get lunch.
Traditional Czech Dishes in Prague
Here are some of the most traditional Czech dishes and where you can try them yourself in Prague!
Roast Duck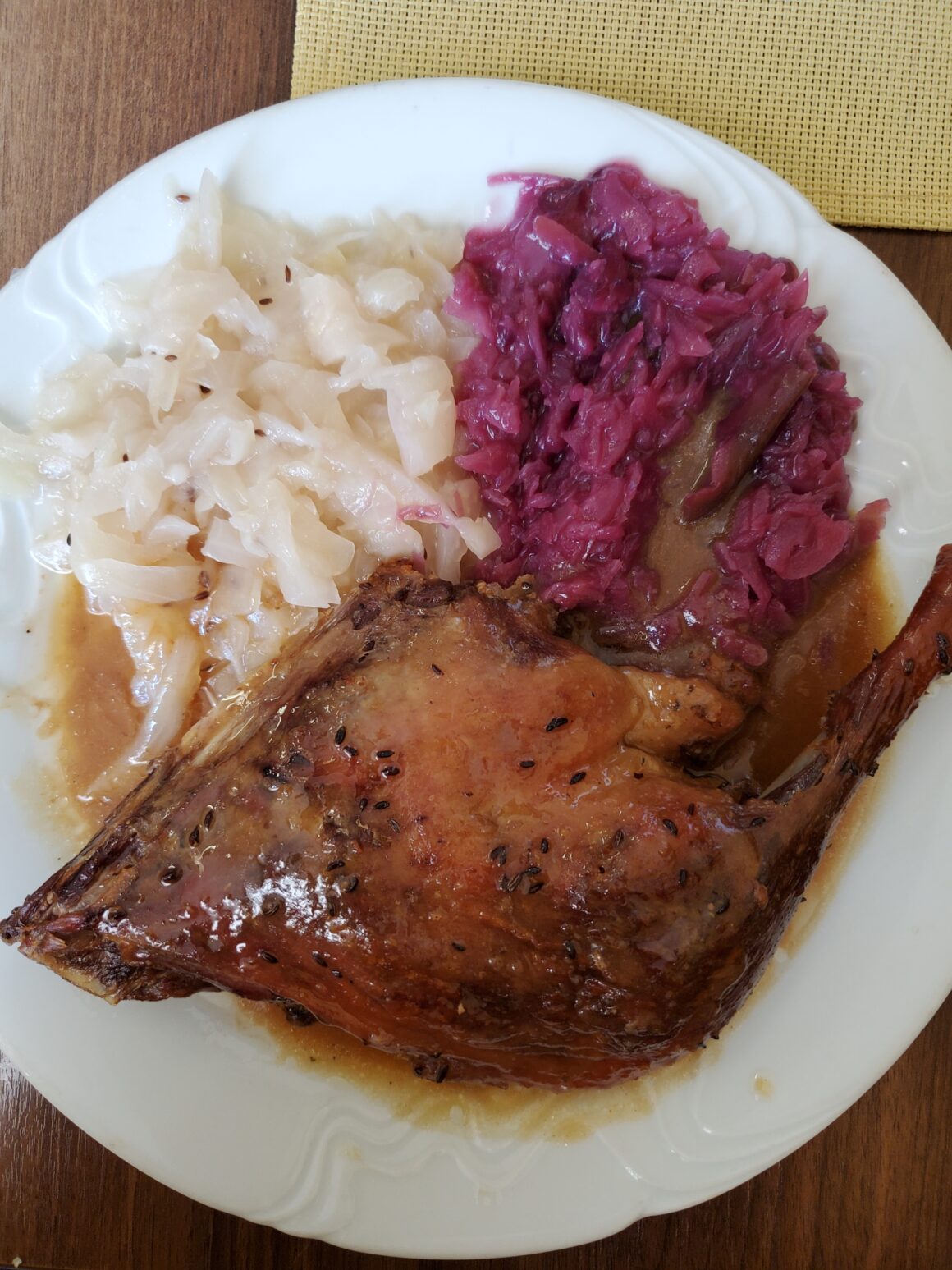 Raise your hand if you've never had duck. Growing up, I absolutely loved duck (and I still do!). It didn't even occur to me that there were huge portions of Americans who had never tried duck, or didn't like it. To me, it never tasted game-y or gross. It was pure delight.
Roast duck is one of the most traditional Czech dishes, and it's oftentimes a luxury, made as a part of Czech Sunday lunches for family. Even Anthony Bourdain tried out roast duck when he came to Prague for his No Reservations episode.
The duck is slow cooked for hours with salt and Kmín, or caraway seeds, until pull-apart tendy and yet somehow crispy. Duck is always served with sauerkraut (zeli) and dumplings (knedlicky).
Nowadays, duck can be found on many Czech menus during the week. Even if you don't normally like duck, consider trying out this Czech version – it does not disappoint.
So where can you find this delicious and indulgent food? Try ossegg in Vinohrady or U Bansethu in Nusle for a more off-the-beaten spot.
Koprovka (Dill Sauce)
Koprovka, a creamy dill sauce, is one of my favorite sauces in Czech cuisine. Most Czech don't find this sauce to be particularly special, but they can't deny that it is intrinsically Czech. This simple sauce, made with fresh dill or preserved dill, is served with slow cooked beef and dumplings or poached eggs and potatoes. Spoiler alert: while this may seem like a vegetarian dish, I always caution people that sauces can be made with animal stock.
There are so many places to try this traditional Czech dish! You can find it at many hospodas, or local pubs that also serve food. But for a truly done-up version, consider The Eatery (which honestly has so many wonderful dishes!) or Vycep (served with pork tongue for a fun little twist).
Goulash
Most tourists associate goulash with Hungarian food, but the truth is that every country in the former Austro-Hungarian Empire all have their own twist on Goulash. The Czech version really is unlike anything you will find in the U.S. and in neighboring countries. Czech goulash is served as a thick stew with slow cooked stew beef, all alongside dumplings. The Czechs also have their own twist to goulash as well: the Moravian version is made with sauerkraut in the sauce.
Like many Czechs, I grew up eating goulash and can't recommend this traditional Czech dish enough. And just like many Czechs, I know that every place has their own recipe to make this dish. I can say that I really haven't ever tasted the same goulash twice. If you're timid about trying other Czech dishes, order the goulash: you can always rely on this dish, and it will always be tasty.
Where can you try it out? Try U Mateje in Prague 6 or Mincovna restaurant in the Old Town Square. If you happen to be visiting Benesov, I'd recommend checking out the game meat goulash at Restaurace Stara Myslivna.
Kynuté ovocné knedlíky (Fruit dumplings)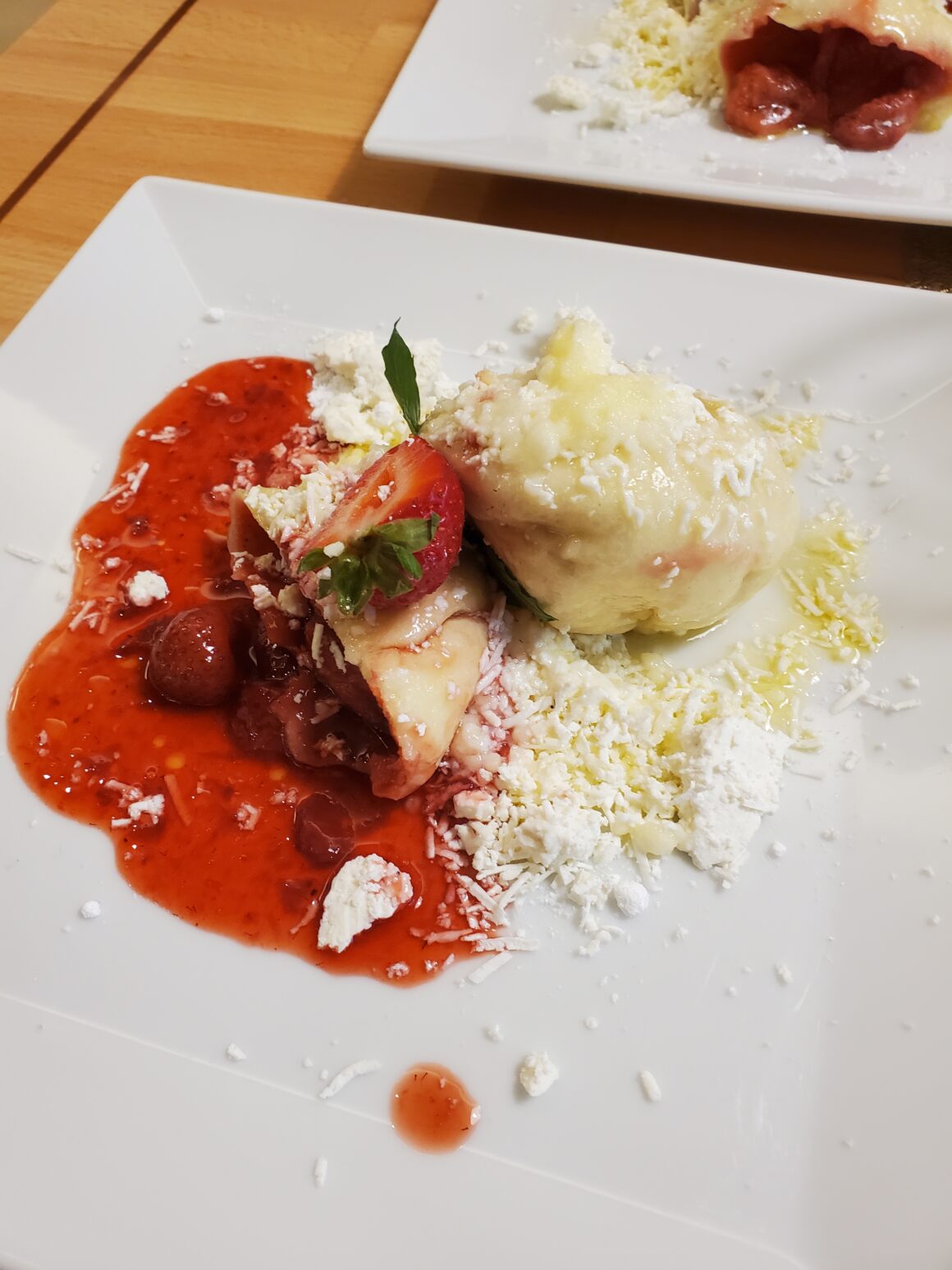 Kynuté ovocné knedlíky are perhaps one of my favorite special sweet treats in Czech cuisine. YOU WILL LOVE THIS DISH. I repeat: you will love this dish!
Traditional Czech cuisine has a soft spot for sweets-as-main-meals. It's one of the reasons I love it so much. Fruit dumplings are the most common sweet main meal I see on menus, especially during the summer months when fresh fruit is everywhere. These dumplings are served with melted butter, powder sugar, and tvaroh, a Czech hard sour cheese that is often found in baked goods. The actual dumplings are stuffed with seasonal fruit, from apricots to blueberries to strawberries and beyond.
So where can you find this tasty treat? Well, in smaller towns, restaurants will make it during the summer. But in Prague, Café Savoy has some unreal strawberry and apricot dumplings. When you try these, feel free to message me right away and tell me how much you freaking loved them.
Koláč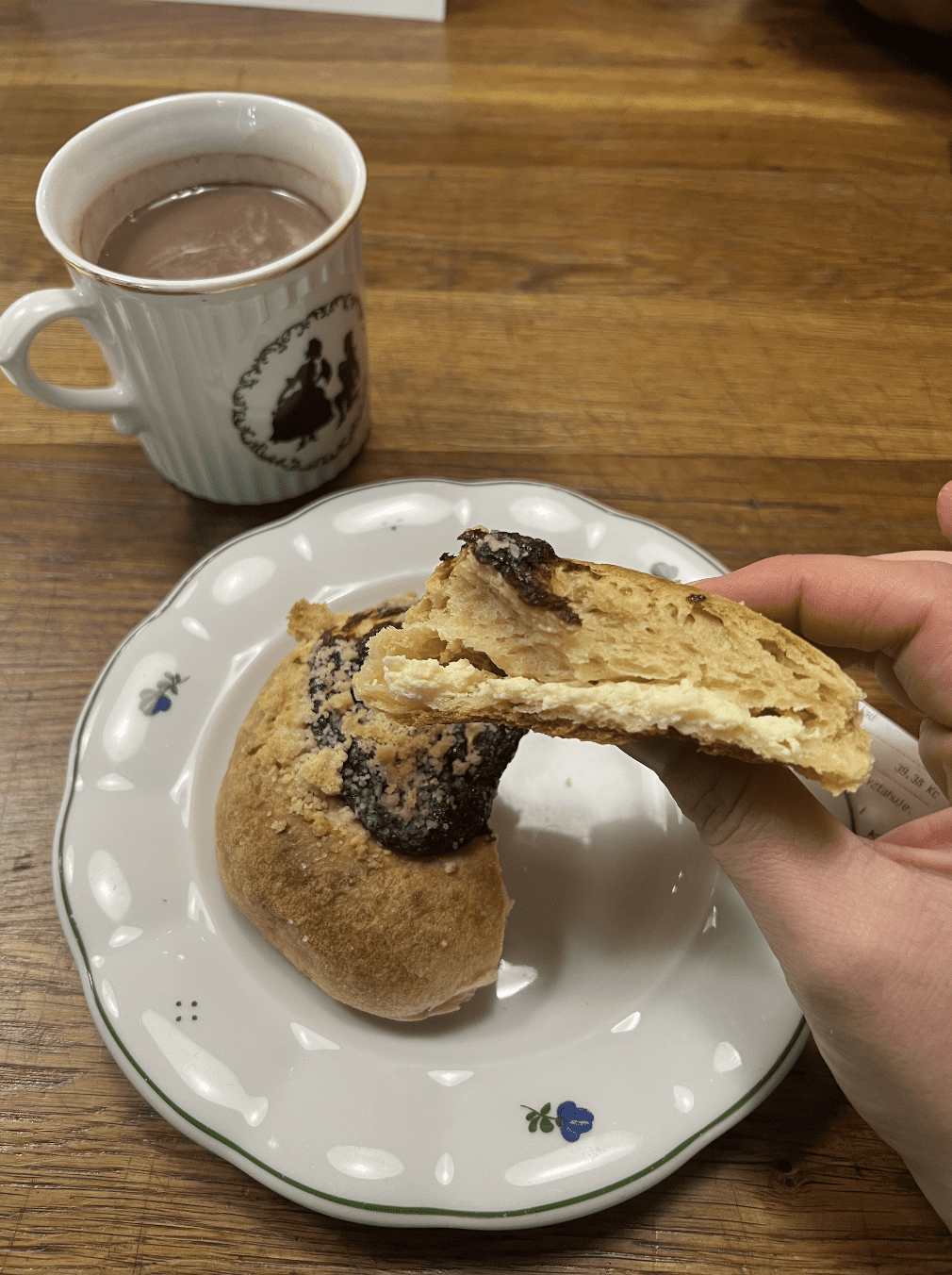 Okay, story time: when I was visiting my fiance's family in Indiana, they took me to the Kolache Factory (pronounced ko-laa-chee, much to my horror). I feel like I need to come out and say that these are not actual kolache, and I was horrified to find that they were marketed an "Eastern European treat." On top of that, they weren't even good? No, good people of Kolache Factory, these are not actual kolache.
Let's get a few things straight here: real koláč comes from the Czech Republic. And traditional Czech koláč are small, circular yeast dough goodies with sweet fillings.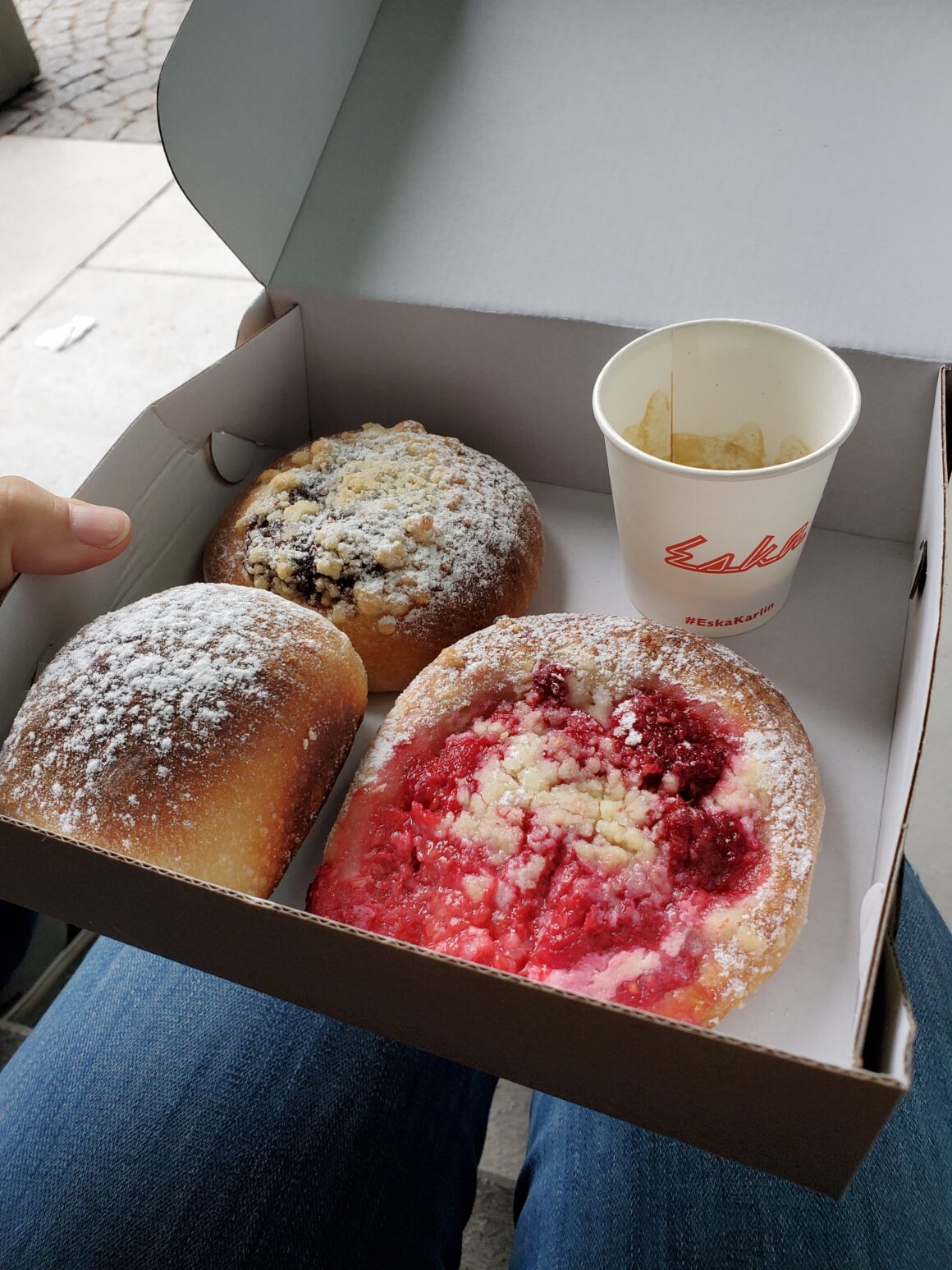 My favorite koláč in Prague are easily the ones at Eska (specifically the moravsky koláč!), though you have to get there early for the best selection. If you want the hyped, buzzy koláče that everyone is talking about on social media, head to Kus Koláče in Vinohrady and wait in line for their in-demand koláče. I wanted to be a hater, but I really do love their koláč (though it is a little more indulgent and a little less traditional – not an everyday thing!). If you're based in the city center, check out Cukrár Skála for poppy seed and cherry koláč.
Buchty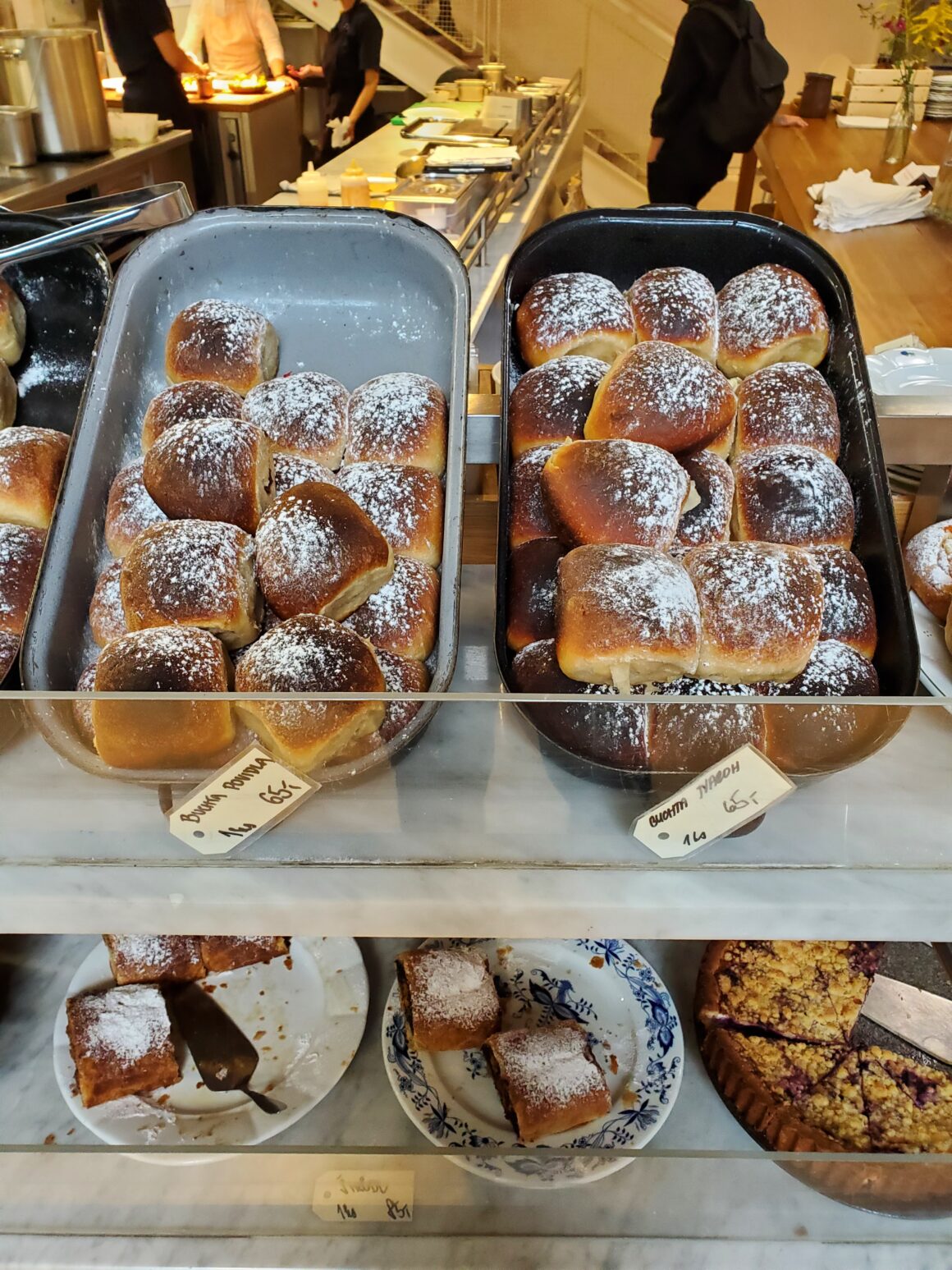 Alright, alright, so buchty really aren't a meal. But these sweet yeast dough buns are so very traditional Czech that I really couldn't leave them out. My heart wouldn't let me. These delicious little buns are filled with plum jam, farmers cheese (tvaroh) or poppy seed most traditionally. If you happen to find them on a menu, they are served as a delicious dessert with melted butter, cream, or ice cream. YUM!
My favorite buchty are the ones I grab at my local bakery when I am out running errands and really, really want a little goodie. But in Prague, some of my favorite places to grab buchty include Tvoje Mama, EMA Espresso Bar (while they last!), or Eska. Really, though, is there anything I dislike at Eska?
Chlebicek
Chlebicek, a Czech open-faced sandwich, is so ingrained in the culture that you probably can't escape the country without at least witnessing one of these delicious little slices of bread.
Czechs are completely infatuated with the chlebicek, and can you blame them? It is a quintessential Czech dish featuring a baguette-like bread topped with savory goodies. My favorite rendition includes a potato salad base with cold cuts and a hard boiled egg. I'm not fancy: I get mine at a deli in town, and they're always delicious. They're also one of the cheapest meals you can get in Prague.
So where can you get a chlebicek? Well, pretty much anywhere. But you should try out Zlatý kríz (a staple!), Sisters Bistro, or Chlebícky Letná. No matter where you decide to go, make sure to try one with potato salad. That's still THE way to do it, and the best, in my professional opinion.
Svíčková (Beef, Dumplings, Cream Sauce)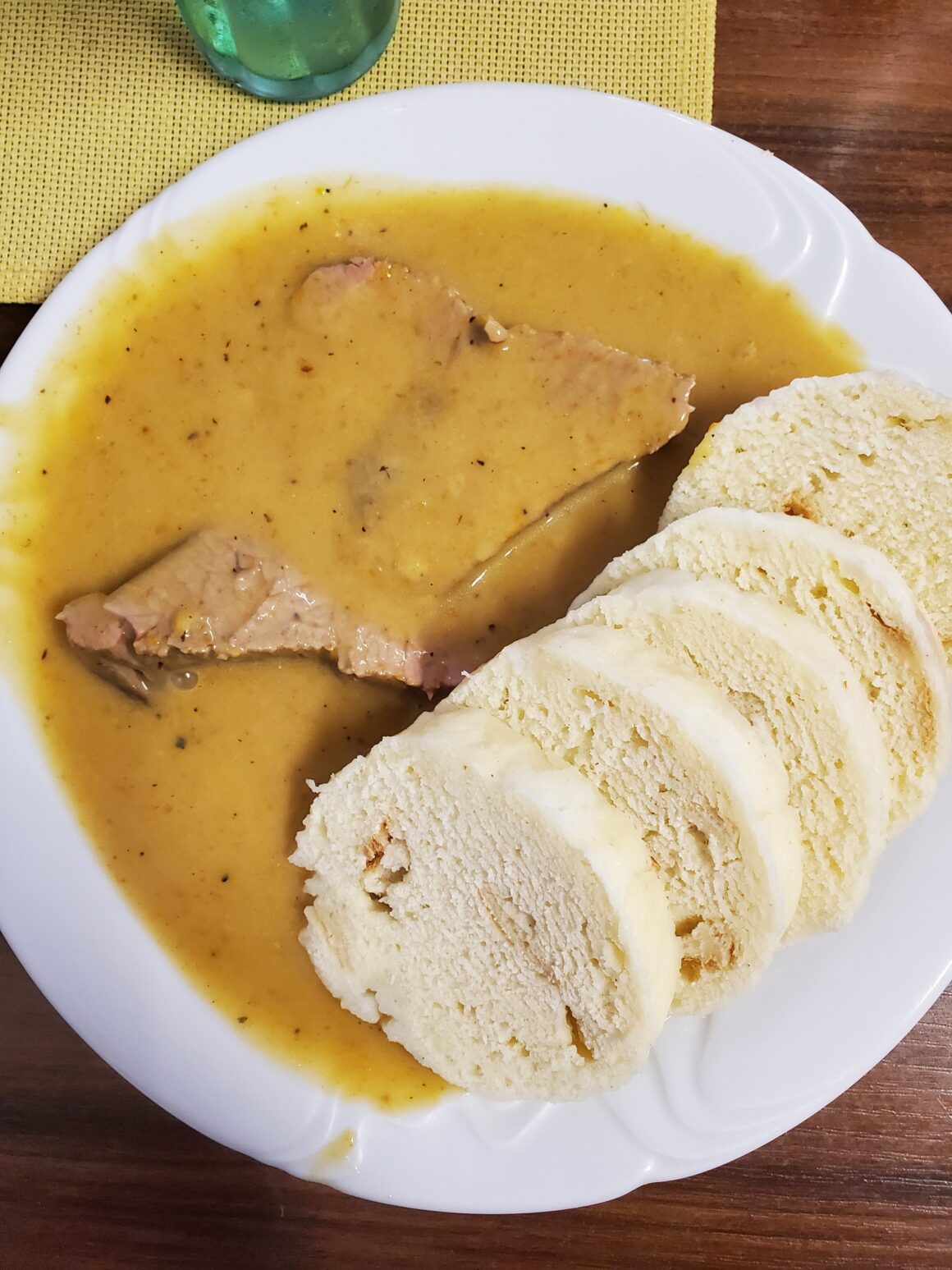 Svíčková (pronounced sveech-covah) is a cornerstone of Czech cooking. This sauce-based dish, which takes hours to prepare correctly, is the classic Sunday family lunch dish – and for a good reason. If you are ever invited over to a Czech's house on the weekend, there's a 90% chance they will cook you roast duck or svíčková. Likewise, if you ever attend a Czech wedding, you will likely be served this iconic dish.
Cooking svíčková is tricky, and every family has their own recipe. Larded, braised beef is slow cooked with root vegetables with celery root, carrots and onions for hours before those vegetables become a creamy sauce. This delicacy is served with bread dumplings and a dollop of cranberries and whipped cream.
My all-time favorite svíčková is made at a small restaurant near my house, but if you're in Prague, you can find this Sunday classic at any time during the week. I'd recommend Café Louvre, Lokal, Čestr restaurant. Full disclosure: this is one of my all-time favorite dishes, and I'd recommend prioritizing this dish above many of the others to get the true taste of Czech Republic.
Rajská omáčka (Tomato Sauce with beef and dumplings)
Fun fact: the first time I tried to make Rajská omáčka, I failed so masterfully that we just had to eat something else for dinner. This tomato sauce dish may look simple, but it requires some skill to pull off. The sauce, served with slow cooked beef, is both salty, sweet, and tangy all at once. It's considered one of those basic, easy-to-make dishes that appear in cafeterias in Czech Republic.
I've actually never seen this on a menu in Prague, perhaps because it's just not as impressive as some of the other meals on this list. However, it is all the same, just as delicious. If you're looking to try Rajská omáčka, check out Havelska Koruna or Potrefená Husa.
Řízek (Schnitzel)
Why yes, every central European country does have their own version of the Schnitzel. Unlike the traditional Wiener schnitzel in Vienna, Czech schnitzel is mostly pork or chicken. I grew up eating breaded chicken schnitzel cooked in copious amounts of butter as a special treat. My mom would (and still does) make dozens at a time to serve at family gatherings (and eat with bread the next day).
In Czech Republic, you will find schnitzel served with boiled potatoes and butter or the more traditional potato salad. The traditional Czech version of potato salad is particularly delicious: potatoes, carrots, hard-boiled eggs, onions, mayo, mustard, and pickles, among other ingredients. The result is a zesty twist on a normally heavy meal. It sounds like just another terrible potato salad, but you have to try it to believe it.
You can find schnitzel in just about every restaurant in Prague, but there's one obvious standout: Café Savoy. And their potato salad? Divine. They serve the dish with cranberries, which I honestly cannot stand, but if you're like me, you can ignore them and get to the good stuff instead.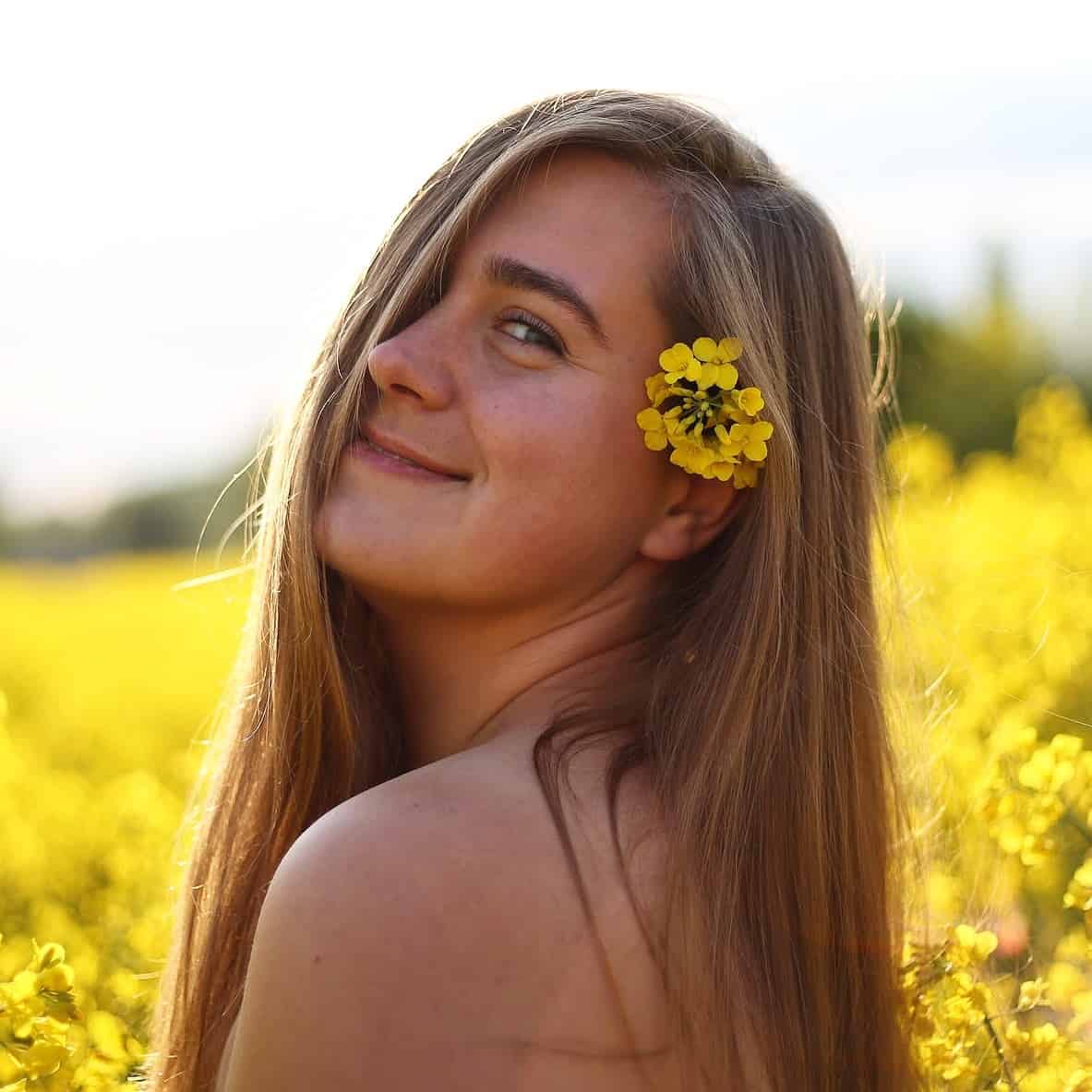 Samantha Tatro is a Czech-American third culture kid who grew up living and traveling abroad. Many years later, after living in California and working as a journalist, she decided to take the leap and move abroad again…this time to Prague, Czech Republic. Samantha started Undiscovered Path Home to help couples and solo female travelers find the courage to visit countries – and locations – off the beaten path. Her work has appeared in Bon Appetit, NBC News, The Adecco Group, and more.